"The largest interconnected ski area in Austria." That's what it says on the tin. Two hundred and seventy nine kilometres of intermediate-friendly terrain waiting to be skied, carved up, cruised along, weaved down. And we were planning to do every kilometre. Honest. But it didn't quite work out like that.

 We started well, arriving by overnight train to give ourselves extra time on the slopes.  Taking the 3pm Eurostar from London to Paris and then the City Night Line sleeper, then chugging through beautiful Tirolean snow-covered countryside the next morning, gets you to Söll at around 10.15am. It was just in time to drop our gear at our guesthouse and hit the slopes.

The SkiWelt, an hour east of Innsbruck, has a tantalising piste map. The blue, red and black markings come alive before your eyes as you identify them through the window of the ascending Hocksöll gondola. We've arrived slope-deprived and in need of a serious snow fix. Our plan is to max out the mileage and barely stop for lunch – with our pockets stuffed with cereal bars, a bowl of soup is about as far as we're planning to go.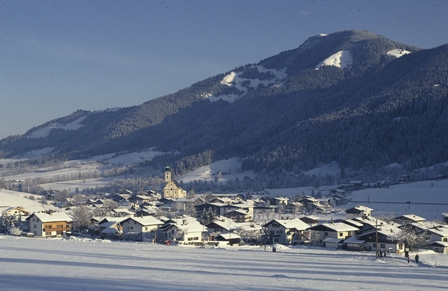 From the top of Hohe Salve, the 1829m peak that sits above the charming resorts of Söll and Hopfgarten, we spy a myriad of options. Below, tempting tree-lined red runs plunge down to Hocksoll, Rigi and Mittelstation; the type of runs that you cannot wait to sink your teeth into, with just enough of a thigh burn to leave you aching for more.  And when you are ready for a second go, the gondola whisks you up to the top of Hohe efficiently.

What is so striking, when you reach the top, are the views. The WilderKaiser mountain range makes a magnificent back drop, a panorama of rugged, snow-covered peaks. Back up at the top of the Hohe Salve after several forays, we walk over to sundeck the Gipfelrestaurant.   The muesli bars in our pockets long gone, we're now in need of serious fuel.  And clearly, this is the place.  Waiters are weaving in and out of the tables, carrying huge plates of rösti, and steaming bowls of Tiroler Knödel  soup - Tirolean dumpling soup.

We're not far into our first course, when I notice something strange.  The mountain peaks that that I could see out beyond the restaurant tables in front of me have been replaced by different ones – as if the mountain has moved position.  But mountains generally don't do that.  Something in the dumplings, perhaps? I exchange glances with my fellow diners, who are clearly experiencing the same thing.

And then suddenly it dawns on us. The entire sundeck of the restaurant is revolving, so slowly that at any one time the movement is almost imperceptible.   It is quite an incredible piece of engineering.  In one hour, it does an entire revolution of 360 degrees. The heavily laden plates of food and do nothing to hurry us back on to the slopes.
It is easy to ski all day and forget how important a good lunch can be. 

But the memorable experience at the Gipfelrestaurant has us on the hunt, throughout the week, for more places to eat. And there are many; wonderful wooden huts, with rustic insides and gregarious owners, such as the Stoekalm and the Tanzbodenalm. The great thing is that in the SkiWelt, unlike some of the other parts of the Alps, is that the prices are very reasonable too.  In fact, roaming the slopes for great eateries and hot chocolate and cake stops makes a fantastic sport in itself: "Skieating", you could call it, where you need pay only four Euros for a soup or 7 – 10 Euros for a hearty main course.

The SkiWelt has 94 restaurants and bars listed on the piste map.  One of the finest discoveries is the Jausenstation Frankalm, rustic wooden beams that display old violins and skis, one of those traditional wood burning stoves that you can sit around to get toasty, with specialities such as Schlutzkrapfen (similar to ravioli), Kaiserschmarren (Austrian pancake), homemade cheese spaetzle and mountain honey from locally kept bees.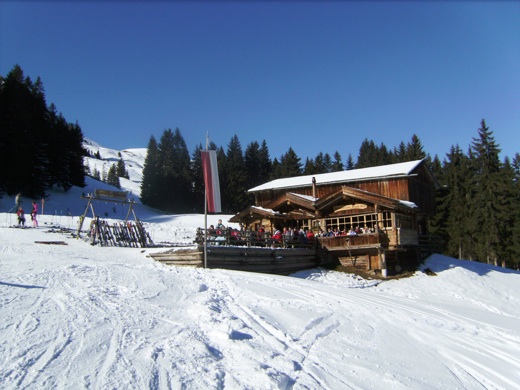 If you stop off at Hochbrixen mountain station you'll find the Alpeniglu village, made up of 18 igloos.  It's a great stop for a hot wine or hot chocolate, but on Wednesdays and Saturdays they really pull the stops out, with an Igloo Magic Night for €95, which includes a fondue at the ice table in the igloo restaurant, a tour through ICE LAND exhibition, a torch-lit hike and an ice carving workshop.

Tobogganing is big in the SkiWelt too, with a 3.8km run, through the trees from Hocksoll. The course that has twists and turns that, with a wrongly dangled ski boot or too much leaning of body weight, will tip you off balance and into a heap, doubled up laughing.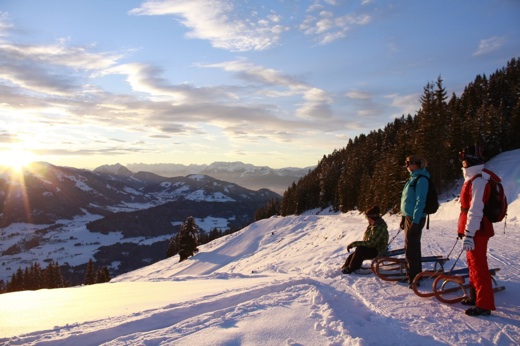 As the sun begins to sink, you'll find another Tirolean tradition: après ski. There are some wonderful wooden huts full of skiers celebrating the day on the slopes.  The atmosphere is what après ski is famous for, especially around the fire at the Sennhutte or at the Moonlight bar, at the end of a run that gets bathed in orange light as the sun sets over the valley. As we raise our glasses, we realise that if we thought we were only here to ski, we were fooling no one but ourselves.

Snow How:
Getting there: Dan Elkan travelled by train from London St Pancras to Soll, Woergl via Paris using Eurostar and City Night Line and local services, which costs from around £210 per person. A more direct service from London St Pancras to Woergl runs every Friday. To book go to Deutsche Bahn (08718 80 80 66; bahn.com)

Resort Info:
Opening Dates: SkiWelt Ski area is open from December 8th, 2012 to April 7th, 2013
A 6-day, peak season adult lift pass costs €209,50
Total Slopes: 279km
Blue runs: 124km
Red runs: 128km
Black runs: 11km

More Information:
SkiWelt (skiwelt.at), Soll (wilderkaiser.info), Hopfgarten (hohe-salve.com)