When it comes to booking my skiing holiday, I generally go for what I consider the easy option – a package holiday with flights and accommodation all in – as I tend to think it takes the stress out of trying to organise your own transfers. So when my girlfriend suggested going to several resorts and travelling by train around Switzerland, I was a little sceptical…
Happily, if a little nerdishly maybe, my abiding memory of our trip is not the wonderful scenery, fabulous skiing, beautiful company or excessive food and drink we consumed, but the Swiss train system.

Like many, I have become accustomed to long journeys on crowded coaches winding up mountain passes at a snail's pace. Well, such journeys are not needed in Graubünden, which, fact fans, is Switzerland's only trilingual canton (speaking German, Romansh and Italian). Its main city, Chur, is the oldest settlement in Switzerland, while its 7,106 square kilometres – including some of the most breathtaking alpine landscapes you will ever lay eyes on – make it the largest canton in the country. Some of the most famous and exclusive winter destinations in Europe can be found among the 45 resorts within its boundaries, along with some of the best skiable terrain anywhere in the world.

But I was about to tell you about the trains… We arrived in Zurich airport, 1hr 45mins fl ying time from Gatwick to fi nd the platforms are just a few minutes' walk from the baggage hall, and wherever we went, the pistes were no more than fi ve minutes walk from the stations. In fact, it's a common sight on Swiss trains to see people fully kitted up – boots and all – skis resting in the racks that all the trains have, heading out for a day on the mountain. Being Switzerland, the trains are immaculate, their standard travel putting our fi rst class to shame, and thanks to the Swiss integrated transport system, throughout your journey – be it by plane bus or train – the connections are seamless and punctual, leaving the passenger to sit back and worry about nothing more than enjoying the stunning scenery rolling by the window.

First stop for us was Klosters, a resort usually associated with being the winter playground of our own dear royal family, yet, in reality, a resort that is a winter playground for any family, with neither royal connections nor a civil list-funded budget needed to enjoy this wonderful town. It's probably fair to say that while the images of Prince Charles schussing down the slopes in his trusty one-piece have spread the name of Klosters far and wide, it's also fair to say this has also caused the resort to be overlooked by many, with the common misconception being that it's expensive and too exclusive for most.

However, nothing could be further from the truth. If you want chic and champagne, you will be well catered for, but if you're looking for a family friendly traditional hotel in the centre of town, such as the charming Hotel Cresta where we stayed, then Klosters has you covered too.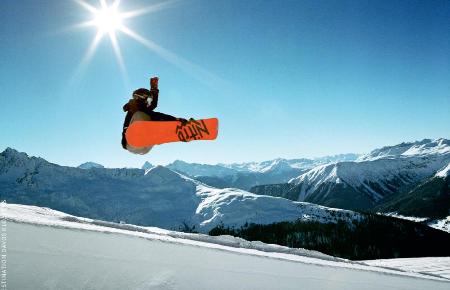 Not just a great place to stay, Klosters is the gateway to one of the best ski areas in Europe. The Davos-Klosters ski area covers 300km of pistes including the world-famous Parsenn and Jakobshorn areas and has something for everyone – from the casual skier who wants to cruise the blues all day with multiple stops for gluhwein, the boarder who wants to session one of Europe's only 22ft Superpipes, or the speed freaks who want to test themselves on some of the fastest runs out there. Having expected Klosters to be more about the après than the ski, we were blown away by the terrain on offer, all immaculately serviced by a far-reaching, and, as you would expect in Switzerland, ultra- effi cient lift system – though it's worth getting to the main Gotschna cable car early, as queues can build quickly in peak season.

Next stop on our tour was Klosters' neighbouring resort, Davos. To call Davos a resort is to sell it short, however. Dating back to the early 12th century, it's the highest city in Europe at 1,560m above sea level, and long before people thought about sliding down mountains those in the know were heading there as its microclimate made it a famous spa destination. Nowadays, Davos is probably most famous for hosting the World Economic Forum (WEF), and, walking around, it's easy to imagine world leaders and captains of industry feeling at home in a destination that is one of the most exclusive in the Swiss Alps.

No train this time. We skied over from Klosters, our luggage having been collected for us by the wonderful staff at the Kongress Hotel, one of the many top-class hotels in Davos. If you want to sit back and relax, letting others do all the hard work for you, then you will fi nd plenty of options here. Given its hosting of the WEF, it's no surprise that the hotels cater for everything, so be it a business meeting or a romantic alpine break, you will be well looked after, and when you venture out into town you will fi nd plenty of wonderful restaurants, shops and bars in which to spend your time.

Davos sits at the heart of the Davos-Klosters ski area, with every alpine activity within easy reach. Having spent two days exploring the pistes, we decided to head along the valley to Rinerhorn and try our luck on the famous 3.5km toboggan run. I'd not been on a sled in years, but this has to be one of the most fun things I have done in recent memory, and judging from the smiles on the faces of my fellow sliders I wasn't the only one: from grandparents to grandchildren, not one person arrived at the bottom without a grin spread from ear to ear.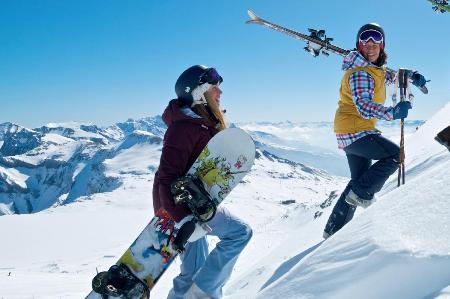 Davos-Klosters has it all - an epic ski area catering for all abilities and activities, with accommodation for everyone from royals to those of us on a less regal budget. But it was time to move on to pastures new, so with the fi nal stop of our trip beckoning, we packed our bags and strolled to the train station, destination Flims-Laax.

A short, utterly painless train journey to Chur was followed by a quick hop on to a bus up to the resort. Unlike many resorts in Europe that are happy to trade on past glories and reputations without making signifi cant upgrades to lift systems and infrastructure, Laax has charged ahead. Adopting the philosophy of, 'if we build it, they will come', vast amounts of investment have been poured into the resort, resulting in a destination that should be top of any winter sports enthusiast's list.

The Flims-Laax ski area has a well-deserved reputation as a mecca for snowboarders and freeskiers, with 220km of pistes and some of the best snowparks and freeriding in Europe, but what is less well known is that it's also one of the most family-friendly.

Flims is a more traditional Alpine town, but we stayed slightly higher up the mountain at the Rocks Resort in Laax, a stunning modern interpretation of Alpine living, combining the best of cutting edge design with widespread use of local materials, such as the slate from the surrounding mountains. The apartment and hotel rooms here are as well appointed as any fancy West End hotel in London, and the clever use of local materials means that they sit in harmony within the ancient setting, unlike many resorts where tower blocks sit at odds with the beautiful alpine landscape.

The whole Rocks Resort has been designed with the aim of putting the customer fi rst, and making life off, on and to the mountain as easy as possible. Everyone staying at the Rocks Resort is given a key card which grants access to a private heated locker under the Laax cable car station – also situated here are changing rooms and the ski hire centre, again all accessed by the key card. If your boots don't fi t, or you want to try another pair of skis, there's no need to spoil your day coming back down the mountain, as there is another hire centre at the top of the famous Crap Sogn Gion ski area.

This makes for a very user-friendly environment, with no need to lug all your ski equipment around the resort; just put it all in a locker, slip on your shoes, and head out to enjoy some of the many resort activities on offer. Principal among these is the new freestyle academy – an indoor training facility with ramps, foam pits, trampolines and a skate park, meaning the kids of all ages can learn moves in safety (indeed many of the world's top professionals train here). It also has an alcohol-free club area perfect for younger family members to hang out in without feeling they are missing out on an evening of fun.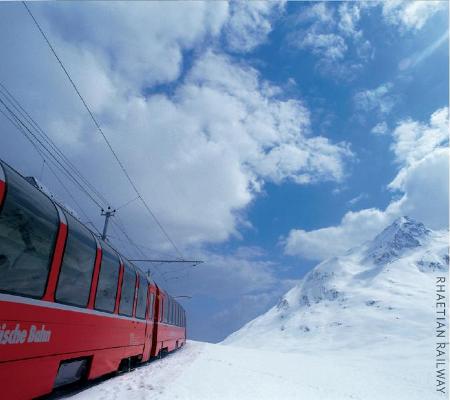 The bars and restaurants in resort are far from your usual alpine fare, with everything from Asian to Mediterranean to traditional Swiss, providing a variety and quality of restaurants that you wouldn't normally expect to fi nd. Be it a quiet meal, celebratory dinner or a late night of partying, Flims-Laax has you covered.

After really exploring the mountains of Graubunden I'm happy to say I've been converted – not only to winter holidaying in the ever-effi cient Switzerland, but also to travelling in comfort by train. Next year we've decided to start our adventure in St Pancras and bypass the airport.

Snow how - Graubunden, Switzerland

TRANSPORT
Swiss International Air Lines
London Heathrow or London City to Zurich is currently £112 Rhaetian Railway
www.rhb.ch

ACCOMMODATION
Hotel Cresta, Klosters
Double room from £89 half-board, per person
Kongress Hotel, Davos
Double room from £155 half-board, per person
signinahotel, Laax
Double room from £86 per person

DAVOS KLOSTERS
DK has 110 pistes, spread over 307km in six different ski areas,
Davos: 30% beginner; 50% intermediate; 20% advanced
Klosters: 30% beginner; 40% intermediate, 30% advanced

FLIMS-LAAX
58 pistes, 220km
29% beginner; 32% intermediate, 39% advanced