I've never much taken to mules. Grim beasts – half-horse, half-donkey and 100 per cent bad attitude. But during my mission to climb up – and snowboard down – Morocco's Jebel Toubkal, the highest mountain in North Africa, I was destined to learn a grudging respect for these hardy load-bearers.
Snowsports. Morocco. Not often mentioned in the same sentence, as I found out when arriving at customs in Marrakesh. 'What is in the bag?' asked the moustachioed customs officer.'It's a snowboard… like a surfboard for the snow?' I tried. Eyebrows raised, customs dude waved me on, and I headed towards the taxi ranks to take the short ride into the exotic cultural miasma that waited downtown.
Morocco's ski scene, such as it is, was developed by French colonials, who created two resorts in the Atlas Mountains in the 1950s. Mischliffen, near the village of Ifrane, 70km south of Fez, is possibly the most bizarre village in Africa, with only the hotel restaurants' goat and tagine specials and the waiters' embroidered waistcoat and fez ensembles to remind you that you're not in Europe. Among the monkey-filled pine trees are numerous three- and four-star hotels, all built in a European style, and complete with authentic French plumbing (to visitors, a prized rarity in such parts). This surreal Alpine transplant is the place to be seen at altitude for the rich and famous. King Mohammed VI has a massive chalet here, and most Moroccans visit more to sunbathe and drink mint tea than to ski – possibly a wise thing, as the resort consists of only a few unchallenging pistes and a bad snow record.
Oukaïmeden, 75km south of Marrakesh, is Morocco's second French-built ski station and is only a stone's throw from Jebel Toubkal. In Marrakesh's morning sun, after a night of snake charmers, tumbling acrobats, gallons of mint tea and a lighter wallet (I'd had to pay Mustafa, a little boy, to show me the way out of the Bazaar as I was totally lost), I climbed into a very old Peugeot estate for the two-hour taxi ride to the resort. Leaving behind the city's dusty hustle of water sellers, street traders and horse-drawn carts, we were soon speedily rising through farmland and forests – and dodging overloaded donkeys – towards the 4,000m-plus snow-capped peaks of the High Atlas mountains.
As I got out of the taxi I was almost attacked by local Berber guides in some of the brightest Eighties ski jackets I've ever seen, offering their services and ski hire. Some of the skis on offer were older than the jackets – if you're thinking of skiing here, bring your own if you can. Oukaïmeden has six drag lifts, which never seem to all be working on the same day, and one chair that takes you from 2,600m to Jebel Oukaïmeden's 3,270m summit. The only run down from the top is north-facing and holds the snow well between late December and early March. There's no piste basher, so it can be rough if it hasn't snowed for a while, but that just adds to the fun. Overall, Oukaïmeden is a great spot for an acclimatisation day, or for wintersports beginners to to blood themselves.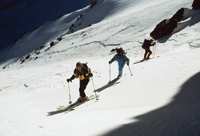 After a slow and rickety ascent on the chairlift, I looked out over the red soil of the desert plain and the haze of Marrakesh. Sitting at the top of the lift, some local guides were enjoying a smoke of cherry tobacco in a large water pipe. I was waved over to join them so they could all have a gawp at my snowboard. After a few rounds of the pipe, and many insistences that my board wasn't for sale, I set off for my first descent with my new friends. I don't think I've ever seen such a collection of speeding ski styles in my life. One guy was jump-turning while another was doing a superfast snowplough over moguls. I stayed well clear at the back and laughed off the jokes about how slow I rode. After riding and laughing all day with the locals, I was ready for my assault on Jebel Toubkal.
Serious skiers come to Morocco to ski tour, and that's really the only way to experience the best the Atlas Mountains have to offer. Most, like me, come withthe ultimate goal of climbing Toubkal.
On skis from Oukaïmeden it takes four days of skinning and skiing to reach Toubkal's summit, sleeping en route in Berber villages and mountain huts. However as I'm a snowboarder, and didn't have any tennis rackets, I 'cheated', and took a taxi around a couple of valleys to Imlil.
Imlil is a large village built on tourism, specifically the shared wish of foreign visitors to climb Morocco's mightiest peak. You won't find any four-star hotels here, just locally run guest houses and a warm Berber welcome. Ibrahim, my local guide, is one of many who, for a small fee, will help you arrange all you need for an attempt on Toubkal, including aforementioned mule.
After loading up enough food for a couple of nights Ibrahim, grim beast and I started the long slow ascent to the freezing cold refuge that sits at 3,207m. It's run by the Moroccan arm of the Club Alpin Francais (CAF) and with its skanky bunk beds, howling through drafts and one tiny fireplace, wouldn't win any prizes in the hostel of the year awards. In 2007, a brand new hostel was completed adjacent to the existing one but as yet hasn't opened, as the locals don't want to upset the CAF. Who said colonialism is dead?
After a few hours of slogging uphill, Ibrahim, who'd chain-smoked most of the way, was tired of my slow pace and insisted I get on the mule to speed things up. I reluctantly obliged, but as the mule lurched forwards under my added weight, the snowboard, which was still in my backpack, swung down and spanked its backside, sending the disgruntled animal into a near-gallop and Ibrahim into a sprint to catch us. After a good giggle we agreed that it might be best if I walked after all.
An early morning start followed one of the coldest nights I've ever spent indoors, and Ibrahim and I, roped together and using ice axes and crampons, pushed on to the 4,167m summit. It's not really a technical climb but the ice is very steep in places and with fresh snow it's hard going. After a brief rest at the top I clipped into my board, left the roof of North Africa behind and enjoyed a ten-minute charge down steep, wind-blown hard-pack back down to the refuge.
Was the ultimate ride down worth all the effort? If you compare it to some of the more easily attained off-piste in the Alps, probably not. But the journey? The people I met? The cultural experience? Worth their weight in mules.
Information:
Oukaïmeden and Mischliffen, Morocco
tourisme-marocain.com
Getting there:

Oukaïmeden (O): Fly to Marrakesh with EasyJet, or Royal Air Moroc, From here it's a 2hr transfer to the resort
Mischliffen (M): The nearest airport, Fez, is served by Royal Air Moroc (as above). Transfer is 90 mins
Tour operators:

Ski Club of Great Britain's Ski Freshtracks (skifreshtracks.co.uk)
UK based Mountain Tracks (mountaintracks.co.uk) runs specialist 8-day ski touring trips to Toubkal and beyond
So too does Morocco-based trekkinginmorocco.com
Accommodation:
Oukaïmeden
High-end: 4-star L'hôtel Kenzi Louka (kenzi-hotels.com)

Mid-range: Chalet Courchevel (lecourchevelouka.com)

Budget: Oukaïmeden Refuge (email This email address is being protected from spambots. You need JavaScript enabled to view it.)
Ifrane (for Mischliffen)
High-end: Grand Hotel Ifrane (Avenue de La Marche Verte, Ifrane)

Mid-range: l'Auberge Berbere (Route d'Ifran, Ougmes, Ifrane 53100)

Budget: Auberge la vallee (Tagadirte, Ifrane Anti Atlas Saghir, Ifrane 81100)
Imlil (for Toubkal)

High-end: Just down the valley is Richard Branson's amazing Kasbah Tamadot (www.virginlimitededition.com) offering sumptuous shelter
Mid-range: Dar Imlil Hotel (hotelscombined.com/City/Imlil.htm)
Budget: arrange a home stay on arrival, as cheap as your bargaining skills are sharp
Season dates (both resorts): Late-Dec-early Mar, as snow permits
Vertical drop: (O) 3270-2600m, (M) 3273-2100m
Terrain: (O) 4km, (M), 2km
Snowmaking: (O) None, (M) none
(French/Arabic)
Hello: Bonjour/salam alaikum
Thank you: Merci/shukran
Your mule has beautiful eyes: Votre mule a des yeux magnifiques/inin lbghal dialk zwinin
Highlight: cultural otherness
Bummer: rough, ready and sometimes freezing accommodation