I still get a thrill tracing our route here on a map – out of Gatwick, up across the North Sea, Denmark, Sweden and over the Baltic Sea to Helsinki. From here a smaller plane took us the 950km to the Finland's northernmost airport, Ivalo, in Northern Lapland. The short drive northeast to our destination, the village of Nellim, close to the Russian border, was an endless montage of pine trees and deep, untouched snow – punctuated by precisely seven vehicles (Logan and I counted).
The Nellim Wilderness Hotel, our base, is a former school run by Jouko Lappalainen, 38, a local ex-pupil who, with his family, has turned this cluster of wooden buildings into a venue offering adventure-lovers something deeper than the more commercial winter holiday experiences laid on elsewhere in Lapland, with their queues and coaches and off-plan resorts. Here, on the pristine shore of Lake Inari, Scandinavia's deepest, guests can tailor their own itineraries from a selection of activities, and according to weather conditions. On our visit in March, a milder winter and early spring means that although there is plenty of the white stuff, it's not the right stuff for cross-country skiing, but that's the only option ruled out.
We acclimatise with two-hour snow-shoeing treks through nearby woods, with Jouko's wife Mari pointing out World War II soldiers' hidey holes, and trees thousands of years old. It's an introduction to a fascinating area, which we later get to know better thanks to Katri, 'the Queen of Nellim', who pays us a visit. Elderly Katri is from the Skolt group, one of several small groups belonging to the indigenous Sami people, who have lived in the area for thousands of years, were once suppressed and are now increasingly treasured. Sensitive tourism operations like the Wilderness Hotel arrange this kind of cultural exchange, and it was fascinating to hear from Katri about the traditional way of life, and to accompany her to a remarkable and beautiful church nearby.
Nellim is the gateway to two huge, uninhabited wilderness areas of frozen lakes dotted with tiny pine-covered islands, and our various excursions into them involve a small fleet of snowmobiles or 28 frisky huskies. We plan to try as many different things as possible each day – ice fishing, reindeer rides, snow-shoeing and visits to sample local colour. We decline the option of camping out for several nights though – hot chocolate and cookies and a reviving sauna at the end of each day's adventure are more our speed.
All my concentration is needed to control my speed, keep up with the rest of the group of eight, and try not to breathe in the fumes. As we speed across the frozen surface of the 80km-long lake Inari, we nip now and then onto some of its 33,000-odd little pine-topped islands, and it's here, trying to turn around a tree on a slight incline, that I come a cropper.
My machine lands almost on its side, stuck fast. There's no way I can right this heavy, revving beast, my shouts for help are lost to engine noise, and for a moment the vastness of this place's isolation feels spookily real. Within minutes, though, the ever-aware Jouko comes zooming back like something out of a Bond film and we're soon back on our way.
Continued...
---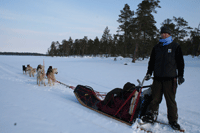 Fun as snowmobiles are, it's difficult not to feel a little uncomfortable about the pollution you're belching into this unimaginably pure, cold air, and I'm ready to give a more primitive, traditional mode of transport a try. I'm not without trepidation, though. At the hotel, we've heard the dogs who will be our engine long before we see them, and as they are harnessed to wooden sledges in preparation for our husky safari, the howling and yelping is deafening.
Not keen on fierce, barky canines, I suddenly wonder why I am doing this, and decline the offer to take charge of a sledge of five dogs. It all seems much too much like wild chariot racing, Ben Hur-style. So I stand next to Christophe, the dogs' owner and handler, who tells me more about the soulful-eyed dogs who are pulling our sledge. Buzz and Shrek are among them, apparently, though I soon gather that 'Putain!' is what he calls them all when they try to veer off course. Soon I'm finding the animals endearing, and when we stop for sausages ('Finnish vegetables!') and amazing salmon and potato soup cooked over a roaring fire in one of the little travellers' huts dotted around the landscape, my son Logan, smitten, strokes them happily as they rest in the snow. (The food generally was excellent, varied homely fare, rich in potatoes and warming soups. Non-meat eaters like me are well looked after, though Logan assures me I missed out when I passed on the reindeer meat, which was 'very nice, like salty bacon').
Suitably refuelled, I summon up the confidence to drive my own sledge, and I find that, like snowmobiling, it's something of an art form. Standing on a ledge at the back, hands gripping a rail, when necessary I press with my foot on the jagged metal brakes. On uphill stretches, I help the dogs by getting off and running alongside, pushing the sledge. Converted!
On our way back, we stop to go ice fishing. Jouko shows us how to use a hand drill to bore through the ice, and each of us is handed what looks like a toy plastic fishing rod. As soft snow starts to fall in the vast silence, it's like a concentration contest as each of us becomes absorbed in the quest to land a perch or pike like the whopper proudly held aloft by Jouko in a photograph in the hotel's dining room. Logan loves the fishing, as does another guest his age and, still in high spirits when we return, the two boys enjoy a snowball fight and some sledging before more pre-bedtime bonding on those mini computer game things I never know the name of.
Bedtime is delayed, though, when white-haired Hansi tells us there's a chance we'll see the Northern Lights tonight – apparently they appear about 200 nights of the year up here. We troop out in a small group to the edge of the lake and stand, silent and hopeful, peering to try to spot a streak or shimmer of light. We stand motionless for more than an hour, such is the expectation, but finally, the cold defeats me and I head for my warm room, to be slightly comforted the next morning by the news that the aurora was a no-show. I'll have to go back, then. Which is just as well – even now, seven months later, hardly a day goes by without Logan, previously a sworn adventure-dodger, asking, 'Mum, when are we going back to Finland?'
Joanne O'Brien travelled with Activities Abroad (activitiesabroad.com), which offers three programmes, or bespoke itineraries designed from a menu of activities that includes cross-country skiing, husky safaris, overnight stays in a wilderness cabin, snowmobiling, tobogganing, snow shoeing and various traditional Sami cultural events. The company also offers a teenage programme in Nellim (next one in March 2009).
Chilled hills. But what of the skiing?
Vert-drop junkie Geordie Torr finds there's fun to be had on Finland's humble peaks
Let's face it, no one goes to Finland to rack up endless kms of downhill on skis or board. For those used to an Alpine playground, the mountains are pretty tame and the resorts small in scale. But that all works perfectly for Finland's budding status as a family destination. The lack of super-steep terrain means that parents don't have to worry so much about their kids breaking something, and the small ski areas mean that there's less chance of them getting lost, as well as keeping lift pass prices low. What's more, dragging your family's hyper-keen skier off the mountain to try one of the many other winter activities, which are at the heart of Finland's holiday offer, isn't quite such a chore.
There are plenty of options around for ski/multi-activity holidays in Finland, with all the big names – including Crystal Ski, Thomson, Inghams and Neilsen – getting in on the act. They're all clearly aware of the country's limitations skiing-wise, mining the family-friendly, lots-of-other-stuff-to-do angles hard. Which isn't to say that the skiing isn't good. Far from it – for a relatively cheap lift ticket you get uncrowded slopes, almost guaranteed good-quality snow and awesome scenery – on the upper slopes at Levi, you can ski through other-worldly snow-sculptures where the trees are cloaked in heavy falls and look down over the vast forests of the Levi and Pallas fells.
Finland's lack of altitude has also spawned a thriving park scene – Levi had a decent one when I was there, although the halfpipe looked like a large snow rat had been gnawing away at it. And you can always mix up downhill with cross-country, which is some of the best around. Ylläs, for example, offers some 330km of pristine trails.
Many of the resorts also offer night skiing – well, they have to, really, as you're so close to the Arctic Circle that during midwinter, daylight lasts around four hours. And you might even score a sighting of the elusive Northern Lights.
Images: Joanne O'Brien, shutterstock.com