'The hotels in Gulmarg, very nice,' Jammu and Kashmir's tourism minister Mohammad told me while I was researching my trip. 'The one where you will stay, very nice. It has central heating.' And in Delhi, my stop-off en route to Kashmir, his deputy director, Gulam, added: 'You're staying at very nice hotel. Central heating is there.'
The Hotel Royal Park in India's premier ski resort, Gulmarg, at the southern edge of the Himalayas, did indeed have central heating. But for the whole of the five days I was there, as snow fell and winds howled outside, they didn't switch it on once. No one would tell me why. They just stood there, wearing woolly hats and wrapped up in rugs indoors, and smiled awkwardly. By way of compensation, the hotel's one gas heater was continually wheeled about in my wake, from reception to room to dining room. But it was still see-your-breath cold indoors. To dinner I wore full ski kit including hat and one glove – on the non-fork-holding hand – and bedtime demanded an extra layer.
None of the other guests seemed to mind. Like the staff, they wandered about in rugs and woolly hats. Amid the elaborate Kashmiri carpets, wood carvings and steaming tureens of fantastic curries, this Himalayan Fawlty Towers looked like a swanky refugee camp.
A second Indian gift was the 'wonderful mountain view from your room, Mr James,' which the manager promised me, beaming from beneath his woolly hat. He wasn't wrong, exactly. Outside, all around were snow-covered Himalayan peaks. But between them and my view was the local brand of double-glazing, a murky sheet of polythene. Which I set fire to one night. Not out of frustration with the lack of a view, of course, nor even to keep warm. I'd just borrowed the hotel's only working heat source to dry out my very sodden ski kit, forgetting that gas heaters and plastic sheeting are an even worse combination than my feet and wet ski socks in the morning.
Along with the central heating, avalanche transceivers (those little mobile devices that help rescuers find you when you're trapped under ten tonnes of snow) were also guaranteed. 'Yes, there will be transceivers. No need to worry, Mr James,' Mohammad had told me, in the sort of reassuring tone a farmer uses when coaxing a lamb to the slaughterhouse. And so, on my first lift ride with my ski guide – a padded-out, middle-aged Borat-a-like who wished to be known only as Mr Dar – I looked down over a 350m avalanche scar and asked about the transceivers. Mr Dar twitched his bushy black 'tache and smiled at me. Clearly, there were none. Still, at least I had the locals' goodwill on my side: 'I hope that while you're here you won't face any turmoil,' the local tourism officer Rashid had said to me reassuringly. 'No bombing, no hand grenade or any attack.'
Continued...
---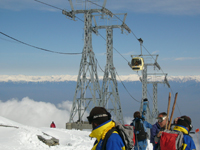 Gulmarg is a snowy plateau dotted with single-storey dwellings with corrugated iron roofs painted green. (If you come to Gulmarg, stay in one of these. They're as simple as Scout huts but heated in the traditional way, by wood-burning tandoor ovens, so they're really warm and you can dry your ski kit out each evening.) Forget the five baby drag-lifts around the valley, you're here for the one real lift, a bubble. Lift surveys were first taken in the 1980s, during the golden years of tourism in Kashmir, when tens of thousands came to trek and to visit Dal Lake. But Kashmir's troubles – clashes and tension between the Indian and Pakistani armies and separatist rebels – stopped the project in its tracks. The first phase of the lift was then opened in 1998, in time for India's national winter games. The second phase was installed by Grenoble-based lift company, Poma, in 2005, providing Gulmarg with two of its most vital statistics – the highest cable car in the world and, even more importantly, 1,330m of vertical drop. That's more than any resort in the US. And lift queues? 'People don't wait in line here,' the cable car manager told me. 'The lift operators wait for them.'
With lift fees around £14 per day, you could look at this as a cheaper way to enjoy the delights of heli-skiing. Because even better than the price is the quality of the skiing. The main routes from the top feed down five un-pisted gullies – everything in Gulmarg is off-piste – whose steepness ranges from 35-55 degrees, the same as the toughest runs in Europe and America. And the snow lies deep and untracked.
Transceivers or not, I wasn't going to miss out on this. At the beginning of the season, we were the first to head up the lift that day, so Mr Dar and I had the mountain to ourselves. We clipped into our bindings and headed for the edge. From here, the virgin snow fell away so sharply, I couldn't see any slope in front of me. We set off, gingerly at first. Then Mr Dar stopped and pointed to the right. 'There, Mr James, avalanche. Follow me, but wait 20 metres.' That way, if the snow were to slip and we started an avalanche, only one of us would die. Then we're off, and the skiing is as good as I've ever had, anywhere. I'm living every ski video I've ever watched, right here, right now, and for the rest of that day.
At the end of a session like that, there are three things you want – a cold beer, a hot shower and a warm bed. Since I knew two out of three weren't happening, the cold beer seemed even more vital. But Kashmir's separatists are fundamentalist Muslims, who frown on alcohol, so Gulmarg is the weirdest of things – a dry ski resort. It feels like a chairlift without chairs, like Siegfried without Roy, like a pizza without cheese, like, like – goddammit – a ski resort without beer. It's just wrong. The Geneva convention should carry a clause against it.
But Gulmarg, with its quirks and exotic charms, makes up for it in so many other ways. On the slow, pub-less walk back to my frozen hotel – no niceties like resort buses here – suddenly, less than 10 metres away, two eagles flew out of a tree and fought a World War II-style dog fight in front me over a scrap of meat. It might not be Jägermeisters and dancing in ski boots, but it made for a wild winter trip.
Trip Notes
Getting there: Fly overnight from London to Delhi and take the connecting flight (1hr 10mins) to Srinagar. Transfer to Gulmarg by Land Rover is 2.5hrs
Tour Operators:
Indus Tours (020 8901 7320, industours.com) runs 10-day ski trips to Kashmir from £1,385 including all flights and transfers. 2008/9 is the first winter you can get complete travel insurance to Kashmir. Which can be useful for skiing. Don't rely on a helicopter plucking you off the slopes though. This is definitely not Switzerland – bring your own kit, if you can. The stuff for rent and sale here looks left over from the early Eighties. Great for fancy dress and decorating your chalet in Chamonix, not much cop on the hill.
Season dates: Dec 2009 – Mar 2010
Vertical drop: 3980-2650m
Terrain: 20 sqkm on front side of Mount Apharwat
Pistes: No prepared pistes
Snowmaking: None
Lift passes: Around £14 per day
Mountain munchies: A few on-piste huts selling chai tea and chapattis
Guiding and tuition: Ski Himalaya (skihimalaya.com) is the only provider of local guides with formal training in avalanche safety and rescue
Snowpark?: No
Downtown: Does a motley collection of huts selling biscuits, tea and soap count as a downtown?
Highlight: The mountain almost to yourself
Bummer: Abject boozelessness