There is ski in and ski out, and then there is skiing down the mountain after a night in the famous Pic du Midi observatory in the French Pyrenees. You emerge into the painfully bright early morning sunlight with the ultra-modern space station-like building at your back and the whole roof of the Haute Pyrenees laid out in blinding high definition clarity as far as the eye can see. Stunning.
I must have seen this iconic, almost clichéd ski setting in a hundred photos but experiencing first tracks here after spending a night getting acquainted with its ever-changing panoramas is the fulfilment of a long-held ambition for me. There is simply no substitute for actually being here, on top of the world, with crisp, untracked snow dropping away from us as far as the eye can see. This truly once-in-a-lifetime experience has been made possible for us by the à la carte, journeying approach my girlfriend and I have taken to this Haute Pyrenees ski exploration.
A few years ago I wouldn't have dreamed of taking a ski holiday that wasn't ski-in ski-out based in a single resort. Maybe my tastes are changing, maturing - or I'm getting old - but if anything, this road trip in the Pyrenees is revealing that there can be so much more to a ski holiday than just simply skiing.
But why the Pyrenees? This mountain range is forever in the shadow of its Alpine cousin, and there are some understandable reasons for this; the Alps boast much bigger resorts, higher altitude and a very British presence. Some might say we're so sure of what to expect in the Alps that a visit there barely qualifies as travel. In contrast, the resorts of the French Pyrenees are not geared to English-speakers; they're not purpose-built from concrete and they haven't quite industrialised the skiing experience. Above all, they're the real France.
Praise the Lourdes
I first realise this is going to be a refreshing change as soon as we arrive at Lourdes airport - we are in and out of arrivals within 15 minutes of landing, ski bags and all. There must be 40 people in the whole building.
30 minutes in a rental car brings us to Avezac, a typical rural French village notable for very little other than its proximity to, and spectacular views of, the Pyrenees.
The village is on the main road towards Val Louron, from where you can access the resorts of Peyragudes and Saint Lary, as well as being close to the A64, which is a quick route to the resorts further west such as Cauterets and Grand Tourmalet. Avezac also offers bargain three-bedroom accommodation through AirBnb - something we would have struggled to find in resort.
With the whole of the Haute Pyrenees laid out before us the possibilities were almost overwhelming but with four days available, why not ski four resorts? The challenge was on.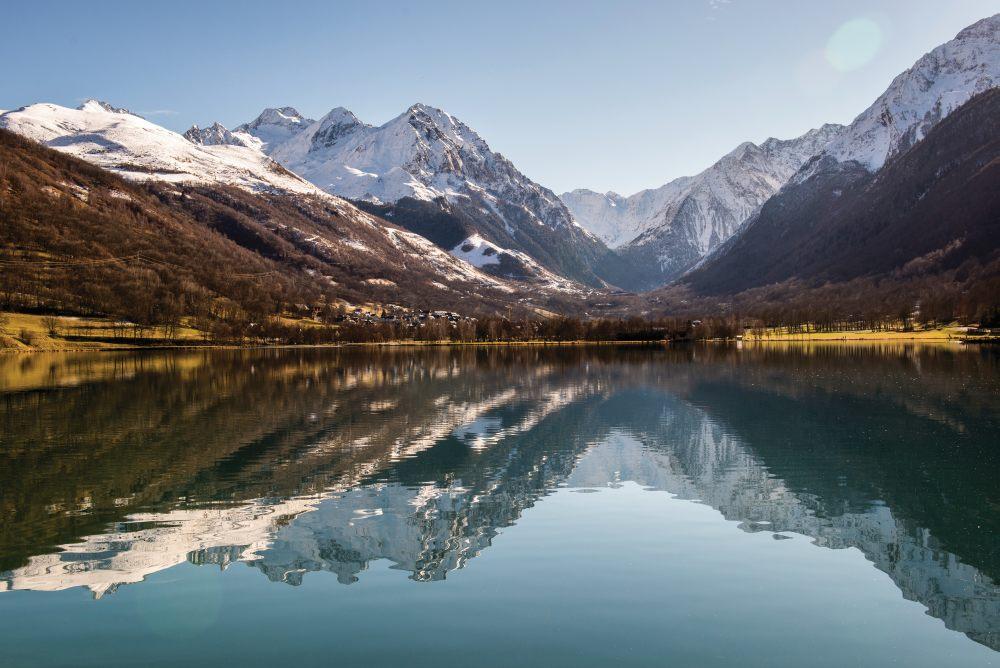 We chose the resorts of Grand Tourmalet, Saint Lary, Peyragudes and Cauterets - each offering a variety of great skiing, with immaculate pistes and freeride options to suit everyone. The compact nature of these resorts is ideal for families with kids in ski school, but it means you'd struggle to find enough skiing to fill a whole week - stringing them all together into a road trip however, made for the most diverse ski holiday I've ever had! It certainly helped that we struck lucky with a huge dump of snow the night before we arrived.
Starting at the top
I've mentioned how staying below the foothills gives easy access to the whole of the Haute Pyrenees, but having spent less on our accommodation than in-resort options we have enough money in the budget to spoil ourselves for one night. Where better than a mountain-top observatory? The Pic du Midi observatory was used in the Sixties to map the moon ahead of the Apollo missions, but more importantly, it now stands above the biggest dedicated freeride area in the Pyrenees.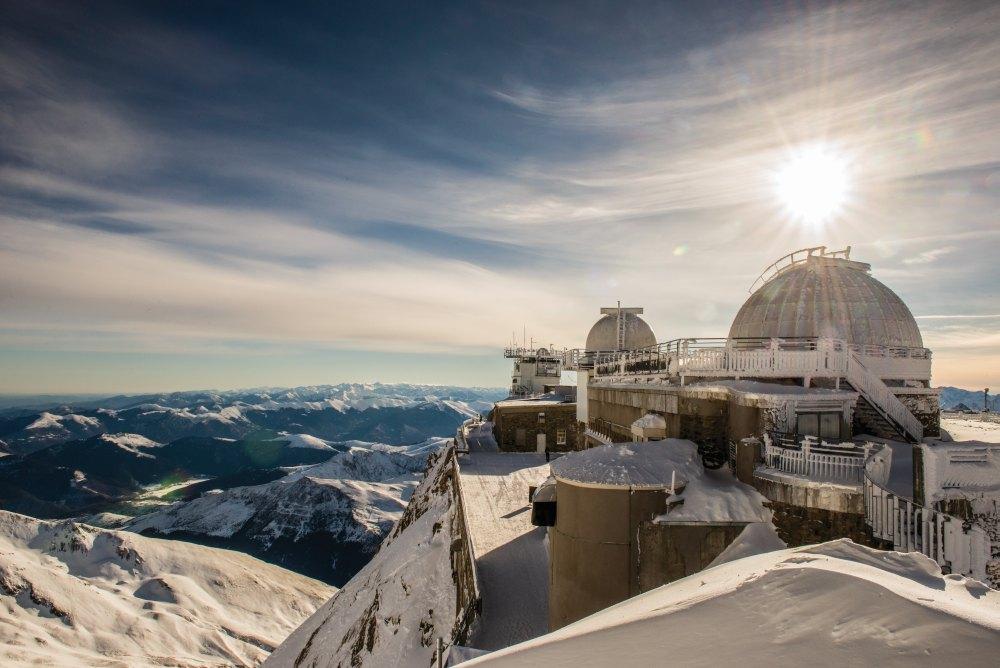 Catching the last cable car to the summit we arrive as the setting sun is adding more surreal beauty to this would-be Star Wars set. The telescope domes reflect the golden light and the hoar-frosted railings give us an indication of how cold it is going to be at 2,877 metres.
My number one tip for a night at the summit is to brush up on your French; there is a wealth of astronomical information on offer, but naturally it is in the local language. Otherwise, as my girlfriend points out, stargazing in a foreign language "is just dots and gibberish." But an hour of struggling with conjugations is a small price to pay to see the moon in jaw-dropping detail. Or for that matter, to witness first light hitting the endless peaks below, or enjoying champagne, foie gras and porc noir almost three kilometres above sea level.
We are really here for those iconic first tracks though. The 1,700m descent is for experienced skiers only, and avalanche safety equipment is a must - it can be rented in the base village of La Mongie. It has been 36 hours since the last snowfall, and despite heavy traffic the previous day, our guide Claude still manages to find us some fresh tracks - the best endorsement I can think of for hiring a guide, no matter how experienced you are!
Given the right conditions you could spend several days exploring a huge array of terrain off the Pic du Midi, and that's in addition to the great range of pistes lower down in La Mongie and Barèges.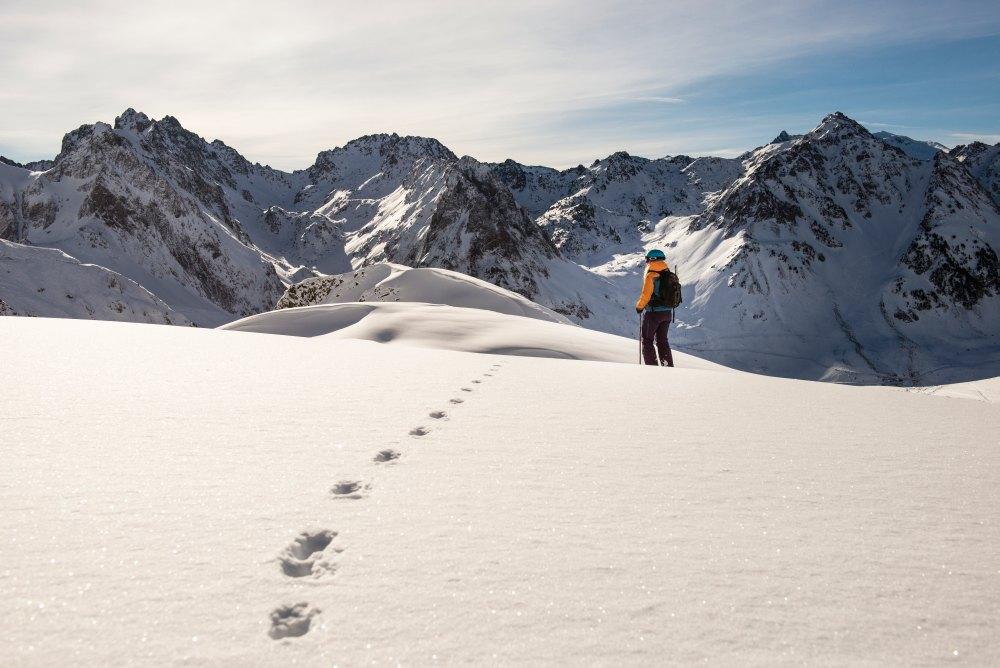 The ubiquitous thermal bathing springs are one of the cultural and historical aspects of a Pyrenean ski holiday that can't be ignored. So after our first day's travels, followed by the exhilarating but exhausting freeride descent from the Pic du Midi, we figure we've earned the indulgence of a bit of pampering.
While most ski resorts can offer a sauna, it's the rich bathing tradition of the area that makes the spa more than a luxurious add-on. Nearby Lourdes is the site of arguably the most famous healing spa in history, and destination for sick pilgrims from all over the world. Even if you don't believe in miracle cures, it's hard to argue with the modern appetite for 'wellness' centres. Every resort in the Pyrenees has a spa, or one nearby, and for the most part they are exceptional in design, but also in affordability - Aquensis in Bagnères de Bigorre en route to Grand Tourmalet offers an hour of much needed muscle-recovery for under £10.
As a showcase for that bathing heritage, Aquensis seems totally authentic; the 19th century architecture belies an interior renovated with vaulted wooden beams, which soar above the main relaxation pool, and a glass roof from which you can contemplate the mountains in an outdoor hot tub.
The highlight though is the Turkish bath; no neon mood lighting or piped whale song, just a feeling that Caesar might have taken the waters here when he conquered the town 2,000 years ago. It is essentially a long, low tunnel filled with steam and divided by occasional little alcoves, in which vague forms move languidly and murmur their satisfaction.
Lazy lunching at St Lary
Day two on the road takes us to Saint Lary, less than an hour's drive from our base in Avezac. Saint Lary has plenty of gentle terrain for beginners and is surprisingly accessible for non-skiers too. But there is great off piste terrain to be found, as you would expect in the home of snowboarding legend Xavier de le Rue.
One of these lovely tree runs takes us down to an isolated lakeside hut, frequented in the summer by hikers on the well known GR10 walking trail, which spans the whole length of the French side of the Pyrenees from the Atlantic to the Mediterranean. I could tell this place was going to be special when our guide Manu said "the other mountain restaurants just make industrial food..."
If balancing a tray through crowds of pushy, steaming skiers for the length of a 500-seat self-service canteen in ski boots is not your idea of fun, then Refuge de l'Oule is for you. There is no conveyor belt queue here, no doubt helped by the fact the only piste down to the refuge is closed, and we've had a beautiful off piste descent to the lake. What's more, having our food brought out to us by a waiter seems a real treat.
The secluded lakeside location of the refuge feels authentic and is matched by the genuine Pyrenean food on offer, locally sourced and cooked to order. Filet Mignon a la Chataigne (chestnuts) with mashed blue potatoes and a Tarte au Myrtilles costs a decent value £15. No, I've never heard of blue potatoes either, but the resulting taste sensation easily makes my top five mash list.
Speed and spa at Peyragudes
For full-on high-speed carving, Peyragudes, our third resort in as many days, takes the crown. Wide motorway pistes aren't everyone's cup of tea, but when they're empty and bathed in sun there is nothing more liberating and exhilarating than just letting rip, run after run.
The Peyragudes ski area straddles the ridge between the villages of Peyresourde and Les Agudes (hence the name) so there are always pistes in the sun. They've also built great variety into their 60km of groomed runs, with two snow parks, huge rollers on some of the red runs, and a 6km off piste itinerary named 'Vallée Blanche.'
With miles of piste carving under our feet, by mid-afternoon and in the spirit of travel, not just skiing, our thoughts turned back to wellness. Situated in the bottom of the Val Louron on the road between Peyragudes and Saint Lary is the well-liked spa resort of Balnea.
It certainly looks the part, its mirrored frontage reflecting the snowy peaks and the tree-lined lake it sits by. The inside is equally high-concept with four zones offering Roman, Japanese, Native American and Incan themes, in a set-up reminiscent of the Crystal Maze - only much more classy, and thankfully less frantic.
Off the beaten piste in Cauterets
I'd been looking forward to exploring the off-piste in our final destination of Cauterets. There is a huge horseshoe ridge known as the Cirque de Lys which has boasted more snowfall than the Alps in recent years (and the highest snowfall in the world at one point in 2013). Unfortunately we aren't so blessed, as it starts raining heavily soon after we arrive. But that gives us an opportunity to sample another ski-holiday essential in the pursuit of the greater cause of ski tourism; more food and drink.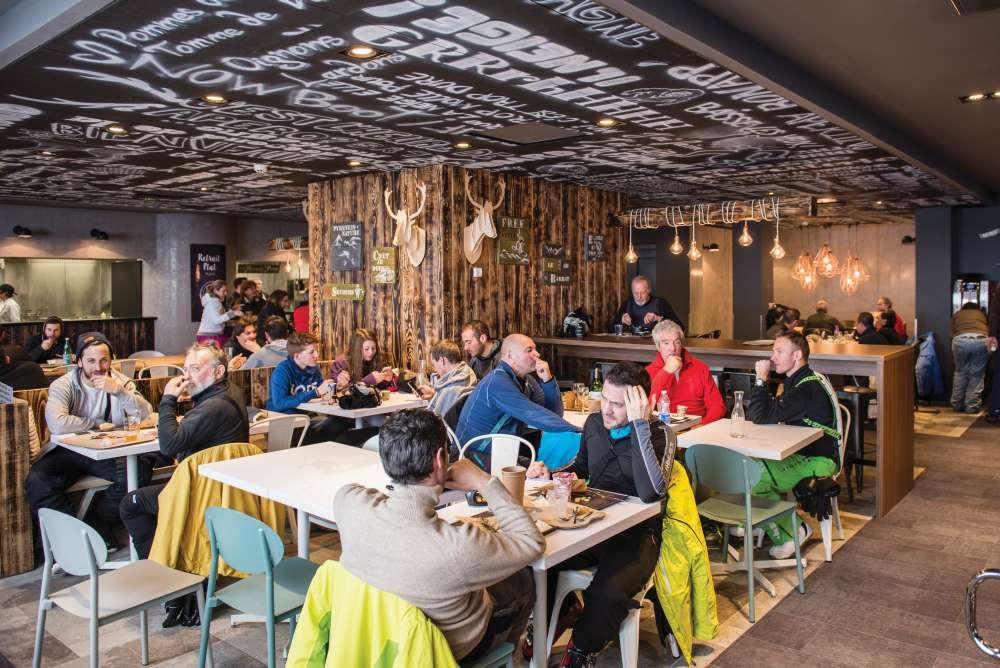 As hinted at previously, for me, eating on the mountain in France has always been synonymous with the dreaded words 'self-service.' Unfortunately these cafeterias seem as popular in the Pyrenees as in the Alps. The good news is that they're much cheaper, and therefore significantly less painful. But after the delightful lunch in St Lary's Refuge de l'Oule it is a joy to find one cafeteria in Cauterets also bucking the trend completely. The Restaurant de Lys has been recently renovated with a decor that is almost hipster-cool with its balsa wood deer heads, exposed stone and leather-bound books. The reasonably priced duck chilli certainly goes down well with the equally unexpected fine local ale.
The fact we are able to while away a few hours in the Restaurant de Lys is testament to its hospitality and ambience, but eventually we have to concede to the rain and catch the cable car down to town. But what we found is that if you have to be rained off anywhere, Cauterets would be a good choice.
The town itself exudes the kind of historical grandeur of a popular British Victorian tourist destination - like a seaside town. The narrow streets could be in any cosmopolitan French city. Even the cinema has an opulent dignity. And all this is built on centuries of spa-tourism.
After an hour wandering we stumble across the unimaginatively named Ski Bar, and find behind the road-side alfresco area and uninspiring name a cosy wood panelled bar with all the sophistication of the rest of the town, but with homely touches like packs of playing cards scattered around - perfect for a rainy afternoon. Vin Chaud, spiced Cidre, and hot chocolate are served with the kind of easy charm and old-fashioned manners that I've so often missed in the Alpine mega-resorts. If this is authentic French ski culture, then give me more!
For a hard-charging ski trip and dawn-to-dusk turns, the Alps still win out. But for the traveller in me, the Haute Pyrenees with its abundance of authentic cuisine, heritage and culture, throws stark light on what the French Alps are lacking: France.
Snow how
Flights: Daniel flew with Ryanair from Stansted to Lourdes
Airport transfers: Car rental at Lourdes-Tarbes airport from £157.99 with Europcar
Where to stay: Daniel booked 5 nights through Air BnB from £53 per night for a 3-bed home in Avezac
Pic du Midi Observatory: €299 per night for single room, €399 for double, including cable car, dinner, breakfast, guided museum tour and visit to observatory.
Ski pass cost: Grand Tourmalet €41 per day (€61 including Pic du Midi unlimited)
Saint Lary €41.60 per day
Peyragudes €39.50 per day
Cauterets €36 per day