Ever since I've been riding a snowboard I've wondered what goes into making one, how design effects the ride qualities, and what one that I designed would look, and ride, like. It was an unlikely daydream. At least it was, until I was invited to joined a SpurArt weekend workshop at their own boutique ski and snowboard factory in Innsbruck to do just that.
Designs of the times
When I started to snowboard in the early 90s, ski technology had been at a standstill for many years, with the ski sales gradually declining.
So what did the industry do? It reinvented skiing, making it super cool once again. Carving skis with huge side cuts and twin tips soon graced the slopes, along with baggy snowboard-esque clothing, and freestyle skiers integrating snowboard moves such as grabs, into their airtime.
These large design investments have in turn benefited snowboard design, with boards getting lighter and shorter.
Now there's a perpetual circle of inspiration between the two disciplines – something that would have seemed hard to believe back in snowboarding's infancy. I'd challenge anyone to tell me that the hugely popular super-wide sets of powder skis aren't too dissimilar to a long snowboard cut in half!
So with all this change in design and technology, where do you start to design your own steed? Well, with a phone call from SpurArt's in-house designer, and a discussion on my weight, height, snowboarding skills and style of riding. We then moved onto what board I currently have, or one that I've ridden that I particularly liked. My favourite board at the moment is a 158 Ride Berzerker, a Jake Blauvelt pro model, with a flat camber between the feet and a rocker tip.
Jake Blauvelt is my kind of snowboarder, famed for riding big, powder-stacked mountains at high speed. Now, I don't claim to be in Jake's league, but that's my kind of riding – charging the off piste when the conditions allow.
So firstly, I thought of replicating the Berzerker – but what's the point of having two boards the same? So then I thought of making the same board, but as a splitboard; however on pricing up the hardware I realised that alone would cost almost £800. That cost, alongside the fact I already own an adequate splitboard meant I settled on a third option – a shorter, stiffer board; great for carving on the piste when there's no powder, but with a rocker tip and set back bindings, for when there is.
Starter's orders
A week later I've emailed a PDF of my design, next turning my attention to the top sheet and how I'd like the board to look. Inspired by a recent trip to Japan and my favourite football team, I settled on some Japanese text and a small eagle sitting on a ball.
Arriving in Innsbruck on a Friday evening I went straight to the factory, which is a short walk from downtown, on the north side of the River Inn. There waiting for me was a full-scale printed outline of my snowboard, stuck onto a thin piece of board. After a quick introduction to the two guys running the workshop, and the other seven fellow ski and board makers, we all set to work in teams of two, cutting out our boards and skis with jigsaws.
This was the first stage, and while in theory very simple, it was vitally important, as this was to be the template for my final board. A badly cut edge at this stage could easily lead to a misshaped finished product. Almost happy with my slow and careful cutting, I then sanded down the edges before gluing the template, using double-sided sticky tape, to a large rectangular piece of black polyethylene (the snowboard's base). Next I cut the polyethylene out by hand, using a Stanley knife to cut around the template.
Before starting I'd visualised a perfect creation, lovingly crafted by my own hands, but I was soon realising, as I looked at my hand-shaped base, that if I'd wanted a perfect creation, I'd be better off buying a machine-built one….
Board games
An 8.30am start saw me cussing profanities, as I tried to shape the thin, yet stiff, metal edge rails by hand. Before, I'd chuckled at the skiers having to cut out and sand four edges to my two, but bending a snowboard's rails is far trickier, as they curve much further around both the tip and the tail. After what seemed like all morning, I finally used two sets of mole grips to help me, after my fingers hurt too much. Once I'd super glued the rails to the base, I turned to the veneer top.
I wanted a dark wood, which caused a problem, as the only dark wood veneer left in the workshop was two pieces for a set of skis. But as with any other problem over the weekend, the guys at SpurArt weren't to be beaten; they painstakingly cut the very thin veneer edges perfectly straight, allowing them to butt up against each side of a thin lighter strip, which gave the board a 70s surfboard look.
The wood core centre of the board was pre-shaped for depth by machine, but was still wide and rectangular in shape. I now carefully placed this core and my lovingly crafted base over a pre-set curving frame, which had the underfoot camber and rocker tip set with wooden chocks.
Next, all the metal work for the bindings to screw into was hammered into place, before I layered strips of fine fibreglass and finally the top sheet on, all bonded together with an epoxy-resin.
Finally, at 8.30 pm, the whole frame and board was lifted into a huge plastic sleeve which would compress the board into its shaping frame while it cured. The last thing we did before going home was lift our creations into a vacuum rack in a huge oven.
Big reveal
Like children at Christmas, we all arrived excitedly at the workshop, wanting to unwrap our skis and boards after their overnight shaping in a tight plastic vacuum.
Unwrapping my still rectangular board, I was glad to see the shaping had worked. Working in teams of two we then cut out our boards and skis using the metal rails as a guide, before the SpurArt team gave them a grind.
Finally, I sanded off any remaining glue and round off the edges at tip and tail. This is especially important on skis, where they may bang together and cause splitting. A quick dusting down and then oiling the wood was the last job, before it was sent off for a full service and wax at a local ski shop.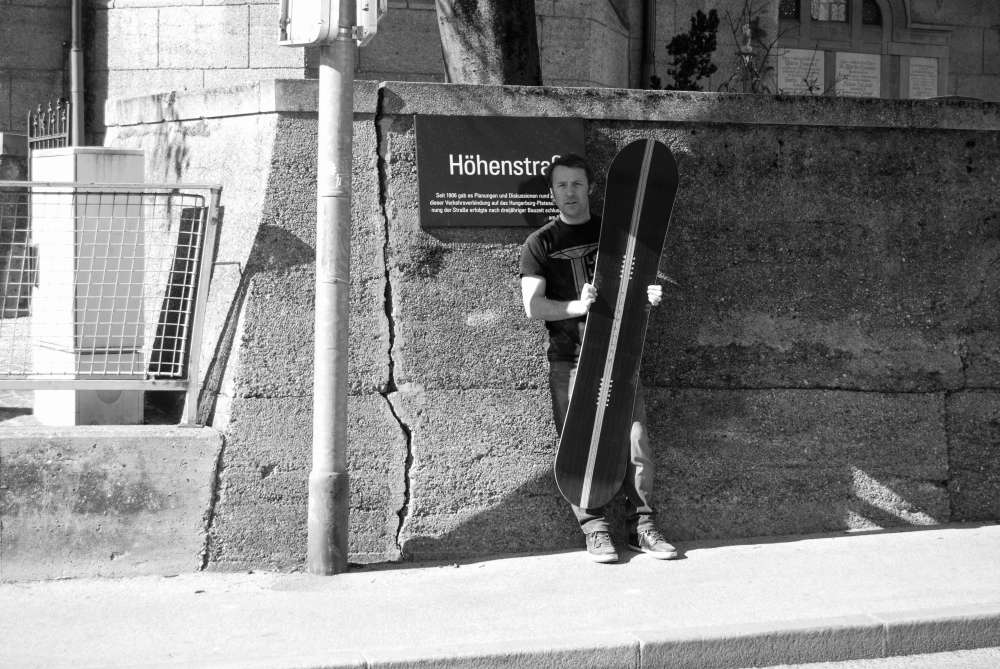 The ride moment
It was with trepidation I set off for my first turns, and as I cranked it over into a heel-edge carve I soon realised that this board needed working hard.
It was stiffer than I was used to, but I had asked for a board for the pistes, and it ticked that box.
Heading for the powder, I found that as long as I kept speed, the rocker tip lifted it above the snow with ease, despite its short length. Another tick.
It was only later I truly fell in love with my board, when a Frenchman came up to say how beautiful it was and asked where he could get one.