The 'helmet debate' used to be one of those contentious topics that divided opinion: with traditionalists defending their right to feel the wind in their hair against the 'health and safety gone mad' legislators.
But opinion and trends on the slopes have changed in the last few years, with a poll in a national British newspaper at the end of last season finding that 71 percent of its skiing readers now wore a helmet on the slopes. This represents a huge shift from two years ago when a similar survey found just 39 percent of British skiers wore head protection.
Ironically, given the sensible 'health and safety angle', it seems to be the skiing youth who are most readily putting head protection on. You could even go so far as to say wearing a helmet is trendy, with a lid now firmly part of young and daring free-rider or park shredder's uniform – maybe the perception is that if you're not wearing one you're evidently not pushing the envelope…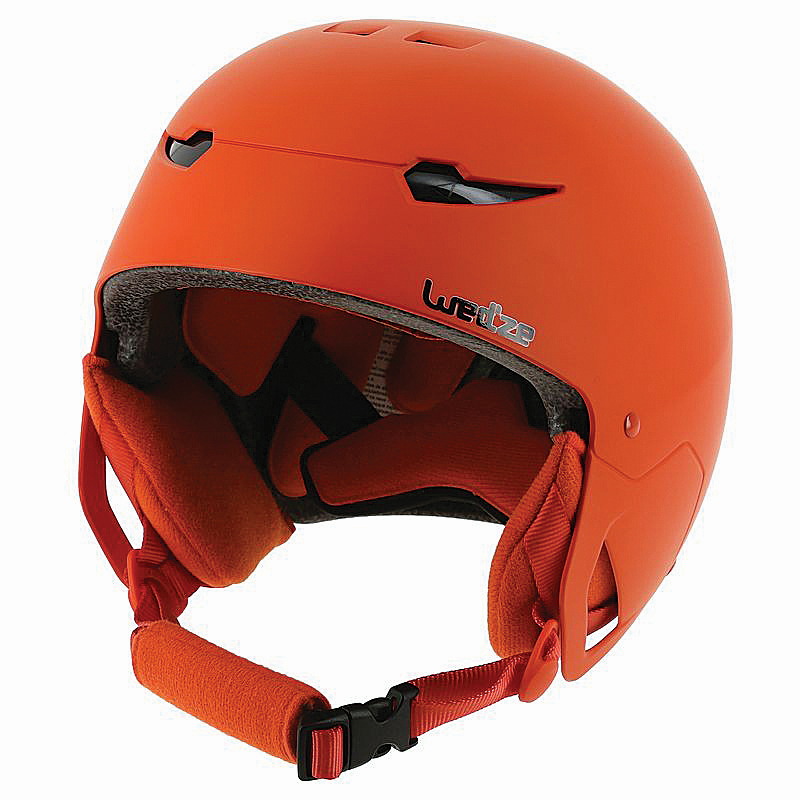 With helmets as affordable as Decathlon.co.uk's £15 Wed'ze Evo Stream kid's helmet, protection no longer comes at a price…
A milestone in the mainstream adoption of helmet wearing on the slopes was actually at the end of last December, when seven-time Formula 1 world champion Michael Schumacher hit his head on a rock in Meribel, suffering severe brain damage.
The immediate aftermath of this high-profile accident – despite the fact that Schumacher was actually wearing a helmet at the time of his accident – was a rush on helmet sales in the first week of 2014, as they became the new 'must-have' piece of ski gear.
Think a-head
The science is pretty persuasive too. According to a study by safety research firm Transport Research Lab, a head-on ski or snow-board crash without a helmet at even just 12 mph could be fatal, with the head being subjected to almost two tonnes of force. Wearing a helmet spreads and absorbs up to two thirds of that force, massively increasing the chances of your being able to walk away.
The stats also back up helmet-wearing, with Austrian resorts alone expecting over 5000 serious head injuries in a typical season, and some Swiss resorts reporting up to 150 head injuries a day.
In the face of such evidence, many have called for world-wide helmet compulsion. In reality, there are only a handful of US resorts that require everyone to wear helmets, with most current helmet law around the world restricted to children and racers.
In Italy, it is now mandatory for children under the age of 14 to wear helmets on the slopes, with heavy fines of up to 150 Euro for parents whose children don't comply. In the province of Lower Austria everyone under 15 must wear one, and the French ESF insists that all its young students wear one too.
Which lid?
The good news is that there has never been such a wide choice of helmets available at such a broad range of prices – from more affordable, injection-moulded, ABS hard plastic-shelled budget helmets like White Rock's Vulcan helmet (£35 cotswoldoutdoor.com) to top-of-the-range competition models like the POC Skull Orbic Comp, which is designed for race-speed impacts and routinely deflecting slalom gates with your head. (£325, pocsports.com)
Safety standards
Not all helmets are created equal, and there are no compulsory world-wide safety standards. The best you can do is buy from a well-known brand and look for at least one of the two main safety standard certification marks in any helmet you're keen on.
These are CE EN1077 in Europe and ASTM F-2040 in the USA. Both standards certify impact and puncture testing and compliance will be shown by a sticker or mark inside the helmet.
For more children's and adult ski helmets tested by the Snow team, as well as other ski gear see our ski gear section.