It's fair to say that Norway and family skiing are starting to get a bit of a reputation. At first glance it's not the most obvious match – how could Norway's wind-swept, seemingly remote, medium-height mountains in the deep-frozen far north make for an ideal place to take a young family? And what about those infamously short winter days, and the cost of living?
But the reputation persists, fuelled by a stream of happy families returning from Norway's slopes and rebooking for next year – a trend backed by Scandinavian ski resort owner Skistar recently reporting a four percent rise in skier days at its resorts.
So why are so many British ski families swapping the well-trodden path to the French Alps for a ski adventure on the Scandinavian slopes of the far north?
To find out for ourselves, and hopefully to dispel some of the misconceptions about Norwegian skiing, my wife and I, plus 6-year-old daughter and 7-year-old son decided to try Norway's biggest resort Trysil for our second annual family Easter ski holiday.
Busting myths
The first myth to pop is the flight. For starters Norwegian Airlines seems to have the prices of a budget airline but the standards of a national airline – it's even got free in-flight wifi… It also turns out that the 'remoteness' of Norway's resorts is a myth too, with a two-hour flight from London Gatwick to Oslo. Prefer British Airways from Heathrow? You can do that too. Either way there is only a two-hour coach transfer at the other end from Oslo to the resort.
The gentle coach cruise through southern Norway's rolling hills could have been even faster had it not been for the sedate driving pace. That'll be the custodial speeding punishments then! Still, with free wifi also on the coach, the kids were happy, and therefore so were we.
Coach transfers in the Alps don't just differ from Norway in the speeds they drive at but in the breath-taking scenery they take you through to get you to your resort. Thrill seekers like me love the majestic passes and white-knuckle hairpin bends of an Alpine ski resort approach. However, if like my wife, every tunnel or switchback makes you think of The Italian Job, then the gentle drive into Trysil is heaven sent.
Once there, even the mountain was understated and modest. No towering Mont Blanc or Matterhorn glaciers to intimidate us here as we off-loaded into the Radisson Blu Resort Hotel we'd call home for the next week.
Instead, rising high but steadily from Trysil Touristsenter is a belt of snow dusted pine forests on the side of the 1,132m Trysilfjellt, with its smooth, treeless summit cap, like a monk's bald spot above.
The next morning we were up and out early, ready to do battle with first morning queues for lift passes and ski and snowboard hardware before we could hit the slopes. On top of that it was Easter weekend – the busiest two days of the whole year on Norwegian ski resort slopes.
Twenty minutes later (I kid you not!) we were all back outside fully kitted out and ready to ski. I was stunned – in a good way. Family skiing doesn't get easier than that: no standing queues, no hassle, no arrogance, just friendly English speaking people and a set-up designed for efficiency. Like a canteen for ski and snowboard rental – no distracting merchandise to browse or buy here – the fast-moving queue flowed through the Skitorget hire shop from one counter to the next in the same direction, before a final supermarket-style check out and then out, some 50 metres from the main chair lifts.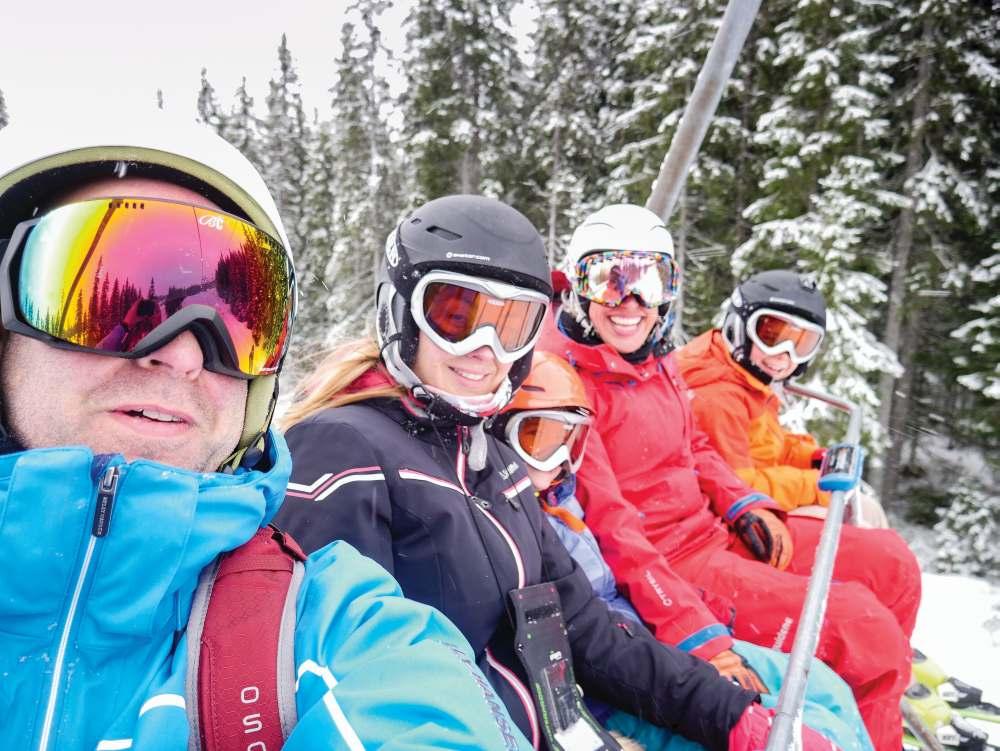 It was a theme of friendly efficiency that we soon got used to, as we met Anna from Trysilguidene, who run the ski school and all the official guiding at Trysil, for our private 90 minute family lesson. Enthusiastic, broad-smiling, and with perfect English, Anna immediately got our travel- grumpy children engaged, learning and laughing on the easy drag lifts and jumps of the Eventyr beginners area, next to our hotel.
Speaking of which, with ski-through tunnels under the road between it and the Turistsenter hub, as well as the entrance to its basement locker room literally on the side of the slope, the Radisson Blu Resort is truly ski in ski out. For a family with young children this proved invaluable, as we could break the days into skiing chunks together or separately, with the hotel perfectly placed for meeting up again and taking snack breaks.
The Bluebird has landed
The second day was when the family skiing really came together, with Anna taking us all up the mountain on a wonderful Easter bluebird day. We'd been told of high winds on the bald top of the mountain but below the treeline it was another world. Wide, sheltered, well-groomed pistes were flanked by snow-dripped conifers sparkling in the bright sunlight. This winter wonderland stretched around the whole front of the mountain below the chairlift, as far as we could see on either side. We were all transfixed.
Down on the snow it was a true winter wonderland, as Anna led us down almost deserted pistes on squeaky new snow, with snow-draped trees on all sides and the wintry rolling plains stretching away from the resort below.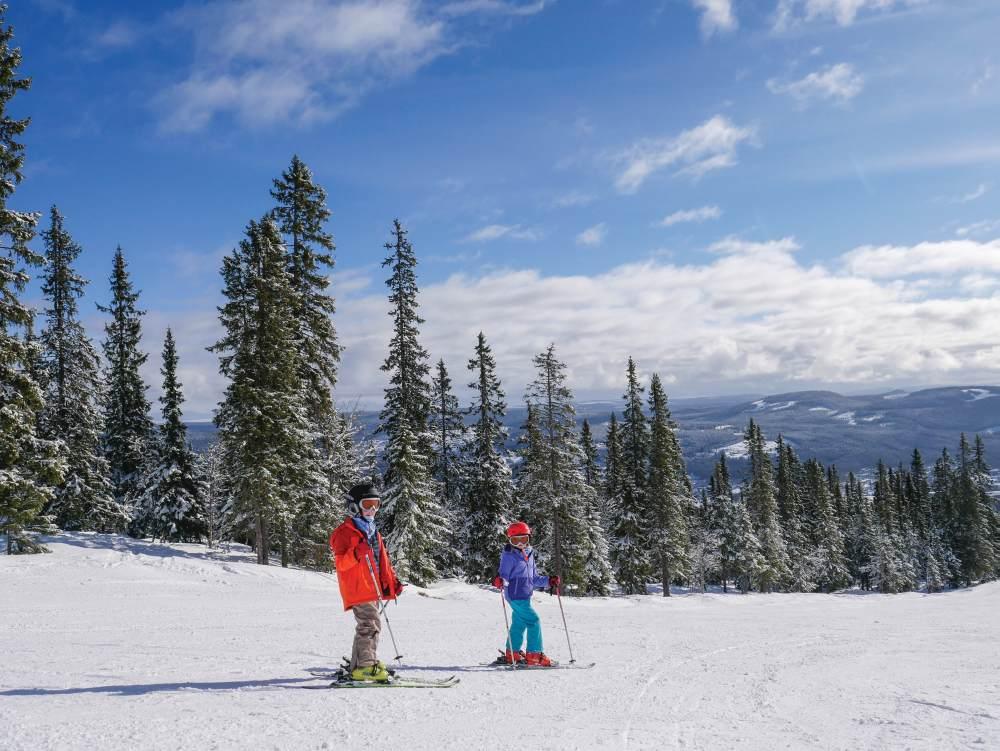 The slopes Anna chose were great confidence boosters for the less self-assured skiers in our family; shallow blues that meandered down the front of mountain, wide enough for easy turns yet interesting and long enough to give a sense of skiing adventure. A highlight run we went back to all week was the wonderful tree-lined Blue run 62 at the top of the T2 chairlift. For the more confident there were endless fun diversions that nipped in and out of the trees along the sides.
In the end we booked three 90-minute family lessons with Anna over the week. At £125 a pop this was a serious investment but worth every Krone. For each 90-minute slot we had our own personal ski tutor and resort guide – Anna didn't just teach my kids how to take their skiing to the next level, she taught us all how to ski the resort. Our time with her taught us which lifts to take, which runs to ride and even how to get the lift operators on side – it turned out all we had to do was give them a little 'slow down' wave as we got on and off fast chair lifts and they'd happily oblige!
At the end of each day on the slopes we unwound in the indoor swimming pools of the modern, chic Radisson Blu Resort hotel, with the wipeouts of those trying to surf the wave machine to keep us entertained before eating at one of hotel's five restaurants, or ordering takeout pizzas.
Expensive eating out is Norway's one 'myth' that we didn't bust. There's no getting around it – it is pricey. Even a shopping bag of sandwich fillings and lunch snacks from the in-resort supermarket comes to around £35.
But the whole of Norway is expensive to eat out in, and the prices in its ski resorts are nowhere near as inflated as in French resorts. Shop around, eat (and drink) the odd takeout in your apartment and eat as much of the buffet breakfast as humanly possible and you can make savings.
Manage the food and drink challenge and you'll holiday in a country with skiing in its blood, where everyone speaks perfect English, and there is great skiing on reliable snow long into spring. Could it be the best family ski destination in the world? I know one family who thinks so…