Every season I'm tasked with arranging the perfect 'do it all' trip to please a range of needs. For the past few years I've limited the invites to those who ski 'properly' - it's just easier that way. But with a daughter approaching the age at which she can join in lessons and me wanting to make sure she gets the bug, this year had a different slant.
The tick list
1. How can I get my reluctant wife to enjoy skiing enough for it to become an annual event?
2. Where will there be enough to do for the non-skiers?
3. How can I make sure that next year my daughter is itching to get onto the slopes?
4. Where can I book to make sure the grandparents are happy with the accommodation and food?
I had been looking at options and speaking to people for two months before a chance discussion with Chalet Finders opened up a whole new way of doing this - one where someone else actually does it for me. Their service takes your wish list and finds the perfect resort and chalet to fit. And they're good at it too! A few options arrive in my inbox and with some tweaks and extra requests we strike gold with the slightly un-expected combination of luxury chalet in Morzine, in late March, low down to give the non-skiers a chance to go for walks and do other things, with the snowsure Avoriaz and access to the huge Portes Du Soleil as our skiing fix. It never occured to me to base our holiday in a resort that was closed!
Blissful Digs
After a very easy flight, the drive up to Morzine from Geneva airport was stunning with the bright sun shining on rolling green fields and the picturesque towns with their mountain backdrop. Pulling into the driveway of the White Valley Lodge made us question the name of our home for the week. Birds singing in the verdant surroundings and a pretty stream gurgling in the Valle de la Manche below us were an unexpected greeting for our annual ski break.
Sitting in a stunning deep valley, at this time of the year short sleeves and woodland walks could be the order of the day for those in our group who preferred not to ski all day, but you could also picture how it would be a winter wonderland in peak season.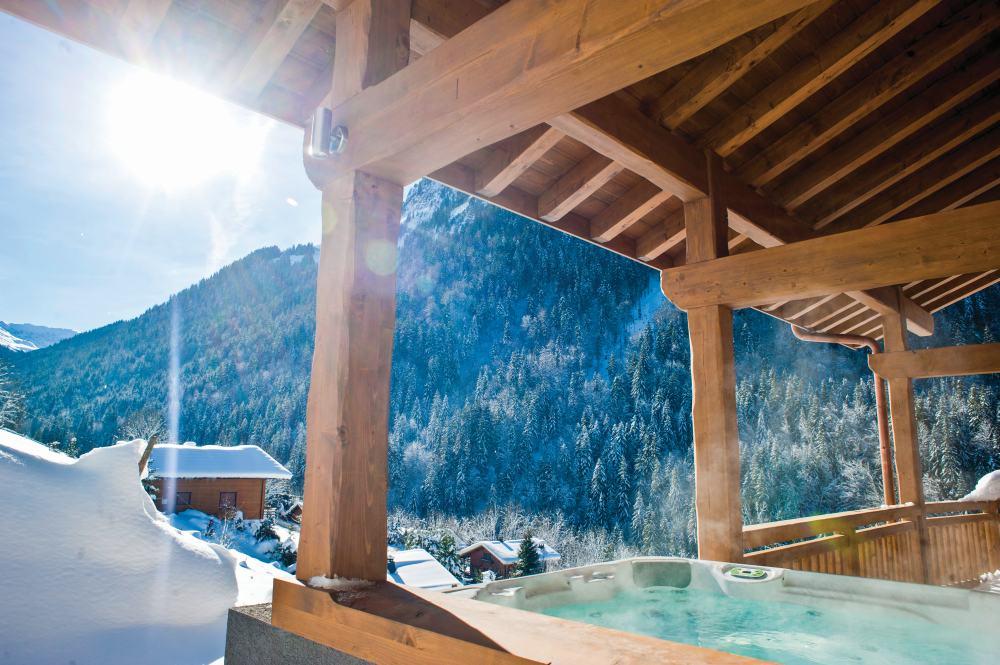 As soon as we arrived it was clear that this was to be no ordinary chalet holiday. Andrew, the genial host and owner of the lodge was there to greet us and to help with luggage, while a teddy bear waited for our two-year-old Libby - nice touch.
In fact, nothing was too much trouble. A day's shopping in nearby Morzine? One of the team will run you there in the Land Rover. Exhausted after a day on the slopes at nearby Avoriaz? Andrew will be there in 10 minutes to collect you.
The Lodge itself achieves a perfect blend of relaxation and luxury, from the beautiful rooms, to the sumptuous lounge with well stocked free bar.
The wrap around terrace (with obligatory hot tub of course) was a wonderful space to sit and take in the glorious valley views too.
And the meals? The absolute pièce de resistance. The Lodge gets most things right, then adds gourmet cooking and fine wines to the already heady mix. Italian Chef Francesco and his partner Paula run, with charm and humour, a dining room which would be the envy of many Michelin starred restaurants.
A few minutes' drive away, Morzine is a bustling and busy resort in peak season. For a mixed group like ours it covered all bases with plenty of things to do off the slopes and cafés and bars to explore. It has a huge ski area of its own but the links to the rest of the vast Portes du Soleil make it a world class destination.
Beginner's luck
Libby's first few minutes on snow led to some trepidation. "It feels slippy Daddy I don't like it" isn't the best of starts! But then she started to slide... and giggle. At first she wriggled her feet and moved slowly down the slope towards me, ten yards, then 20, 30 and more. Soon she was shaking her hands in the air and screaming with delight - she loves it! Proud dad alert.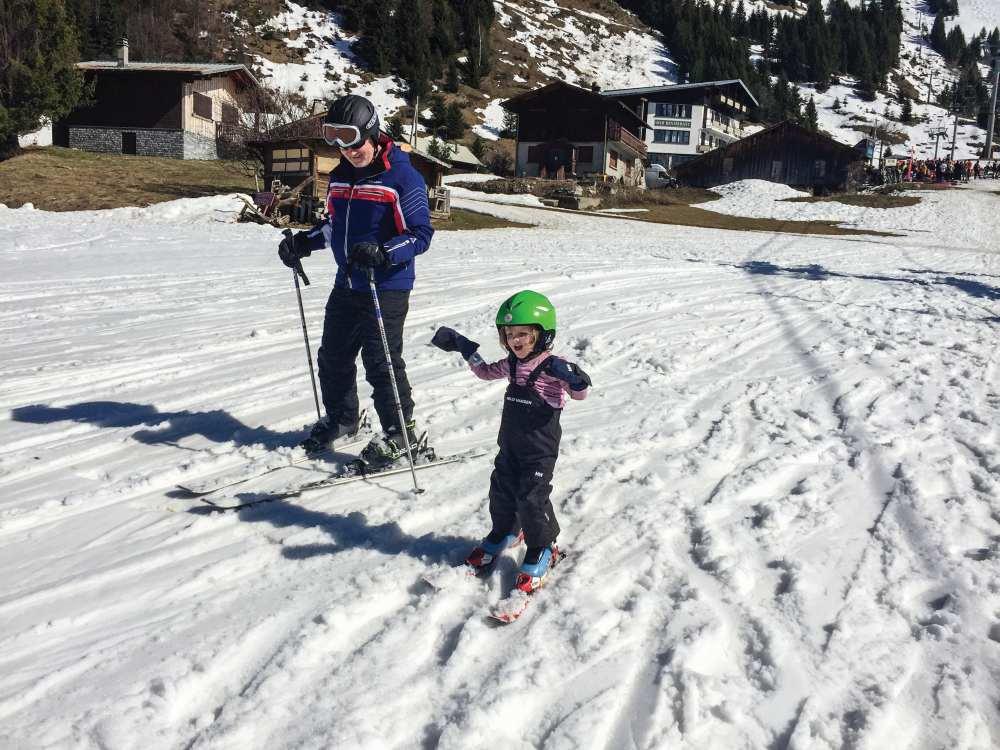 By now, Morzine was officially closed for the season so Avoriaz, accessed via the Prodains lift a few minutes from the lodge, was our gateway to the slopes.
Previous resorts we have visited have instantly created a feeling of fear for my stepmother Jane and wife Issy, and I would say that's one key reason for them not having fallen in love with skiing so far. Often the learner slopes are accessed via chairlifts populated by gnarly snowboarders heading to the park, or on a shortcut to the lifts, so people are racing past you while you learn to snow plough.
Not so Avoriaz. This was simply the best beginner's area any of us had seen. The whole of Avoriaz is traffic free, meaning you can ski through the town on gentle slopes. There are huge play areas for younger children with fun inflatables and courses to explore which Libby loved, and the area was full of families building snowmen and generally larking around in the snow. Above all else, there were hundreds of metres of wide open and extremely gentle terrain. Jane begins to build confidence and embarks on some tougher runs as a result, and Grandad Peter enjoys the wide open blues with spectacular views.
Even my wife, Issy's lesson goes well, with the patient instructor letting me take him aside to explain that drag lifts are out to start with... and don't even think about a chairlift... and please be gentle with her I want her to come again. After a slow start she was off and genuinely enjoying skiing for the first time ever, calling over her shoulder "I think I get it now!" Excellent.
Time to play
With everyone else in the family happy in and around the resort centre, finally on day three I managed to set aside time for some real slopetime with my teenage sister Charlotte, and we were itching to explore the vast area.
Given we had little time and had come to see Morzine and Avoriaz, it was only fair we explore these first. With the powder not worth finding in late Spring, we set out to cover as much ground as possible, hitting run after run of expertly linked pistes in multiple valleys, each becoming more and more interesting and spectacular.
The snow was superb for late spring and the runs varied and plentiful. We hit it relentlessly for six hours but sitting around the table later, we realised we hadn't even touched the surface of the vast 650km of piste here - despite seeing such a variety of runs, from tree lined to open piste, hidden valleys to epic passes, wind-blown steeps to gentle cruisers, and given a dusting of good snow, there was enough easily accessed off-piste to keep you happy for weeks.
Coming towards the end of our stay after some excellent days, with a mix of entertaining Libby, evening walks around the lakes and woodland nearby for the grandparents, and long lunches in the sunshine with the whole family, we agreed we had found our ultimate mixed group recipe.
Those of us seeking it had their fix of speed, the grandparents were delighted with the chalet, the non-skiers were actually asking where to go next year and Libby has been asking every few days since our return when we're going again. The next challenge is to get them interested in deepest winter when there is powder to play in too!
Our trip
Airport transfers
Ski-Lifts run private return transfers from Geneva to Morzine in good quality mini-buses from £62 per person. Group discounts are available. ski-lifts.com
There are regular buses all around Morzine and up to Avoriaz. Make sure you take a ride on a horse drawn carriage around Avoriaz, the kids will love it!
Where to stay
We booked through chaletfinder.com who have hundreds of chalets on its site. White Valley Lodge sleeps up to 12 in five luxurious bedrooms and costs from £830pp for 5 nights at Easter including meals and drinks.
Where to eat and drink
Mammas in Morzine make great pizzas to eat in or take away from only £10. mammas.fr
Chez Nannon near the Troncs Express chair offers a piste-side beer and toastie for £12.50, which is actually good value for France! cheznannon.com
For any big spenders visiting Morzine set menus at Hotel Le Samoyède start at £71 for seven courses at this superb Michelin star restaurant. hotel-lesamoyede.com
Ski pass
A 6-day full Portes du Soleil pass is £230 for adults and £170 for children. Beginners will only need a Morzine-Les Gets or Avoriaz pass which is £175 adults and £130 for children. Kids under four ski free.
Off-slope activities
Aquariaz, right in the centre of Avoriaz, has been designed as 'an aquatic paradise' featuring lush vegetation and rocks: a river, a slidewinder (a kind of aquatic halfpipe), a water playhouse, paddling pool, large pool with climbing walls, massage benches and the must-try: an open-air spa, heated to 34 degres. The centre is perfect for kids and parents alike! £7 for adults and £5 for kids.
There is also Ice Skating in Morzine (see morznet.com) from £5 including skate hire, dog sledding from £17 (call 0033 646 36 04 76), a cinema, bowling alley and a miriad of other activities for rainy, snowy or just 'different' days.