Ski trips to Norway will cost nearly a third less and Sweden will cost a quarter less this season. Skiers content to travel further will make the best savings in Russia where a substantial drop in the Rouble will see every pound spent go 88% further than it did in the 2013/4 ski season.
Meanwhile, it's also cheaper to ski within the Eurozone this season, with trips to ski destinations including France, Austria, Finland and Italy costing 16% less thanks to a more favourable Pound-Euro rate.
Fairfx currency expert Darren Kilner said "Taking advantage of favourable exchange rates mean that skiers can save significantly when booking their ski trip. For holidaymakers looking to hit the slopes this season, it makes financial sense to plan ahead and consider picking a destination where every pound will get maximum value. Looking at currency trends allows skiers to see which destinations are most affordable and whether their budget can stretch to explore new destinations this winter."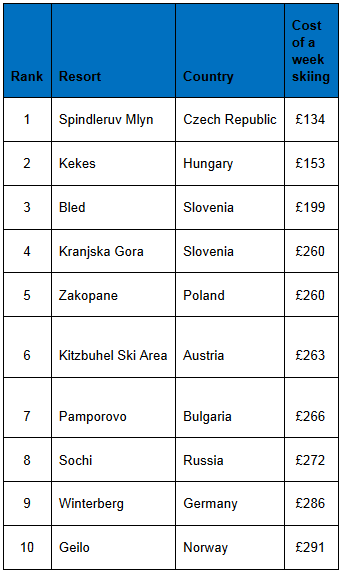 The lowest costs overall can be found in ski resorts in the Czech Republic, Hungary, Slovenia and Poland. Costs for a week in Spindleruv Mlyn, Czech Republic come in at a mere £134. Hungarian resorts feature heavily in the list of cheapest resorts with Kekes costing a mere £153 and Bled and Kranjska Gora costing £199 and £260 respectively.
Out of the 'Big Four' European ski hubs, Kitzbuhel in Austria is the cheapest with an average weekly cost of £263. In Italy the Milky Way resorts come in cheapest at £330 while Alpe D'Huez in France comes in 23rd position at £367. Switzerland is by far the costliest of the Big Four with two Swiss resorts featured in the top 10 most expensive.
North America doesn't fare too well in the affordability stakes either, with the most expensive resorts to ski this year being Breckenridge, Vail and Winter Park which come in at between £970 and £1,075. Four of Canada's major ski resorts feature in the top 10 most expensive places to ski, costing between £626 and £650 respectively, however, now could still be the most affordable time for Canadian skiing as favourable exchange rates means that it's currently 22% cheaper to holiday in Canada compared to two years ago.
Top tips for saving money on your ski holiday
Don't just look at the cost of activities – look at ski destinations where your money will take you furthest.

If you're making an international payment to pay for your chalet deposit or group tour keep an eye on the exchange rate and pay when it's in your favour.

Get your foreign currency in advance, exchange rates at airports can be over 10% more expensive meaning you could lose £100 of cash for every £1,000 you change.

Beware of the double exchange rate dupe. If you let the seller in a shop or restaurant convert the price into pounds, they can choose their own exchange rate and you're more likely to be on the less favourable end of the deal.

Beware of ATM and transaction fees.

The research, which compares the cost of lift passes, ski school and equipment hire at different resorts, found that the strong pound could deliver the best value ski holiday in the last two years.