The Dump Truck Splitboard is a pure freeride splitboard, with directional camber, shape and flex for maximum control and float in powder.
Utilising Burton's patented channel system opens the door to a vast array of stance options when combined with the excellent Voile puck interface, allowing you to dial in your ideal stance, as you would with any normal snowboard. Having said that, setback is massive so if you're going to be riding on any hardpack then you'd do well to nudge it forwards a touch unless you're confident off the back foot and prefer a more surfy feel. The tail is stubby, and the nose is chunky and upswept, further hinting at the freeride leanings of the snowboard.
We used the Dump Truck with Burton's Hitchhiker bindings, which perform well in downhill mode, in fact we didn't notice much difference between them and other high-end offerings from Burton. They're also a breeze to transition into touring mode. The snap ramp clip at the front holds the bindings securely in place on the Voile pucks. Transitioning is a case of lifting the clip and sliding the binding off, then placing the bindings on the side lock touring brackets and securing with the snap ramp to lock into touring mode. The risers are a simple affair with high, low and flat settings. In touring mode, the bindings hold the boots firmly in place and operate smoothly allowing you to get on with your day with minimum hassle.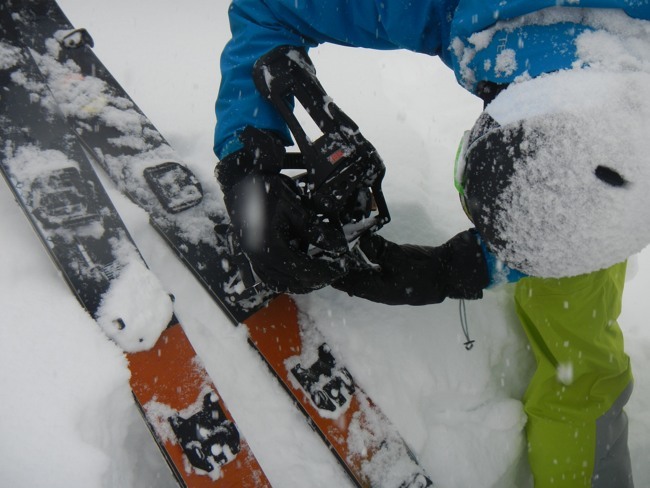 The Dump Truck goes right back to basics in terms of shape. The traditional camber is exactly that, so it locks into a turn well, although the medium stiff flex means that you sometimes have to work it hard to get there. Once you assume an aggressive riding style you'll find that the Dump Truck has a good bit of zing to it, with a perky flex pattern and a good bit of pop. Decent damping and a distinct lack of chatter means that you can power through chopped up snow and crud with ease. Combined with the authoritative edge hold you might find yourself charging a lot harder than you would think possible on piste, with the obvious limitations that a splitboard brings. Although piste performance is surprisingly good this really isn't what the Dump Truck was designed for. Venture into the pow and you'll find that the float is dreamy, despite the board on test not being particularly long or wide for our size. The old school directional camber, shape and flex work well together when riding through trees, down a couloir or carving deep lines into a powder bowl. Being so traditionally freeride and therefore directional the Dump Truck doesn't excel at throwing double corks off natural hits but the decent pop and stability still allow for a bit of fun.
Overall, we found the Dump Truck to be a pleasure to ride and, assuming the right splitboard accoutrements it's also a pleasure to use. The price is high but it's clear that this is at the premium end of Burton's offering with the build quality to back it up.