The little A-Star helicopter seemed to be straining every sinew to get us over one, final ridge before making its descent to deposit us in the valley below. It was battling a light cross wind, the thin air, and a heavy load of equipment, of our week's supply of food and drink, and of passengers.
To my left, sat Pete—excitedly pointing at the medley of virgin peaks stretching to the horizon, his whoops of delight just audible above the roar of the rotor blades. To my right, there was James, and the contrast could not have been starker. A nervous flyer at the best of times, James was decidedly white-of-knuckle as he clung to the seat in front him, no doubt regretting the extra crate of beer that had made it on board at the 11th hour. 
Thankfully, the pilot was cool as a cucumber, wearing the expression of a professional rally driver manoeuvring a Smart car around an empty Lidl car park—this was clearly something he could do in his sleep. Sure enough, two minutes later we were safely on terra firma, huddled together like Gore-Tex clad penguins being blasted with snow driven by the rotor wash as the chopper was unloaded. At last, it rose, dipped its nose and whomp-whomped back whence it came, leaving us to take in the surroundings that would be our home for the week.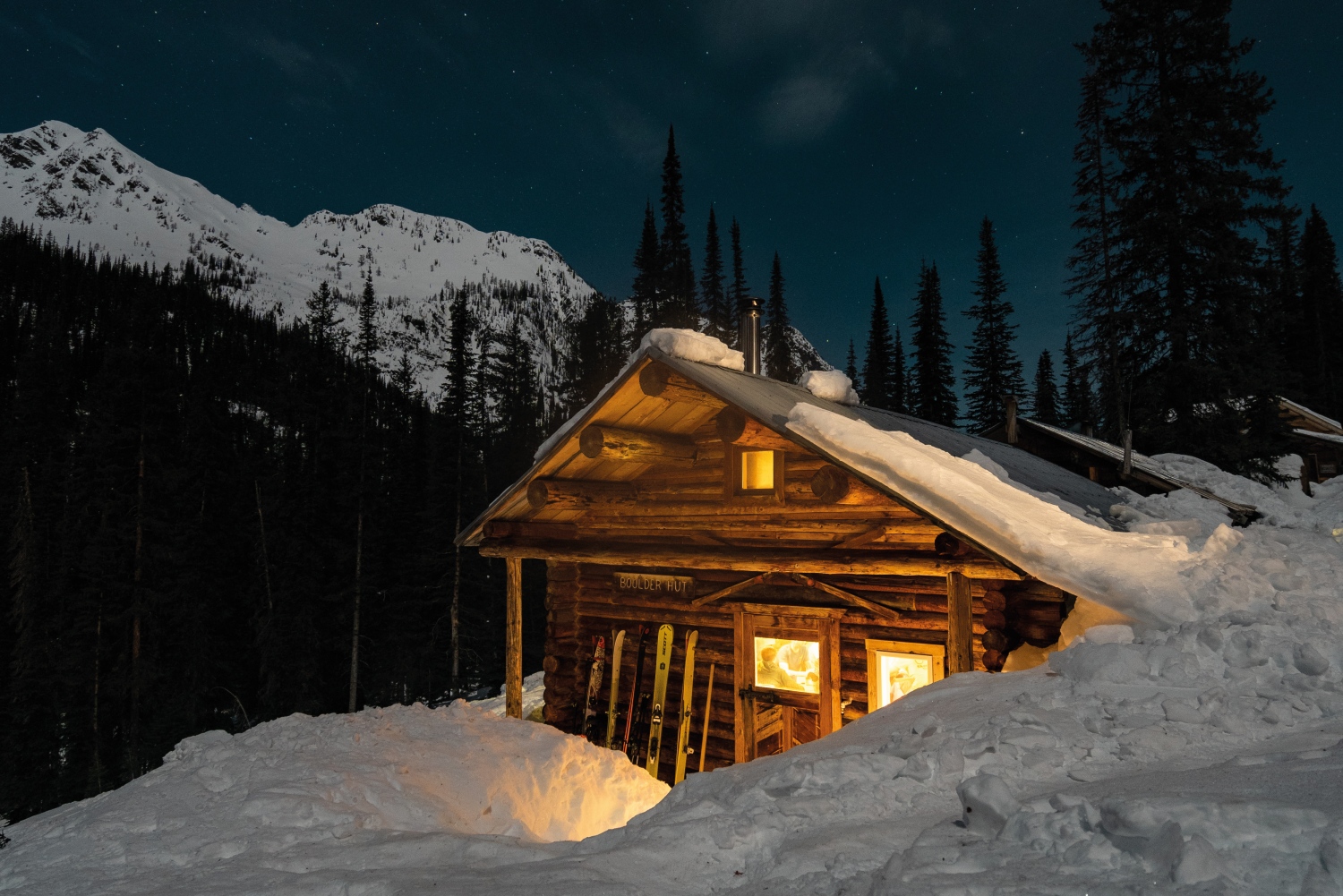 Fuelled by formidable stoves within, twin pillars of woodsmoke emerged from the chimneys of two log cabins, tucked into a clearing in the wooded hillside. Boulder Hut was the kitchen, dining room and board game arena, while the Casa de Sueños was the sleeping quarters. Split between two dorms of six, it would comfortably house the 12 of us in rustic duvet-clad beds.
Beyond was Whisky Jacks, another cabin housing the guides, cook, and the lodge custodian. A pair of open-air A-frame outhouses stood off to one side, and to the other stood an unidentified hut, with an intriguing-looking metal barrel-like contraption integrated into its side. Before I'd had time to investigate further, we were ushered into Boulder Hut for some soup and a safety briefing, followed by avalanche transceiver practice.
After two years of being cooped up by lockdowns—with no skiing and precious little else in the way of adventure—we had come to this wild place in British Columbia's Purcell mountain range to scratch both itches. But also, to escape the tyranny of the television and smartphone. With no cell reception and satellite Wi-Fi only offered in case of emergency, mobiles were stashed, and the outside world quickly forgotten.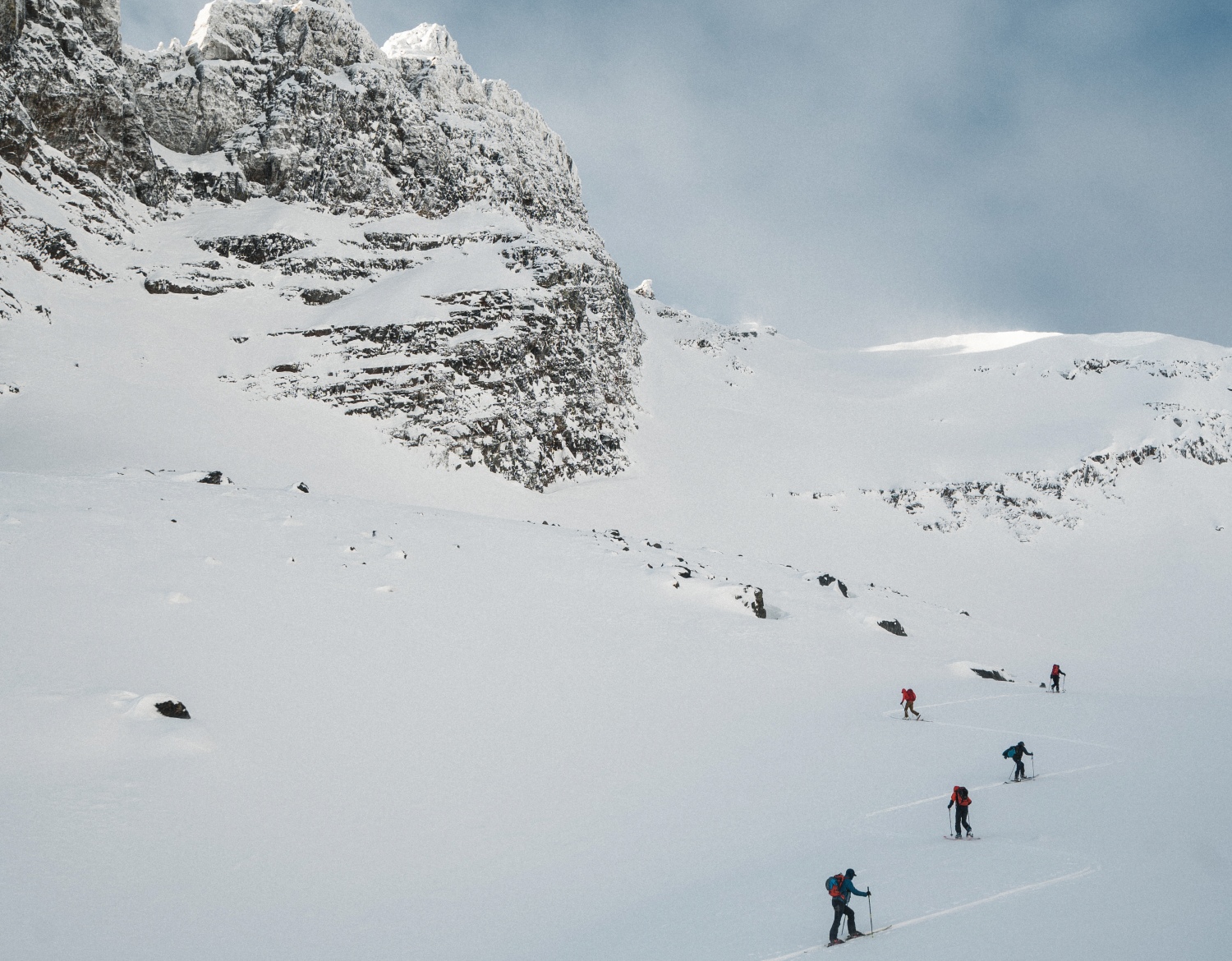 For the next week, our universe consisted solely of these cabins, the forested slopes that surrounded us, and the jagged peaks that pierced the skies above. There were no lifts, no snowcats, and no other human beings for miles around. We would earn our turns the hard way, climbing with touring skins on our skis, driven only by the air in our lungs, and the force in our thighs. With 21st century life in London having become quite complicated, we sought passage to a simpler time. 
In our correspondence prior to the trip, General Manager Kevin Ostlund had talked about Boulder Hut's skiable terrain, promising that their exclusive access to a 15,000-acre area (approximately two thirds of the size of the entire Les Trois Vallées in France) had something for everyone. Led superbly by Head Guide Brent Peters, we ventured high, low, far and wide throughout the valley, our days shaped by the weather and snow conditions, both of which evolved considerably throughout the week.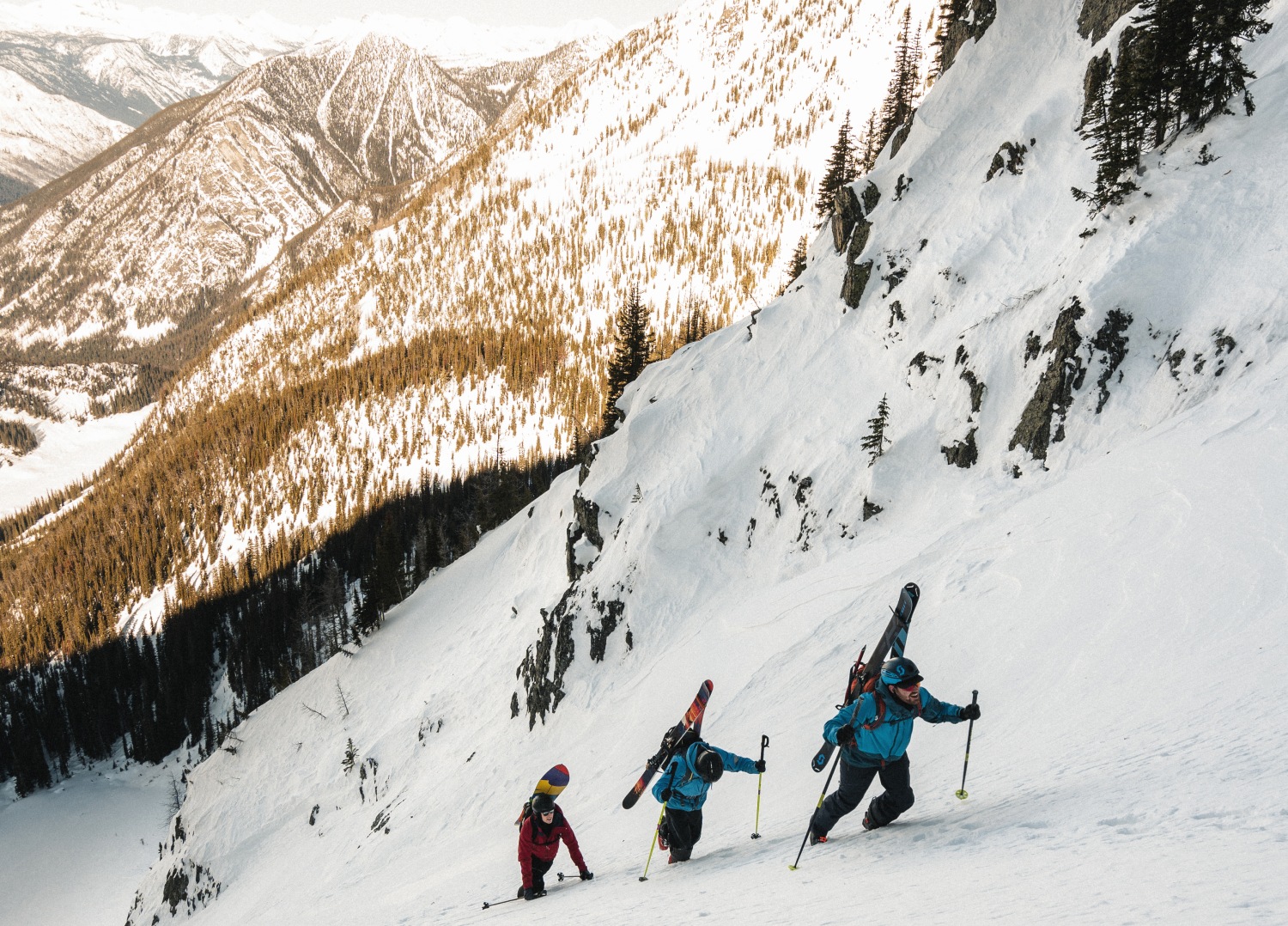 Riders on the storm
When the wind was up or the visibility down, we remained below the treeline, making short ascents and working the sheltered slopes in the forest where we found cold, creamy powder. These varied from gentle glades in Boulder Basin to steep, swooping descents in a sector fittingly called The Roll. In the even more aptly-named Stent and Cardiac, we picked our way carefully down complex terrain punctuated by marshmallow-like pillows and picturesque icefalls.
At day's end, a favourite route back to the cabins was via a pair of exhilarating pitches named Hey Jude and Come Together. The tree skiing here wasn't so much in a different league to what most of us were accustomed to in the Alps, it was really a different sport—such was its extent and variety. 
After a hearty breakfast, prepared each morning by camp cook Ann (pancakes, bacon, eggs and maple syrup featured heavily), we would each prepare a simple packed lunch of sandwiches, cake, a piece of fruit and some nuts, washed down with a flask of tea, which kept us going for a full day out on the hill. My secret weapon—a pocketful of Haribo—was somewhat incongruous among the wholesome home-cooked fare.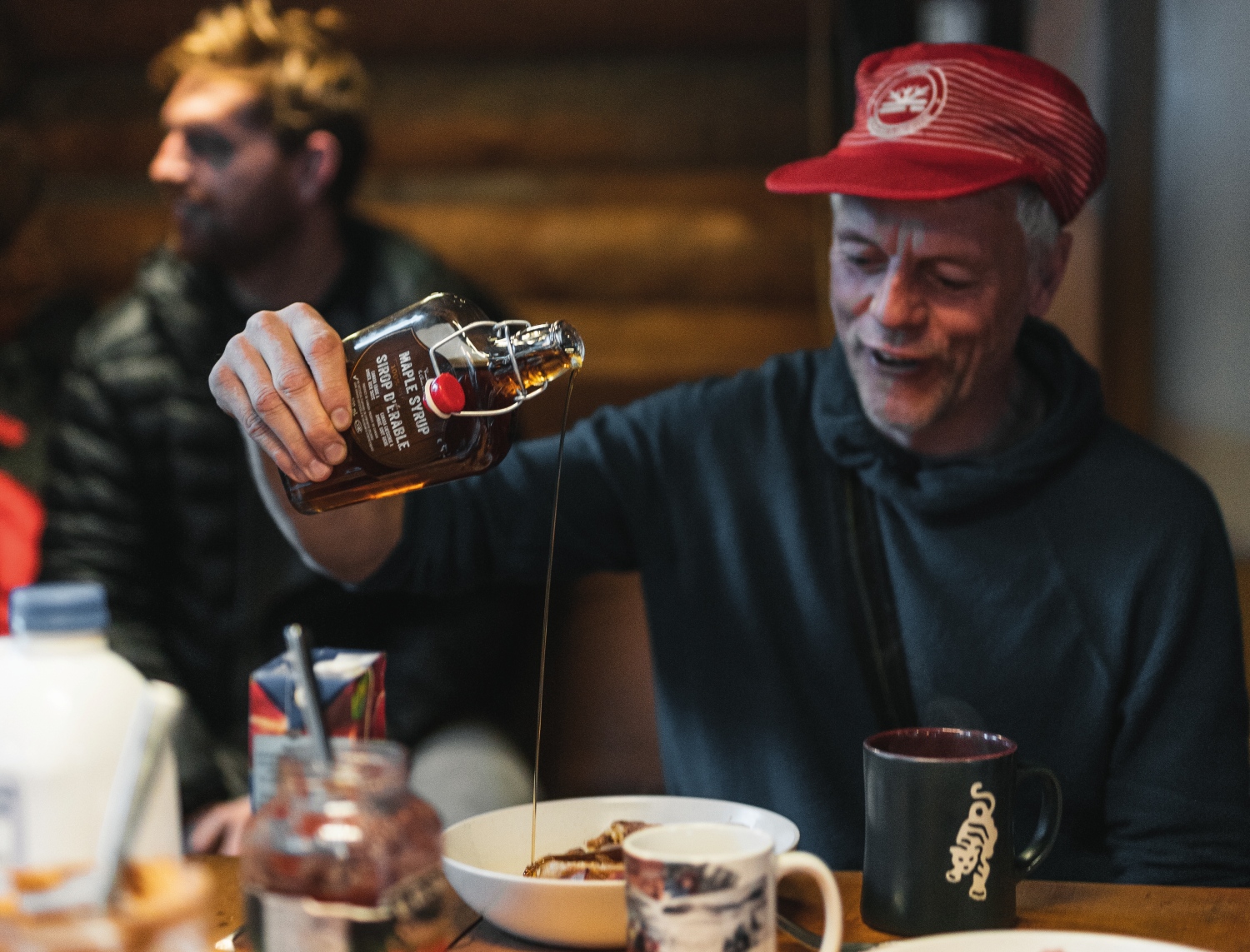 We would slip out of the cabin soon after dawn—as the pink and yellow alpenglow tiptoed down from the heavens, illuminating the highest peaks—and return to base when the sun slid behind the ridgeline to the west. Après-ski largely consisted of comparing notes on the day's exploits (we were often split into two groups of six), poring over the topographical map and plotting the following day's adventures. There were also fierce games of Perudo, Yahtzee and the like, and occasional outbreaks of yoga, led gamely by Sophia, the only woman in our group. 
On days when the weather gods smiled more benevolently upon us, we left the low-hanging fruits of the forest behind and went after the haute cuisine of the high alpine. All 12 of us zigzagged up to the summit of Grace's Peak, before pillaging its north-eastern slopes one by one in smooth powder that had escaped the wind's attention.
On another day, we clocked up some serious distance—travelling 23km horizontally, and climbing over 1800m of vertical—as we made our way up the Spring Creek drainage in the North-eastern extremity of the tenure. We popped over a pretty Col, before a long and varied descent to the shores of a frozen lake. Then, with the wind affecting the open slopes above the treeline, we headed for a row of north-facing couloirs which streaked down from the rockier mountain faces, hiking straight up them with our skis on our backpacks.
By this time the snow was firm and chalky rather than the soft fluff that had enjoyed earlier in the week. But when you have to kick steps into the steeps, it's better not to be floundering. Skiing down the thin slivers of white stuff sandwiched between dark, rocky walls, we made sure our turns were careful, precise, and on point. A fall here would have meant a long rag-doll to finish.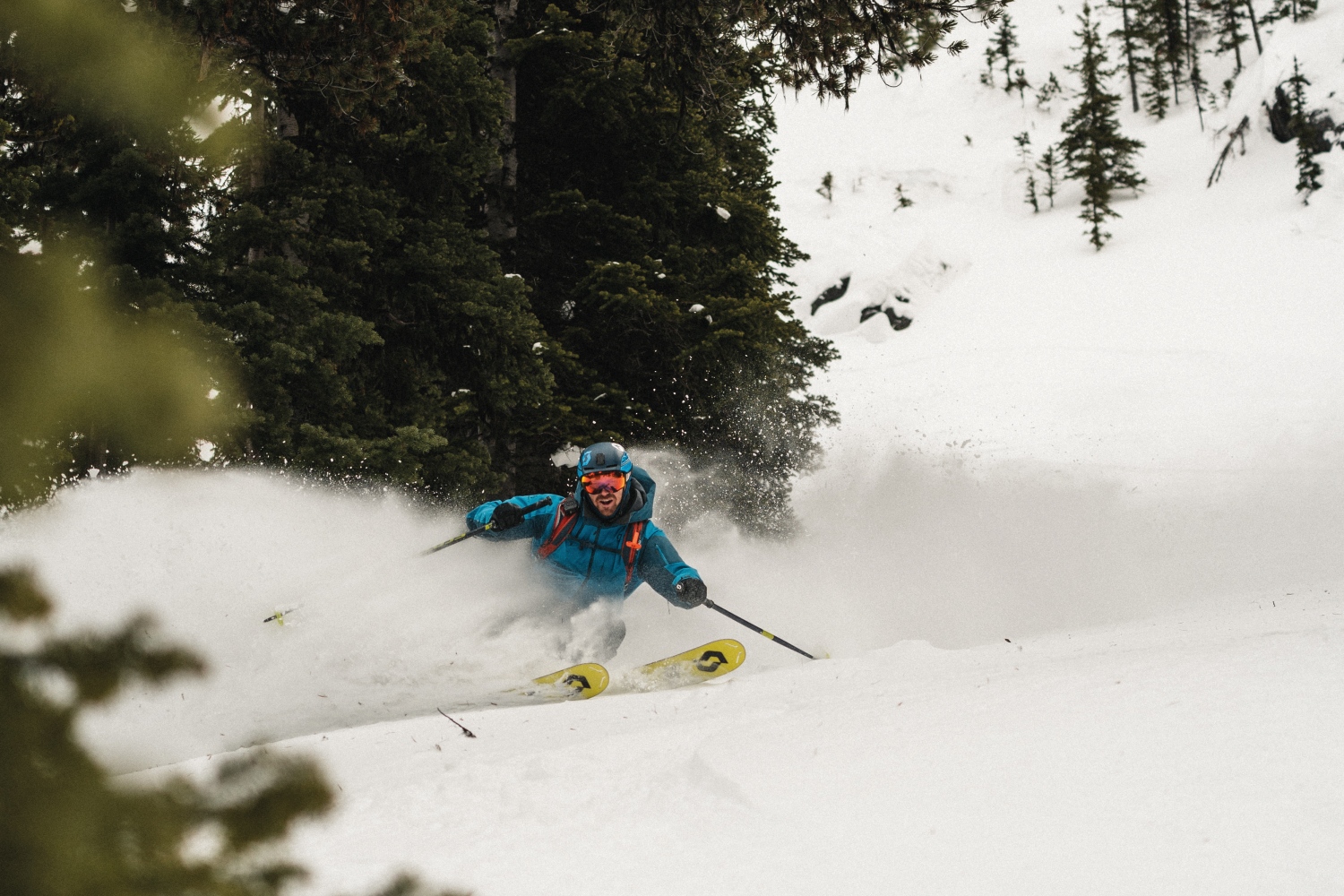 Absolutely steaming
Returning from the first of these big days, we discovered the reason for that last mystery cabin, with the barrel poking out its side: it was Boulder Hut's signature wood-fired sauna, whose stove was being stoked by Custodian Sebastien. Once inside, we chucked pots of water over the stove's innards, which made for an extremely efficient steam room—a rare and unexpected luxury in such a far-flung setting. It proved an ideal way to sooth weary limbs and wash off the day's exertions, before leaping into a nearby snowbank, the contrast of hot and cold proving quite the revitalising rush, as evidenced by our high-pitched shrieks.
On our final day, it was with great reluctance that we boarded the chopper and returned to civilization. Our bodies were tired, but minds were reinvigorated. After two years without, it was hard to imagine a better place to get back into good old-fashioned adventure than this little corner of mountain Nirvana.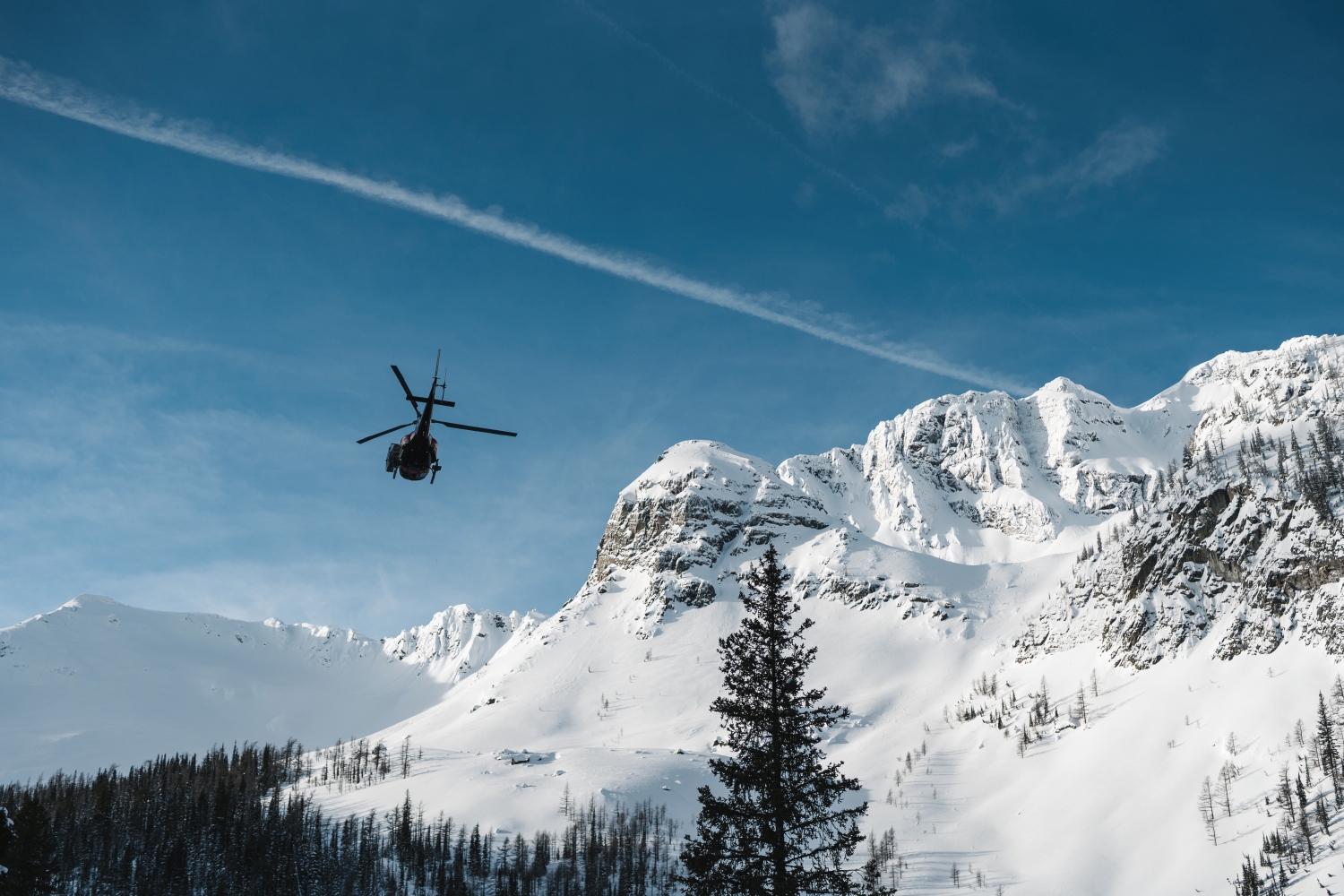 Snow how
Our trip
Matt Carr stayed at Boulder Hut.  
Getting there
British Airways, Air Canada and WestJet fly direct from London to Vancouver. From there, WestJet, Air Canada and local providers Lynx Air and Flair Airlines offer flights to Kimberley, where Boulder Hut's helicopter picks guests up. 
More info
Matt's trip was supported by British Columbia's tourist board. For more information, visit HelloBC.com.