Where is it?
Val d'Arly is a charming French alpine valley, stretched out over 20 km between Megève and Albertville. It's made up of several postcard-pretty villages and resort-villages – Crest-Voland / Cohennoz, Flumet / St Nicolas la Chapelle, La Giettaz en Aravis and Notre Dame de Bellecombe. – sitting clustered between the varied ski areas of Espace Diamant and Les Portes Du Mont-Blanc, which between them have 300km of slopes.
Why is it undiscovered?
It's easy for the smaller voices to get drowned out in the buzz about bigger, brighter and busier. Val d'Arly speaks softly but has a big heart. Its four resort villages offer something the purpose-built and bustling ski giants often lack – authenticity, a genuine sense of peace and a respite from the harsh realities of life today. This is slow tourism in the best sense of the phrase.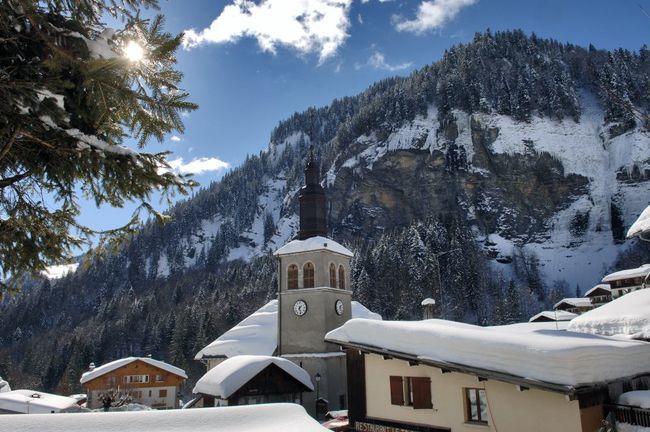 What can I do there?
Ski, of course. Or snowboard. With local slopes plus two great ski domains to choose from, there are slopes and off-piste to suit every ability, nestled in spectacular mountain scenery. But Val d'Arly is a world apart from the everyday. Here, there are opportunities to reconnect with nature and your family by going snowshoeing, ice skating and tobogganing, or on a horse sleigh or dog-sled ride; try more unusual on-snow transport like snow-biking, yooning or snow-scooting; take to the skies on a tandem paraglide or a hot-air balloon ride; or try ice climbing and snowmobiling.
So, what are the villages like?
Traditional chalets, church steeples and mountain lodges: the four resort-villages of Val d'Arly combine local tradition with home-grown hospitality. Here's what to expect:
Notre Dame de Bellecombe
Perched above the Val d'Arly, Notre Dame de Bellecombe draws you into the heart of the Espace Diamant, with its 192 km of snowy ski runs. This charming old-fashioned village with a good selection of restaurants and shops selling local cheeses, meats and craft beers, reflects the rich heritage of Val d'Arly. A holiday home in the snow just like when you were a kid - with hot chocolate and snowballs.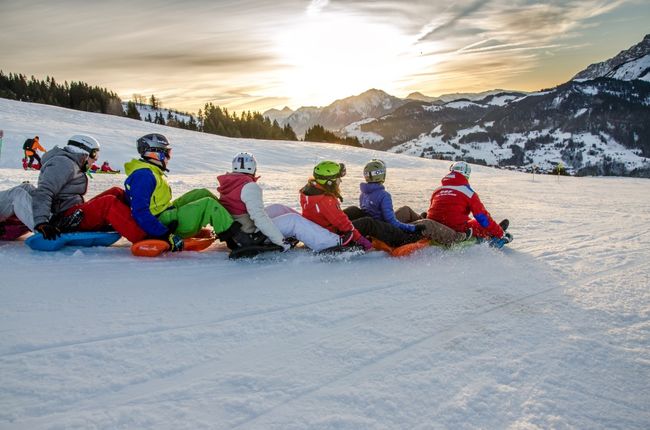 Crest-Voland / Cohennoz
Whether you come with family or with friends, the human scale of this village resort, with its range of accommodation at the bottom of the ski slopes, and traditional restaurants, is sure to delight you. Its gentle ambiance is nurtured by the welcoming locals and the tranquility of its landscapes. Sitting at between 1,200m and 1,300m, the resort provides easy access to the Espace Diamant.
Flumet / St Nicolas la Chapelle
Located in the heart of Val d'Arly, this village resort also linking into the Espace Diamant, is an unspoilt mountain farming community, where local people and visitors mingle in the lively village centre. Unashamedly traditional, it comes with a baroque church, pretty little streets, and is a thriving hub for Reblochon and Beaufort.… all topped with breathtaking views, under the protective eye of Mont-Blanc.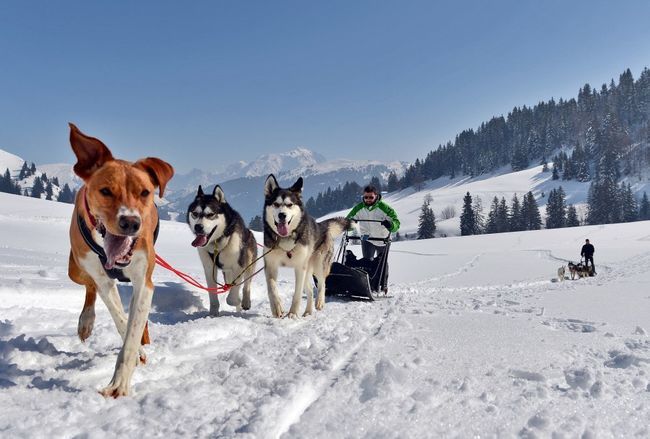 La Giettaz en Aravis
In 'La Giett', as this high-altitude village is known, visitors will fall in love with the wonderful 360° view from the top of its ski area over the mountain ranges of Beaufortain, Aravis and Mont-Blanc. A seriously secret location which is connected to the Portes du Mont-Blanc ski area with its 100km of runs, this village-resort is a place apart where mountain atmosphere combines with peacefulness.
For more information to to discover everything this beautiful ski area has to offer, go to valdarly-montblanc.com