Sponsored content
The French ski resort of Val d'Arly is one steeped in both tourism and agriculture; its DNA is unique: tradition, authenticity, respect for both nature and people, simplicity and local wisdom. A ski holiday here offers an experience far removed from the big resorts of the Alps, with the emphasis on slowly unwrapping what makes Val d'Arly ski resort special, through each new experience, tasting fine food, new outdoorsy adventures...
Where is Val d'Arly?
Nestled in the heart of the French Alps, in the Savoie region, sandwiched between the Aravis, Beaufortain and the Mont-Blanc mountain ranges, Val d'Arly covers more than 20km between Megève and Albertville. Just a 90-minute transfer from Geneva (two hours from Lyon), it is an exceptionally diverse alpine valley, offering offers vast forested slopes, extensive alpine pastures dotted with traditional chalets, numerous summits that boast magnificent views of Mont-Blanc, and long rock ridges such as the Col des Aravis.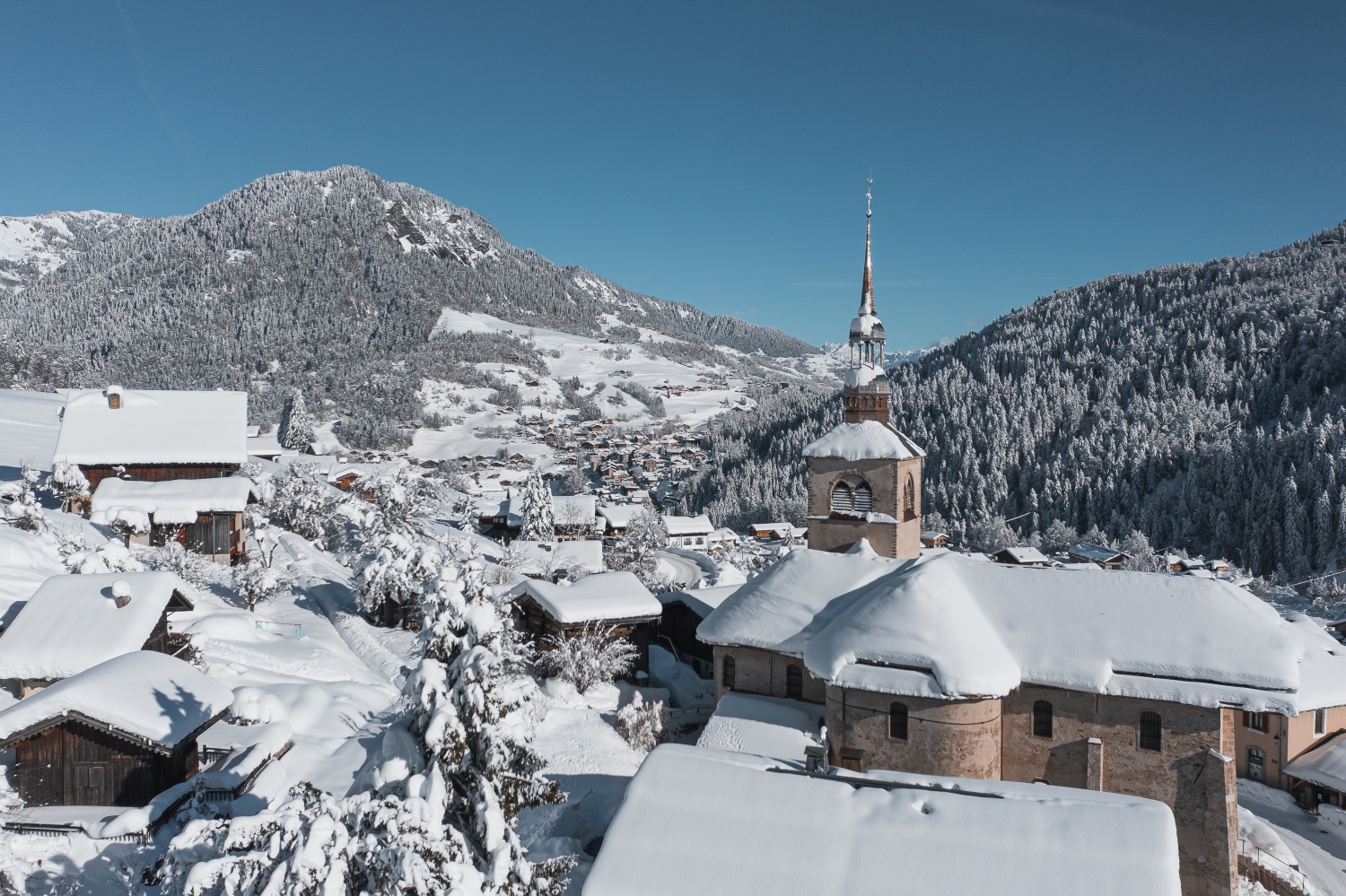 Val d'Arly is comprised of four village resorts, each with its own individual pride of place and historical heritage:
Flumet/Saint-Nicolas-la-Chapelle
Both villages combine tradition with present-day creativity. Flumet's medieval town centre is Val d'Arly's nerve centre, and it's also the heart of the local cuisine and produce. The neighbouring town of Saint-Nicolas-la-Chapelle is a discreet and yet attentive host. Its town centre and baroque church are known for their timeless charm.
Crest-Voland/Cohennoz
Perched on the sunny terrace, Crest-Voland & Cohennoz are the ultimate ski resort villages. Both offer easy access to the ski slopes in Crest-Voland and in Les Saisies, as well as Les Saisies' Olympic cross-country area. With such easy access combined with the many activities and facilities on offer, Crest-Voland & Cohennoz are the perfect family-oriented resorts.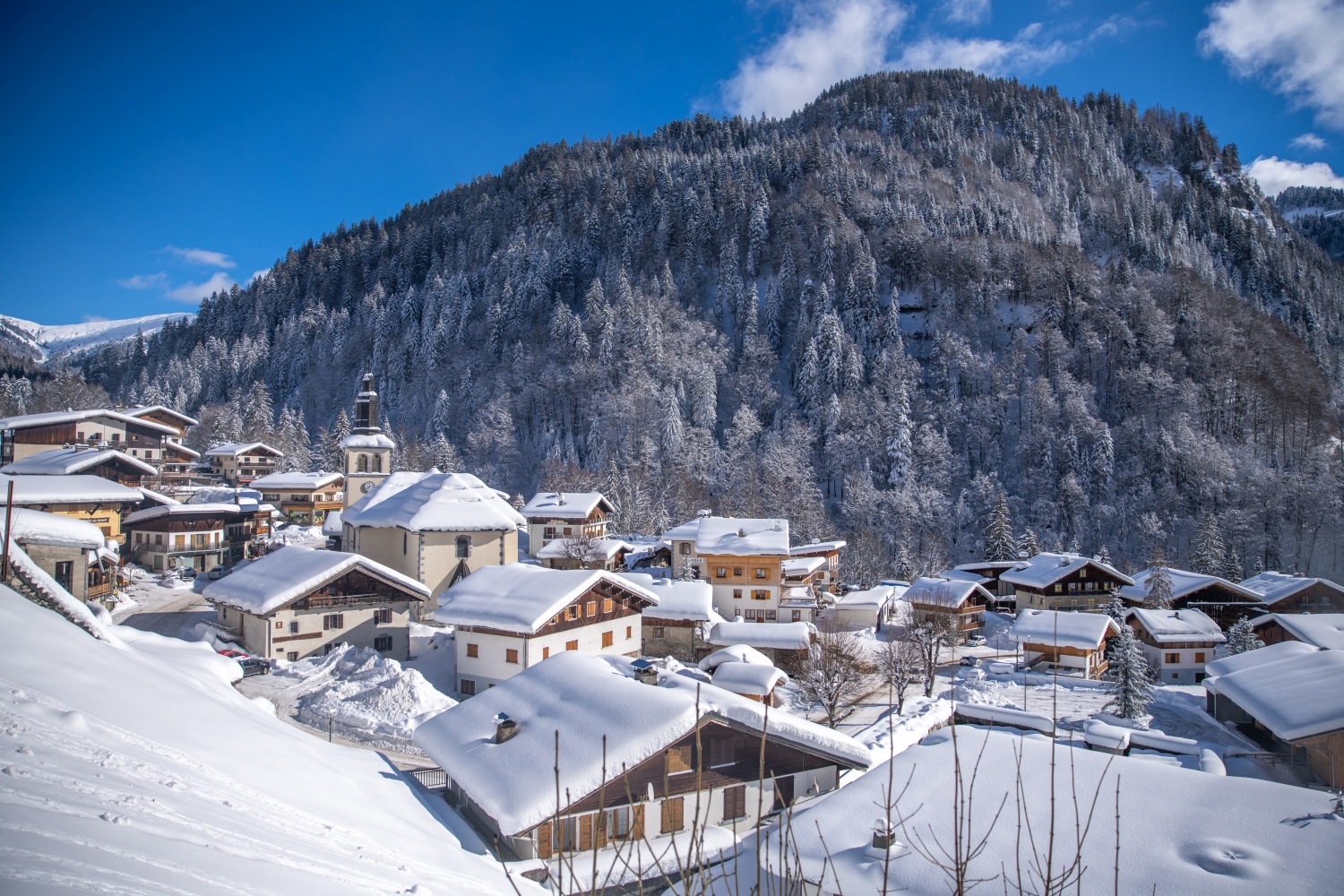 La Giettaz en Aravis
Known locally as La Giett, La Giettaz is one of Val d'Arly's more natural and sporty resorts. In winter it offers numerous mountain summits and slopes that skiers will love. At the top of 'La tête du Torraz', La Giett's highest peak, you can enjoy a 360° view of the surrounding mountains. It also has good connections to the Portes du Mont Blanc ski area.
Notre-Dame-de-Bellecombe
Designated Savoie's most beautiful village in 2022, Notre-Dame-de-Bellecombe's picture-postcard traditional chalets, magnificent church steeple, and farmhouses have kept their traditional appeal without getting stuck in the past. It's also lively and sporty with numerous bars and restaurants, all accessible by ski, where you can enjoy a taste of the local way of life.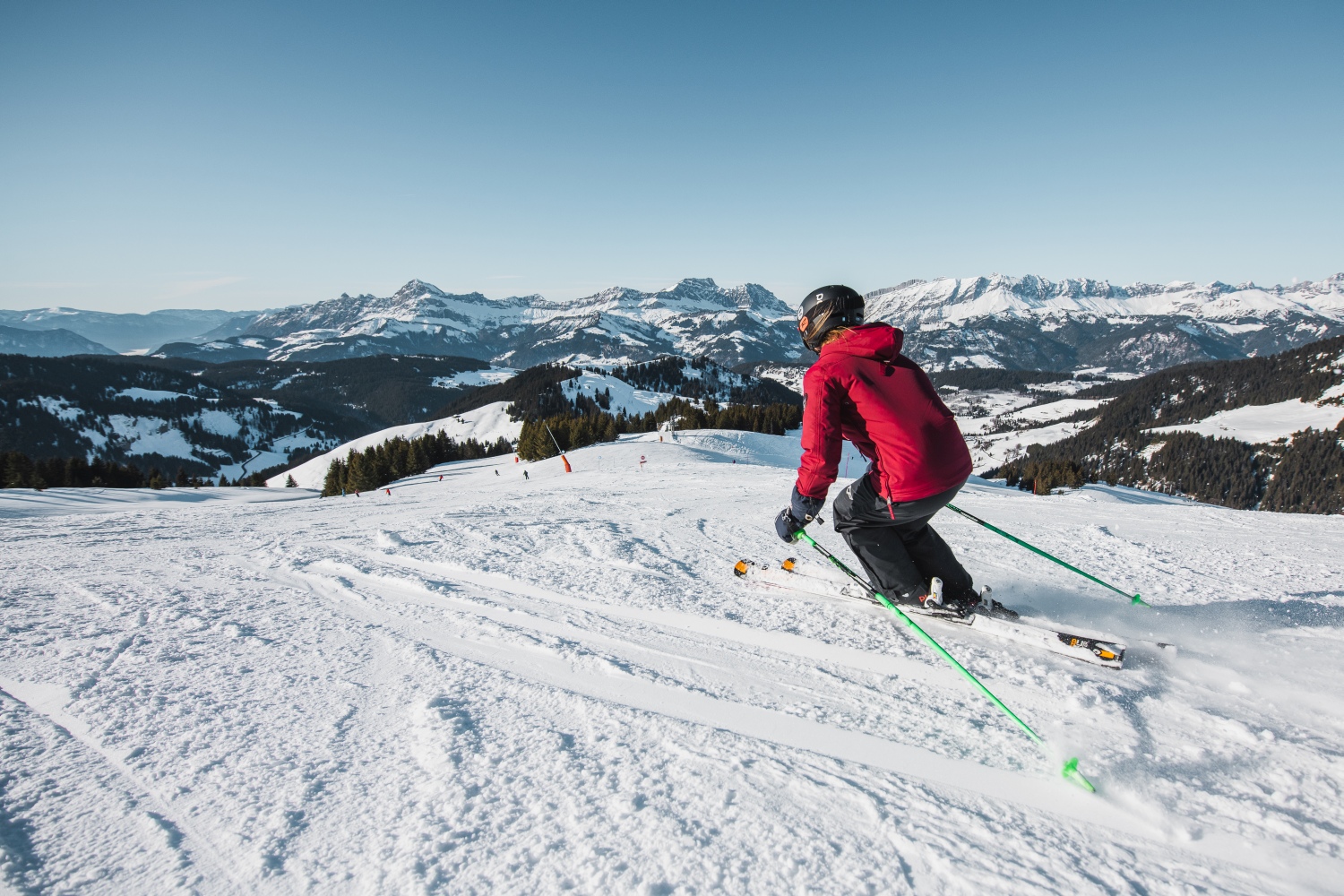 Highlights of the Val d'Arly ski area
With two varied ski areas and 292km of slopes, Val d'Arly has plenty of skiing for all levels.
The Espace Diamant has an altitude range of 1000m to 2,069m, and covers 192 km and 6 resorts: Les Saisies, Hauteluce, Notre-Damede-Bellecombe, Crest-Voland / Cohennoz, Praz sur Arly et Flumet. Both for family-oriented or more adventurous types, its slopes take you through snowy alpine pastures, forests, charming villages, and offer - at the top of each mountain - panoramic views of the surrounding Mont-Blanc, Beaufortain, and Aravis mountains.
Les Portes du Mont Blanc (altitude range 1,200 to 1,930m), covers 4 resorts (La Giettaz, Le Jaillet (Megève), Combloux et Cordon) and its 100 km of slopes pass through both Savoie and Haute-Savoie and offer spectacular views of Mont Blanc. The slopes in la Giettaz are north-facing and covered with trees that protect the fresh fallen snow, hence providing top-quality conditions all winter.
It's also particularly popular amongst freeride skiers and ski touring enthusiasts. Those seeking ski touring options will enjoy the 4 marked paths (for which difficulty varies from green to red), those wanting to choose their own itinerary will love Petit et Grand Croisse Baulet, and those looking for full-on downhill fun can take a lift to the top of Le Torraz and make their way down off-piste.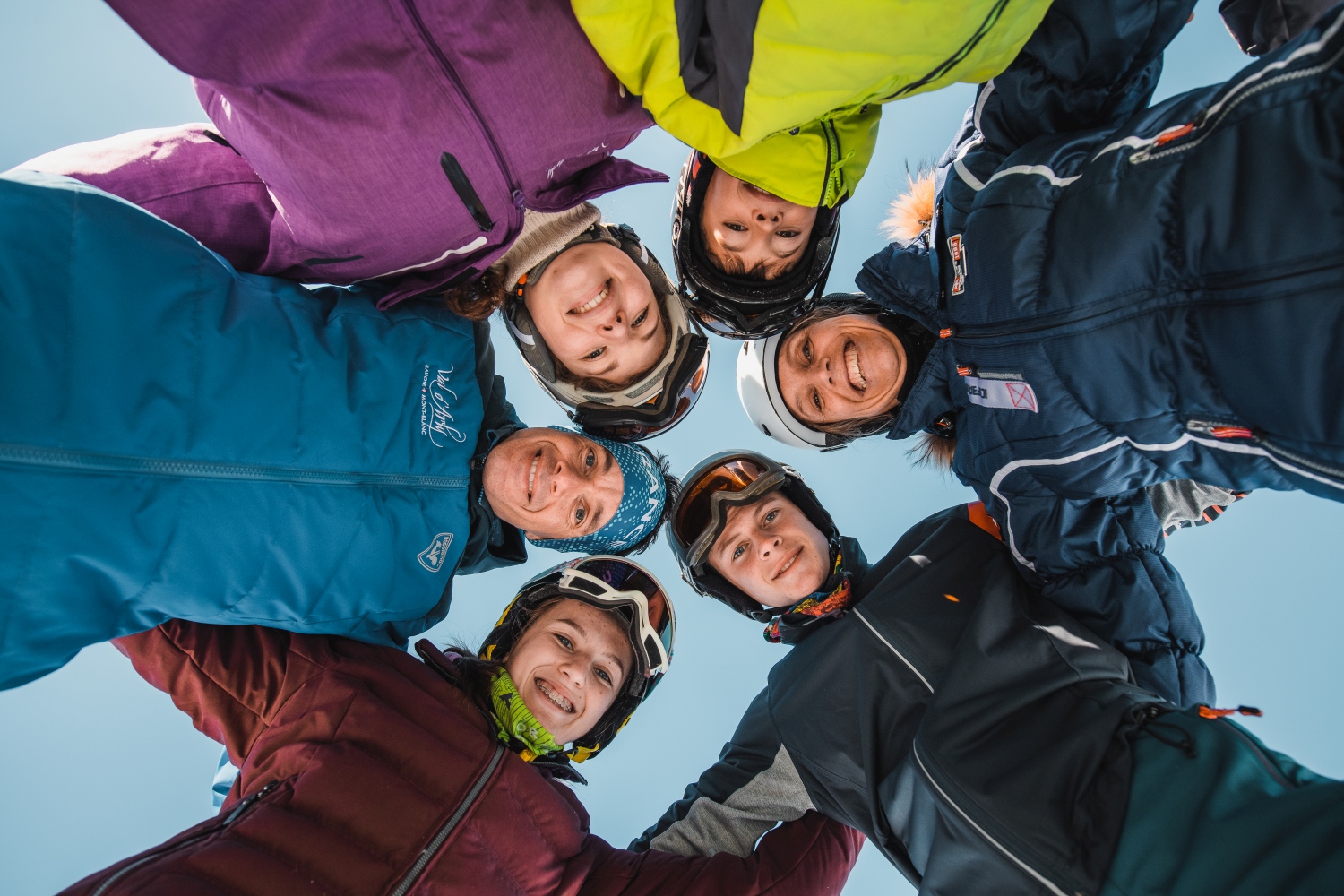 What makes Val d'Arly perfect for families?
Parents need to know that a ski resort can offer more than a downhill piste to keep children happy. Val d'Arly's various ski areas are just one aspect of this mountain destination. Indeed, the hardest part will be choosing between all the fun alternatives. here are some of the options:
A Treetop Adventure Course
In Val d'Arly, treetop adventures are not just for summer. The Parc Accro in Crest-Voland / Cohennoz, is a one-of-a-kind year-round course. Built on both sides of a canyon, this treetop adventure course has you flying across, above a stream below and in front of two waterfalls. The various sections such as an 180m long zipline, a suspended bridge and a via ferrata are all options that you can choose to do or not do according to your level of comfort. Small kids (age 4 to 7) even get their very own kid course.
Downhill Snow-Biking
Whizz down from the Torraz mountain top (1,930 m) in La Giettaz, for a total of 6 km (and with a 730m elevation drop) on special bikes designed for snow.
Fatbike Riding Course
For those who may prefer travelling longer distances (without any substantial physical effort!), the bike instructors at Wat Bike offer fun riding courses with fatbikes especially designed for riding in snow. Equipped with extra large tires and an electric-assistance, these fatbikes are perfect for snowy off-road tracks.
Electric Moonbikes
Halfway between a snowmobile and a snowscoot, a moonbike is 100% electric, manoeuvrable, silent, odour-free and 'clean'. And because of its small size, its light weight and its lower centre of gravity, moonbikes are particularly agile. Try a daytime outing into the wilderness or a downhill night outing from the top of Le Torraz.
You can also have a go at dog-sledding, stay in a giant treehouse, go for snowshoe hikes, try ski-bobbing and ride on a cable-drawn sled.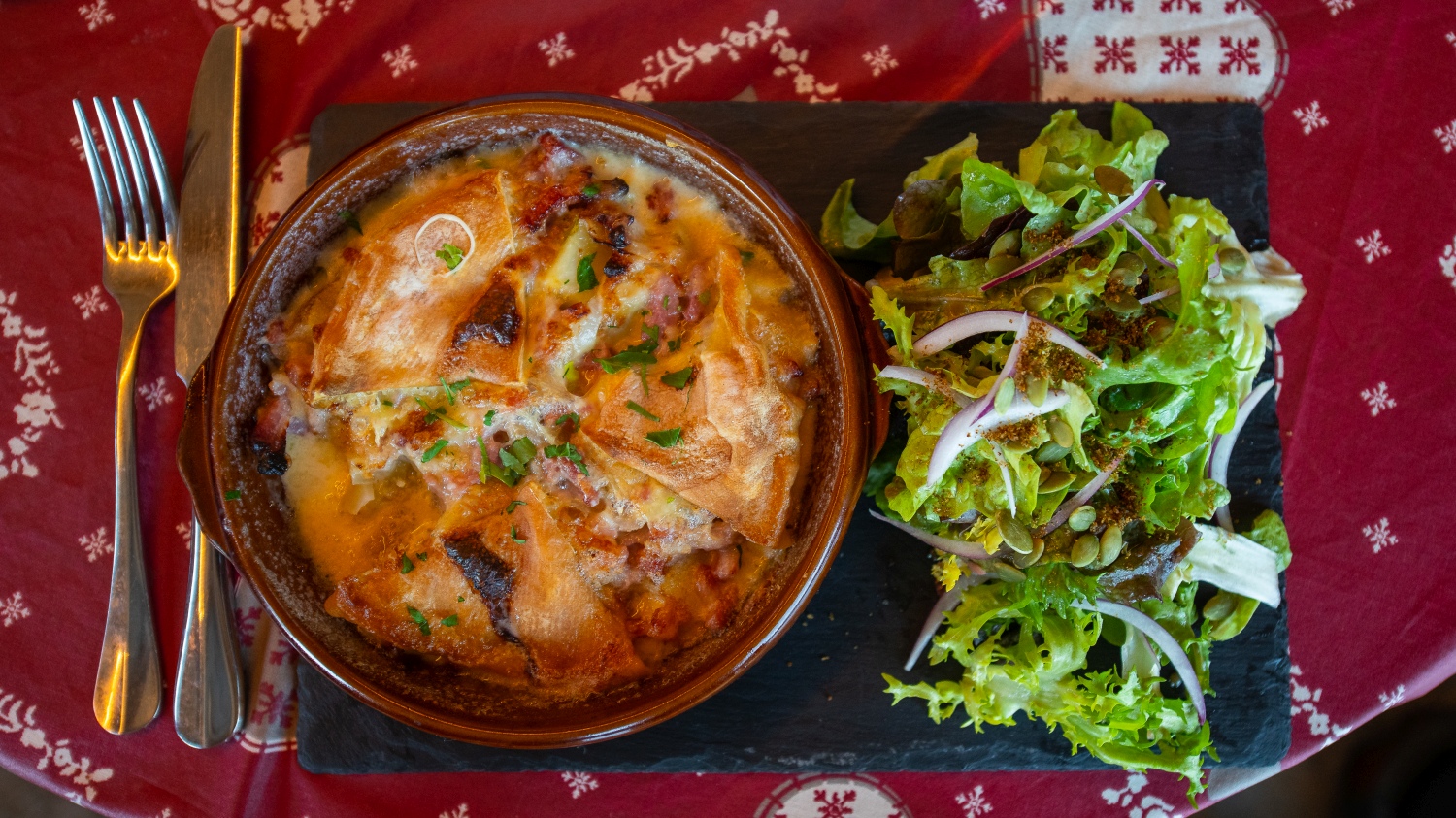 What's new in Val d'Arly this season?
Val d'Arly keeps on reinventing itself. Each season comes with its own set of traditional activities and, each year, some newbies are added.
Here's are this winter's top picks!
The Gourmet Snowshoeing Hike
A short, 75-minute snowshoe hike leads to an authentic 'mazot', a traditional little wood cabin, in Saint-Nicolas-la-Chapelle. Upon arrival, you will be served a typical savoyard apéritif (food & drinks), and everything you'll taste is 100 % local and guaranteed to be from the shortest supply chain possible! Then hike back by moonlight through the sparkling snow.
The Cable-Drawn Sled
First launched in December 1937, in Notre-Dame-de-Bellecombe, the cable-drawn sled was the resort's very first ski lift. Up until 1948, when it was replaced by a drag lift, skiers used this sled to get up the slopes. Equipped with a V8 Ford motor, the sled was towed by a cable and could carry 20 people at a time. Unique in France, the sled was totally restored in 2017. You can now, once again, use the sled to go up the hill in the centre of town. For extra fun, bring your own sled and then slide back down!
The Highest Cable Car Food Truck
The 1930 (in reference to the location's altitude) is a cable car that has been transformed into a high-altitude kitchen. Its unique location at the top of the ski area in La Giettaz, makes it an unmissable destination for foodies. With 360° views, its deckchairs are perfect for soaking up the sun while you eat!
The Eau Vive apartment hotel
For maximum comfort at a low price, the Chalet de l'Eau Vive in Saint-Nicolas-la-Chapelle has been totally transformed to turn it into an apartment hotel designed for visitors seeking an affordable, self-sufficient accommodation option. From 2-person studios to vast 8-person apartments, every family (or budget) will find what it needs.
Unmissable 2022-23 events
The Skibob World Cup
11-13 January, Notre-Dame-de-Bellecombe / Crest-Voland
After two Covid cancellations, the Skibob World Cup is back in Val d'Arly for its 5th edition. Athletes from more than ten countries come to participate in races include a giant slalom, a nocturnal slalom, and a boarder-cross. It's the only skibob competition in France and always an impressive show!
Bacchus in the Snow
23-26 January, Crest-Voland
Entertainment, tastings and sporting activities combine in this friendly wine fair bringing together wine makers and regional producers from the whole of France in this little Savoyard village-resort, to enjoy skiing the magnificent Espace Diamant ski area and other activities and events in the snow.
Famille Plus Week
4-11 February, Crest-Voland/Cohennoz
A week of special events with families in mind to celebrate Val d'Arly's status as a Famille+ resort.
The History of Skiing
7-28 February, Crest-Voland
The ski team from the Val d'Arly ESF put on a show dedicated to the history of skiing, including a classic torchlight descent.
Lekkarod Dog-Sled Race
11-13 March, Crest-Voland/Cohennoz/Notre Dame de Bellecombe
Val d'Arly's version of the Iditarod! Mushing teams compete in a race around the resort area, showcasing this very family-friendly activity.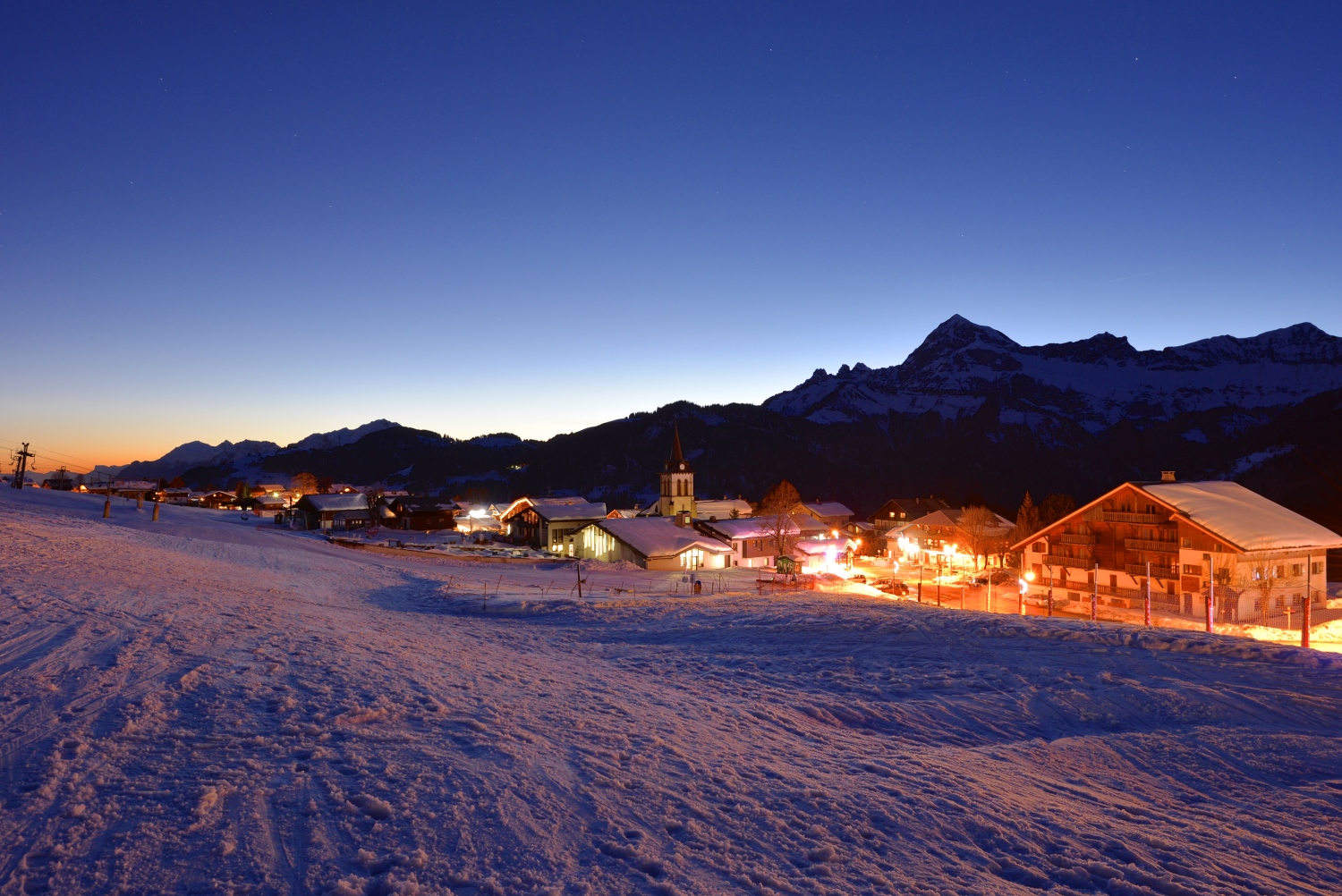 For more information to to discover everything this beautiful ski area has to offer, go to valdarly-montblanc.com