Sponsored content
Some places are rightly revered by skiers. Engelberg-Titlis is one such place, with legendary powder runs that induce raptures in expert visitors. But this Swiss ski resort, which, architecturally, has the look of a small town, is also a great destination for intermediates and even has plenty to offer beginners. Plus, the majestic mountain landscape rising up to 2,000m above the buildings, create an amazing, spectacular backdrop.
As a ski resort, Engelberg has always been at the cutting edge – the first chairlift in Switzerland was installed here. The ski lifts are impressive too, particularly the already legendary rotating 'Rotair' cable car/tram, which ascends to 3,020m to offer access to the Titlis glacier. At the top station there is a tunnel through the ice, with a frozen bar.
Engelberg is blessed with one of the longest ski seasons in Europe (October to May) thanks to its incredible snowfall record, and routinely tops snowfall charts during the winter, where huge, huge dumps are not uncommon - the record dump on the Titlisboden was 205cm in 72 hours, in 2019.
Engelberg also offers plenty of off-slope activities - including an excellent network of winter walking and snowshoe trails, while families will appreciate the tobogganing plus the swimming pool and ice skating rink.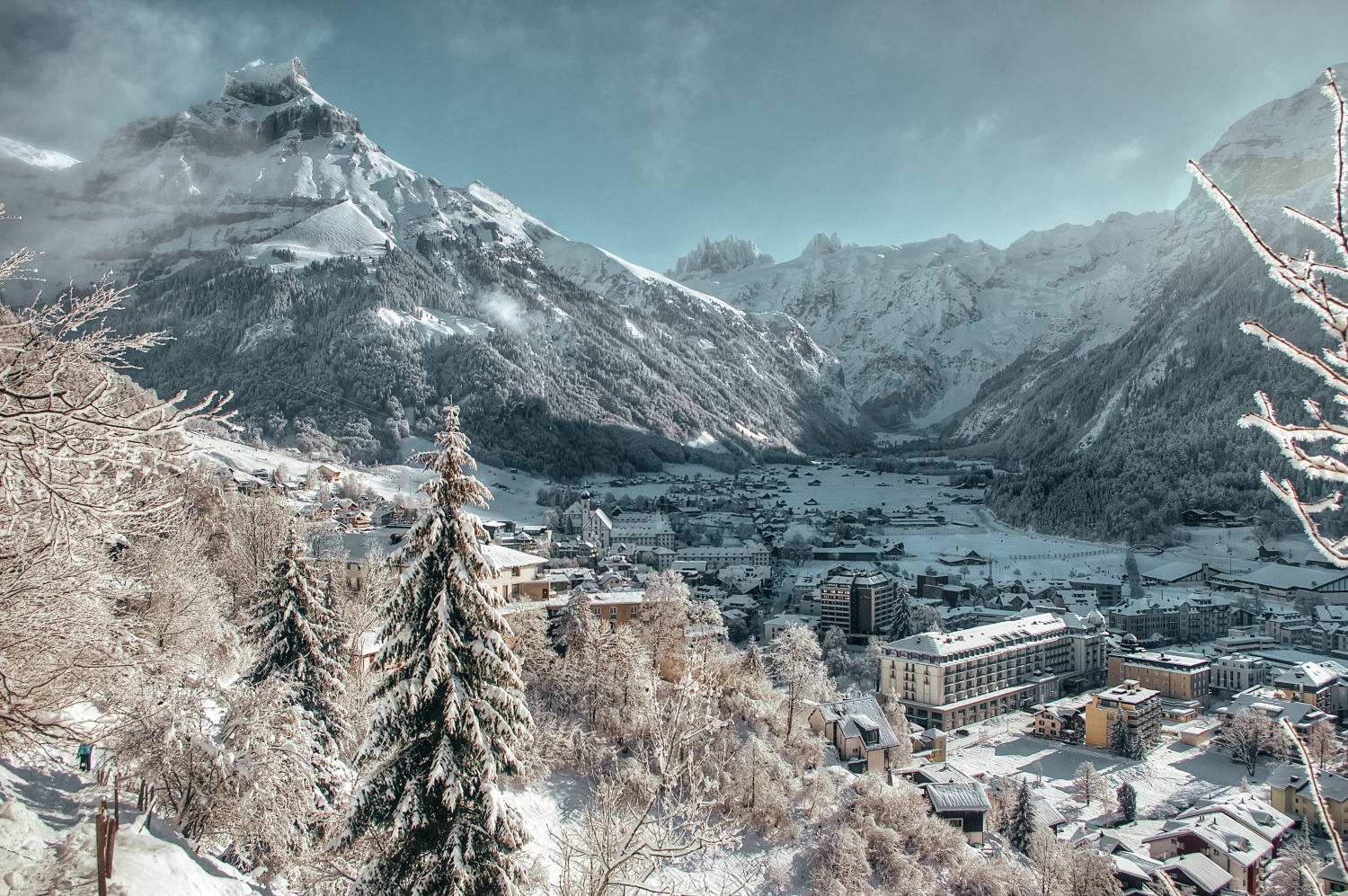 Most of the 55 or so restaurants around Engelberg are hotel based and offer traditional Swiss fare cooked to a very high standard. The mountain restaurants also offer a wide range of top-class dining opportunities and you can find some great après ski bars in the village if you like to party after a long day on the pistes.
Also worth a visit are the 900-year-old Benedictine Monastery, a place of silent contemplation for centuries, and for a touch of relaxation, the Day Spa in the newly opened Kempinski Palace Engelberg, which features a spectacular rooftop pool and wellness facilities - everything you need for a post-ski wind-down.  
There is also a folk museum located centrally in the main town, which offers a fascinating look into the culture of the area. Plus, if you'd like to explore a little further afield, and experience even more Switzerland, beautiful Lake Lucerne is only about 30 minutes away by car.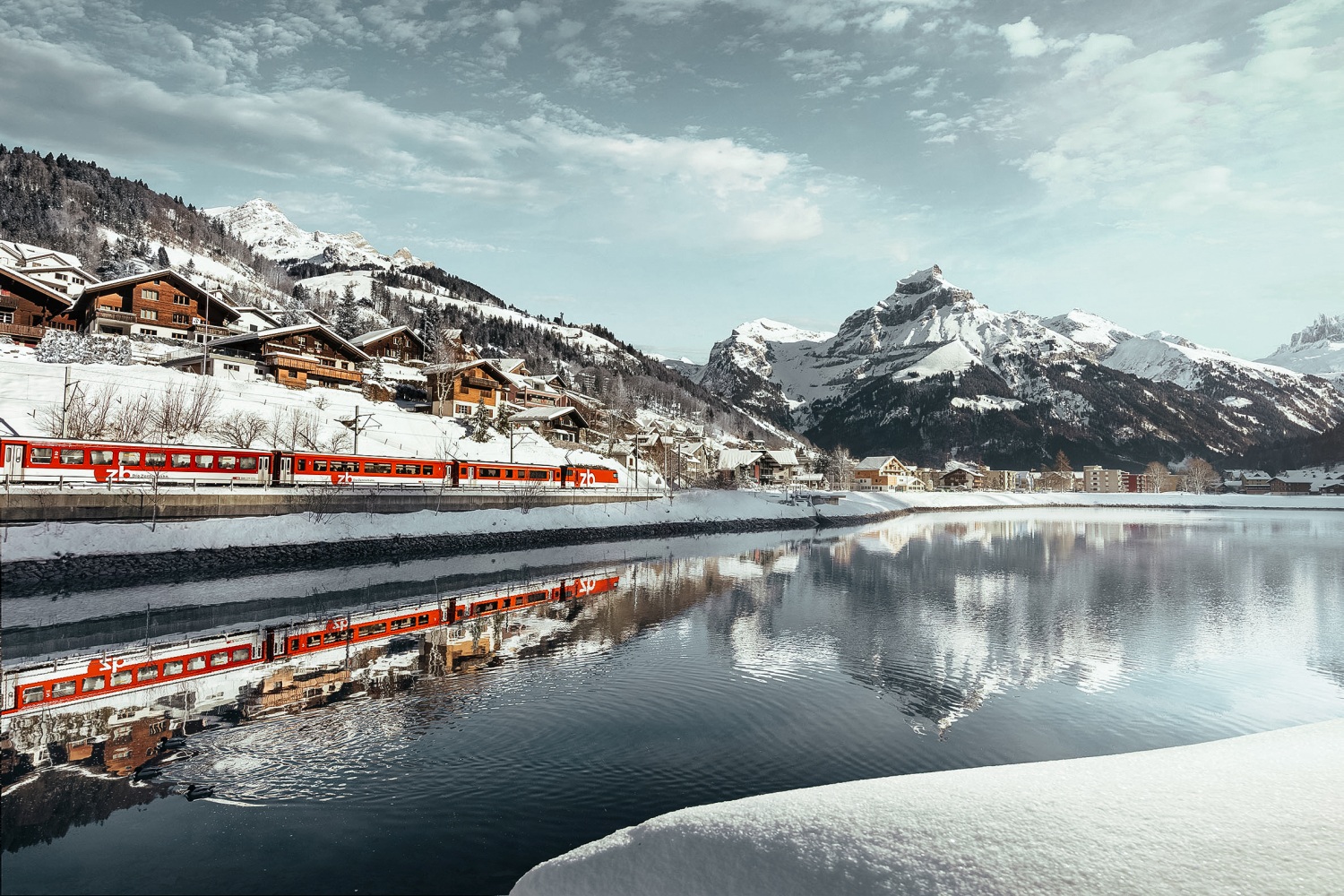 Where is Engelberg?
With most of Switzerland's famous ski resorts located in the country's far west or south-eastern corners, ancient Engelberg, in the central Switzerland canton of Obwalden, stands out. This easily accessible Swiss ski resort has its own train station, and with Zürich Airport just an hour and a quarter away (or around a two-hour train journey, with just one change of train) it's ideal for everything from long ski holidays to a ski weekend mini-break.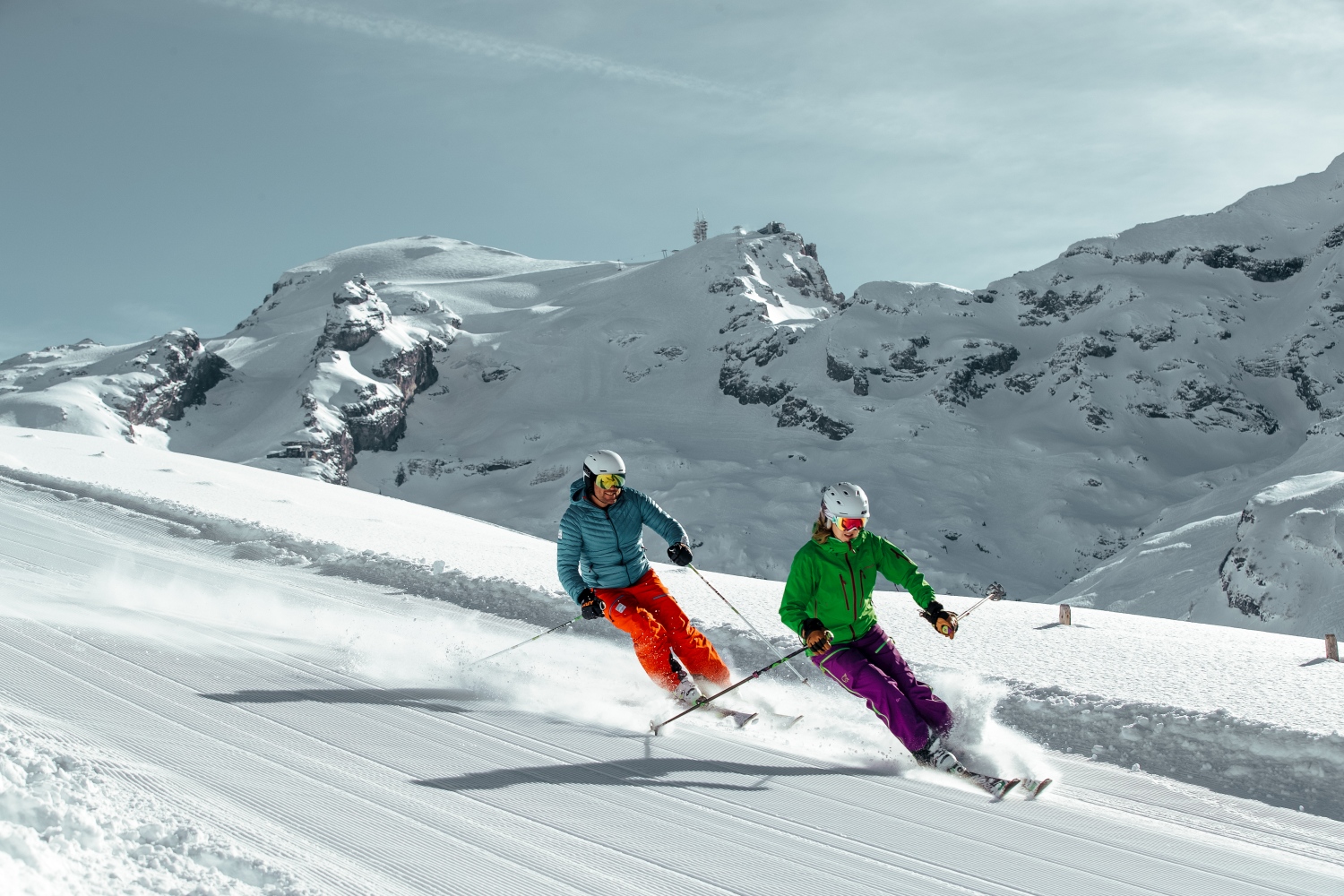 Discover Engelberg-Titlis' spectacular ski terrain
Engelberg skiing has something for everyone. Engelberg's ski area is large - and its 82km (51 miles) of trails span a massive, 2,000m vertical drop, putting Engelberg among the top five in Europe. The ski area is served by a network of rapid, modern ski lifts. The longest of the pistes from the Titlis glacier back down to the resort is a whopping 12km (8 miles) long.
Most of the runs that make up the Engelberg resort area are designed for intermediate skiers, but there are plenty of beginner areas dotted around the mountains too. The Brunni ski area, for example, is great for beginners, as its base station cable car serves lower altitude and mostly gentler slopes. There is a popular children's snow play area here too.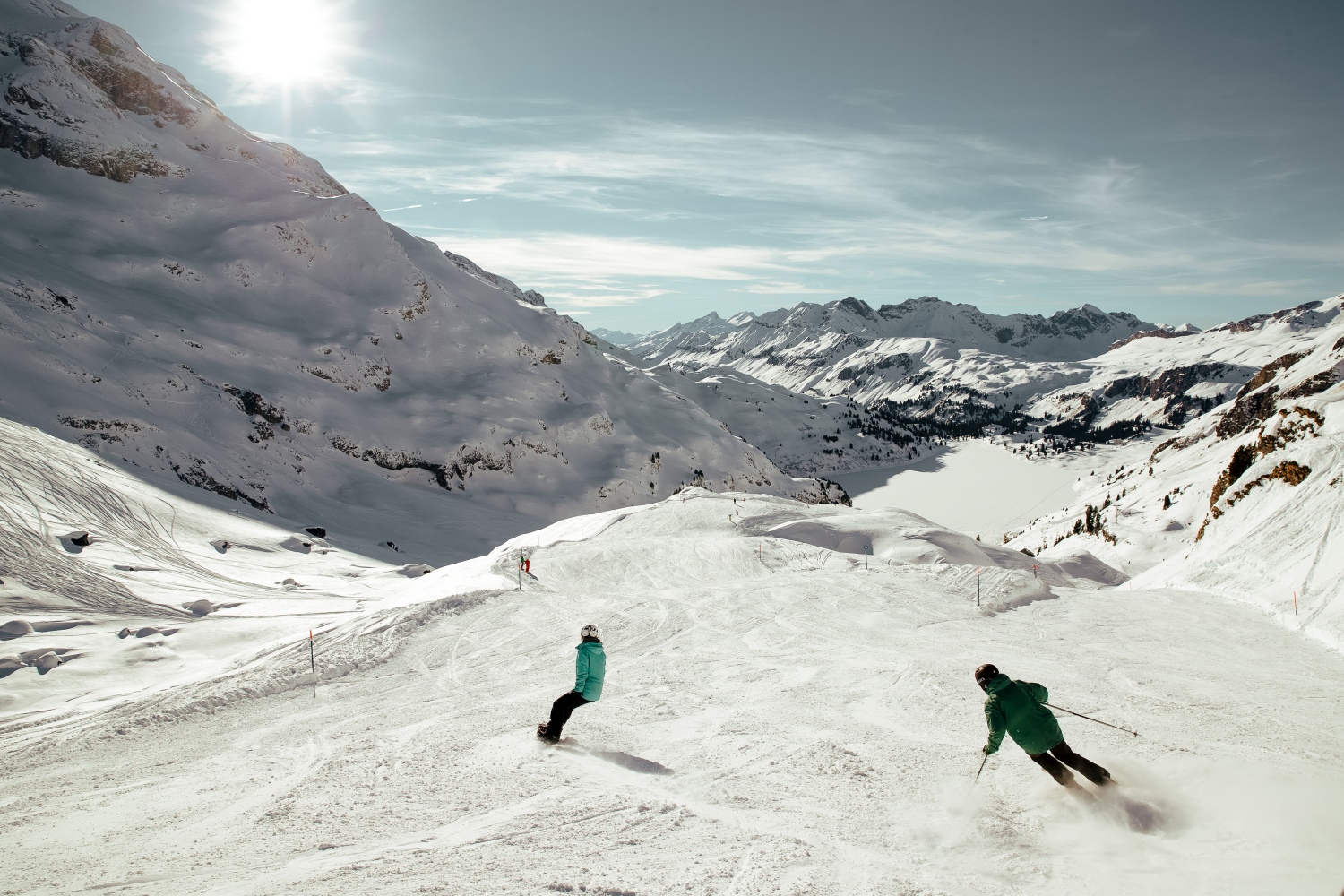 The main snowboarding attractions are on the Jochpass where a terrain park is established when the conditions are right – plus, of course, the off piste and the Titlis glacier.
If you're into cross country skiing, Engelberg has an extensive network of marked cross country trails. And if you just want to watch something spectacular, try to make sure your ski holiday in Engelberg coincides with the Ski Jumping World Cup, which takes place on the 120m Titlis hill in late December.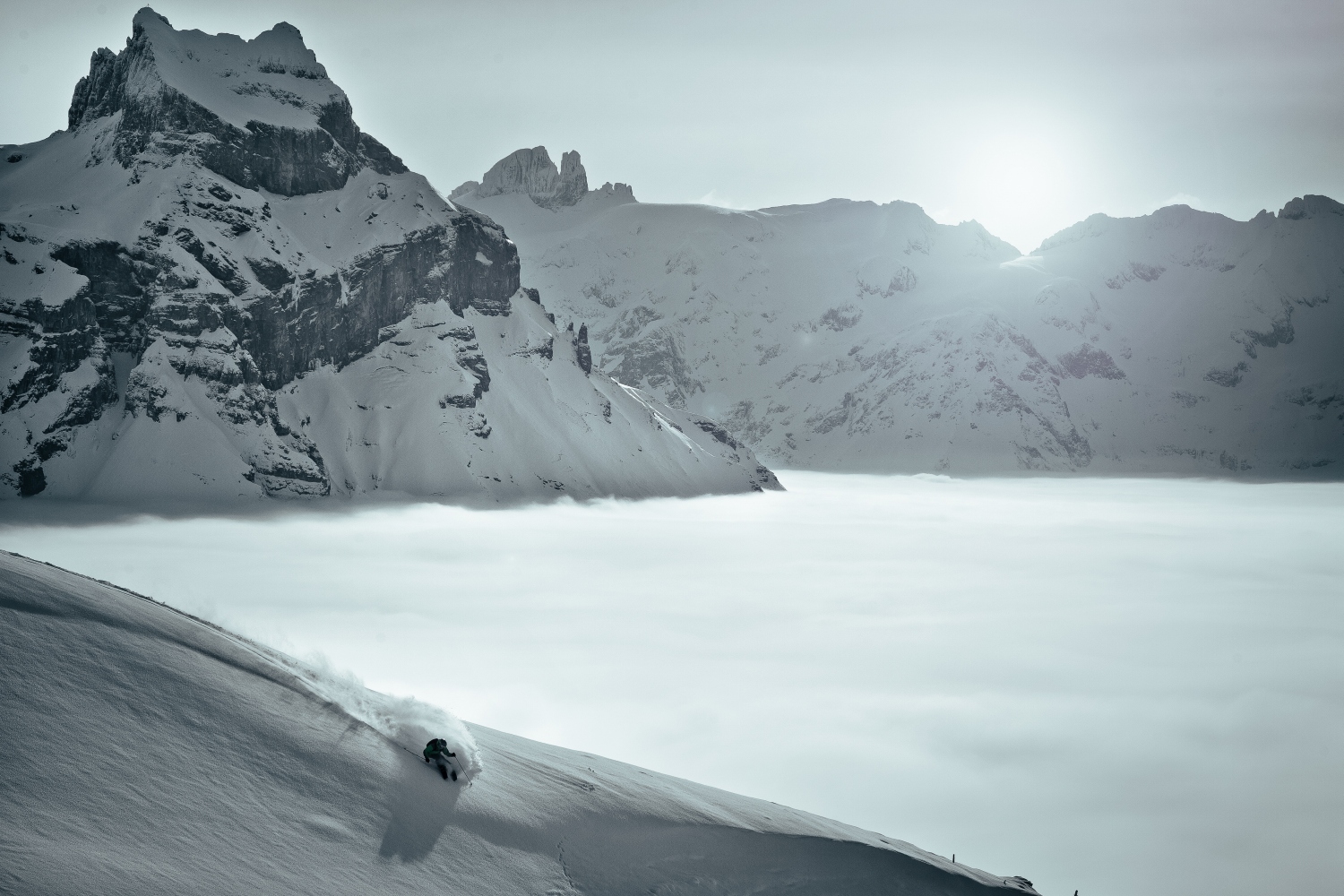 Unbeatable freeride with Engelberg's 'Big 5'
Engelberg's greatest lure for advanced and expert skiers is its reputation as something of an freeride paradise, and the 'Big 5' off piste ski runs – the Laub, Galtiberg, Steinberg, Sulz and Steintäli - should be on every expert skiers' bucket list. All of these epic slopes can be accessed from the lifts, so no trekking up the mountain carrying your gear is required!
Each route has a distinct character: the Steinberg, for example, offers a range of freeriding descents over undulating terrain, with one of the standout routes down being the classic 'S'. The Laub takes you through 1,200m of vertical, while the Galtiberg, at 12km, is one of the longest freeride descents in the Alps - and one of the most challenging. It's not called the King of Descents for nothing, and should not be attempted without a guide.
The final two, the Sulz and Steintäli, drop from either side of the Jochstock lift, and are also must-rides for advanced skiers looking to ski Engelberg to the max.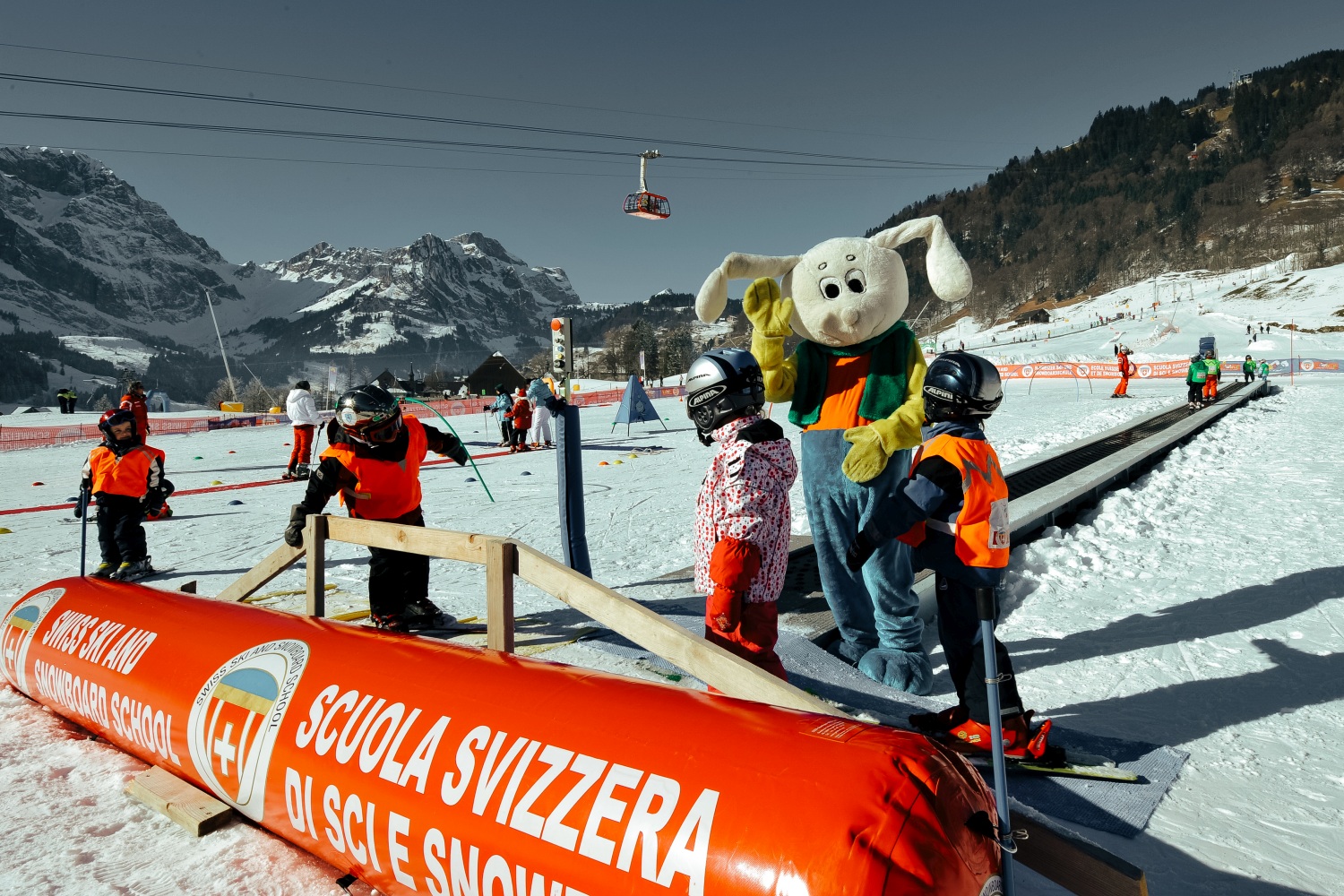 Perfect for a family ski getaway
Engelberg benefits from a laid-back vibe and lifestyle with a good infrastructure. It has a range of hotel options to suit a wide variety of budgets including luxury hotels and ski-in ski-out accommodation near various lifts.
It's also certified family destination with great childcare facilities. The Ski Kindergartens offered by the ski schools are available for booking from half a day to five days, with lunchtime supervision if required. The wide range of non-skiing activities include sledding and swimming, and kids will especially love riding the revolving cable car. There are perfect slopes for beginner skiers right in the village with night skiing offered as well for something a little different.
Off the slopes, your lift pass also includes entrance to the Glacier Cave and the Titlis Cliff Walk - Europe's highest suspension bridge, at 3,041m which is well worth a visit.
Kids will also enjoy letting off steam in the Trübsee snow park next to Trübsee Alpine Lodge, where they can play around on minibobs and snowtubes. Snow tubing - racing down a track on a huge rubber tyre - is sure to be an all-round hit.