Travelling to ski resorts with hand luggage only may sound daunting, but it can make a lot of sense to travel light and hire equipment in your resort. Travelling light keeps transfers swift, avoids the potential for delays if your luggage doesn't keep pace, and generally frees you from the hassle of paying extra for hold baggage and your skis or snowboard.
Factor in the cost of specialist ski bags, equipment insurance and pre-holiday maintenance costs for skis and boards - and the expenses soon add up.
High quality equipment is widely available for hire at most resorts and can be a great opportunity to road test top-notch kit or try different gear for different snow conditions. Weigh ski and board hire against the cost of taking your own, and you'll probably find you can virtually offset one against the other.
It's entirely possible to include your own helmet within a single cabin bag – just keep an eye on your weight allowance which is usually around 7-10kg.
Eagle Creek created the world's first packing system of products and offer the following expert advice on what to take and how to pack for a hand-luggage only, week-long ski or snowboard holiday this winter.
1. Choose a tough, weather-resistant bag that's guaranteed to fit in hand luggage and is easy to carry.
Hand luggage is only more convenient if it meets an airline's sizing restrictions, is comfortable to carry, and is resilient enough for the conditions in which you'll use it. All Eagle Creek Carry Ons marked with a TrueFit™ logo fit within the International Air Transport Association 'Cabin OK' guidelines and offer greater assurance that it will be acceptable across different airlines. The affordable new Expanse collection is made from lightweight, weather-resistant fabrics and includes the Expanse Convertible International Carry On that can be used as both a backpack and roller bag. It features Eagle Creek's unbeatable 'No Matter What' warranty and has a security-friendly compartment for laptops/ tablets as well as central lock points on the main compartment and interior compression. If space is really precious a duffle with backpack straps is likely to be your best option as the handle and wheels of roller bags do take up space and are included in the dimensions.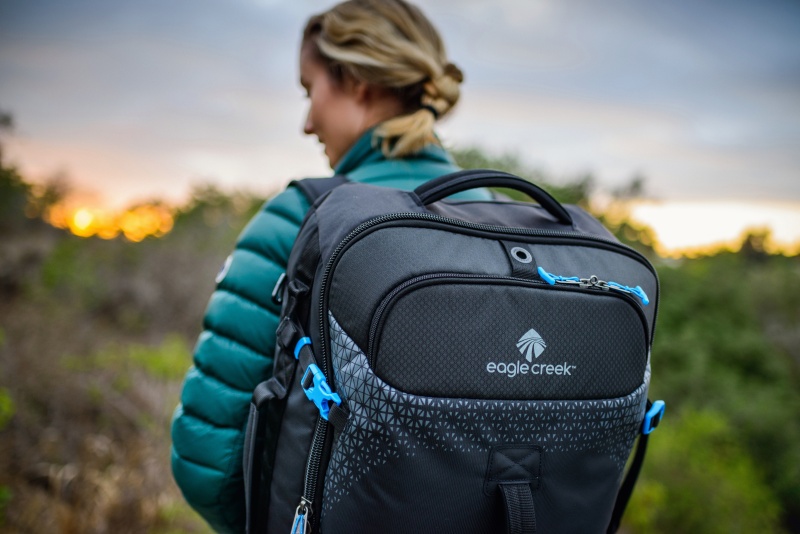 2. Accept you need less than you think.
We recommend taking a selection of versatile layers that can be adjusted to suit the weather conditions and your level of activity. (Beginners frequently find they're warmer than expected because they work harder to stay upright).
Choose synthetic or wool fabrics rather than cotton, as these tend to be lighter, warmer, and quicker drying if you need to wash them. Wool is naturally odour-resistant but most base-layers feature an anti-bacterial 'pong-proof' treatment. And wear your ski jacket while travelling to and from resort to free up space inside your bag.
3. Use packing aids to organise what's inside your bag.
Eagle Creek Pack-It products are designed to organise your gear and make it easy to find, but they're also a useful way to limit what you pack. They come in a range of shapes and sizes and provide a versatile storage system for containing all your belongings, from clothing to toiletries, to footwear and electrical items.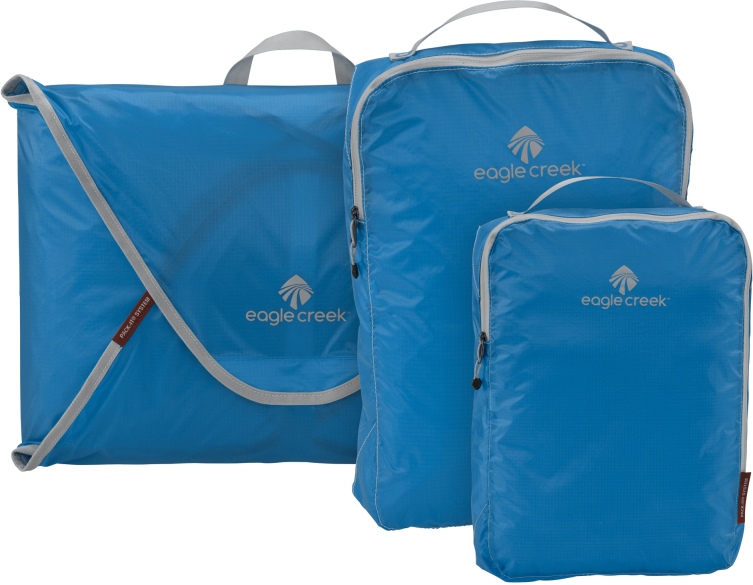 4. Compress bulky insulation and clothing.
Compression sacs are the best way to vacuum-pack insulated jackets and fleeces. They feature an in-built valve so you don't need a vacuum to remove excess air. Roll casual clothes like t-shirts, vests and underwear to keep them gently compressed and wrinkle-free. If you do need smart clothes, use an Eagle-Creek Pack-It Folder to keep these items neatly stacked and crease-free.
Goggles and sunglasses are best packed into your helmet if you have one, or can be rolled inside a t-shirt to pad them out. Stick to a couple of pairs of ski socks so you always have a pair to air dry or wash between use.
5. Be organised and security check-friendly.
Use Eagle Creek's Pack-It Cubes to separate clean clothes from dirty. Most people also find it helpful to separate their sports kit from their casuals. Sort GoPros, headphones and chargers into their own compartment (a padded e-Cube or simple Pack-It Sac is ideal as this prevents loose cables from snagging on other stuff and it makes it easier to remove these items at airport security should you need to. Contain loose clutter that would normally end up in the recesses of your bag and seal toiletries and liquids that might leak into a set of travel-proof bottles like Eagle Creek's Silicon Bottle Set. Sets like these also save you money on expensive travel minis and mean you get to take your favourite toiletries.
Ski /Snowboard Holiday Kit List
Here's a basic packing list of ski holiday essentials:
Outerwear
1 x waterproof Jacket or ski jacket (a waterproof is fine provided it's relatively tough and you have a warm liner for it).
1 x waterproof salopettes
1 x helmet
Footwear
1 x insulated boots (with decent grip on snow)
Thermals
2 x leggings
2 x long-sleeved base-layer tops
1 x mid-layer synthetic fleece or lightweight down jacket.
Casuals
2 x trousers (or 1x smart/ 1 x casual depending on how you plan to spend your evenings)
2 x long-sleeved tops/ shirts (as above – a mix of smart and casual).
2 x T-shirts/ vests (optional for layering under long sleeve tops)
1 x warm mid-layer hoody.
1 x nightwear
Underwear
We trust you to pack enough!
2 x ski-socks (we recommend odour-resistant wool for multiple use)
Accessories
1 x insulated waterproof gloves/ mitts
1 x glove liners
1 x woolly hat
1 x snood or balaclava (for extreme cold)
1 x sunglasses
1 x goggles
Toiletries
Your usual basics – shampoo/ conditioner, deodorant, toothpaste – transferred into security check-friendly 100ml containers
1 x toothbrush
1 x high factor sun cream 1 x high factor lip bloc
Other
1 x travel adaptor
1 x hand warmer sachets (optional)
1 x packable ruck-sack
1 x water bottle
In association with Eagle Creek