When skiing out of bounds, you face the risk of avalanches, cliffs, trees, cold temperatures, crevasses...the list goes on.
Being conscientious and methodical are the key when preparing for each trip. Keep in mind your level of physical fitness and state of mind, check snow and weather conditions, check your equipment and make sure that you are familiar with it and know how it works.
What basic safety tips can you give to freeriders?
JP >>
Learn to ski!
This seems pretty obvious, but it is important to get proper training before heading into the mountains on your own! Ski professionals are available to help skiers learn about freeriding. Everything can be taught, and freeriding is no exception to the rule. Needless to say, it is not a simple game.
Ski in a group
Skiing is more fun when you are in a group! Find a squad of buddies that are level- headed with whom you can have a good time. Look for information and prepare your outing, make sure that your equipment is in good condition and respect the rules of safety in the mountains.
Be aware of your limits and respect them
Don't jump in over your head knowing that you do not have the required ability level or experience. There are risks, and the consequences are deadly.
FB >>
Ski always
I think that the key is to ski as much as possible throughout the winter, skiing many types of terrain. You can read every book on the shelf about snow pack, but if you do not experience it for yourself, it will not be helpful.
Be aware
You need to feel the element, think before you act and more than anything else, be prepared to turn back if something does not feel right.
What are the key steps prior to heading out?
JP >>
Eat a healthy and substantial breakfast that will get you through the day
Check the weather forecast, snow and avalanche report as well as the map that covers the terrain you plan to ski
Wear appropriate clothing. It is better to be overdressed than to spend the day freezing. Be prepared for weather to change quickly! Add a second pair of gloves and an extra thermal top.
Put on your fully-charged PIEPS beacon **Be sure to check that it has fully-charged batteries** Remember that the batteries in your avalanche beacon are more important than those in your action camera!
Check and pack your avalanche gear Check to see that your airbag backpack is charged and in good condition. Pack a shovel, probe and, if you haven't already put it on, your avalanche beacon.
Food and hydration Add a water bottle and some snacks (energy bars or jerky for example)
Glacier gear? For those heading onto the glacier, make sure you have appropriate glacier gear.
Consult with the ski patrol Last but not least, check with the local ski patrol to find out what is happening with the snow pack, the weather, the wind and the avalanche conditions. This will help you finalize your plan before heading out.
FB >>
Ensure your skis are in tip-top condition In my opinion it is really important to have properly serviced skis. I dedicate a lot of time to tuning my skis, as not only does this ensure my safety, but it also makes my skiing more pleasurable. A fast ski can not only get one out of trouble in sketchy situations with speed, but also provides good grip when needed.
Plan your route It is essential to proactively plan routes or ski lines, keeping in mind the possible exit points and knowing what is going on with the local snowpack.
Pack your safety gear Take the appropriate safety equipment for the terrain which you will encounter - glacier or non-glacier.
Don't be a loner Above all, avoid heading out on your own.
And during the outing?
JP >>
Plan ahead I think the main tip is not to head out anywhere blindly. Out of bound lines can be full of nasty surprises.
Keep your distance Be sure to keep a safe distance between skiers.
Enjoy the moment without over estimating yourself and thinking that you are a super hero.
Know your limits Stay within your mental, physical and technical level.
Don't follow tracks we do not all have the same equipment, nor do we have the same ability level.
FB >>
Ask local professionals about the history of the snowpack in the area where you are planning to ski.
Take your time to look at the line and the safety spots that you can reach in case of an unexpected danger or emergency.
Plan ahead Never start skiing with the mindset of 'I'll go and see'.
Check the snowpack Be familiar with the methods used to do a quick check of the snowpack on which you plan to ski.
Communicate with each other as riders!!
What equipment do you recommend?
FB >>
Avalanche beacon, shovel and probe pole are the key items. Once you know how to use them properly they are simple, efficient and always the same.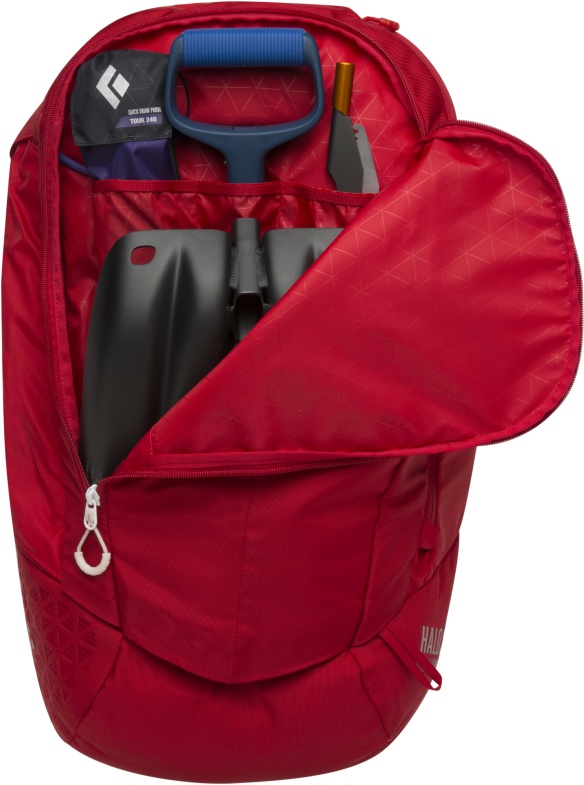 To that list I would add a 30m rope, crevasse rescue gear, a first aid kit and something to eat and drink, all of this goes into my Jet Force backpack.
It's also important to have fat skis for powder skiing, and a good helmet and goggles.
There are times where I head out with a basic pack; however, always remember that having the right gear does not replace experience and knowledge. You often need both, and it is important to ask yourself the following question: 'if I didn't have the equipment, would I still be going?'
Any scary moments?
FB >>
In British Columbia I found myself stuck in the base of a valley where the only possible exit was to cross a river. The bridge on the map had been washed out by the strong spring current, and locals did not realize that the bridge was gone. It was February, and I found myself waist-deep in water, being the first to cross the river. Being taken out by the current would have been dramatic. So, I was happy to have a rope to ensure that my two clients could follow me safely. Climbing back up the 1300m vertical meters that we had just skied down with 40°-45° slopes in deep powder was simply not an option. We buckled down our ski boots as tightly as possible and made our way across one-by-one. Having crossed to the other side, there were several kilometers to meander our way through the forest to reach the village. It is important to adapt our choices to the country in which we find ourselves and to know our personal limits.
A Question of Risk - Episode 2 - Samuel Anthamatten from Black Diamond Equipment on Vimeo.
In summary
The key is to anticipate and prepare for situations that can have an impact on safety and survival, without overthinking. Never 'just wing it', learn the required skills before even contemplating heading into the backcountry.
Staying alive remains the primary focus, so it is crucial to be able to calculate the risk, you can only do this if you have the knowledge to back up your assumptions. Whatever you do though, make sure you take the time to appreciate the environment around you!
About Black Diamond
As a company, Black Diamond Equipment works on the design and development of much more than snow safety equipment. Through its involvement in initiatives such as The Human Factor, A Question of Risk and its collaboration with the Livigno Freeride Project, Black Diamond fosters the dialogue between the challenges of risk management and snow safety in a healthy manner.
Athletes not only actively participate in the development of new products, but also collaborate with BD on various other subjects.