Think Alpine skiing, think Switzerland, Austria, France, probably in that order. Think Italian Alps, think
Courmayeur
and Cervinia, then get stuck. But the Monterosa ski area, comprising an alternative 'Three Valleys' of Val D'Ayas, Gressoney and Valsesia, in many ways offers comparable skiing, more modest prices, and far fewer crowds, especially on weekdays. Is it the perfect destination for a winter family holiday?

You would be forgiven for thinking that the name Monterosa romantically refers to the dusky pink shade of the snow-covered mountains as the sun descends in winter. In reality, 'rosa' is an evolution of ancient French 'ruoja,' simply meaning 'glacier.' 'Glacier Mountain' sounds cool, if a little American.

The ski area has been renowned since the 1960s, and now boasts 180km of largely red runs, connecting the main resorts in each of the valleys – Champoluc in Val D'Ayas; St Jean, La Trinité and Stafal Tschaval in Gressoney; and Alagna in Valsesia. The very names themselves hint at the chequered past of the area – French influence faded, to be replaced by the Germanic Walser tribes who settled in the 12th century, naming the Valsesia valley after them, and bringing with them their 'titsch' dialect and Germanic architecture and tradition, only to be replaced by Italian influence in the 20th century.

But even today, the Aosta valley, the north-west corner of Italy in which Monterosa is situated, retains a large degree of autonomy from its political masters in Rome. So much for history and culture – does Monterosa pass muster as a ski holiday destination? Despite the overall lack of development – or maybe because of it – the villages in the area retain an authentic charm that might be overwhelmed were the developers to move in. But there's certainly plenty of variety.

On the piste, the area largely favours intermediates, but beginners are catered for well. Our children started with lessons in the Crest area above Champoluc, which has wide beginner slopes and two travelators of varying length, and from which there are lifts to wide red runs for those with more experience. The Gabiet area above Gressoney is even better for novices, with a simple chairlift and three lovely blue runs of a few hundred metres, ideal for anyone with upwards of a couple of days' experience. Our five-year-old daughter was happy spending many hours taking her parents to the top of the runs, then choosing which of the blue runs to descend with a flattering degree of elegance.

The separate resort of Antagnod, close to Champoluc, is also ideal for families and children, with wide, open pistes and snow guaranteed until Easter – unless, of course, you visit in a year like 2011, when Easter was unusually late, and the weather unusually hot (it's worth bearing in mind that Easter 2012 falls three weeks earlier). The absence of drag lifts throughout the whole area is a definite boon to novice or underconfident skiers – a point Swiss ski resorts would do well to note.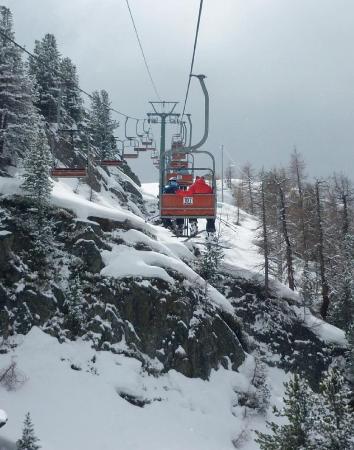 At the opposite end of the ability spectrum, Monterosa is famed for its off-piste skiing, both between the pistes, and in specific off-piste areas – Alagna in particular has become a mecca for those seeking untracked powder, with several descents of over 2,000 metres. There are also opportunities for both ski touring and for cross country skiing. The biennial Mezzalama competition starts in Cervinia and crosses into Monterosa, with several ascents to over 4,000m before dropping down into Gressoney La Trinité.

Champoluc and La Trinité both offer limited but attractive cross-country skiing options, but here it is Gressoney St Jean that wins the day, with its 25km cross-country loop through fields and woodlands.

Pistes are well marked and groomed, with widespread snow-making facilities. While the unusual warmth of April 2011 belied the authorities' boast that all runs and resorts would be open until the end of Easter, an impressive number of lifts and runs did remain open, bolstered by the efficient transport of snow from the sides to the slopes. One of the two main lifts up from Champoluc remained open, while the Gressoney slopes were very well prepared even in late April. The Italian authorities were also assiduous in their safety duties; as parents and children picked their way down a steep red run after the lifts had closed, two mountain guides sensed the tiredness of our two young children and, much to their delight, ferried them back down the slope on their skidoo.

If there is a drawback, it is the lift system. The Monterosa ski pass covers all the lifts across the three valleys, including several small resorts not lift-connected to the main domain. But while the Monterosa authorities boast of the state-of-the-art facilities – and focus particularly on the new funicular railway leading up from Champoluc – and while the absence of drag lifts is indeed a blessing, several of the cable cars and gondolas are very much due for replacement. In particular, ascending from Gressoney towards Alagna is a slow and somewhat tortuous experience – though the runs back down are compensation enough.

The variety of skiing is one major reason that the Monterosa resorts are ideal for families; another is that they are relatively modestly priced. Champoluc is replete in rustic three-star hotels such as the Petit Tournalin, where a family room with half board is likely to set parents with two young children back around €150 per night.
Gressoney, with its three resorts, has several larger hotels, but family rooms in the clean and modern Hotel Nordend can be had for a similar price to the Petit Tournalin, with an outstanding dinner at the nearby Restaurant Bortino included in the price. Mountain food is filling and wholesome, and prices are reasonable – finding coffee in a mountain restaurant for €1 (and excellent coffee at that) puts French cafes to shame. Monterosa is relatively accessible too – either a ten-hour drive from Calais, passing through
Chamonix
and Mont Blanc en route, or a flight to Turin or Milan, with a transfer time of under two hours. It's easy enough to put your own package together, but if you prefer someone else to do the work for you, then you can do no better than travel with Ski2, who are based in Champoluc. Ski2 organise bespoke packages, particularly suitable for families, using local hotels and restaurants, and also run their own ski school.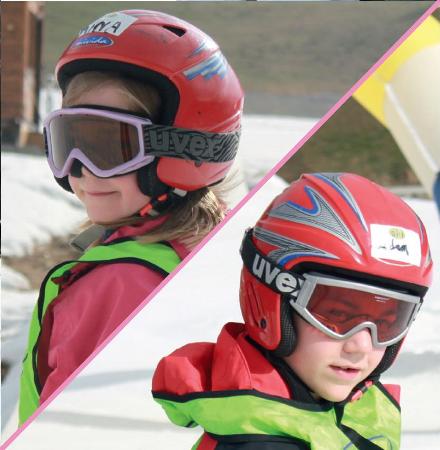 So is Monterosa perfect for families? Not quite. It will never match American resorts in terms of lift efficiency or how modern its facilities are. And maybe the end of April is a bit too late to visit. But the drawbacks end there. If you are looking for a real variety of skiing from beginner to expert, good hotels and restaurants set in beautiful Alpine scenery, and if you want to escape the crowds while avoiding the expense of 'exclusive' resorts, then you would be hard pushed to find more suitable ski resorts than Champoluc, Gressoney or Alagna.



Snow how

Monterosa, Italy

Pistes
Total piste area 180km
Black 6, Red 38, Blue 17
Long, red runs account for approximately 80 per cent of the on-piste skiing in Monterosa, with beginner blues accounting for another 15 per cent and a smattering of long black runs making up the remainder. More experienced skiers are likely to opt for the off-piste or heliskiing options. The vertical drop can be impressive: the highest black run starts at nearly 3,300m, and while the villages of Champoluc and Gressoney come in at 1,600m, Alagna is as low as 1,200m.
Ski passes
A complicated pricing structure exists for ski passes in the Monterosa area and for the Aosta valley as a whole. In 2011, a six-day skipass for Monterosa in peak season cost €182 for adults and €139 for seniors or juniors.
www.regione.vda.it/turismo

Staying there
Edwin and family stayed courtesy of Ski2, who specialise in bespoke ski holidays in Champoluc.
www.ski-2. com
At the 3* Hotel Petit Tournalin in Champoluc, half board costs from €57 per person during the Easter vacation. Children under 2 are free, from 2-6 there is 50 per cent off the adult price, and from 6-14 there is 30 per cent off the adult price.
www. hotelpetittournalin.it
Rooms at the 3* Hotel Nordend in Gressoney- Tschaval-Stafal are of comparable quality and are slightly more expensive.

Getting there
Driving distance from Calais is approximately 700 miles; driving time around 10-11 hours. The nearest airports are Turin – transfer time 1.5 hours, and Milan – transfer time 2 hours. Ski2 can arrange transfers.

By train: nearest stations are Pont San Martin for Gressoney and Verres for Champoluc. Local buses serve the resorts.

Easter Sunday 2011 was on 24 April
In 2012 it will be on 8 April