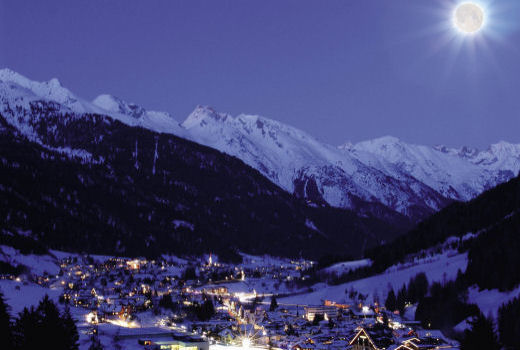 The Walker clan

Jim: Snowboarder, 33
Snow magazine publisher, veteran of five ski seasons. Loves: powder and speed.

Charlotte: Skier, 15
Brave early intermediate who desperately wants to snowboard. Loves: going faster than she should.

Peter: Skier, 53
Wine connoisseur and construction industry consultant. Loves: cruising blue runs and long lunches.


The need for speed!
Jim's version

Booking a ski trip at the tail end of the season always carries an element of chance. But the prospect of that one final dump and near-empty mountains is as irresistible as the last piece of chocolate cake. This time, however, I was not alone. This time I had my 53-year-old dad and my 15-year-old sister Charlotte with me. Dad's a cautious skier with a love of gentle blue runs and a 'never going to rough it – ever' attitude to life, while my kid sister is a brave early intermediate who would camp in a car park and not complain. Picking where to go would prove a crucial factor in whether we would all still be speaking on the plane home…

Settling on St Anton with a couple of near beginners in the group was a risk. Massively popular with the Brits, its reputation is built on steep slopes, awesome off-piste and legendary après- ski rather than gentle cruisers and family activities. I'd formed an impression from the outside that it was the Meribel of Austria, but St Anton is a working town with history and a nice mix of modern hotels and medieval town houses.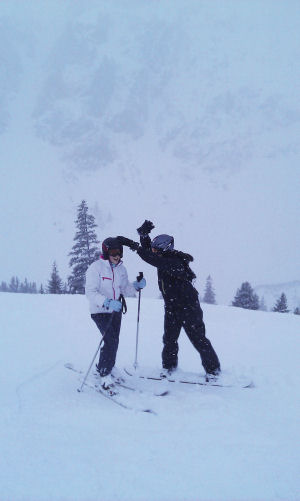 It's also brilliantly accessible, proving you really can be on the slopes the same day if you get it right. We got there by 1pm having left Gatwick on an early morning flight and taken the easy, hour-long transfer from Innsbruck airport. Driving up to the resort, though, the signs were not good. The rain was torrential. With the driver's sat nav saying eight miles to go, I had visions of brown, slushy slopes and grass shoots. But eight miles is a long way in the mountains, especially when you spend a lot of it going up. Thankfully, by the time we arrived in resort, the rain had turned to snow – and the mountain was getting a huge top-up.

Our lift passes were ready for us in the superb family suite at the newly re-furbished Hotel Valluga. After collecting their kit, my father and sister requested a gentle run to get their ski legs back. A good plan… but on the mountain, it was a white-out. I watched my nervous companions peering anxiously through the murk at the steep slope below. I was eager to get going, but I could also sympathise. On my first ever white-out, with just three days of boarding under my belt, I was so inept and afraid that I took my board off and sat on it to ride it like a sledge. A minute later it was hurtling down the mountain like a tracer missile – without me on it. So, acting as the route-finder, I led the way for about ten metres before Charlotte slipped off the side of the path and down a steep slope. It was about 20 minutes before she hoisted herself back up to the piste. We'd been out an hour and travelled ten metres. It looked like it could be a long week!

We woke next day to warm spring sunshine and clear skies. We met up with our local guide Erich, to discuss how best to spend the day. After their uncomfortable opener, my dad and sister said they'd be happy pootling about on some gentler blues. I wanted to go fast! Erich got the piste map and pointed out to them some nice blues off the top of Nasserein gondola which would be best. We went up together and then they went off into their comfort zone with what I thought was some relief. Erich and I then headed off for a couple of hours to explore this world-famous resort. I knew immediately I was in for a treat. Erich was determined to make sure I saw every run in the Tirol, hurtling down the steep reds and blacks without the slightest sign of stopping to rest. I've never covered more miles before lunch.

We'd arranged to meet up with Dad and Charlotte to go to lunch at the wonderfully positioned Hospiz Alm in St Christoph. The restaurant is famous with locals and visitors alike, and it was easy to see why. An extensive menu offering a mix of good hearty pizzas and pastas, mixed with local dishes, plus the incredible view and spectacular wine cellar make this one of the finest slopeside stops I've eaten at.

The skiing in St Anton was right up my street. Lots of steep pistes that level out meaning you can really let go and get the speed up, and some incredible off-piste opportunities for those who can. Less experienced boarders will struggle to avoid walking, however. Without maximum speed, the slopes often level off too much to keep going for long. Avoid the blue runs numbers 23 and 24 on a board completely. It's a walk all the way in the trees. Once the sun was out and the other two could see where they were going the slopes were manageable and there was plenty of variety to keep us all more than happy for our stay.

'Steady on son! Listen to your father'
Peter's version

This was an interesting and potentially challenging trip from the outset. An Easter ski break for three family members of widely differing abilities, interests and ages. Lovely. But really...St Anton?

St Anton is gorgeous, an attractive village which sits in a stunning valley in Austria's Arlberg ski area. However, to my slight concern, my brief pre-departure research revealed it is known for two things – challenging slopes, with reds masquerading as blues, and legendary après-ski.

Did I mention our differing ages and abilities? Indeed. For my (fearless) 15-year-old daughter, and hugely experienced, ex-seasonaire, snowboarding son, St Anton's reputation was its big appeal. For me, 50+, relatively new to skiing, happiest spending days on long, gentle, winding blues, and whose idea of après-ski was a quiet beer before a nice meal in good local restaurant, the reputation wasn't as immediately appealing. So how did we fare?

Arrival was encouraging. After an effortless 50-minute transfer from Innsbruck we pulled up in a flurry of spring snow at our hotel, The Valluga, named after the eponymous mountain which dominates the landscape hereabouts. Located on the outskirts of the village, the Valluga has been recently refurbished and the warm welcome from the staff in the stylish reception area bode well for our stay.
We had booked a family suite which proved perfect for our small group – three rooms, ultra-stylish, comfortable and filled with the sort of touches that hint at owners who really care about their guests.

An hour after arrival we were being kitted out in one of St Anton's numerous ski hire outlets before boarding the nearest (queue-free!) lift which whisked us up to Rendl. Now, ski wisdom of course dictates that on arrival at a completely unfamiliar resort, it is sensible to rediscover your ski legs on some gentle introductory greens before carefully studying a piste map or, better still, engaging the services of a ski guide to point you at runs best matched to your particular level of ability.

Not us. Instead, we disembarked in the midst of a heavy snowfall, poring over a piste map before launching ourselves gamely down the nearest slope only to discover to mild consternation the true nature of a St Anton blue/red run!

No points would have been won for style on that first afternoon but we survived intact and ultimately enjoyed it immensely before returning to the Valluga. Aching limbs were soothed in the hotel's fabulous wellness area – sauna, steam room, solarium and relaxation room – a perfect way to end a long day of travel and hard skiing and prepare for the evening ahead.
And what a surprise the evening held! In a lifetime of international travel I've learnt one hard and fast rule – avoid eating in hotel restaurants wherever possible. Not so the Valluga, whose restaurant I would happily travel to eat in. First class food, discretely professional waiting staff and an excellent wine list including surprisingly palatable local wines – wonderful. And all rounded off with a few games of snooker in the adjoining games room – utterly perfect.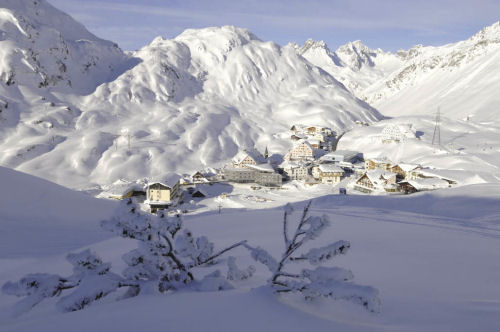 Blue skies and strong sunshine greeted us the next morning and we set out early to meet with our guide for the day. After listening with amusement to our tales of the previous day he whisked us up to where we should have started out – Gampen – for some much needed limbering up on gentler blues. He then disappeared for two hours with Jim, who was champing at the bit by now, before we all rendezvoused for a memorable tour across to Galzig at 2,185m and on to the neighbouring hamlet of
St Christoph, nestling in bright sunshine in a deep, snow-filled valley. Lunch on a piste-side terrace at the atmospheric old Hospiz Alm, with its bizarre 'cresta run' down to the toilets, left us fuelled for an afternoon exploring the wider delights of the Arlberg ski area.

Once we had been shown around by our excellent guide we really started to enjoy all that this engaging and varied ski region has to offer – from the towering peak of Valluga itself to winding, narrow runs through the trees and down to the village.

I'd say St Anton is perfect for all but an absolute novice. There are some beginner areas close to the village at Nasserein, but at the time of our Easter visit they had insufficient snow. Higher up, there are plenty of gentler blues for the less experienced, and certainly it seems a great place to make the giant leap from beginner to intermediate and beyond. Where St Anton really comes into its own though is for intermediate and expert skiers and boarders. Suffice to say that by day three I had been largely left to my own devices while my son and daughter enjoyed the challenges of the reds and blacks that attract most to this gem of a resort.

And the legendary après-ski? I'd say it is just about the perfect balance for a mixed age group. Plenty of lively pubs and clubs for the younger element but pleasantly blended with a good range of restaurants and quieter bars for the slightly longer in the tooth to while away a pleasant evening.

As a famous Austrian almost said, 'we'll be back'.


'Help! Where are the easy blues?'
Charlotte's version

I had never skied at a resort quite like this before. Normally I warm up on some easy blues or greens just to find my legs and then move on to reds and so on for the rest of my time on the slopes, but when I got to St Anton, there didn't seem to be any!

I was rather glad my less brave stepmother had decided against joining us! Complete white-out conditions and snow falling constantly meant our first few runs were very hard work, particularly as I hadn't skied for a while. My brother, who is very experienced, was enjoying himself but my father and I were scared stiff! I even slid over the edge, and it took ages to for me get back up.

The next day, once the clouds had cleared and our guide had pointed us in the direction of the right runs for our level, we loved every minute though and there were plenty of more gentle slopes for us to ski on.

When we got back to the hotel after a day on the slopes the staff at the hotel were extremely polite and helpful to exactly the right point. I didn't feel like they were being overly helpful (as sometimes that is a little uncomfortable); they were really nice, friendly and courteous and a pleasure to be around!

The hotel spa was amazing. It was the most relaxing and calming experience, exactly what you needed after a long day skiing or snowboarding, so I was eager to get there every evening. The meals were delicious, a three-course dinner at such a high standard every night. Then at night if you wanted a relaxing evening in the hotel, there was a bar area or a beautiful room with a pool table.

Not only was there a huge variety of shops during the day but also lots of people in the town at night. It seemed like groups of friends having a really good night, so to me the type of place I'd love
to come back to with my friends and enjoy – when I'm old enough, of course! All in all, St Anton is a lovely town – alive in the day and at night, it had wonderful slopes and the Valluga Hotel was extremely pleasant, I felt very lucky to be there.



Snow How


LOCATION
St Anton is in the Arlberg ski area of the Austrian Tyrol.
GETTING THERE
By air Innsbruck airport (50 minutes).
By rail St Anton has its own rail station.
WHERE TO STAY
Jim, Peter, and Charlotte stayed at the Hotel Valluga.
'The Valluga has been really tastefully updated over the past couple of years and the attention to detail stands out in every room,' says Jim. 'Our suite was perfect for a family with a double and twin room and high quality bathroom. Our meals were exquisite. Easily the best food I've had in a ski resort hotel. The wine list offered a good varied selection and the breakfast buffet was superb. The Valluga isn't cheap but certainly delivers the goods and in terms of value for money it will win a lot of acclaim in seasons to come.' There is a superb spa with steam rooms and a sauna, a pool room with plenty of sofas and a bar area. Double rooms start from €1,400 for a week, on half-board basis.
IN RESORT
Skiable terrain 280km of pistes
Percentage of runs 34 blue runs, 70 red runs, 34 black runs
Highest point Valluga, 2,811m
Vertical drop 1,507m;
Snowpark yes
Cost of adult lift pass for a week €208
MUST DO Take the gondola up to the top of Valluga where there is a panoramic view from a weather station – stunning! Visit the cosy Hospiz Alm at St Christoph where to visit the wine cellar – and the toilets – you lie on a wooden chute and slide down.
TOP TIP Get a guide. And if you are a mixed ability group talk before you go about how much you want to ski separately and together.
USEFUL CONTACTS
www.stantonamarlberg.com
www.tirol.at