I'm standing with my back to the Matterhorn in the bright morning sunshine, watching as two tiny dots disappear over a perfect roll of twinkling powder snow. That's it - they're committed now, and there's no turning back! I put my camera and my self-doubt away and speed off after my young family into a massive and totally untracked off-piste valley.
There are no lifts, no piste poles and, perhaps more worryingly, there's no easy help to be had out here…
As a lifetime lover of backcountry snowboarding, I've always struggled to remain true to both the extreme sport I love and the responsibilities of parenting. But I'm also a firm believer that becoming a parent shouldn't necessarily change our perception of risk.
I love the thrill of being able to stand on top of a lonely mountain knowing that it's fresh tracks all the way down from there.
For me, backcountry skiing is about a respect and connection to your environment and a reliance on your ability and good judgement to see you through. It's a reaffirming life lesson that fills me with joy, and it's one I now want to share with my children.
My life has revolved around winter sports for as long as I can remember, and summer to me is mostly about keeping fit for next winter, using long days to plan the next season's set of adventures. My children (Jacob, 10, and Alice, eight) have been dragged around the Alps and through ski schools every winter of their lives and are now solid little skiers, tearing down red and black pistes without hesitation. So perhaps it's time to combine family and free-ranging, and try skiing off-piste with the kids?
Taking the leap
How to take the big jump into the off-piste world with my family is a stumper, but I come up with a plan. First, I step up my own backcountry knowledge by attaining my American Avalanche Association Level Two qualification with the Avalanche Geeks (avalanchegeeks.com) in Tignes. The course helps me to refresh my rescue techniques and to gain a deeper understanding of different snow types and how the snow pack behaves.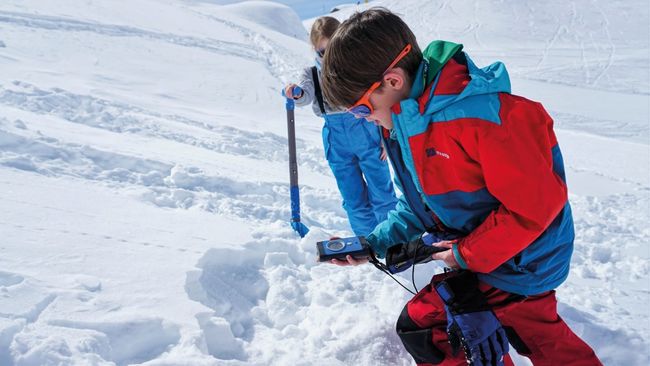 I've heard great things about the Monterosa Ski Area, which straddles Italy and Switzerland, both from family skiers and from my ski mountaineer friends. We pick a week in the traditional Italian village of Champoluc for our off-piste adventure. The added advantage of being only an hour and a half from Turin airport makes getting here an easy journey with the kids.
Waking on our first morning to clear skies and fresh snow, we have a blast jumping off the side of the pistes and whizzing through short sections of trees. The children are skiing really well and are able to cope with the deep powder, even on their short and skinny skis.
We head towards the Gressoney Valley for lunch, stopping in a wonderful mountain hut for a bowl of inexpensive pasta and a fortifying expresso - needed for the lesson I have planned next for the kids. I sneak out of the refuge and bury my backpack with an avalanche transceiver, set to send, inside. The kids then take turns to find the bag, using another transceiver switched to find mode, and an aluminium shovel to dig the bag out.
It's imperative that the whole family knows how to locate and dig each other out in the event of an avalanche burial, and while the kids don't have the strength or speed to really dig, it's important that they begin to understand the procedures - and realise that, for once, Dad might just know what he's talking about!
Local knowledge
When heading off-piste nothing can take the place of local knowledge, so we decide to hire a guide from the local Guide Alpine Champoluc office. They take a little convincing that the children are actually good enough to ski off-piste before they even agree to let us hire one, but that feels pretty reassuring – a case of safety first, taking our money second.
We meet Rudy Perronet, our guide for the day, outside a local café. First Rudy checks our equipment and tests our transceivers. We then discuss experience and expectations, and agree that firstly we'll start by skiing a few warm-up runs. The 'warm-up' turns out to be slaloming through trees in knee-deep powder.
Every time Rudy turns around, the kids are on his tail, loving every minute of not having me telling them to slow down. Rudy's scepticism soon turns to a smile.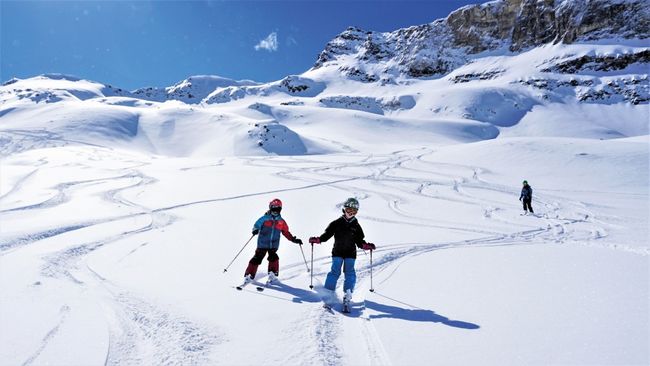 "Fantastic! Let's go up the top; I know the perfect place." Skiing from the lift, we stop at the resort boundary rope, and Rudy calls Alice over.
"No, come closer! No, really close, right here!" instructs Rudy, and when Alice obeys he swiftly picks her up, ducks under the rope and vanishes over the edge.
Guessing we should follow, we all duck the rope to find Rudy and Alice at the bottom of a short but very steep slope, laughing and poking tongues out at each other. Rudy later explains that his jump-straight-in teaching method was because he didn't want Alice to fall over and lose confidence before we've even started.
As the day progresses we ski wonderful rolling terrain and even a short rock couloir, the kids and Rudy having a blast.
My wife and I know we've done the right thing in hiring a guide – Rudy knows exactly where to take the kids to safely push them and how to get them confidently used to managed exposure and danger, teaching them that all-important need for respect and restraint in the backcountry.
Over a delicious pizza lunch, Rudy plants the seed of an idea.
"I know where you should go tomorrow. I can't come, as I have client, but if you can hire a guide there's a valley you can ski all the way from the resort of Cervinia back to here. It would be perfect your family – it's very long and not steep - never more than 30 degrees." It sounds like a plan.
Into the valley
The 6.45am alarm sounds far too soon. I wake the kids, dump them into their ski boots and we head out for our 7.15 pickup. A very windy hour or so later we've dropped down to the valley floor and then driven back up high to the ski resort of Cervinia. Famed as the starting point for climbing the Matterhorn, which towers over the little town, it borders the Swiss resort of Zermatt.
It couldn't be a better morning: the sun is shining, it's still nice and cold and there is a good foot of fresh snow on the ground. We quickly lap a few chairs, getting deep fresh turns just off the side of the pistes, before Alex, our guide for the day, reckons it's high time we leave the resort before the warming day increases any avalanche risk.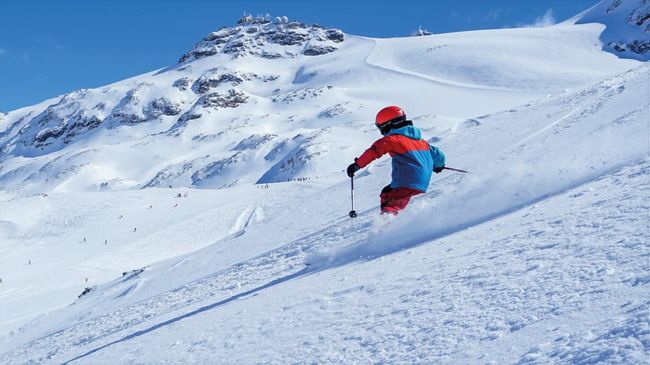 Ceding to Alex's superior knowledge of our route, we leave the tempting Cervinia powder behind and drop into an unspoilt valley, with Champoluc a mere speck in the distance. High above us to our right is a steep ridge line that tops out at Grand Tournalin peak at 3,379 metres. To our left, the valley opens out with views all the way down to Champoluc. It's simply magical to ski at the back of our group and watch my family trail Alex as he leads us downwards. The route is easy to ski but still great fun, and Alex keeps us away from any overly steep slopes, leading us expertly through the rolling terrain.
Our surroundings are majestic. There's no sound or sign of any ski lifts, no man-made markings and most definitely no other people. My reservations about the dangers of taking the kids into the backcountry are washed away now that we have a massive alpine valley all to ourselves.
Our route finishes with a reminder to heed the power of the mountain - we cross an old but huge avalanche path that was big enough to rip up trees, before hiking down a road to the village of Saint Jacques for hearty portions of homemade gnocchi.
Spending the whole day skiing home through the backcountry as a family has been the stuff memories are made off. The kids' confidence has soared, as I'm reminded as we travel back up the Champoluc lift system for the final run back down to our hotel. My son suddenly points at the view and says, with immense pride, "Look Dad, that's the Matterhorn; and that's our valley!"
Snowhow
Flights
EasyJet, British Airways and Ryanair fly daily to Turin from London Gatwick, London Heathrow, Manchester, Edinburgh and Birmingham, with prices starting from around £31 return.
Airport transfers
Champoluc is 90 minutes from Turin by car, transfers are readily available.
Where to stay
Inghams offer a seven-night holiday on a catered basis (including buffet breakfasts, afternoon tea, dinner and wine) at the four-diamond Chalet Hotel de Champoluc in Champoluc from £953 per person, based on two adults and two children travelling during the Christmas period. Prices include return chartered flights from London Gatwick to Turin and airport transfers. Lift passes, equipment hire and tuition can be pre-booked through Inghams.
Off-piste guides can be booked through Guide Champoluc, from £308 per day for a family of four.
Where to eat & drink
Mountain restaurant Bar Colle Betta serves the best on-piste pizza in the valley.
Ski pass
Day passes in the Monterosa area start from £20. The Aosta Valley Ski Pass lets you ski throughout the valley and costs £59.50 per day and £293 per week.
The skiing
There's something for everyone here, from gentle green slopes and a fantastic snow park in Cervinia to challenging backcountry for most levels.
For more information on Champoluc and the Aosta Valley, visit aosta-valley.co.uk