Tantrums on the slopes and kicking off in ski lessons are stories often told by weary parents on return from family ski holidays, but embarrassingly it's me who's been ticking all of those boxes on our latest winter trip, not my five-year-old.
My daughter Libby has just finished the final ski lesson of our Easter trip to Mürren, in the stunning Jungfrau region of Switzerland. I ask her instructor whether it would be safe to take Libby down a run on our own. "Absolutely!" she replies. "She can turn and stop, but she doesn't like to turn too much because she says it slows her down!"
The first two lessons of the trip had been a little different, for me at least. I've been a snowboarder for more than 20 years, and now I'd decided to learn to ski with Libby. Mid-way through lesson two, and with Libby looking competent and fearless, I throw a tantrum, remove my skis and sit on the side of the piste in a sulk. More used to off-piste adventures and speeding down any slope that takes my fancy, I'm sick of watching everyone flying down the mountain while I shuffle around on my backside after failing to navigate my way down the nursery slope.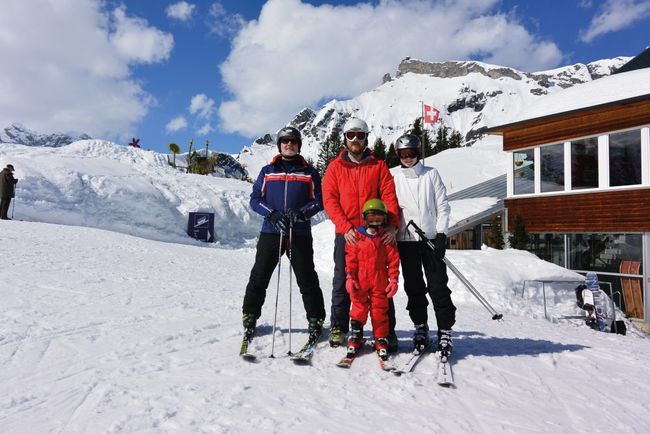 Back on my much-missed snowboard, and with the OK from the instructor, it's time for my first ever proper run with Libby. On safe arrival at the bottom, my delight and pride is somewhat lost on my daughter. I go for a high-five and instead receive a blank look as she rides fearlessly off into the distance. I'm delighted with her confidence nonetheless, and we take on a few more gentle blues. It's clear she's got the bug!
High Times
The pretty, car-free village of Mürren perches high above the valley floor, facing the awe-inspiring peaks of the Jungfrau, Monch and Eiger mountains.The peaks dominate the landscape and provide incredible views that seem to transform with every change of the light. Our wonderful apartment's glass frontage and cosy lounge makes it the perfect place to sit and soak up the sunsets or listen to the thunder-like sounds of the heavy snowfall that has hit the resort falling from the steep rock faces and echoing across the valley.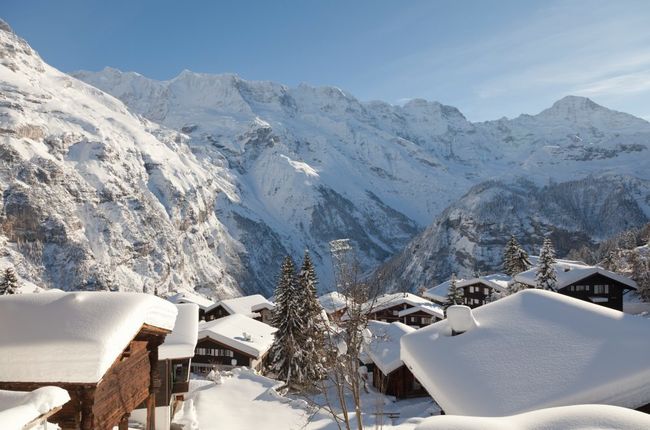 The apartment, part of the Hotel Jungfrau, which sits across the road at the foot of the mountains, makes the perfect base, as it's just a minute from the nursery slope, a short walk to the centre of the village and five minutes from the main lift station. Inside, there's a stunning living area, bedrooms with sliding doors all facing the mountains and a covered balcony warm enough for us to sit and eat outside during our visit in early spring.
Skiing at Easter can be hit or miss, so we're delighted to find deep snow as far as the eye can see. The snow-covered roofs and perfect white carpet broken only by the footprints of birds add to what this place has in abundance - true chocolate box charm. There is a genuine feeling of being somewhere special in Mürren. You won't find much in the way of glitzy nightclubs or towers of apartments here – it's more quaint, wood-clad houses with quirky displays of gnomes and goblins on their balconies to entertain children passing on the traffic-free streets below.
That magical, adventurous feeling is reinforced by our first lift up the mountain by funicular railway. As we ride through tunnels Libby squeals with excitement. With 51km of pistes, Mürren's ski area is not huge, but it still manages to offer something for everyone, from toboggan runs winding through the trees and blue runs ideal for beginners to the infamous Inferno. A ski race course with a 75% incline, it leads from the top of the Schilthorn all the way down for over 15km to the Lauterbrunnen valley. And for mile-hungry skiers, the neighbouring resorts of Wengen and Grindelwald are easily accessed via spectacular rail journeys through the mountains.
Breakfast like Bond
Our mixed ability, multi-generational ski group (consisting of my dad, my sister, Libby and I) find plenty to explore on our long weekend trip, enjoying the near-empty pistes and warm sunshine that make Easter the best time of year for a family trip. The snow conditions are a huge bonus, with plenty of powder for us to play in while Libby hones her skills on increasingly difficult runs. The going is slow, mostly because at every turn we stop to snap away at the spectacular scenery!
On the final morning we just have time for a breakfast trip to Piz Gloria, a spectacular revolving restaurant on the side of the Schilthorn. This was a filming location for the 1969 Bond film On Her Majesty's Secret Service, and now the restaurant plays video of the film on loop and you'll even be greeted by Bond sound bites in the neon-lit toilets. The restaurant spins slowly as you eat, providing 360° views of the Jungfrau.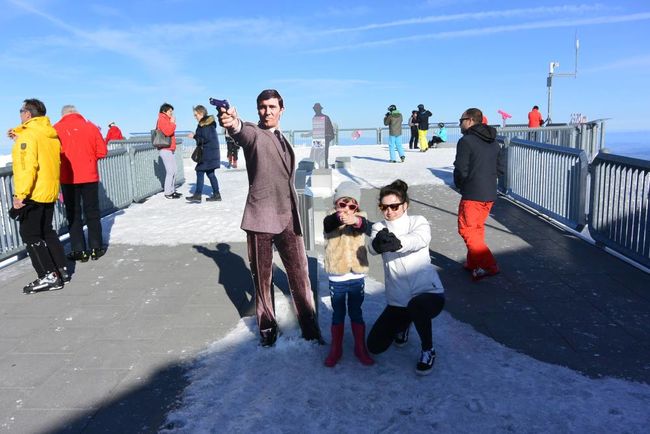 After some obligatory posing with the life-size cut-outs of Bond on the terrace, we start our journey home. Arriving at the base of the mountain at Lauterbrunnen, we stop for a few minutes to watch paragliders and base jumpers swooping in to land. It's a reminder of just how much there is to enjoy here aside from skiing – although we all agree that base jumping sits firmly in the 'no thanks' folder! We also agree that Mürren has proved a magical place for an adventure, and that any mountain-loving family should visit once.
Getting to Mürren
Flights
Jim and family flew Swiss Air to Basel. Fliy from Heathrow from £135 return.
Where to stay
Jungfrau Lodge - Jim was a guest of the Mürren tourist board and stayed at the spectacular Jungfrau Lodge, luxurious catered apartments at the 4-star Hotel Jungfrau.
Book a Package
Ski Miquel offer ski holidays to Lauterbrunnen, between Mürren and Wengen, from £583 pp including meals.