When planning a family ski trip factors such as where to stay, how to get there, what to take, finding the right childcare and keeping your kids happy on and off skis are all vital.
With so many variables, navigating your way through all the options can a minefield. So with a little help from our friends at Crystal Ski Holidays, here are our six steps to a stress-free family ski holiday.
1. Choose a family-friendly ski resort…
You might like to ski from first lift to last and then hit the bars, but your kids… they'll not be going fast enough to keep warm, will need constant feeding, juice breaks and loo stops, will grumble about carrying their own stuff and will never get in a round… so forget it.
You need a proper family resort, where there is plenty of non-ski entertainment, such as a pool. And not just a bog-standard pool for swimming lengths. We mean an aqua centre with slides, inflatables and plenty of splashy fun.
And unless your kids are going to grow up to be Lindsey Vonn or James Woods, they're going to want to do a lot of non-ski stuff. That means sleigh rides, maybe a husky dog safari or a snowshoe walk.
Other boxes to tick include smaller, more compact resort centres, a smaller ski area that's easy to get around, easy-to-access dedicated nursery slopes, family-friendly accommodation and special offers like free lift passes and equipment for kids.
2. But not one that's impossible to get to
There are some fantastic family-friendly resorts in the US and Canada. But they're in the US and Canada. For your average family ski trip, especially if it's the first time, Europe's best.
If you live within an easy commute of London, then the snow-train might be worth considering. Driving can work too, but do you really want the hassle of putting on those snow chains in a snowstorm in a layby on the winding mountain road up to the resort?
When it comes right down to it, an all-in flight from a local airport and a minibus or coach transfer at the other end, is probably going to be easiest, so check the transfer time – anything under 90 mins is very do-able. Above that, you start to enter the whiny zone…
3. Find the right place to stay
Finding the perfect place for you and your family to stay is obviously vital. Chalet, hotel or self-catered accommodation – choose the option that will work for you.
And you might want ski-in, ski-out to avoid ski buses, or just somewhere close enough to the slopes that there's very little walking needed. Look also for family-friendly facilities like swimming pools, games rooms, interconnecting rooms, kids' evening meals and baby equipment. And, of course, the big one: childcare.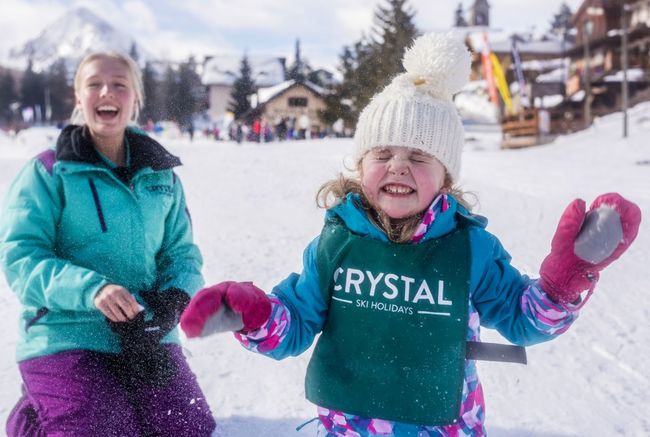 4. Get the childcare sorted
It's your holiday too, and while you will want to do all that fun snowy stuff with your kids and post the pix on Instagram or Facebook, you'll want some ski-time for yourselves, secure in the knowledge that your little darlings are also having a whale of a time with loads of other little darlings. So look for a resort that guarantees safe, stimulating and active childcare with trained, caring and professional staff.
This usually means a combination of care and - for kids from 4 upwards - skiing, which includes morning lessons, pick-up and drop-off from ski lessons, lunch and fun activities, such as treasure hunts and snowman competitions.
Most UK operators worth their salt now offer this kind of service. It's really a no-brainer – get this right and so much else falls into place. To see how it might work for you, check out Crystal's childcare here, at crystalski.co.uk/family-ski-holidays/crystal-childcare/
Oh, and if you will need things like cots, be sure to book these in advance.
5. What will you need to pack?
There's only so much a suitcase can hold, and with the best will in the world, unless your kids are saints, they will struggle to carry too much stuff of their own beyond a Smiggle backpack with favourite toy, colouring books and crayons.
For starters, kitting out your kids for skiing needn't cost the earth. Skis, poles, boots and helmets can be rented in resort, so don't even think about buying them.
However, you'll need to get the right outer clothing sorted before you go. If it's your first time, consider borrowing from a friend or asking around for any hand-me-downs before investing in your own gear.
Skiwear essentials are: warm, waterproof outerwear – snowsuit or salopettes and jacket – thermal layers, goggles or sunglasses, ski gloves (and a pair of ordinary fleece gloves), ski socks, hat, scarf and warm boots with a good grip – not wellies. And their own high-factor sunblock for when you're not there. And for indoors, slippers.
Unless you're staying in a yurt in the middle of nowhere there will be shops, so don't bother packing loads of nappies, but if your child won't eat anything other than Waitrose organic snacks, then bring those with you.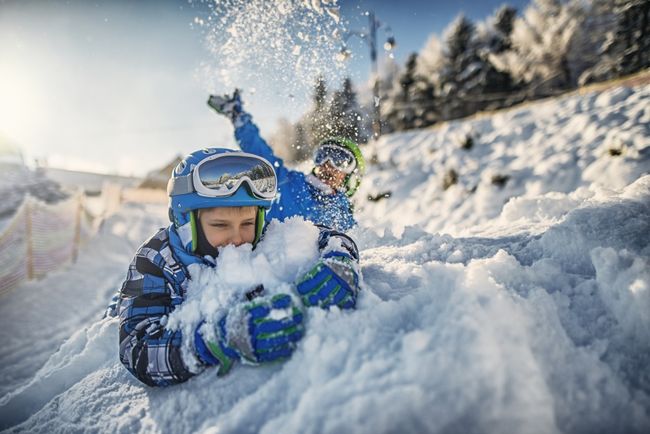 6. So where do we recommend?
It's worth saying first, that if you have older children – particularly teens – your needs may well be different. A snow-park with all-ability features might be top of your list (and an effective curfew!). But for your average 2.4 children family ski holiday, here are 7 resorts you should consider;
Alpe d'Huez, France
Transfer: 2hrs 15mins from Chambery
One of the sunniest resorts in the Alps, with masses to do for families, including an indoor sports centre with activities like crazy golf and badminton, as well as In'vertigo - an obstacle course suspended from the ceiling. Also inflatable rubber ring jumps onto a giant air bag (suitable for children over 3 years) and X-Fly outdoor activities including zip lining and a climbing wall.
Avoriaz, France
Transfer: 1hr 30mins from Geneva
This famous purpose-built, ski-in, ski-out, snowsure resort in the Portes du Soleil ski area is a great place for families and beginners. Off the slopes, there are good facilities, including a fabulous tropical-themed aquatic-leisure centre, a cinema and tenpin bowling.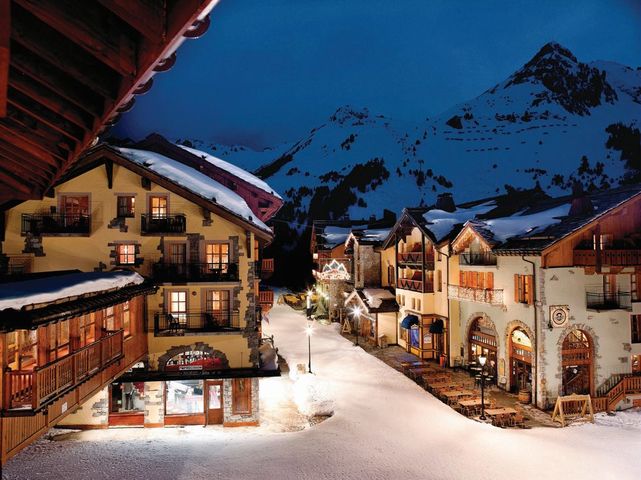 Les Arcs, France
Transfer: 2hrs 15mins from Chambery
This firm family favourite is also reachable entirely by train, thanks to the funicular running up from bourg St Maurice in the valley. A resort pitched on four different levels, Arc 1800 is hugely popular with families and beginners, its appeal enhanced by an aquatic centre, toboggan runs, beginner's area and children's practice area.
Niederau, Austria
Transfer: 1hr 30mins from Innsbruck
A picturesque resort in the Wildschönau valley, Niederau has wide nursery slopes and the excellent 1st Wildschönau Ski School, making it perfect for both families and beginners. Families will especially appreciate the excellent Wave Water Adventure World, home of the L2, the world's first double looping water slide, and a modern luxury spa.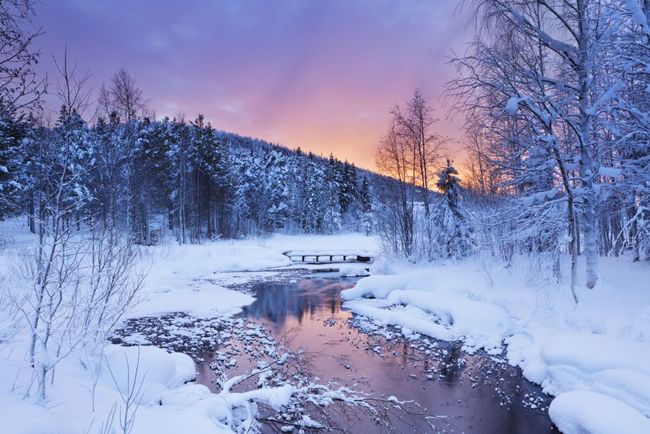 Levi, Finland
Transfer: 20 mins from Kittilä
Lapland is the perfect choice for families – especially around Christmas! As well as the incredibly short transfer and gentle, uncrowded nursery slopes, the extensive non-ski activities include husky, reindeer and snowmobile safaris, ideal for a 'winter wonderland' experience. Ylläs is another top Finnish resort.
Arinsal, Andorra
Transfer: 3hrs from Toulouse
If you can hack the longer transfer, Andorra is a great choice for families. Arinsal has a first-class kindergarten, one of the best English-speaking ski schools in Europe and brilliant nursery slopes reached via an undercover magic carpet, while the main slopes are concentrated along a narrow open bowl, which is ideal for families and groups who may want to do their own thing but not stray too far from each other.
For more information about everything Crystal Ski Holidays has to offer, go to crystalski.co.uk