The all-mountain ski category is the 'one that sits in the middle', it's the jack of all trades, master of none of the ski world. Having said that, all-mountain skis can be biased towards a certain type of terrain while still being capable elsewhere on the mountain, they can also have stunning performance. The choices when buying all-mountain skis are vast, with more or less every manufacturer having at least one all-mountain ski in their line-up and most having many more. All-mountain skis are generally aimed at the intermediate to expert skier looking to ride all kinds of terrain, including groomed slopes and powder snow off-piste. Typically, an all-mountain ski will have a waist width of between 80mm and 95mm, which is wider than a piste ski and crosses over (past 90mm) into the freeride category.
During our ski test we ride and rate over 100 pairs of ski, we try to get more than one person on each pair so that we can rule out subjective opinion. We search out all kinds of terrain and conditions including; groomed slopes, where we test for edge hold and stability, powder snow where we test for flotation, and moguls where we look at flex and ease of turning.
Our band of merry men and women includes Rob Stewart - an ISIA qualified ski instructor and former freestyle and freeride competitor with over thirty years skiing experience, Emma Norton - former British Team Alpine ski racer and now a fully qualified ski instructor based in Zermatt, and Ethan Davis - freestyle skier currently competing on the Junior Freeride World Tour as well as a raft of other testers ranging from strong recreational skiers to ski instructors.
We've whittled the skis down into what we consider to be the best for the conditions they were intended for.

Dynastar Legend X88 | £560 (bindings incl.)
BEST FOR Strong skiers who want a ride that performs in all conditions.
With its new Legend all-mountain skis Dynastar has proven that two can go into one, as the series replaces both the popular Cham and Powertrack marques.
The X88 sits in arguably the sweet spot for the Legend (other widths available are 75mm, 80, 84, 90, 96 and 106), as their shape strikes a nice balance between manoeuvrability on piste – the 180cm length has an 18m turn radius – and float in softer snow.
Dynastar first developed its Powerdrive tech for front-side skis but has rolled it out into its all-mountain range as well.
The essence of this is to combine a soft material to reduce vibration, a hard material for power, and a dynamic material for power transmission and control.
In the X88 the ABS sidewall provides the dynamic, the two titanal plates and poplar wood core are the hard, and the soft is provided by polyurethane stringers.
Polyurethane is the material used to make such things as memory foam mattresses, but when used in the X88, it's more likely to promote a good day's ski than a good night's sleep.
The stringers dampen the ride nicely and help the skis to 'snap' back into shape in the transition between turns: the X88's fairly whip from arc to arc. Power is nothing without control, as they say, but the X88's have grip and stability in spades.
VERDICT - 8/10
The Chams and Powertracks may now have been consigned to the past, but Dynastar has found a worthy successor in the Legends.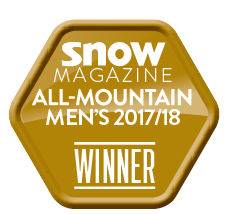 Salomon XDR 84 | £600 (bindings incl.)
BEST FOR Fun all over the mountain for advanced skiers – instructors would get a lot out of them too.
Salomon are without doubt a true innovator of ski technology - think the rear entry boot, the capped sidewall and of course the BBR ski, to name but a few. The impact of these innovations on the ski world is impressive, but perhaps the BBR went too far? This seasons XDR range is Salomon's answer to all mountain, go anywhere skis that combine the BBR and X-Drive philosophies. The XDR 84 Ti looks, on first glance, to be rather less innovative than anything Salomon have produced in years but the reality is, they are an absolute belter of a ski.
After the visual impact of the BBR, the new XDR's are inconspicuous in the very least - we can almost say they look a little dull. But once you get under the bonnet the looks pale into insignificance.
The ease of turn initiation means a complete beginner would feel perfectly comfortable using the XDR 84 from the off. But start cranking through the turns and you get a real sense of power, with a razor sharp edge hold and a poppy, playful re-bound into the next carve.
At 84mm under foot they don't quite sit in the freeride category, but they're still wide enough to handle most powder snow scenarios, especially those unexpected moments when you feel the need to dive off the side of the piste into the soft stuff.
Solid, powerful, responsive and versatile, we can't think of much more you'd need in an all mountain ski. When you dial up the pace they can perhaps be a little hard to handle for anyone unable to take the ride, but then some of the other models in the new XDR range would be suitable alternatives.
VERDICT - 9/10
Overall a seriously impressive ski and at £560 with bindings they add an extra value for money dimension that you wouldn't expect with skis packed full of the kind of tech features that these have.
Dynastar Legend W84 | £490 (bindings incl.)
BEST FOR Intermediate skier, sticking to the piste.
The Dynastar Legend 84 is a women's specific ski designed for advanced riders who want to explore the whole mountain, mainly on piste, but with options on more variable terrain and the odd foray into powder snow.
Labelled for advanced skiers, the Legend 84 is more suited to less aggressive turning, at lower speeds, both on and off-piste. If you push them too hard, the lack of response lets you down – ideal for intermediate skiers looking to improve their turns, especially in softer snow or moguls, but beware if you like charging hard – we were frustrated but the top end performance of these skis.
For intermediate skiers though, they present a more laid back approach to the piste, travelling from A-B comfortably and without putting too many demands on the rider. Turns are easy to initiate at slow and mid-range speeds, and edge grip is good apart from on the very hardest snowpack.
They are true all mountain skis and are perfectly happy dipping off the side of the groomed runs into softer powder snow, but anything deeper than boot top length and they start to struggle with the 84mm waists not providing the stability required.
VERDICT - 7/10
The top sheet is simple and very much fits in with the Dynastar branding, but aesthetically they are pleasing to the eye. With a suggested retail price of £490 including bindings, they are good value for money and would be an ideal choice someone looking to purchase their first pair of skis and wants versatility across the whole mountain.
Faction CT 2.0 | £519
BEST FOR The person who is looking for one ski but spends most of their time off-piste
At first glance the CT 2.0 at 102mm underfoot had us pondering about why they are categorised as 'all-mountain' skis. Our question was duly answered once we started to slide, in a way that only a ski that Candide Thovex would put his name to, could.
The CT 2.0 are pure all-mountain skis - in the sense that they do everything so well. But let's be clear, they are not GS piste machines and would quite literally suck through the gates – although you'd actually still manage fine enough. They are wide skis designed to float in deep snow, yet remain very light and highly versatile. Easy and fun to turn in all terrain, they responded to everything you throw at them and build confidence the more you ride them.
On groomed slopes, considering the fact they are a wide twin tip shape, they performed very well, though occasionally a little squirly at higher speeds – only to be expected for this type of ski design.
In powder they perform like a dream – easy, poppy and light to maneuver. The perfect balance of rocker and camber to provide stability in the fresh powder or even heavy crud, yet with the ability to change direction in a flash. Even in the moguls they seem to float through like they're on air – providing of course, you stay in control.
VERDICT - 8/10
Whilst perhaps not the prettiest of skis out there (although beauty is in the eye of the beholder), the team based in Swiss freeride capital, Verbier, along with Mr. Thovex himself, have made an outstandingly fun ski which we're sure will be seen on a hill near you 'one of those days'.
Blizzard Black Pearl 88 | £490 (bindings incl.)
BEST FOR Advanced women riders who enjoy experiencing all conditions from piste to powder.
Blizzard has continued with the popular Black Pearl 88 skis for the 2017-18 winter season, whilst building around them with two further models (78 and 98) – we feel the 88 model provides a great balance between piste and powder for advanced women skiers and they are one of our favourite skis for 2018.
If you're looking for a ski that scored high across all our ratings then you've found it in the Black Pearl. Not only do they make us feel like ski gods on the slopes, we're convinced we looked like it too. No matter what we asked of these skis, they were able to perform and delivered every step of the way.
We even feel they perform at the highest levels when pushed hard – not like a race ski, but certainly as a performance ski that experts will enjoy. Easy turning too, they will suit a female skier looking to improve their carve turns on-piste as well as explore more variable terrain beyond the boundaries.
On groomed snow they are the only ski we know that can handle everything from slow, short turns on piste to long fast turns in the powder – a true all-rounder and more than worthy of being labelled with the 'one ski for everything' tag.
Off-piste and into the deep snow, we love the playful energy and stability the skis have.
In the moguls, they handle brilliantly and don't demand too much work from the legs to keep your chosen line.
VERDICT - 9/10
The simple top sheet design is a little understated, but we like that, although the show isn't all on the surface, it comes from the performance.
Not the cheapest in the category but worth every penny.
Black Crows Daemon | £560
BEST FOR Hard charging freeriders with a bent for jibbing.
Black Crows categorise their new Daemon in the all mountain bracket, but we would rather think of them as freeride skis – yes they're capable of hitting any kind of terrain you throw at them across the mountain and yes they're versatile and relatively easy to turn, considering their high-performance credentials, but they're a freeride ski, almost in the purest sense of the word.
The reverse camber is probably the first thing to consider – if you're a bit of jibber then you get it, if you're expecting smooth carved arcs slicing across the hardpack then it's not for you, get an Orb instead. What you do get is quick fire response, playful and fun skis you can throw around in the powder - powering through most of the other stuff that might get in your way.
Back on the piste, the late set edge inherently brought on because of the reverse camber makes them pivot well, but unlike many of the Black Crows all mountain and freeride models, they're far less 'Alpine' in feel because of that. Whilst this suits some skiers, it's not everyone's cup of tea and if you prefer a more traditional ski then it's best you stay clear.
VERDICT - 9/10
For strong freeride skiers that can channel their inner jibber and like to play in all kinds of terrain, then you can't find a better example of the perfect freeride skis. In Phillip Pullmans series of books (His Dark Materials) a Daemon is an external physical manifestation of a person's inner self. Who this particular creature feels more comfortable with and who it doesn't will be very much down to the user's inner self to decide.
Rossignol Temptation 84 HD | £495 (bindings incl.)
BEST FOR Recreational to advanced women skiers who stick mainly to the piste but need versatility for variable terrain.
We have some mixed opinions on the Rossignol Temptation 84HDs. Coming from a carving background, they perform well on-piste, feeling secure and stable at higher speeds with a chatter felt only when travelling really fast. Off-piste their float leaves a little to be desired, though in moguls they are surprisingly fun to ride.
Featuring revolutionary patented Air Tip technology which Rossignol claims reduces weight by 20% and increases control by 10%, they gave us a new feeling, to which we credit the playfulness and ease of use of the skis. Carbon-enhanced paulownia sandwich construction also added to performance, with the combination of Auto Turn Rocker and camber taking them from piste skis towards the all mountain category.
Talking to Rossignol's design team the new Temptation range was 'an evolution of the wheel' taking the best of their previous ranges and tweaking them into the current. If you push the skis in short and long turns you will find their birthplace in performance carving skis with good edge grip and stability - with the edges engaging much higher up the skis than expected, allowing a more proactive transition.
VERDICT - 7/10
These skis will push an advanced skier to work them harder than others in the category, but will be rewarded if they learn to do so. At £495 including bindings they are an affordable option for holidaymakers who prefer the pistes but are confident enough to play away from the marked runs.
Nordica Navigator 85 | £440
BEST FOR The intermediate who wants a ski that goes all the way, or the lighter weight expert who is looking for a great all mountain ski.
Nordica's Navigator 85 are all mountain skis aimed at the advanced skier, but we discover that they were a lot more than that, and a lot less too. Intrigued? Read on to get the full picture.
From the very first turn, our initial indication is that the Navigator 85 are stunningly easy ride. They handle short turns, long turns, moguls and variables so well, you wonder whether the all mountain category was invented just for them.
The extremely lightweight tips just work and they work very well indeed. Slightly rockered tips enter the turns with such ease and then absorb cut up snow, bumps and pretty much anything in their way. They do what you want without asking and somehow turn on a dime.
At the other end of the scale, the Navigator 85 perform at a surprisingly high level for skis that are aimed at the intermediate - advanced skier.
VERDICT - 9/10
Light in the turns, poppy and fun - when pushed hard, they respond with the performance you'd expect from skis that are marketed more towards the advanced - expert. They're exceptionally stable at higher speed, considering their lightweight construction - incredibly versatile skis, Nordica's Navigator 85 does not miss a beat at any point of the turn.
Rightly so, they are an all mountain machine and pretty much nails the 'All Skier' category too. Great fun, great looking and the lovely round flex would make a superb touring or Telemark ski option. They are sold flat so choose your binding options and head off into the hills. One thing we're sure about is that you won't get lost.
Armada Trace 98 | £500
BEST FOR Advanced recreational women skiers looking for ultimate versatility across the mountain.
The Armada Trace 98 is a new model from Armada for the 2018 winter ski season. They are categorised as all mountain skis and certainly have the ability to handle everything from piste to powder.
When taking the Armada Trace 98 into off-piste terrain and especially deep powder snow, you almost get the impression they are getting excited about it, you can feel it through your feet. They are highly responsive with an ideal width under foot that strikes a good balance across variating conditions and suit advanced women skiers looking to improve in off-piste terrain.
Soft and light these skis make for a perfect intro to freeride – perhaps for someone on their first season looking for versatility in their skis. They're a playful ski due to the flex, although if you're more inclined to use them in powder than piste then perhaps it would be better to go for a longer length.
Despite lots of positives and although generally they are easy to turn on-piste and pleasant to ride in powder - overall they're a little on the bland side.
The top sheet has a very urban look to it and we like it – really great looking skis. Mid-range in price at £500 without bindings, so good value for money, if not the cheapest in the category.
VERDICT - 7/10
Perfect skis for upper end recreational women skiers who don't push the limits too hard but want a reliable all mountain ski with lots of versatility.
Scott Slight 93 | £500
BEST FOR All mountain versatility for advanced to expert skiers.
Scott's new Slight is aimed at an all mountain, off-piste skier looking for versatility across the mountain – anyone who knew the Mission and had the pleasure to ski on them, will understand how difficult a job it is to replicate what was fifteen years ago, a totally revolutionary ski.
The incredibly sad news that the brainchild of the Mission, Herve Maneint, was killed in a Chamonix rock fall incident whilst ski touring during April 2017, was a shock to the industry – we were lucky to have met him and skied with him and he was a true legend. Let's hope the Slight will carry his name with pride.
So far, so good. As with most skis that Scott produce, you immediately feel comfortable and stable on groomed slopes with an impressive edge hold that carves through the turn from start to finish. The easy initiation into the turn is a bonus, but it doesn't stop there – the skis take you round in a smooth arc until the end when a sting in the tail pushes you into the next one.
This makes them more suitable for advanced to expert skiers and once you get them in the powder snow, they feel similar to the Missions, if not a little more powerful. Despite that, the ease into the turn and the fact they deal with slower speeds well, means that a keen skier looking to improve all over the mountain would be able to handle the performance.
VERDICT - 9/10
With a £500 price tag without bindings, they don't sit at the lower end of the cost spectrum, but then it's possible to pay far higher for something not as versatile and lacking in the character of the Slight – a character that can only come from the kind of heritage we have come to expect from the team at Scott.