It's no secret that Brits love skiing. An estimated 1.5 million of us shell out on a ski holiday every single year. Unless you're lucky enough to live near one of the Scotland's five ski resorts, however, opportunities to pursue this passion closer to home are a bit more limited. And yet, it's not impossible.

Since the 60s and 70s, the UK has been home to an impressively large network of dry ski slopes—some of which have produced future Olympians, like skier James Woods, who learned in Sheffield, and snowboarder Katie Ormerod, who made her first turns at the Halifax dryslope.
More recently, ever-growing numbers of Brits have been scratching the skiing itch between holidays in one of the UK's indoor ski slopes. The first real snow slope in the UK, Tamworth Snowdome, opened its doors in 1996, and there are now six of these giant fridges scattered across the country (although one closed indefinitely in November 2022, see below).

They're a great place to have your first ski lesson, allowing you to get the basics dialled before you head off on your holiday. If you've been before, they're a great place to brush up on your technique. But they're not just for beginners—like the UK's dryslopes before them, the country's indoor ski centres are increasingly becoming talent factories: rising star Mia Brookes, for example, learned to snowboard at Manchester's Chill Factore.
What's the Difference between a Dry Ski Slope and an Indoor Ski Slope?
The crucial difference between a dry ski slope and the UK's indoor ski slopes is that the indoor slopes are covered in real snow—albeit real snow that's been artificially created by snow canons—whereas dry slopes are made of plastic that's been designed to simulate snow.

In the UK, the dry ski slopes are usually covered either with Dendix, which features toothbrush like bristles arranged in a diamond-like pattern, or Snowflex, which looks more like a continuous carpet of bristles.

If we're totally honest, neither feels exactly like actual snow: you can't really hold an edge like you would on a snowy slope, for example, but the fact that you can use proper skis and snowboards on them still makes them great for learning. And dry slopes do have some advantages over real snow slopes — they're cheaper to maintain and run, so lift tickets tend to be cheaper, and they also take up much less space as a rule, so they're very much more numerous. Chances are, if you stick "Dry Slope Near Me" into Google, you'll find one within an hour's drive wherever you are in the UK.
What Should You Expect and What Should You Wear When Visiting an Indoor Ski Slope or a Dryslope?
Dry ski slopes might not have snow, but they're actually far from dry. They need to be sprayed almost continuously with water to keep them running smoothly. For this reason, it's worth wearing proper ski or snowboard clothing, i.e. a pair of waterproof trousers and a waterproof jacket, when visiting a dryslope.

In terms of layering, because nearly all the UK's dryslopes are outdoors (some notable exceptions, like the Calshot slope near Southampton) just check the temperature and dress for the weather. At a push, if it's hot and summery, you can get away without the ski or snowboard jacket on your top half. But whatever you do, don't wear a short sleeved t-shirt, and make sure you have gloves: those bristles can leave you with some killer scratches if you fall.
Indoor ski slopes, by contrast, are kept at a constant temperature year-round, usually between -2 and -5 degrees celsius, to keep the snow from melting. As such, it's worth wearing a few layers if you're visiting one, as well as waterproof trousers, a ski or snowboard jacket, and gloves. Don't worry if you don't own them, however, as most ski centres will let you rent.

All of the dry slopes and indoor snow centres listed below will rent helmets, as well as boots, skis, and snowboards.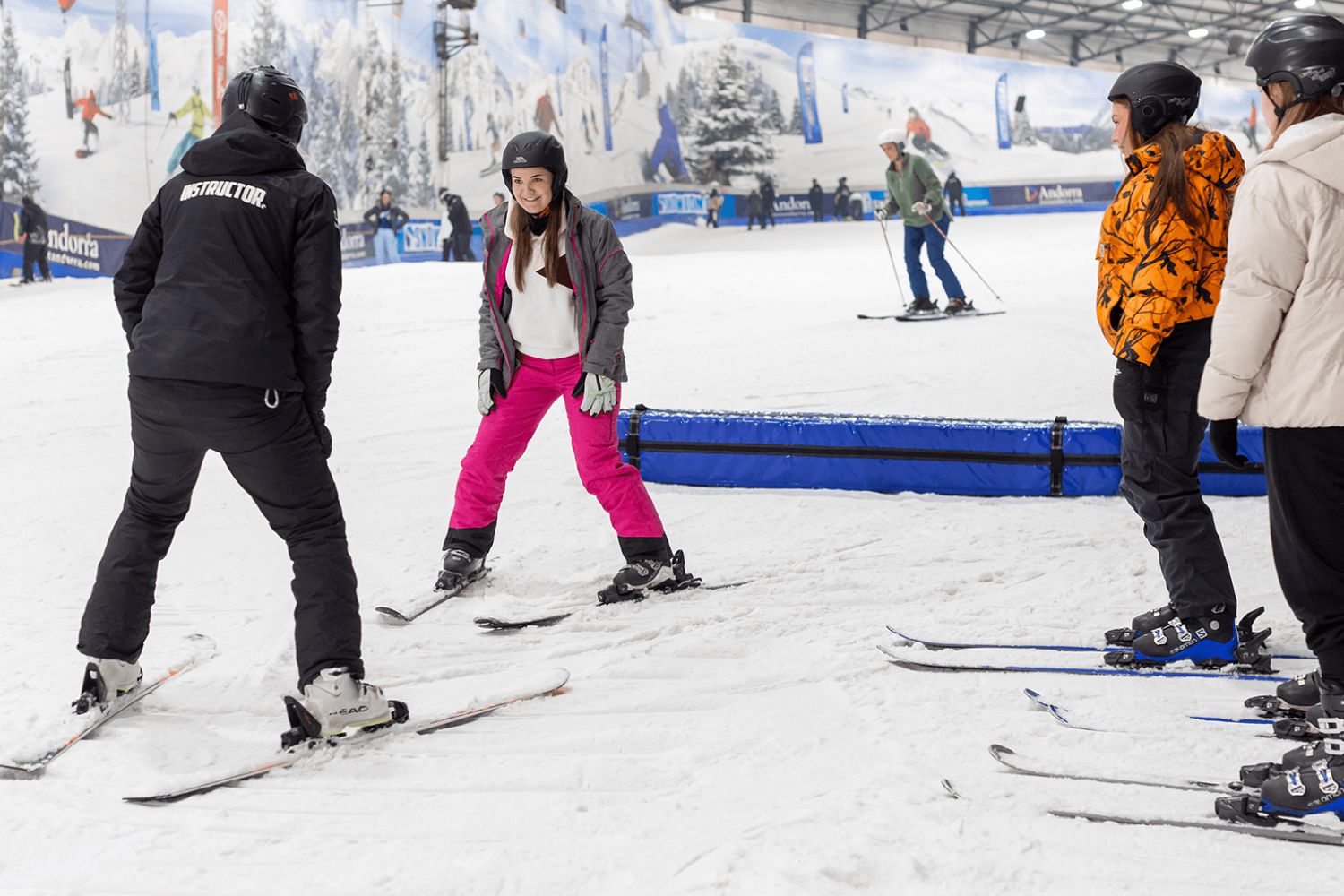 Tamworth SnowDome
Slope size: 170m long
Opening times: 9am – 10pm everyday
Just a short drive outside Birmingham, Tamworth SnowDome is the oldest of the indoor ski slopes, UK-wide, having first opened its doors back in 1994. In the years since, it's given thousands of people their first taste of skiing, offering adult and junior skiing lessons for all levels, from complete beginners to freestyle coaching sessions for advanced riders.
Tamworth is unique among British indoor skiing slopes as it has a corner near the top, and while it's no longer the largest or longest, it's got a proud local history. BBC commentator and ex pro snowboarder Tim Warwood is just one of the riders who cut their teeth here.
More info: Snowdome.co.uk 
Snozone Milton Keynes
Slope size: 170m long
Opening times: Monday-Thursday 9am-10pm, Friday 9am-11pm, Saturday-Sunday 8am-8pm
Milton Keynes was chosen as home to the UK's second indoor ski slope partly because of its central location, and the Snozone, as its known, continues to attract people from a wide catchment area. Facilities here include not just the slope, but ski shops, bars, restaurants, a climbing wall and even an indoor sky diving facility.

The slope itself offers private lessons and group lessons for all ability levels, for adults and kids. There's a lively freestyle scene too—park shapers build put out a series of rails and kickers in different combos every Thursday and Friday nights for people to perfect their freestyle tricks.
More info: Snowzoneuk.com 
Snozone Castleford
Slope size: 150m long
Opening times: Monday-Thursday 9am-10pm, Friday 9am-11pm, Saturday-Sunday 8am-8pm
As the sister slope of Milton Keynes, Snozone Castleford is roughly the same size, with a similar layout. Kid and adult skiing lessons take place on the 150m-long main slope, serviced by a rope tow. On Thursday and Friday nights, a large chunk of the slope is covered by rails, kickers and boxes in varying combos, and there are coaching sessions for those who want to improve their freestyle skiing or snowboarding from 7 to 10pm on a Friday.

Like most indoor skiing facilities, Castleford has a lively local scene, with contests, "try before you buy" equipment testing sessions, and demos organised regularly.
More info: Snowzoneuk.com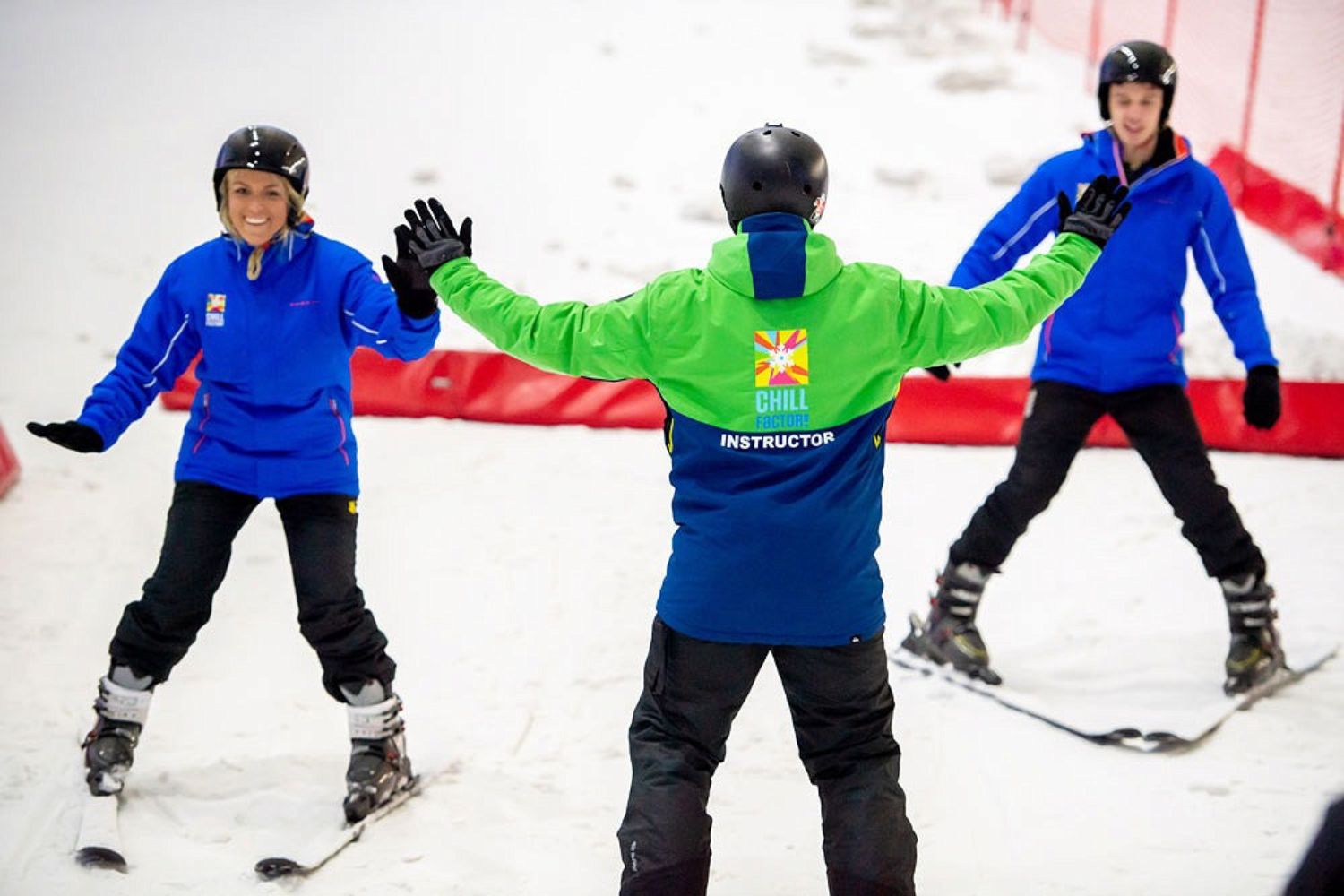 Chill Factore Manchester
Slope size: 180m long
Opening times: Monday, Thursday and Friday, 10am-10pm; early closure on Tuesday (10am - 6pm) and early opening on Wednesday (7.30am - 10pm). Saturday and Sunday 8am-10pm.
Opened in 2007, the Chill Factore is the England's largest indoor skiing facility, with a 180m long main slope. It's right next to the Trafford Centre mall, and caters to casual visitors on shopping trips, with tubing facilities and a range of other indoor activities as well as the core offering of skiing and snowboarding. You can book adult skiing lessons, junior skiing lessons and family skiing lessons as well as one-to-one private lessons to work on particular aspects of your technique.

Chill Factore's structure, raised on stilts, means they can't build the big, heavy kickers that you see on some indoor ski slopes, but there's still a lively freestyle scene here, with British snowboard legend John Weatherley, aka the Trap Lord, offering regular coaching sessions. The UK's rising freestyle superstar Mia Brookes learned many of her best tricks at Chill Factore, so they've got to be doing something right!
More info: Chill Factore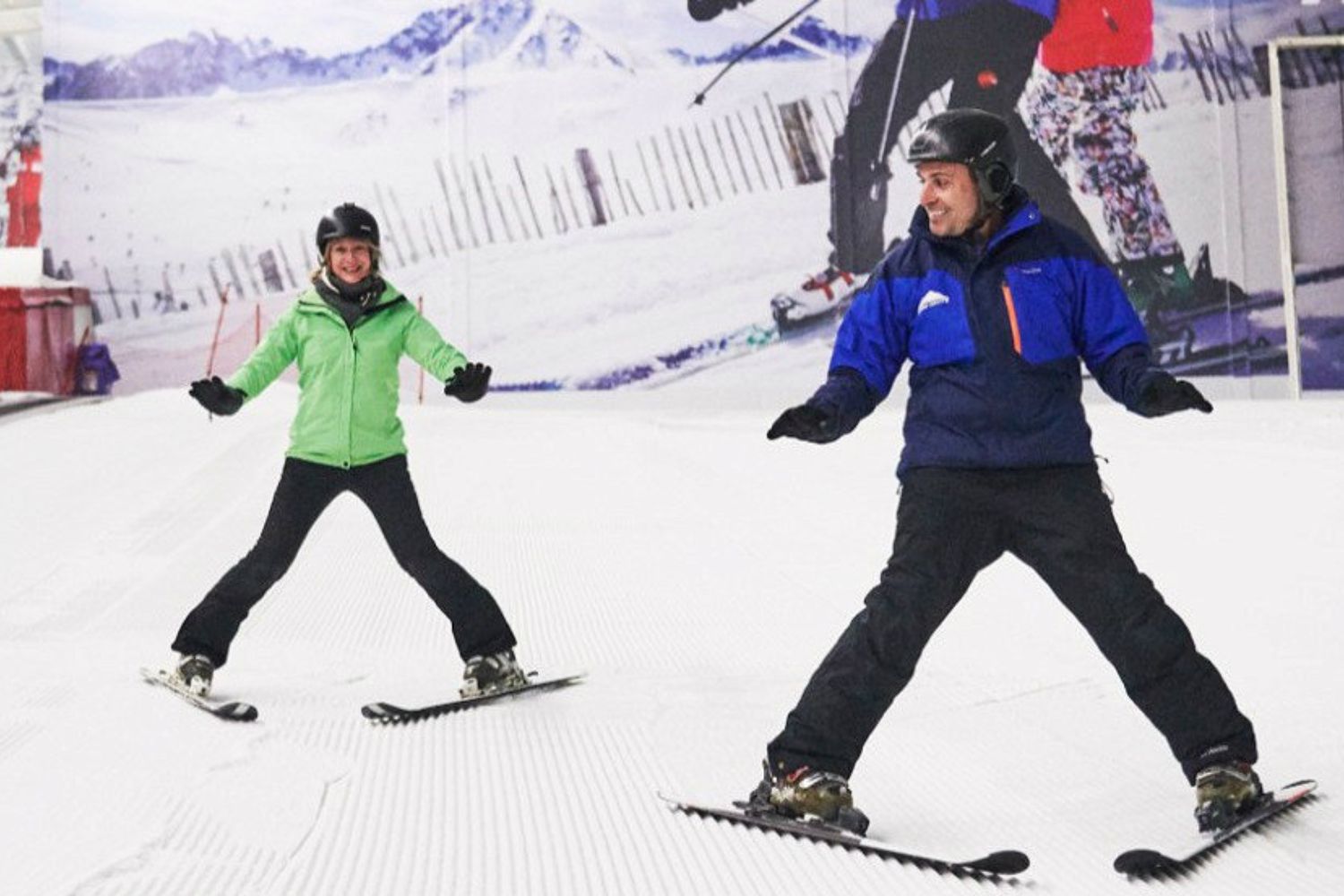 Hemel Hempstead Snow Centre
Slope size: 160m long
Opening times: Monday 10am-6pm; Tuesdays 7am-10pm; Wednesday 10am-10pm;
Thursdays 10am-5.30pm & 6pm-10pm for freestyle night; Friday 10am-10pm; Saturday & Sunday 7am-9.30pm.
The Snow Centre at Hemel Hempstead is the UK's newest indoor ski and snowboarding facility, and also the closest to London. Built on the site of a former dryslope, it opened in 2009, and has welcomed thousands of skiers in the years since.

Whether you're coming for your very first ski lesson, to join in a refresher session to brush up on your skills, or to improve your tricks at one of the weekly freestyle nights, there's something for every level here. As the newest slope in the UK, with the most modern snow-making facilities, connoisseurs also reckon that the Hemel facility boasts the best quality snow of any ski and snowboard centre in the UK.
More info: The Snow Centre 
Snow Factor Braehead
Slope size: 200m long
Opening times: Currently closed until further notice.
Originally built as part of the Snozone family of Indoor slopes, alongside Milton Keynes and Castleford, the Braehead slope, near Glasgow, was sold to an independent operation, which rebranded it as Snow Factor in 2012. It's the longest (if not the largest) indoor skiing facility in the UK, with a whopping 200m long main slope offering plenty of space for you to nail your turns.

For years it was home to a lively freestyle scene. Locals, including the likes of free skier Chris McCormick, would perfect their tricks here and on the nearby dryslope at Bearsden, before taking them up to Scotland's ski resorts. Unfortunately, financial issues meant that in November 2022 the slope's owner went into administration. At the time of writing, the facility is closed indefinitely, but the hope is that a new buyer will be found, and this vital pillar of Scotland's snowsports scene will re-open soon.
More info: xsitebraehead.com 
Dry Ski Slopes
Dry ski slopes are the foundation of the UK ski and snowboard scene, and have given countless people their first experience of snow sports (even without actual snow!) There are too many to list them all here, but we've picked out a handful with particularly lively scenes that are well worth visiting.
Halifax Ski & Snowboard Centre
As one of the first slopes in the UK to be surfaced with Snowflex, which is softer and more forgiving to fall on than Dendix, the Halifax Ski & Snowboard Centre has long been an incubator for freestyle talent. Snowboarders Jamie Nicholls and Katie Ormerod, and freestyle skier Tyler Harding all had their first lessons at Halifax.
More info: ridehalifax.co.uk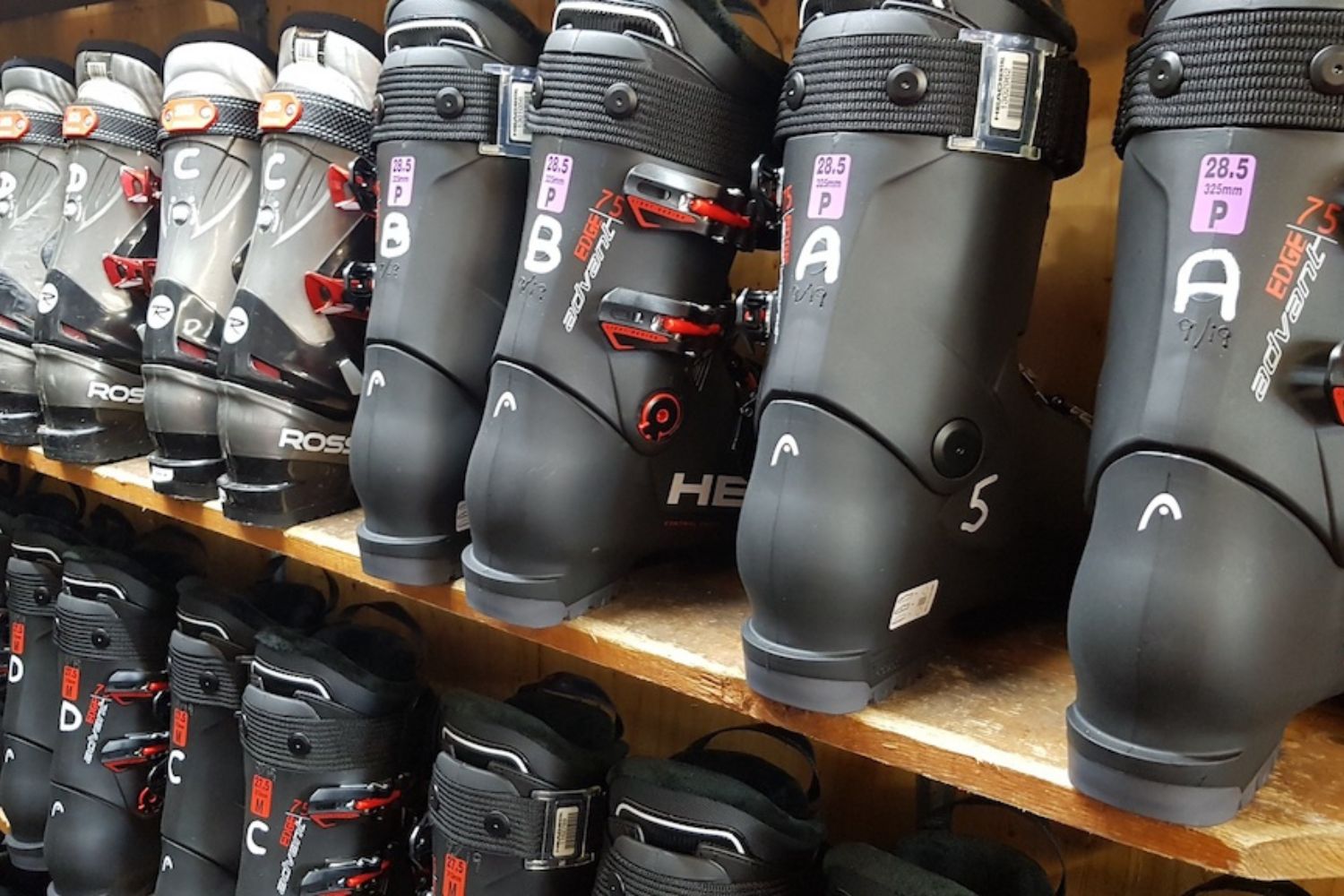 Kendal Snowsports Club
Run as a registered charity, the Kendal Snowsports Club, in the Lake District, offers lessons for all ability levels. The slope looks unique, as it's covered in Snowflex that's black, rather than the customary white.
More info: Kendalsnowsportsclub.co.uk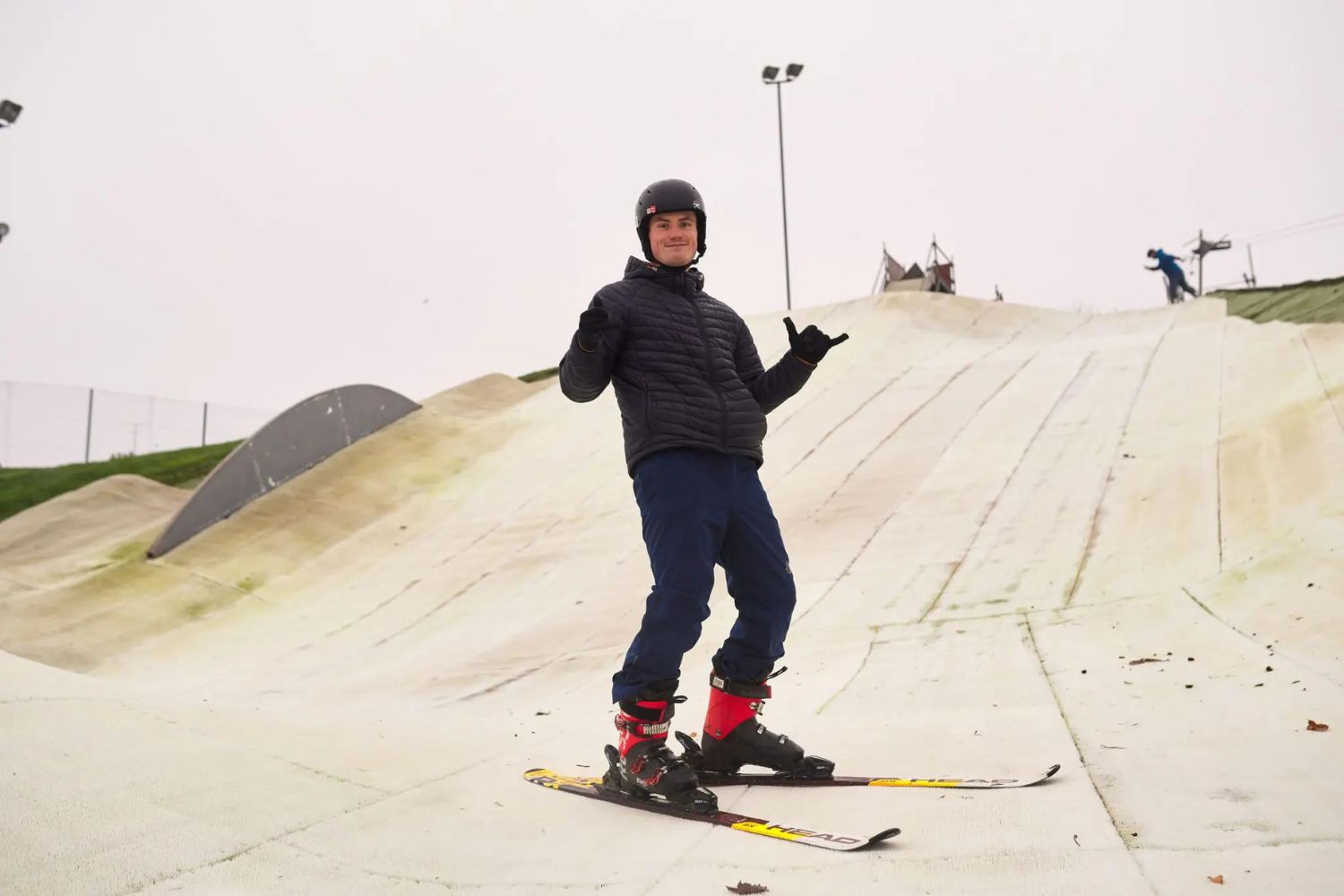 Adventure Aberdeen Snowsports
First built as a Dendix slope in the 60s, the Aberdeen dryslope at Garthdee was shuttered in 1996, with some of its land sold off to build an Asda carpark. In 2004, however it re-opened with a grant from the council, and a new, snowflex surface. In the years since, it's gone from strength to strength, producing stars like the free skier Kirsty Muir.
More info: Sportabderdeen.co.uk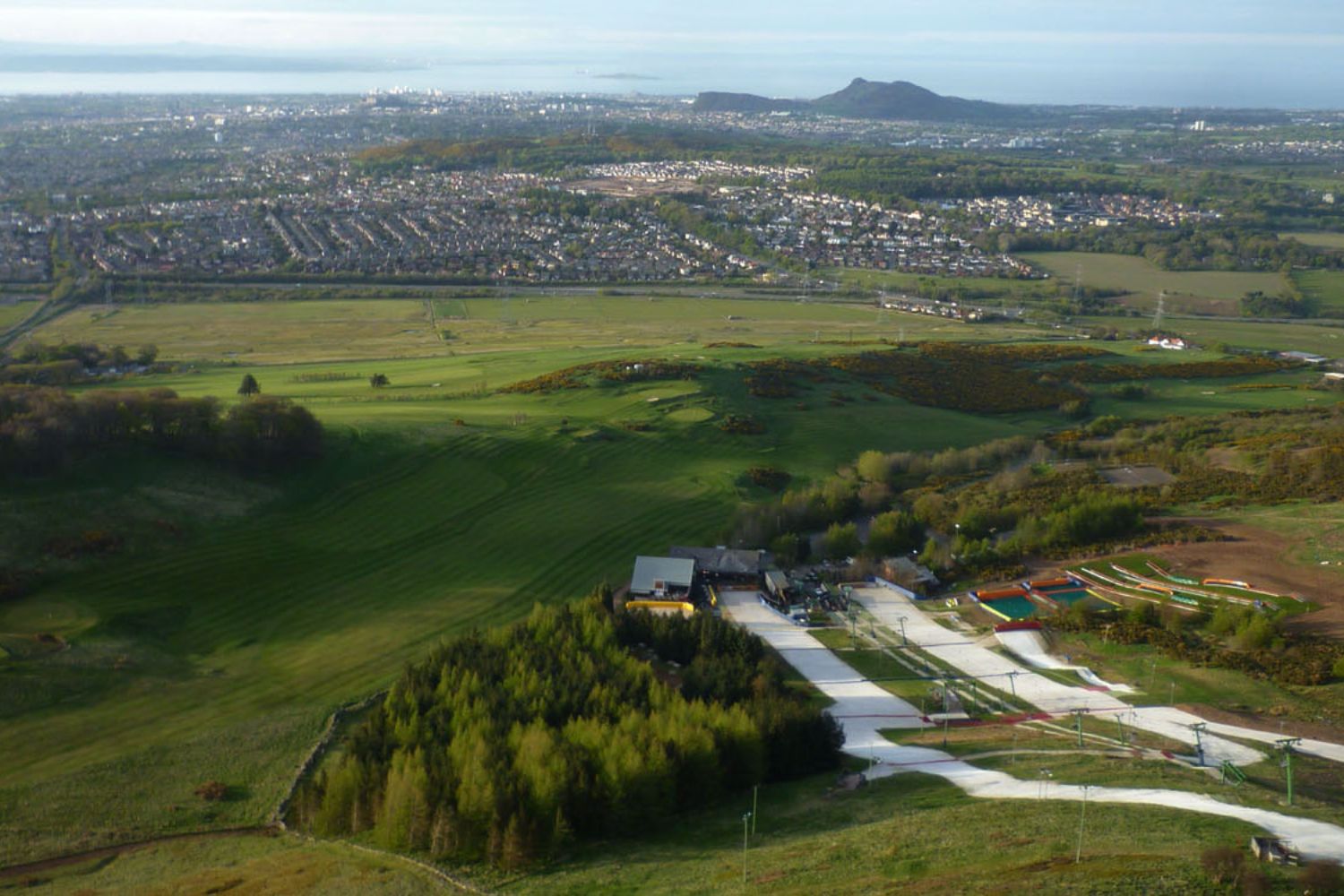 Hill End (Midlothian Snowsports Centre)
Owned and operated by Midlothian Council, the legendary Hill End dry slope, just outside Edinburgh, is the UK's longest, and the only one with a fully functioning chairlift. The main slope is surfaced in Dendix, but there's a side slope with a Snowflex jump and moguls, for advanced skiers to practise their freestyle.
More info: Midlothian.gov.uk 
Gloucester Ski and Snowboard Centre
Like Hill End, Gloucester's dry ski slope is impressively long, at 255m. It also boasts a Snowflex covered side slope, for freestyle, and has a lively local scene. There are lessons to suit all ability levels, freestyle coaching sessions and even an Air Bag for practising inverted tricks safely.
More info: Gloucesterski.com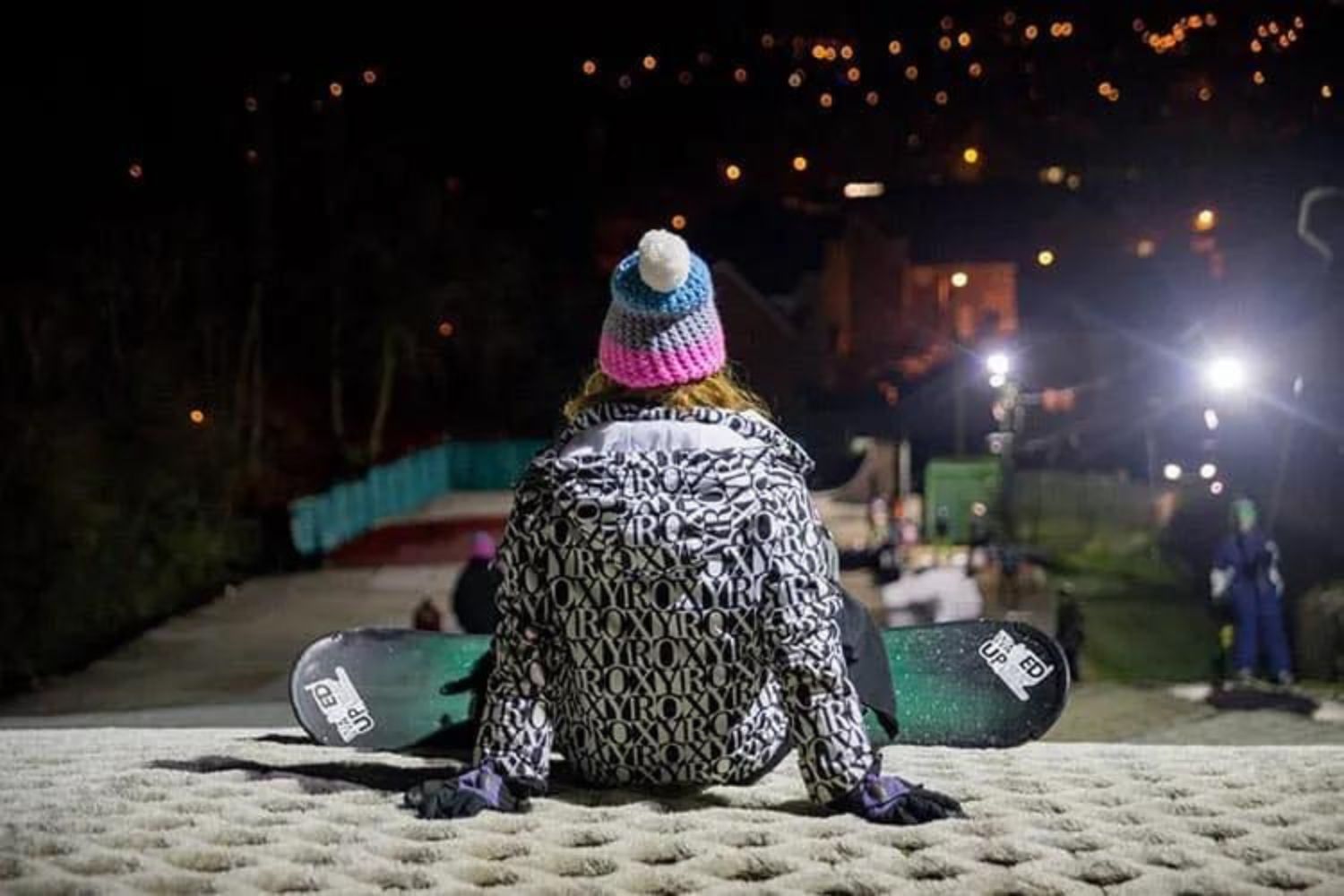 Cardiff Ski Centre
Located in Fairwater Park, just ten minutes from the centre of the city, the Cardiff Ski Centre is one of the most easily accessible skiing facilities in the country. As well as skiing and snowboard lessons for all skill levels, the slope has tubing facilities.

More info: Skicardiff.co.uk