Ski socks keep your feet warm and hopefully blister-free, and the best ski socks use natural wonder material, merino for comfort and to keep bad smells at bay.
Whether you prefer cushioned ski socks or lightweight ski socks is a matter of preference, but all good ski socks will have the correct shaping for comfort in ski and snowboard boots. Don't be tempted to pick up a pair of long socks that aren't designed for skiing, or a cheap pair that doesn't have the right shaping as you're setting yourself up for a painful day, not to mention the potential to develop painful blisters.
Most ski socks are OTC, of Over The Calf meaning they stop just below the knees and give you complete coverage against your ski boots and snowboard boots.
Below we have picked out the best ski socks at a range of price points. Most of these ski socks are available in both men's and women's versions, with the main difference being in sizing and colours.
The Best Ski Socks 2022-2023
Best overall ski socks
Smartwool targeted cushion OTC Ski Socks | £26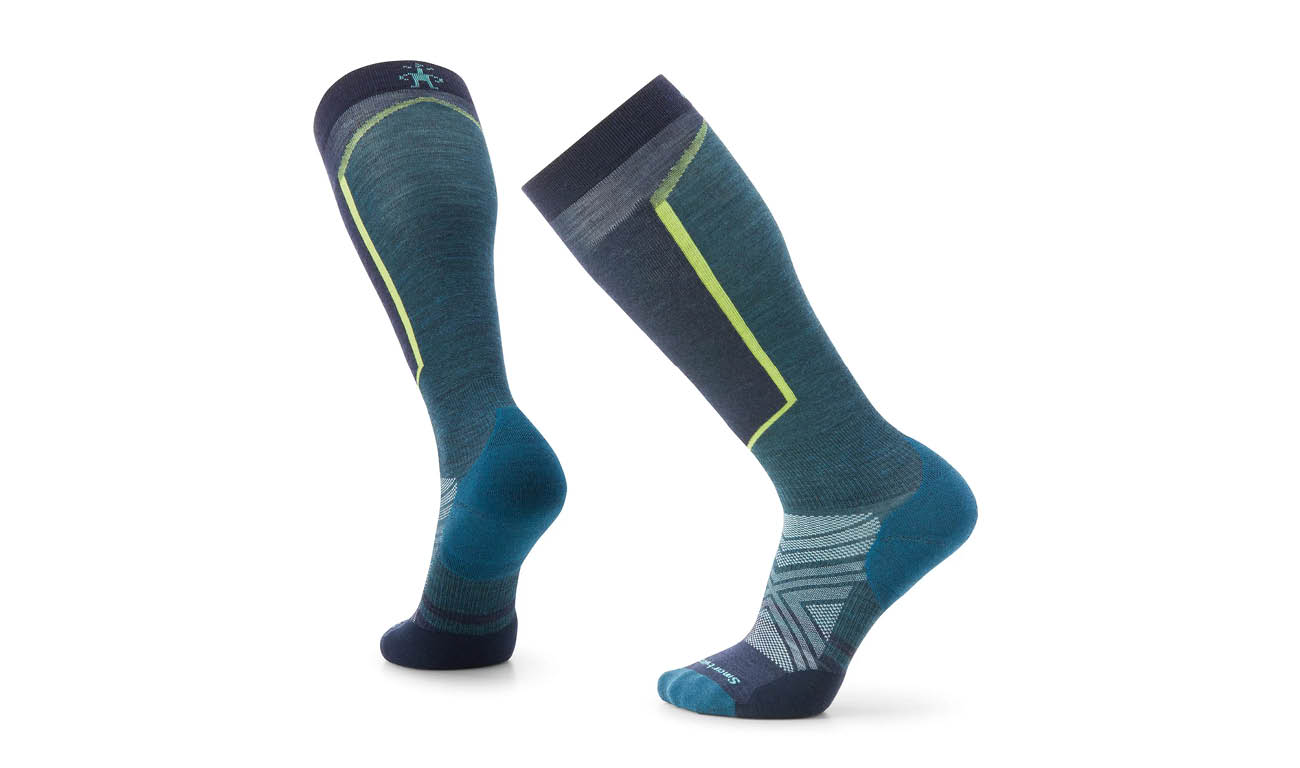 Available in men's and women's versions
Materials 100% Merino Wool
When you think of merino ski socks you probably think of Smartwool being that they're one of the OG brands in merino. Their targeted cushioned socks favour a lightweight approach with areas of cushioning in heavy wear areas such as at the heel and toes. Smartwool ski socks are really high wear, but the thinner material will naturally wear quicker than a midweight sock. Having said that, Indestructawool technology brings a special yarn detail to increase longevity. The Targeted Cushion ski socks are mega comfortable and fit amazingly well, with a 4-degree elite fit system, essentially stitching that allows for flex at the ankle joint. Body mapped mesh zones help with breathability but the merino/nylon mix is fantastic in that regard anyway.
Buy Smartwool OTC Ski Socks: £24.99 at Ellis Brigham <<Best Deal>>
Buy Smartwool OTC Ski Socks: From £26.95 at Amazon
Best ski socks for comfort
Falke SK1 Ski Socks | £30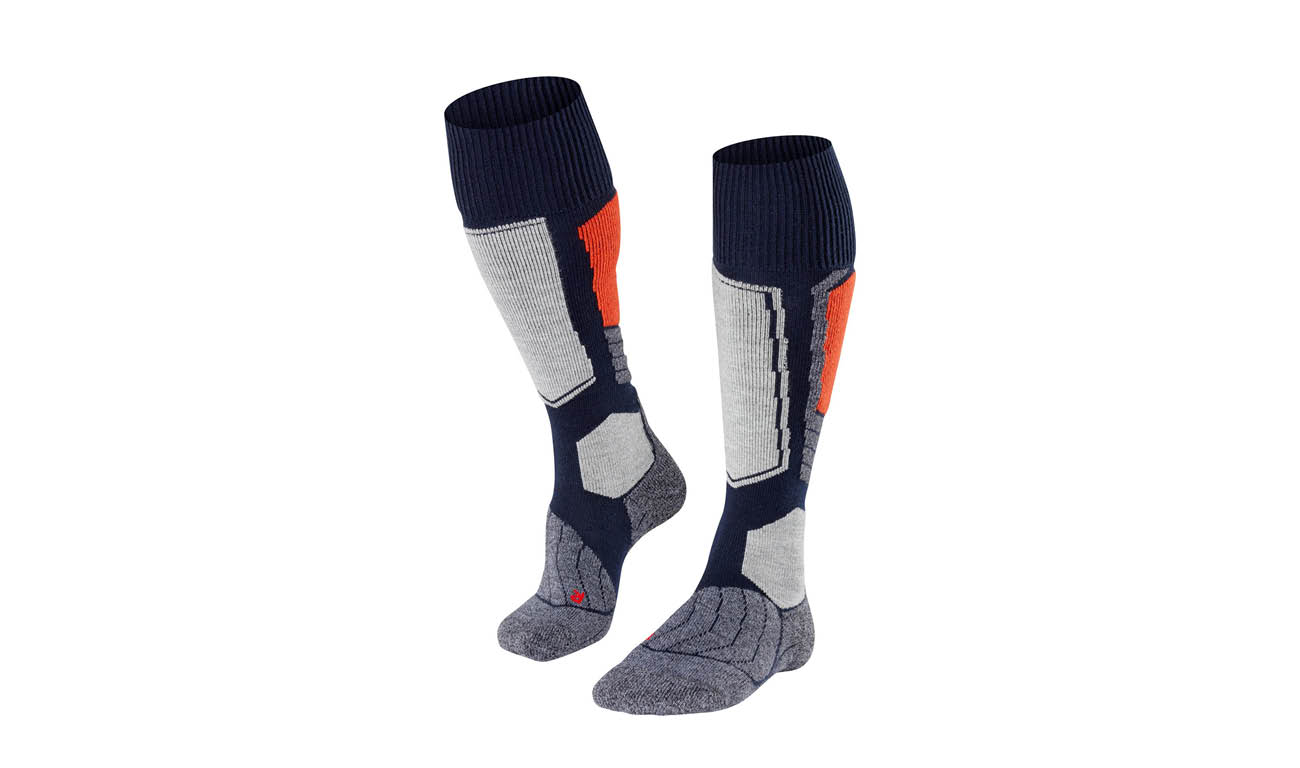 Available in men's and women's versions
Materials 44% Polypropylene, 24% Acrylic, 20% Wool, 7% Polyamide, 5% Silk
Designed for all day comfort, Falke's SK1 ski socks max out on the padding, making for a high-volume fit inside your boots. Constructed of a mix of Merino, nylon, acrylic, and even silk the SK1s are designed to wick moisture away from the feet and they manage heat well. Extra cushioning around the calf, ankle, and instep provides blister-free skiing and impact protection and the socks are anatomically correct, with a left and a right sock providing a specific shape for each foot. Anti-wrinkle zones and Stay Up Comfort Top ensure that the socks stay smooth on your legs and calves to prevent blisters from forming.
Buy Falke SK1 Ski Socks: £29 at Amazon
Buy Falke SK1 Ski Socks: £30 at Snow & Rock
Best snowboarding socks
Burton Midweight Weekend snowboard socks | £26 (2 pack)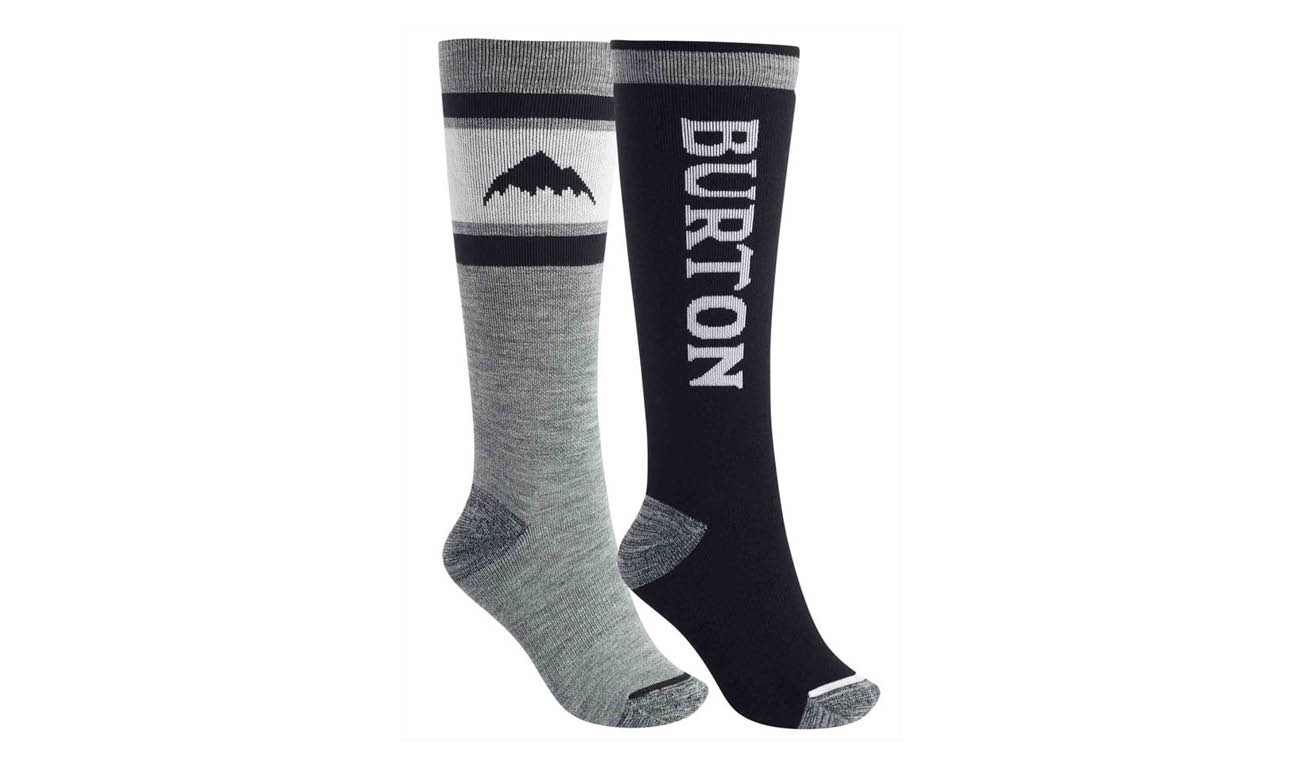 Available in men's and women's versions
Materials Acrylic wool
Cover all of your ski sock needs with this handy two-pack from Burton. Although these can be used for skiing or snowboarding it's fair to say Burton is ostensibly a snowboard brand. The Midweight Weekend socks, therefore, have snowboard-focused abrasion resistance and chafe-free seams. They provide midweight warmth and cushioning and a reinforced toe and heel for longevity. Elastic leg support that keeps everything in place and a low profile welted cuff ensure that you don't suffer any uncomfortable rubbing while you're riding. Being made from a largely acrylic and polyamide mix they're very breathable and quick-drying too but obviously don't have some of the benefits of merino wool.
Buy Burton Midweight Weekend snowboard socks: £25.58 at Amazon
Best ski socks for durability
Darn Tough Edge OTC Ski Socks | £30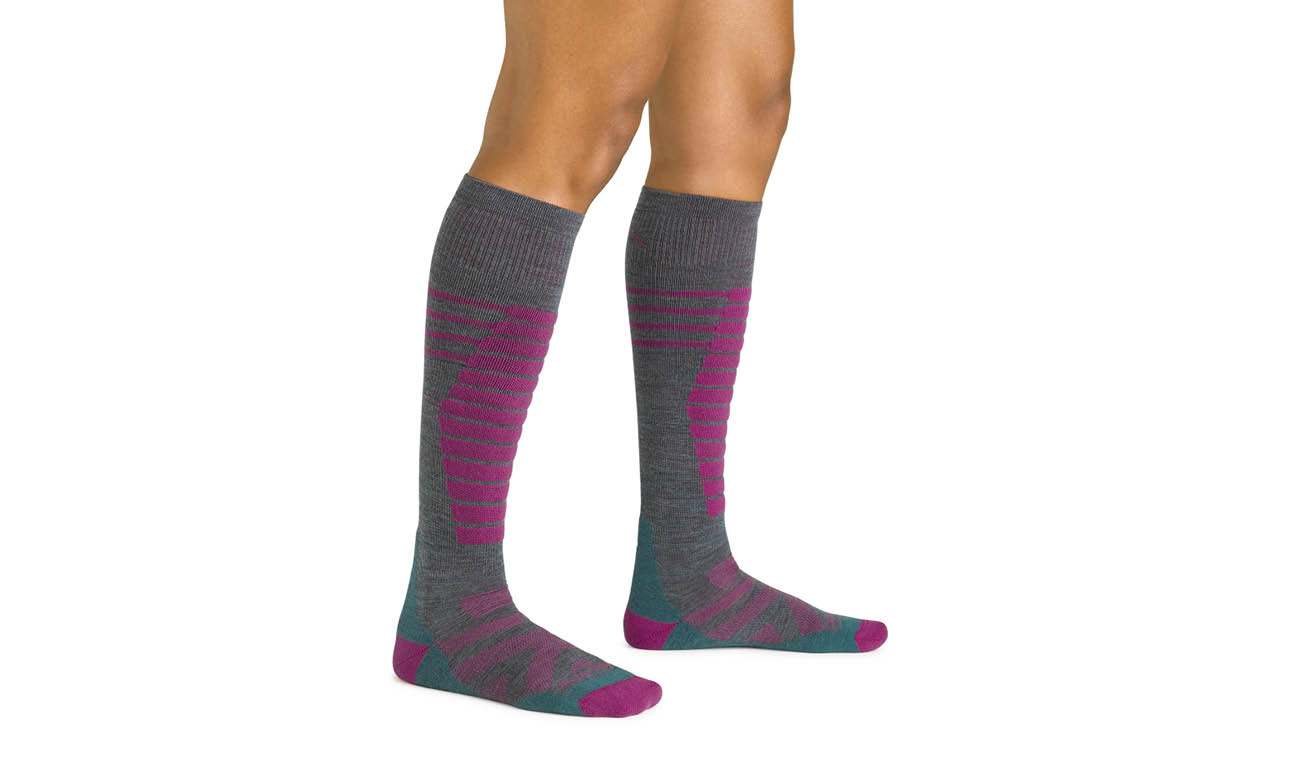 Available in men's and women's versions
Materials 54% Merino Wool, 43% Nylon, 3% Lycra Spandex
With extra cushioning for comfort and mesh panels to help breathability the merino wool Edge over-the-calf socks are just the ticket for all-season fun. With cushioning at the heel, toe, underfoot, and shin the Edge OTC ski socks really do protect your legs from ski and snowboard boot pressure. Merino wool does, of course, have the natural ability to regulate temperature while moving moisture away from the skin, keeping you warm and dry which is perfect for the ski slopes. With an anatomical design these ski socks are built so there's no slipping or bunching and therefore no blisters. 
Buy Darn Tough Edge OTC Ski Socks: £29.71 at Alpinetrek
Best ski socks for value
Decathlon Wedze Adult Ski Socks 100 | £8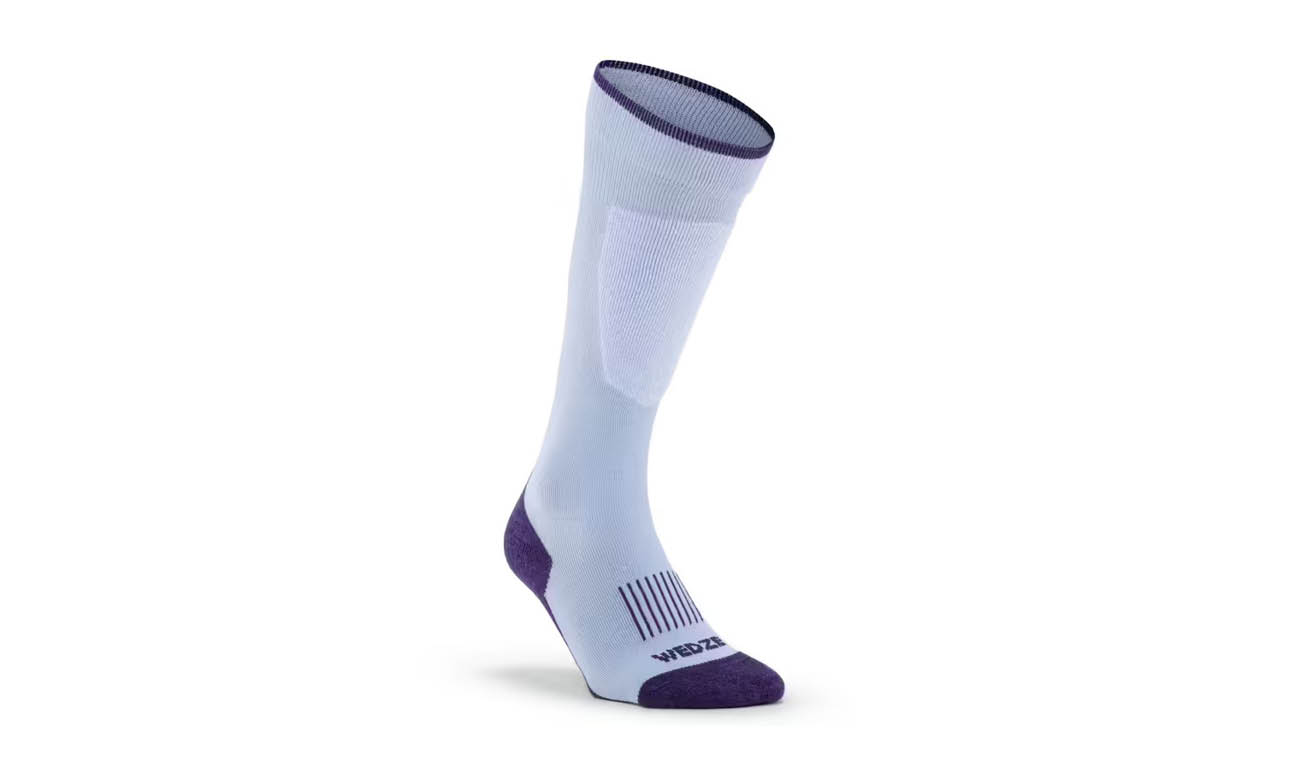 Available in men's and women's versions
Materials 63% Acrylic, 21% Polyamide, 13% Wool, 3% Elastane
You just can't beat the price of Decathlon kit, and their ski socks and no exception. In-house wintersports brand Wedze is based in the Alps and designs all its gear from the perspective of a skier or snowboarder. Wool in the sole ensures good warmth and moisture management while the rest of the material is man-made but designed for warmth and excellent breathability. The Adult Ski Socks 100 are a medium thickness with extra cushioning on the heel, toe, and shin to give you comfort all day. The design of these ski socks is suitably anatomical to fit perfectly around the foot, calf, and shin, and the cuff is fully elasticated so these ski socks stay up on your legs all day. 
Buy Decathlon Wedze Adult Ski Socks 100: £7.99 at Decathlon
Best ski socks for fun
Stance Chin Valley ski socks | £27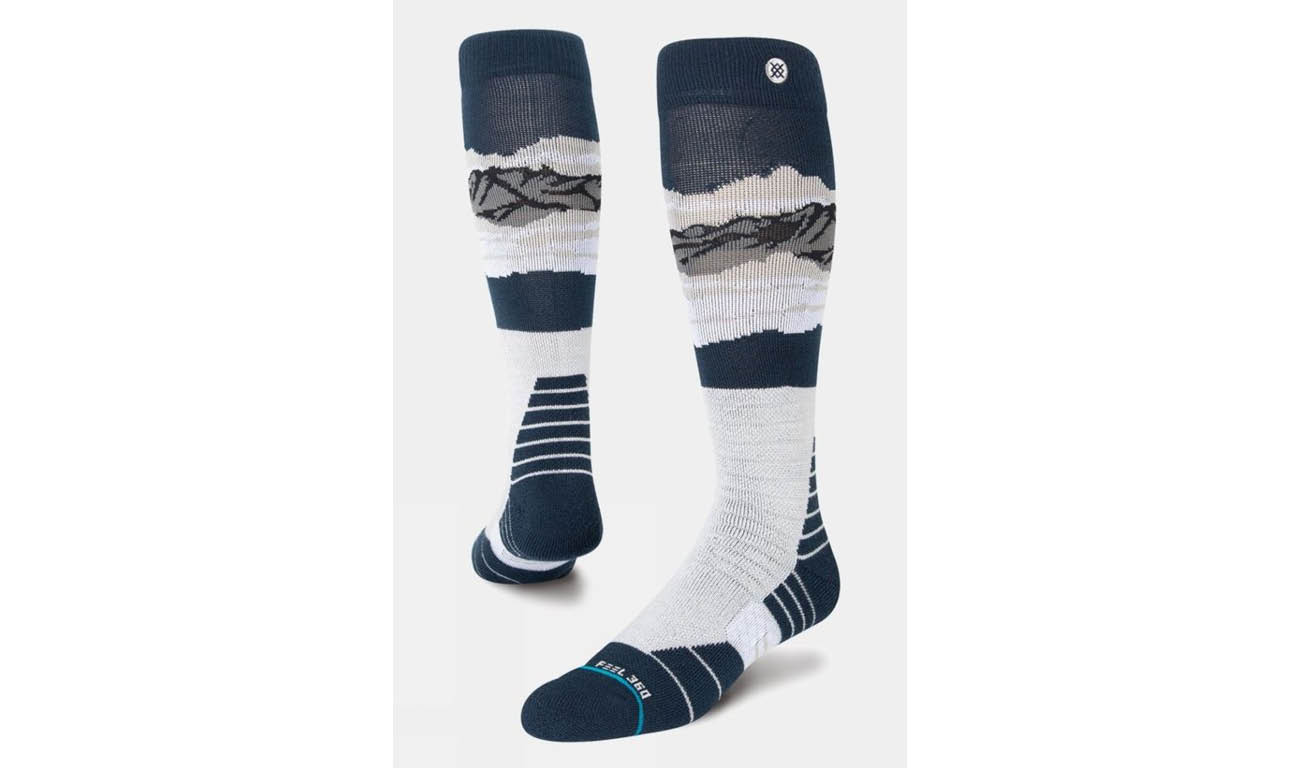 Available in men's and women's versions
Materials 47% Nylon, 27% Polyester, 24% Merino Wool, 2% Elastane
These technical ski socks don't take themselves too seriously coming in a massive range of styles, from Wu-Tang Clan to Duff Beer, and more subtle graphics inspired by Jimmy Chin. They feature a light sprinkling of merino wool but are mainly comprised of polyester and nylon so they breathe easy and have sections for increased airflow. Strategically placed cushioning protects you from chafing and impacts to keep you pushing all day long, and moderate cushioning provides you with a secure fit in your boot and a decent hit of warmth.
Buy Stance Chin Valley ski socks: £27 at Snow & Rock