The best ski socks are specifically designed for the job, so don't be tempted to improvise with other styles of sock, they simply won't cut the mustard. The obvious major benefit of ski socks is that they are easy to pack and relatively wallet-friendly, so even if you're a complete beginner it's worth investing - a good pair of ski socks will help take the edge off hire boots too. Similarly, you'll want to choose a pair of the best ski gloves to keep your fingers happy on those long days.  
Aside from design and size, the key elements of the ski sock are the material and the weight of that material. If you're planning a high-energy expedition that isn't at serious altitude then a lower-weight blend might be the key to comfy toes. At the other end of the scale, standing around on high pistes will require a much heavier sock to keep you cosy. 
Most ski socks are OTC, of Over The Calf meaning they stop just below the knees and give you complete coverage against your ski boots and snowboard boots. Many incorporate Merino wool, which offers warmth, breathability and some degree of pong protection, although the latter can be/will be hotly debated in the chalet apres-ski. 
Below we have picked out the best ski socks at a range of price points. Most of these ski socks are available in both men's and women's versions, with the main difference being in sizing and colours.
Best Ski Socks
Smartwool Targeted Cushion OTC Ski Socks | £26.99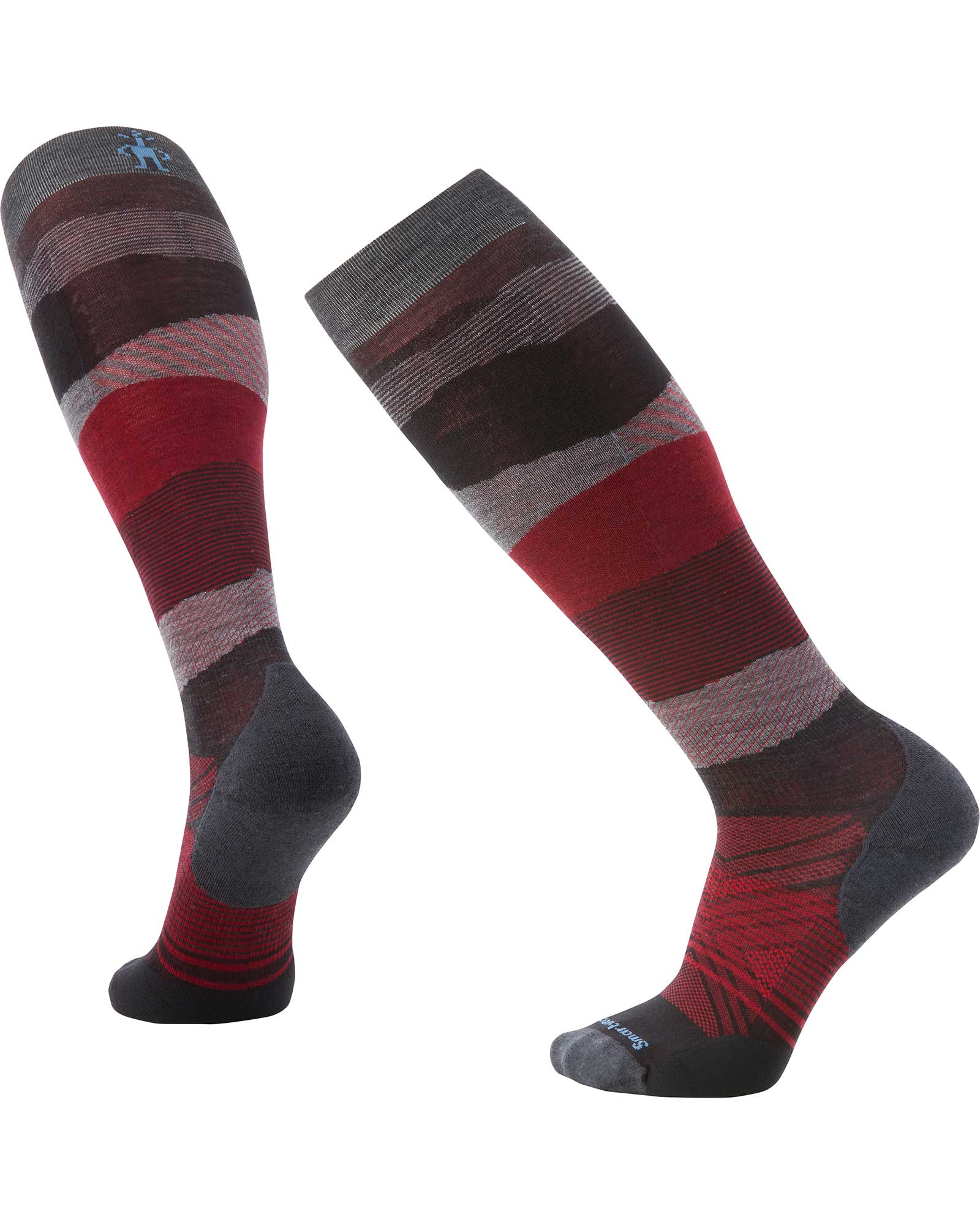 Available in men's and women's versions
Materials: 100% Merino Wool
When you think of merino ski socks you probably think of Smartwool being that they're one of the OG brands in merino. Their targeted cushioned socks favour a lightweight approach with areas of cushioning in heavy wear areas such as at the heel and toes. Smartwool ski socks are really high wear, but the thinner material will naturally wear quicker than a midweight sock. Having said that, Indestructawool technology brings a special yarn detail to increase longevity. The Targeted Cushion ski socks are mega comfortable and fit amazingly well, with a 4-degree elite fit system, essentially stitching that allows for flex at the ankle joint. Body mapped mesh zones help with breathability but the merino/nylon mix is fantastic in that regard anyway.
Buy Smartwool OTC Ski Socks: £26.99 at Ellis Brigham <<Best Deal>>
Burton Midweight Weekend Snowboard Socks | £33 (2 pack)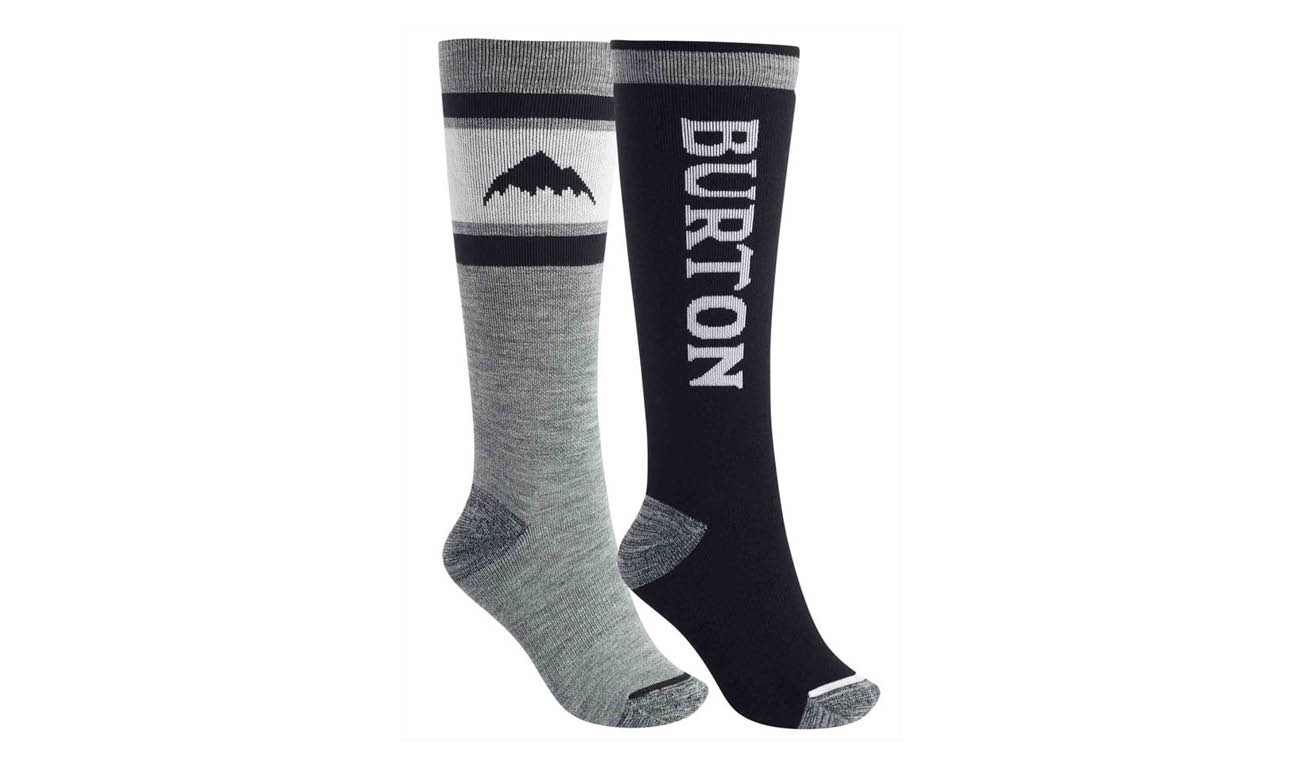 Available in men's and women's versions
Materials: Acrylic wool
Cover all of your ski sock needs with this handy two-pack from Burton. Although these can be used for skiing or snowboarding it's fair to say Burton is ostensibly a snowboard brand. The Midweight Weekend socks, therefore, have snowboard-focused abrasion resistance and chafe-free seams. They provide midweight warmth and cushioning and a reinforced toe and heel for longevity. Elastic leg support that keeps everything in place and a low profile welted cuff ensure that you don't suffer any uncomfortable rubbing while you're riding. Being made from a largely acrylic and polyamide mix they're very breathable and quick-drying too but obviously don't have some of the benefits of merino wool.
Buy Burton Midweight Weekend Snowboard Socks: £33 at Amazon
Decathlon Wedze Adult Ski Socks 100 | £8.99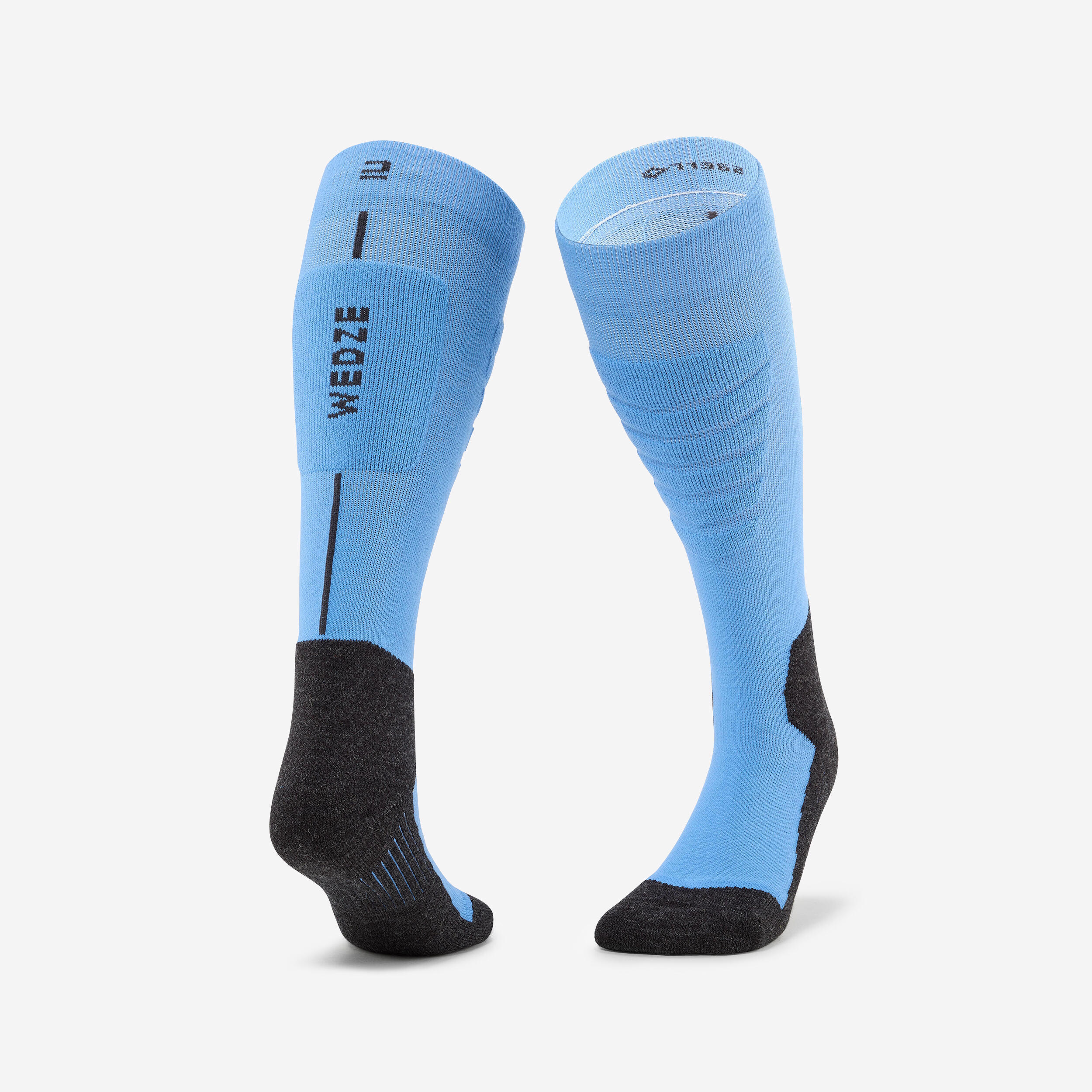 Available in men's and women's versions
Materials: 63% Acrylic, 21% Polyamide, 13% Wool, 3% Elastane
You just can't beat the price of Decathlon kit, and their ski socks and no exception. In-house wintersports brand Wedze is based in the Alps and designs all its gear from the perspective of a skier or snowboarder. Wool in the sole ensures good warmth and moisture management while the rest of the material is man-made but designed for warmth and excellent breathability. The Adult Ski Socks 100 are a medium thickness with extra cushioning on the heel, toe, and shin to give you comfort all day. The design of these ski socks is suitably anatomical to fit perfectly around the foot, calf, and shin, and the cuff is fully elasticated so these ski socks stay up on your legs all day. 
Buy Decathlon Wedze Adult Ski Socks 100: £8.99 at Decathlon
Stance Chin Valley Ski Socks | £27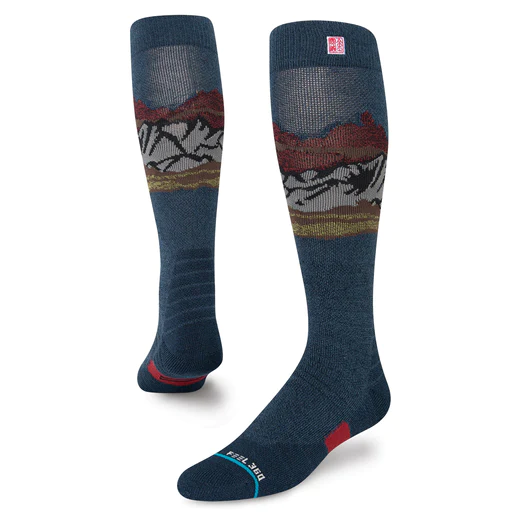 Available in men's and women's versions
Materials: 47% Nylon, 27% Polyester, 24% Merino Wool, 2% Elastane
These technical ski socks don't take themselves too seriously coming in a massive range of styles, from Wu-Tang Clan to Duff Beer, and more subtle graphics inspired by Jimmy Chin. They feature a light sprinkling of merino wool but are mainly comprised of polyester and nylon so they breathe easy and have sections for increased airflow. Strategically placed cushioning protects you from chafing and impacts to keep you pushing all day long, and moderate cushioning provides you with a secure fit in your boot and a decent hit of warmth.
Buy Stance Chin Valley ski socks: £15.99 at Stance <SALE DEAL>
X-Bionic Unisex X-socks Ski Rider Socks | £35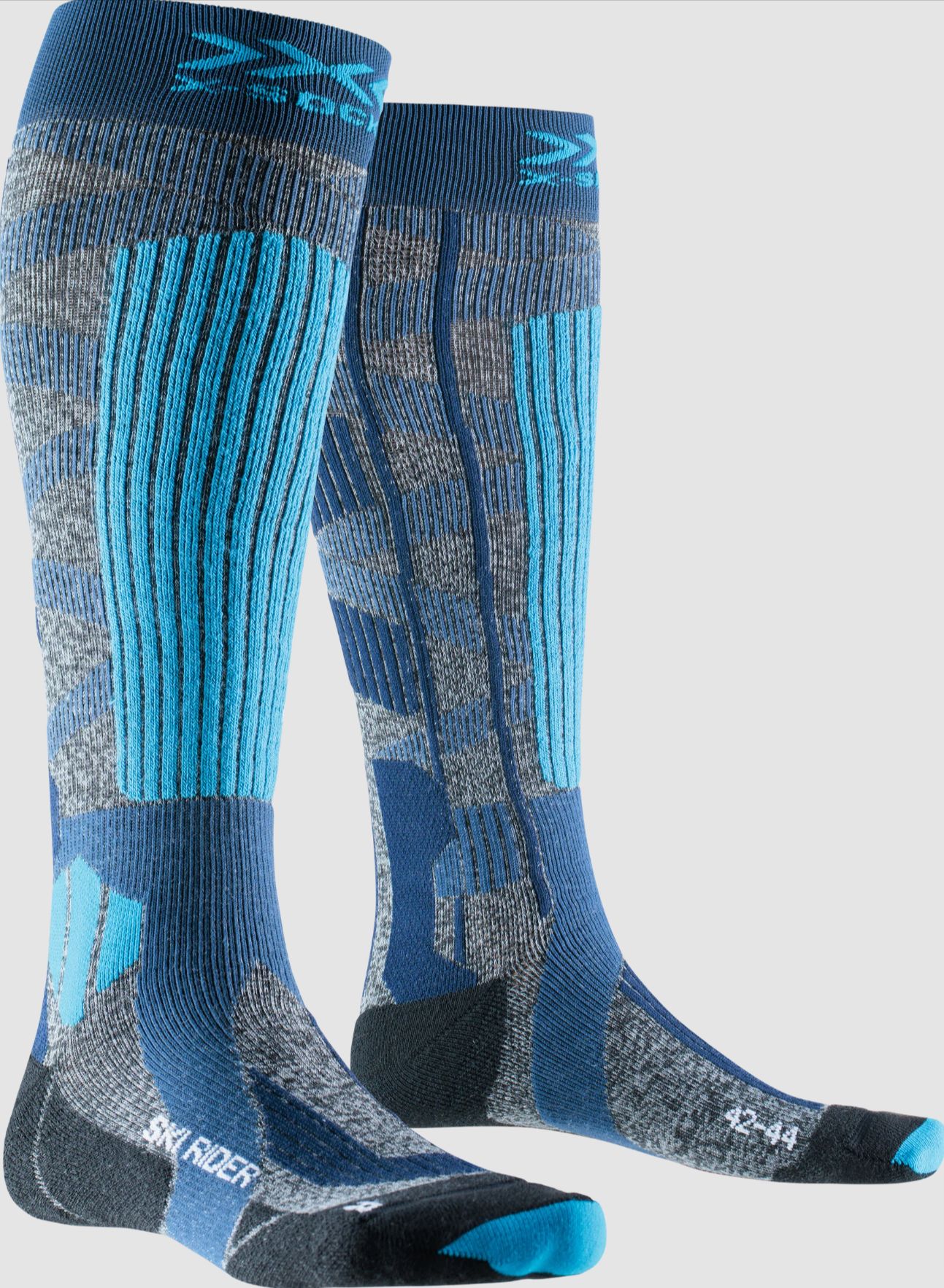 When you want unashamed technology in your socks, X-Bionic has the solution, specifically in the shape of the Ski Rider socks. With a background in ultrarunning and other extreme endurance sports, Swiss engineered X-Bionic don't idly tick boxes - the Lamberts-Nicholson Achilles Tendon Protector being a case in point. This ingenious design protects the Achilles tendon from pressure and friction by creating a channel through the sock cushion, reducing the likelihood of injury. 
Elsewhere in the sock, pressure webs support the muscles without impeding blood flow, and breathable channels are designed in to ensure ventilation is optimised at all times. The snug fit - thanks to that pressure web - means there's minimal chance of hotspots.  

Buy X-Bionic Unisex X-socks Ski Rider Socks: From £20.42 at Amazon <SALE DEAL>

Falke SK2 Intermediate Men Skiing Knee-high Socks | £35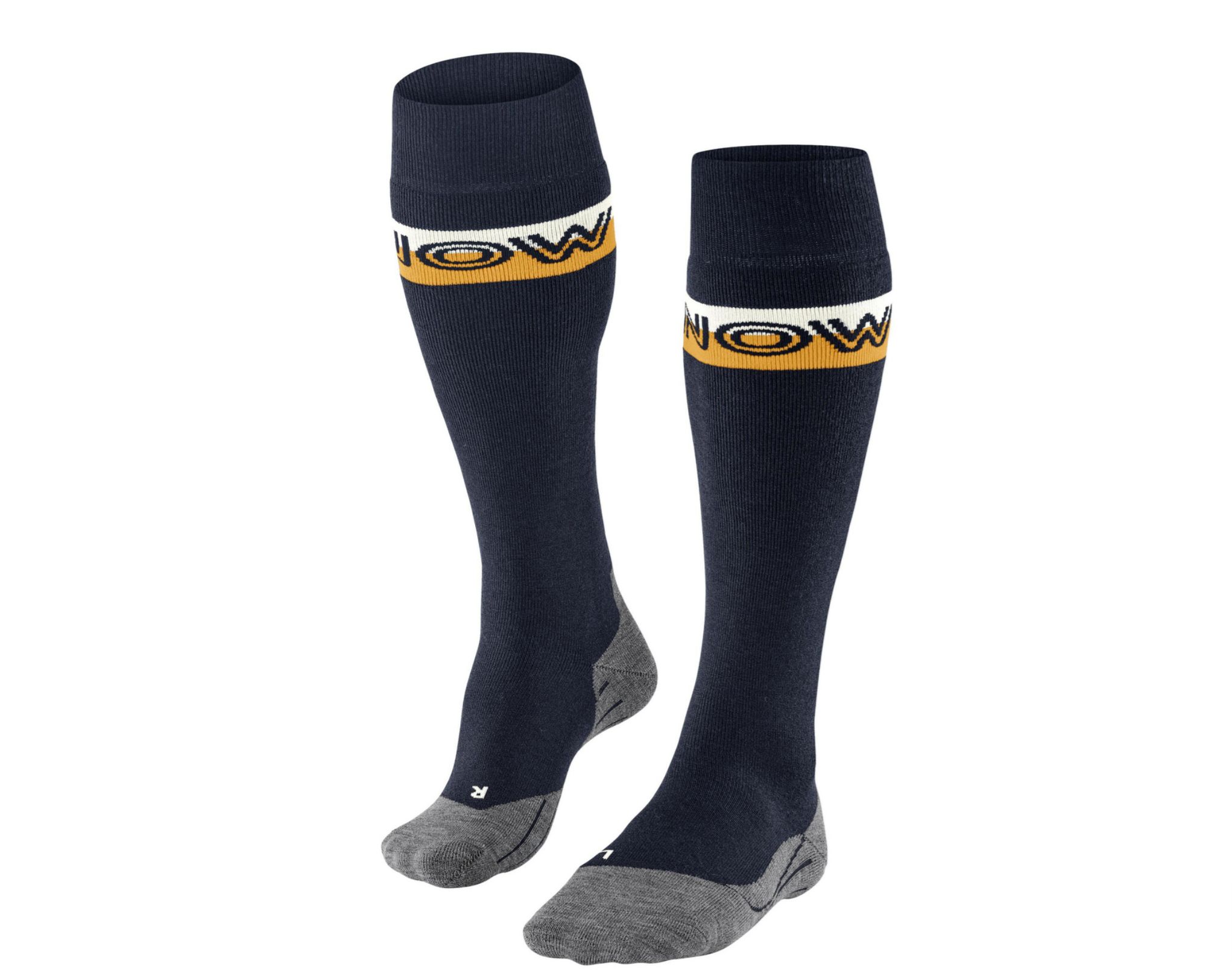 Falke know a thing or two about snowsports, and these medium-weight socks showcase  that nicely. Aimed at the more recreational end of the market, you still get the performance of a much more high-end sock thanks to the Merino wool-mix and the foot-specific fit that minimises bunching. The medium weight gives a good level of protection and decent warmth without being overly hot or restrictive, allowing balanced boot contact throughout the day. They're also designed specifically to dry quickly, ensuring you get the luxury of a dry pair of socks in the morning - something well worth considering. 

Buy Falke SK2 Intermediate Men Skiing Knee-high Socks: £35 at Falke.com/uk
Bridgedale Men's Lightweight Merino Endurance Over Calf Socks | £25.50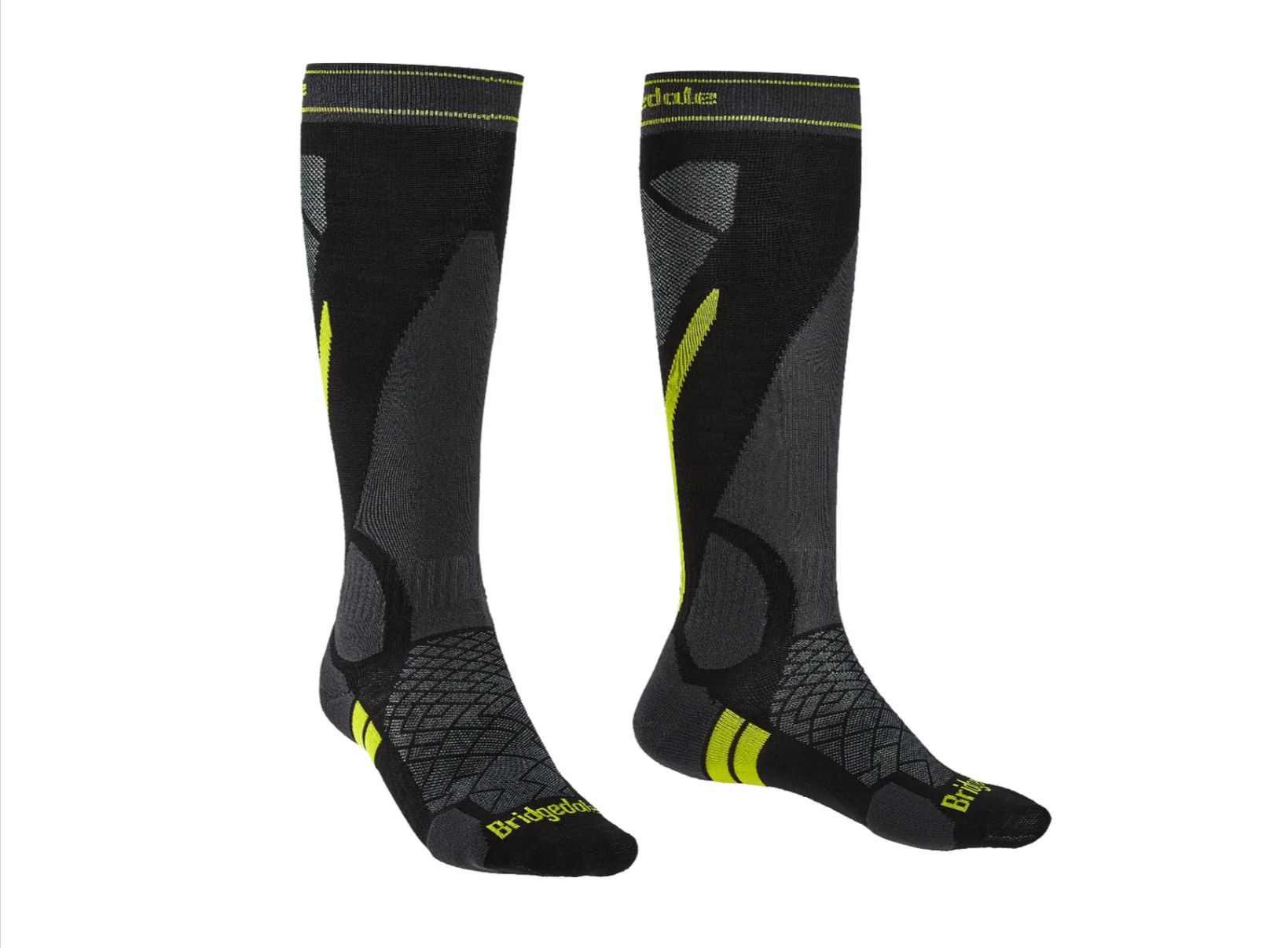 Far from the spendiest on this list, the Bridgedale has a lot to say for itself. A contoured knit gives a precise fit, and the lightweight material is ideal for warmer days - or more energetic ones. Indeed, the extra breathability will serve well on touring expeditions and the like - the low weight will be a blessing too. A Tactel shin pad is baked in for reduced friction plus there are small micro-terry underfoot pads to soak up vibration, and (of course) a flat toes seam to prevent hotspots. 
Material-wise, there's a merino mix (20% Merino Wool, 51% Nylon/Polyamide, 20% Polypropylene, 7% Tactel/Nylon, 2% Lycra/elastane) that incorporates Lycra for extra stretch and although the merino is a lower percentage than some, there's enough toe enjoy the insulation benefits without hitting the higher price points.
Buy Bridgedale Men's Lightweight Merino Endurance Over Calf Socks: £25.50 at Bridgedale.com