1. Open for all
Skiing's reputation as a sport strictly for the well-monied has, thankfully, been transformed in the last few decades by some amazing athletes and the advent of more affordable snow trips. It can still be pretty expensive to head to the Alps for a week (although we'd argue that a snowsports holiday is well worth saving up for) but there are often great deals up for grabs, particularly if you don't go in peak season and avoid the busiest resorts. There are other ways you can get your fix of the pistes, too, including seasonnaire work, university and ski club trips or heading to indoor and dry slopes in the UK.
2. Incredible destinations
There's little more magical than racing through deep virgin snow and leaving a set of fresh tracks behind you as you swoosh past ice-clad trees and distant mountain ranges. Skiing and snowboarding open up otherwise remote and untouchable mountains and turn them into a playground. From wide-open glaciers to remote forest runs and from chocolate-box Swiss villages to New Zealand's active volcanoes and Japan's juhyo (literally 'ice monsters' - beautiful snow-clad trees), the scenery is endlessly inspiring and you'll never get bored of exploring new mountain ranges on skis or a snowboard.
3. The social network
Few sports can boast the kind of social scene you find in snowsports. The après-ski (French for 'after ski') scene and friendly international crowd in every mountain town makes it very easy to ski all day and play all night. There's an après scene for everyone, too, from raucous clubbing and dancing right on the pistes to laid-back traditional restaurants and cosy wine bars in pretty mountain villages. Skiing the next morning is the perfect way to shake off the inevitable hangover.
You'll never get bored of exploring new mountain ranges on skis or a snowboard
4. Fit for anything
Skiing and snowboarding are brilliant ways to get fit while having so much fun that you don't even notice it's happening. Both are aerobic endurance pursuits and they'll tone your glutes and legs, work your core, improve your balance and increase your heart rate. Ski at a good clip and you might burn up to 700 calories an hour, and tearing down pistes non-stop is great for increasing your endurance for any sport. Labouring up the slopes by foot at your first lesson? Console yourself by remembering that at least you're getting a great cardiovascular workout, too.
5. The call of the backcountry
The amazing photos you see of pro snowboarders launching themselves down empty mountain passes are taken 'off-piste', also known as the backcountry if you're really heading into the hills. The tantalising goal of getting off-piste is a great incentive for a newbie skier to put the hours in and progress your skills until the entire mountain is your oyster. Technically, you're off-piste if you play in the deeper snow on the edges of marked pistes – this is the easiest and safest way to try it. If you're ready for some proper off-the-grid off-piste, hire a local guide to take you.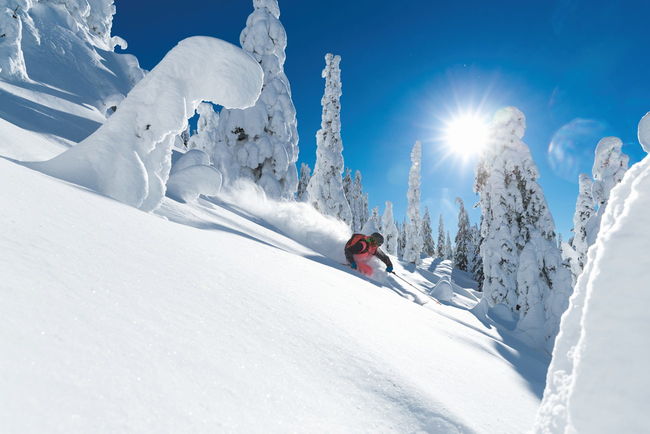 6. It's not just about downhill
Not sure if speedy downhill is your bag? Worry not, there are many other ways to enjoy yourself in ski resorts. Snowshoeing is an lovely way to explore the mountain along peaceful tracks without the breakneck descents, and gives you a better chance to spot winter wildlife. Almost all resorts these days have a myriad of activities on offer off the slopes, from ice skating to ice climbing and bobsleigh runs to fat biking or even ski joering (being pulled by a horse on your skis) and husky sled rides. Fancy some pampering? You'll never be far from a spa or yoga class either!