Get into your ski gear
Aim to arrive up to 40 minutes early for your lesson to check in, collect your equipment and get changed. If you don't have any ski kit, you can always hire a ski jacket and salopettes at the venue. Bring gloves, or you can buy them at the centre's shop. Skis, boots, poles and helmets are included in the lesson price. A technician will ask you your height, weight and shoe size - this is so the equipment can be set up correctly for you. Your height helps determine the length of ski or board you're given, and ski or snowboard boots will be the same size as your normal footwear. Knowing your weight helps the technician to set the binding on the ski (the fixing that holds you into the ski), so that if you take a twisting fall the ski will come off easily.
In the beginner's ski area
Now comes the actual skiing. The beginner's area of an indoor ski centre is a shorter slope set apart from the main piste, and used specifically for teaching novices. One of the first exercises you'll try will be to get you used to moving forward in skis or getting up on your board on a flat part of the slope. Other typical first skills include sliding your skis back and forth whilst stationary, lifting one ski and then the other, and getting the hang of walking sideways or walking with one binding out for snowboarders. You should progress to sidestepping, learning to use the edges of your skis to grip the snow as you step sideways up the slope. You will also be introduced to using the beginner ski lift.
Taking back control
Before you even try to slide down the slope, your Coach will give you pointers to help you achieve the right posture and balance on your skis or board. The basic ski position is a kind of crouch, like a goalkeeper waiting for a penalty kick. Your first descent will be short, and at this stage skiers will be told to keep skis angled towards each other in a V-shape. This is the basic snowplough, and is your go-to position while you learn to control your speed and come to a stop. Snowboarders will learn to side slip on their toe edge and heel edges. You will carry on practicing this technique until you're comfortable with it.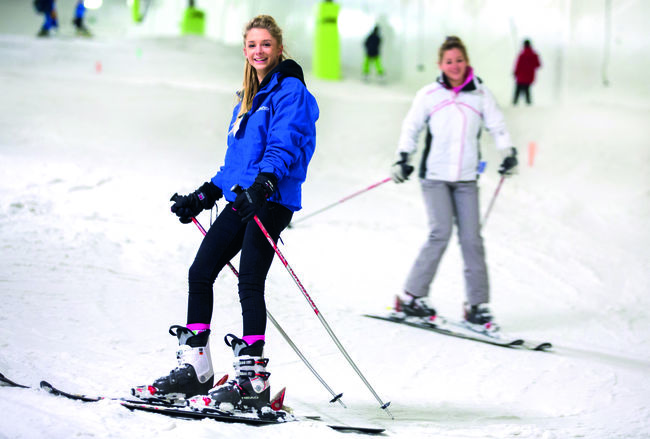 Meet your coach
Next, you'll be directed to a waiting area to meet your Coach, who will introduce themselves and explain what to expect from your lesson to help settle any nerves and answer any questions you have. This is also a good time for you to tell your Coach if you have any medical issues that may be relevant. It's worth remembering that all Coaches have gone through a training programme and will only be allowed to take a class once they've passed stringent tests, and that they deal with complete beginners every day.
Get to know your skis
Next, you'll make your way to the learning slope - this will mean getting used to walking in your boots. Ski boots are a little tricker to manage than snowboard boots, which are much softer and more comfortable at first than ski boots. Your Coach will also show you the safest way to carry your skis or board. Once on the snow, you'll be shown how to get into your skis or snowboard. Skis have a simple step-in binding system, while snowboard boots strap in to the binding on your board. If you're skiing you'll also have poles with you, which are chosen to suit your height.
The snowplough is your basic position when starting to ski
Riding ski lifts
Depending on the length of your lesson, you may move across to the main slope, and this will mean riding on a button lift. Pretty much everyone has fallen over on a button lift at some point, so don't feel embarrassed if you do too – if (when!) it happens, the lift operator will stop the lift, giving you time to get back up again. Your Coach will demonstrate how to get onto the lift, which involves grabbing a button-shaped seat on a steel pole and sticking it between your legs - the lift then drags you up the mountain with your skis or board still on the snow.
About Snozone
Snozone have three centres; two real indoor snow centres - one in Castleford, Yorkshire and one in Milton Keynes, Buckinghamshire. They also run an indoor dry slope in Basingstoke. Snozone provide private, group or family ski and snowboard lessons with BASI qualified Coaches on real snow, giving you an authentic way to get used to being on the slopes in a safe and relaxed environment. Lessons start at £43 for adults and £32 for juniors for a level 1 introductory lesson. Your gear (helmets, boots and skis or board) is included in your ticket price. Snozone are also the only European operator to have their own disability snow school and offer adaptive ski lessons at their venues.