By night the beer and the conversation flow but there's no sense of off-piste elitism here - everyone is welcome, not just the hard core powder hounds. The restaurant serves fine food with minimum fuss and the atmostphere in the dining room is as friendly as in the bar. And whilst it's not cheap (CHF55/ £38 for a three course skier's dinner), it's not OTT either and what you get on your plate is delicious and cooked with loving care - my crispy pork belly with cream of pumpkin and apple gravy was sumptuous and the selection of Swiss cheese from the surrounding local valleys was a real treat.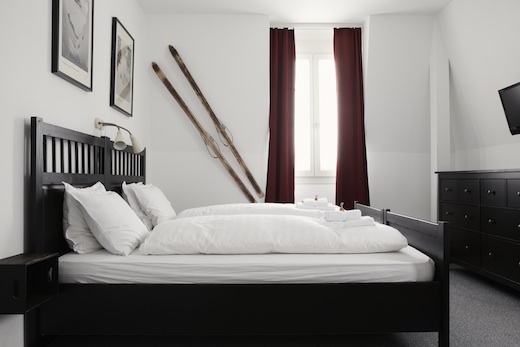 The rooms are simple but, like many things with a Scandinavian edge, are cosy, homley and stylish - you'll find crisp white sheets, old wooden skis on the walls and black and white photography all round and there's not an ounce of chalet chintz to be found.

Contact: Ski Lodge Engelberg (skilodgeengelberg.com; +41 41 637 35 00)



Konrad bar, on the ground floor, is all retro ski posters, leather poufs and piles of old ski books. It seves food from midday and with a huge bay window looking out on to the snowy fields in front of the hotel, which until 2009 was a run-down wreck, is an awesome place to kick back with a coffee.