I'll be honest with you, in skiing terms I make Eddie the Eagle look like Darcey Bussell, and my attempts to learn the basics have become a bit of a joke among my friends and family. On my first two tries – once in a snow dome in Holland, and the second in Finland, I have managed to clock up an impressive array of injuries including a twisted ankle, a black eye and concussion. As well as the most painful of all – a tattered and torn pride. So it was with a large amount of justified trepidation that I agreed to try to make it third time lucky, this time at the stunning Tyrolean village of Seefeld in Austria.
After donning a hotchpotch of borrowed long johns and bargain-basement skiwear, and being kitted out in boots that would be the envy of Doctor Who's Cybermen, I was ready for Try Three. As I clunked towards the nursery slopes, I couldn't help thinking that if God had really meant for us to ski, we'd naturally have size 72 feet and full-body fur, but hey-ho. There were about 25 complete beginners in our group and we were quickly sub-divided into sections, which were clearly Promising, Ropey and You're Having a Laugh, Aren't You? (Although this was never actually voiced, of course).
At that stage I was in the Ropey group but I could see myself being demoted at any time, as mastering the snowplough seemed a mountain of a challenge. Plus, I felt about as co-ordinated as John Sergeant on Strictly Come Dancing. But with my track record, I reckoned slow and steady was the way forward.
It was a friendly, happy bunch and our group of ten merrily made lots of pretty horizontal tracks in the snow as we moved further and further up the nursery slopes, gradually adding laboured turns to our repertoire. Even though the progress was slow, as the sun beat down I felt fresh and invigorated and totally in awe of the surroundings – Hollywood-smile-white mountains and the prettiest Sound of Music-esque architecture.
If you were a jigsaw puzzle-maker, you'd be spoiled for choice about where to point your camera. Sadly, though, this is where my happy tale takes a turn for the worse, as it was obvious that my instructor and I were never going to see eye to eye, and I decided to cut short my day – rather than demonstrating my own glühwein definition of snowplough... Unfortunately, I was so eager to get out of my ski boots that I made the stupid mistake of using my index finger rather than the ski pole to release my boots from the bindings. It took about a quarter of a second for the mechanism to snap tightly shut – roughly the same time for me to realise that a finger contains an exceedingly large amount of blood.
Howling like a 43-year-old baby and cursing my own stupidity, I was speedily introduced to the incredibly efficient Austrian health service and whisked off to see a doctor. He quickly bandaged me up and told me: 'Yes, you will bleed a lot. But you will not die'. Which was a bonus. After a long, Ibuprofen-packed night, I went back to the doctor, who told me that I was fine to ski – as long as I didn't fall over. Rather than tempting fate, I spent the day exploring the equally pretty Innsbruck, half an hour away from Seefeld, via an impossibly beautiful train ride.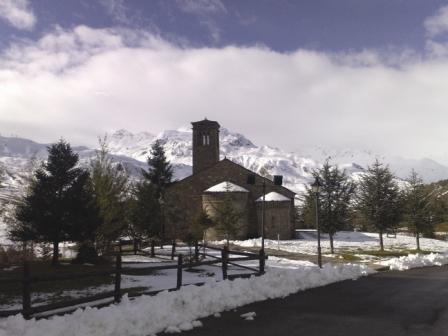 Day Two of Fingergate and I indulged in some of that famous après ski that snow buffs always rave about. The walks around Seefeld are stunning and it's also the location for the some of the best cross-country (langlauf) skiing in the Alps, with over 250km of tracks. Back at the Kalschmid Hotel, the sauna and rooftop Jacuzzi were wonderful – slightly strange, though, as the only thing I was wearing was a plastic bag over my hand, but it's amazing how many people befriend you when you're injured. (Not that I'd recommend it as a conventional ice- breaker of course).
The next evening I tried out snowshoeing, which was bizarre but great fun. Plonky, sleigh-shaped sandals are strapped to your walking boots and you're off – plodding through fields of virgin snow, half a metre deep, like John Wayne with haemorrhoids. It's great exercise because you really build up a sweat as you galumph through the snow, and my group of six, with intrepid leader Mary, was blessed with the most amazing pink sunset over the mountains before we crunched our way homewards.
Day 4 and, hooray – I'm back on skis. My lovely Austrian doctor is happy with my finger but I'm too far behind to rejoin my group, so the ski school has arranged a couple of two-hour private lessons for me. Back on the nursery slopes I meet my new instructor Andi, who's 22 and as cute as a button, and – curiously – I'm more optimistic about my chances of being an apt pupil...Whether it's the fact that I have been watching other people ski all week, or Andi's teaching methods, it all just seems to work. Ditching my ski poles, he shows me how to turn by leaning forward on each leg and then straightening up and looking forward to build speed. It just clicks, and with lots of encouraging, 'Super, Nicole, really super!' I start to believe that I could actually do this. After about half an hour I'm ready for the next challenge. Up the ski lift and on the other side of the nursery slopes we try a couple of slalom runs and then a wonderful zigzag sweep all the way down. It's real wind-in-the-hair Ski Sunday stuff. Well, I think so anyway. Andi soon realises that the faster I can go, the more I enjoy it (okay, I admit it, that's the main reason for my numerous previous injuries) but he's adamant that my snowplough turns are perfected before he will let me bomb down the slopes. I don't always listen, though, and I see him shaking his head as I take the fast route straight down the middle, woohoo-ing like a demented Homer Simpson all the way down. The time flies by and I realise that I haven't fallen over once, so I decide to quit while I'm ahead. That evening, my friend Rebecca and I coax our new found friends Mark, Jonathan and Gaz, who are staying at the same hotel, to join us for the pub quiz at the local Café Corso. The great thing about Seefeld is that although it's very much a beginners' resort, there is lots of good stuff relatively nearby. The boys have been enjoying great off-piste skiing at Garmisch, approximately two hours away. Many of the people we met have been back to Seefeld year after year because it is so pretty, there are loads of great restaurants, and there's a distinct lack of ski snobs – the kind of people who can't help but namedrop runs like a badge of honour.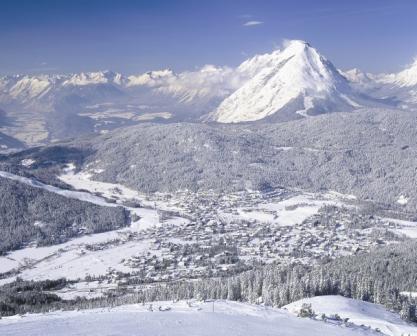 On my final day, while the rest of my original group take part in slalom racing, I'm tackling steeper ski lifts to get to higher slopes, where it's not long before I take a tumble, then another, and another...The sticking point with me seems to be overconfidence versus control, and I have to admit to Andi and myself that I'll never be a contender. But then, the Boy Wonder proves me wrong again and explains some basic physics about skiing – how the curve of the ski naturally works with the slope, and how re-balancing your weight differently creates a carving effect. Lo and behold, I'm back on my feet again and loving it. Although I was very unlucky in that I had an accident on the first day, the fact that I could have private lessons was a godsend and I'd recommend them to anyone. It's obviously more expensive (my lesson was over double the day rate for group classes) but because the instructor works with you solely, he or she can concentrate on your strengths and weaknesses and really quickly get you skiing. Sadly, I couldn't get to grips with the finer points of parallel skiing, but there is always next year. Even so, on the final night at prize giving I managed to pick up a bronze medal for my love of speed – even if my technique was questionable. I told you I was Eddie the Eagle, didn't I?
Snow How

SEEFELD, AUSTRIA - seefeld.at
Getting there: Innsbruck is the nearest airport, about half an hour away by road and rail. Salzberg and Munich are around 2 hrs away. Easyjet
(easyjet.com) flies to Innsbruck for around £30 one way and British Airways (ba.com) from £79 return. Flight time around 1 hour, 50 mins
Tour operators: Crystal Ski (crystalski.co.uk), Thomson Ski (thomsonski.co.uk), Iglu Ski (igluski.com)
Season dates: December to end of March
Vertical drop: 2,100-1,207m
Terrain: 30km downhill pistes, 280k cross-country trails.
Snowmaking: 72 canons
Lift passes: 1 adult six-day pass is £154
Mountain munchies: Various cafes and mountain-top restaurants with sun terraces, serving pasta, chips, Frankfurters, strudels and drinks including hot chocolate and glühwein.
Guiding and tuition: 1 adult sixday tuition, £147
Snowpark? No
Downtown: Around 50 eateries, various styles and prices, from typically Tyrolean for around €20 for two courses, to masses of pizza places. Best cup of tea and strudels at Café Elizabeth
opposite train station. Loads of bars including Fledermaus and Wildfang, and masses of hotels for a more upmarket, though still relaxed, dinner and drinks. Too sedate for clubbers, stag
weekends etc. Unsuprisingly, lots of skiwear shops, Swarovski crystal, high-end designer shops and a couple of small supermarkets.
'OW YOU SAY…?
Yes/no: Ja / Nein
Bless you: Gesundheit
Help, my finger is trapped in my ski bindings: Hilfe! Mein finger ist in der Schibindung eingeklemmt!
Highlight: Added bonus of seeing the annual Snow Sculpture competition taking shape before being judged on 31 January.
Bummer: Very much a beginner's resort, not enough of a challenge for ski pros.