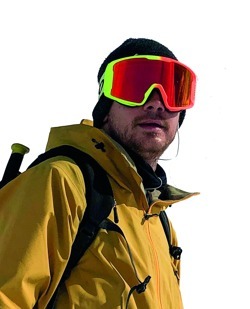 "See that hole over there?" says Roberto Marzucchi, pointing down at an outcrop of exposed rock poking through the Presena glacier, "that wasn't there just a few years ago, it was covered with ice." Roberto, a snowboard guide from Passo del Tonale, had done a pretty good job of finding us fresh snow to ride that morning, but it's not been easy. Despite being one of the highest resorts in the Italian Alps, with lift-accessible terrain above 3,000 metres, Tonale struggled for snow last season. The rapidly disappearing glacier didn't help matters.
In 2016, this small Italian resort made headlines around the world when the local authorities started covering the Presena with a huge tarpaulin in a bid to slow the summer melt. Wrapping your glacier in plastic might sound a bit extreme, but it's not just anecdotal evidence from locals like Roberto that suggests such drastic measures are now necessary. The statistics on what the climate crisis means for snow lovers everywhere make for depressing reading.
A study published by the European Geosciences Union in April, just a month after my trip to Tonale, showed that unless carbon emissions are cut dramatically, the Alps are set to lose 90% of their glacier volume by the end of the century. Earlier research by the same body suggested that 70% of the snow cover will also disappear by 2100, with the snow line rising by around 1,000 metres. This, according to Protect Our Winters UK, an environmental group working within the ski industry, would mean "the end of snowsports".
Thankfully, the winter sports world has started to wake up to this existential threat. Many resorts are investing heavily in efforts to cut their carbon emissions, from Mayrhofen in Austria installing solar arrays that make its lifts self-powering, to Jackson Hole in Wyoming, which will become 100% wind powered this winter. Others, including the mega-resort of Whistler in Canada and, at the opposite end of the scale, the tiny resort of Ruka in Finland, have managed to make their operations entirely carbon neutral.
The Alps are set to lose 90% of their glaciers this century
Accommodation providers are also taking action. The new Explorer Hotels, which recently opened in Austrian resorts including Kitzbühel, Montafon and Sölden, are "passive hotels" - officially certified as 100% carbon neutral. Traditional chalet companies have started offering more environmentally-friendly options, such as Alikats Mountain Holidays in Morzine, who now have two properties that run entirely off renewable energy.
There is still plenty more that ordinary skiers and snowboarders can do, however. According to a study published by the Association Nationale des Maries des Stations de Montagne (the French association of ski resort local governments), in 2010 the majority (57%) of the carbon emissions associated with skiing holidays were generated by travel to and from resort.
"Short-haul flights are particularly problematic because a large proportion of the fuel is burned in the takeoff and landing," explains Anna Hughes, director of Flight Free UK, a group that urges people to stop flying. Thankfully for Brits, there are very viable alternatives for getting to the slopes. Travelling by train cuts the carbon emissions of the average journey to the Alps by around 90 percent compared to flying, according to a study by advocacy group Snow Carbon, and can even prove quicker than flying.
The ski industry has started to take positive environmental steps - so it's high time we skiers and snowboarders do too. Those of us who love the snow, and can see the all-too-visible impact of the climate crisis every time we go on a winter holiday, have a duty to act as advocates, and do what we can. To quote the late, great Tupac Shakur: "It's time for us as a people to start making some changes".