I'm usually game for anything. I try to push myself out of my comfort zone as much as possible and I weigh up the risk vs. reward frequently, usually coming down on the side of risk. When Ski Sunday said 'let's try and ski at 100mph' for example – faster than I'd ever managed during my ski racing days – I jumped at the chance. But eating cholera seemed a step too far. And yet, according to the itinerary of my forthcoming trip to the Valais region of Switzerland, that is precisely what I'd be doing. Not catching cholera, not spreading cholera, but eating it.
I turned to Google straight away, where I learned that cholera is an acute, diarrhoea-like illness caused by infection of the intestine. But also… a classic Valaisan dish which looks like a pastry puff! It was first invented when an epidemic of the disease broke out in the canton in 1836.
Locals baked whatever food they had at hand into pastries, because they were too scared to go outside in case they got infected. Reading this when everyone was locked inside because of another virulently infectious disease, seemed a strange coincidence. But it also reminded me, once again, just how lucky I was to be in the mountains at all.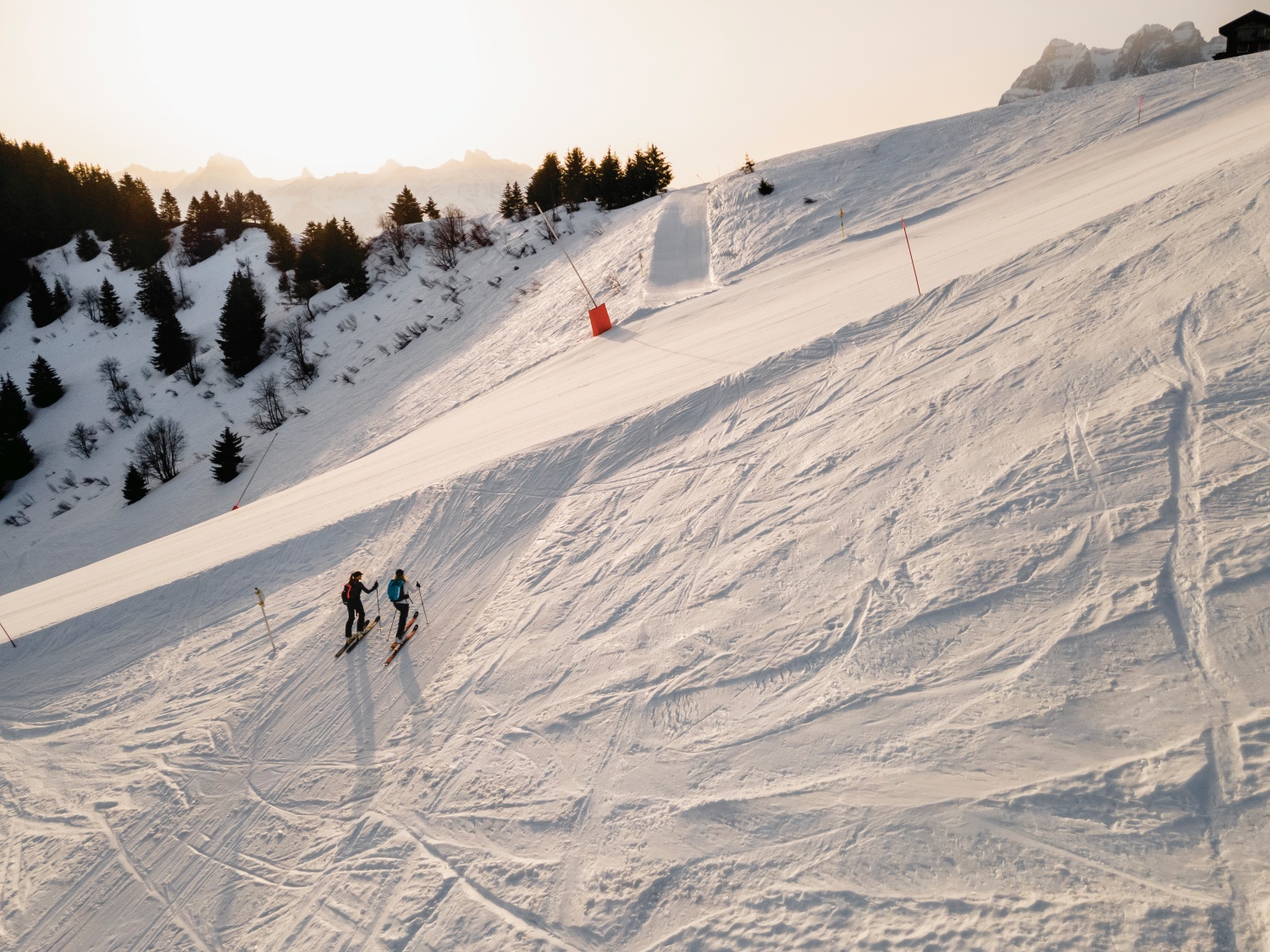 Travel for the last 18 months has been minimal. For most of last winter, ski resorts throughout Europe were either shut, or only open to elite athletes. The Swiss, however, decided to resist the pressure from France, Spain and Italy to adopt a coordinated approach, and opened their slopes to anyone who could follow all their strict entry requirements. I made it into Switzerland in December – just four days before they introduced compulsory quarantine for Brits – and the country then became home while we shot a whole series of Ski Sunday.
It was previously unheard of for the presenters to stay in one place – after all, part of the show's appeal is in showcasing the incredible variety of skiing destinations around the world. But this was the only way we could minimise both the hassle of cross-border travel during a pandemic, and the risk of any of the team catching Covid.
By the end of the season, I had spent more time in Switzerland than ever before. Each skiing nation comes with its own set of stereotypes. Austria is all après ski and hardcore enthusiasts; France is for laidback, long lunches that turn into ski boot table dancing sessions; for Finland, think of reindeer-littered pistes and northern lights; and Switzerland? Well, an abundance of cheese, breathtaking views and fluffy duvets.
That much rang true for me, but there's also an incredible amount of variety in this small nation of 8.5 million people. In Valais alone, there are two official languages, and various regional dialects – not to mention different traditions, local specialty dishes (like cholera!), and different varieties of wine. Getting the chance to explore it properly was a treat.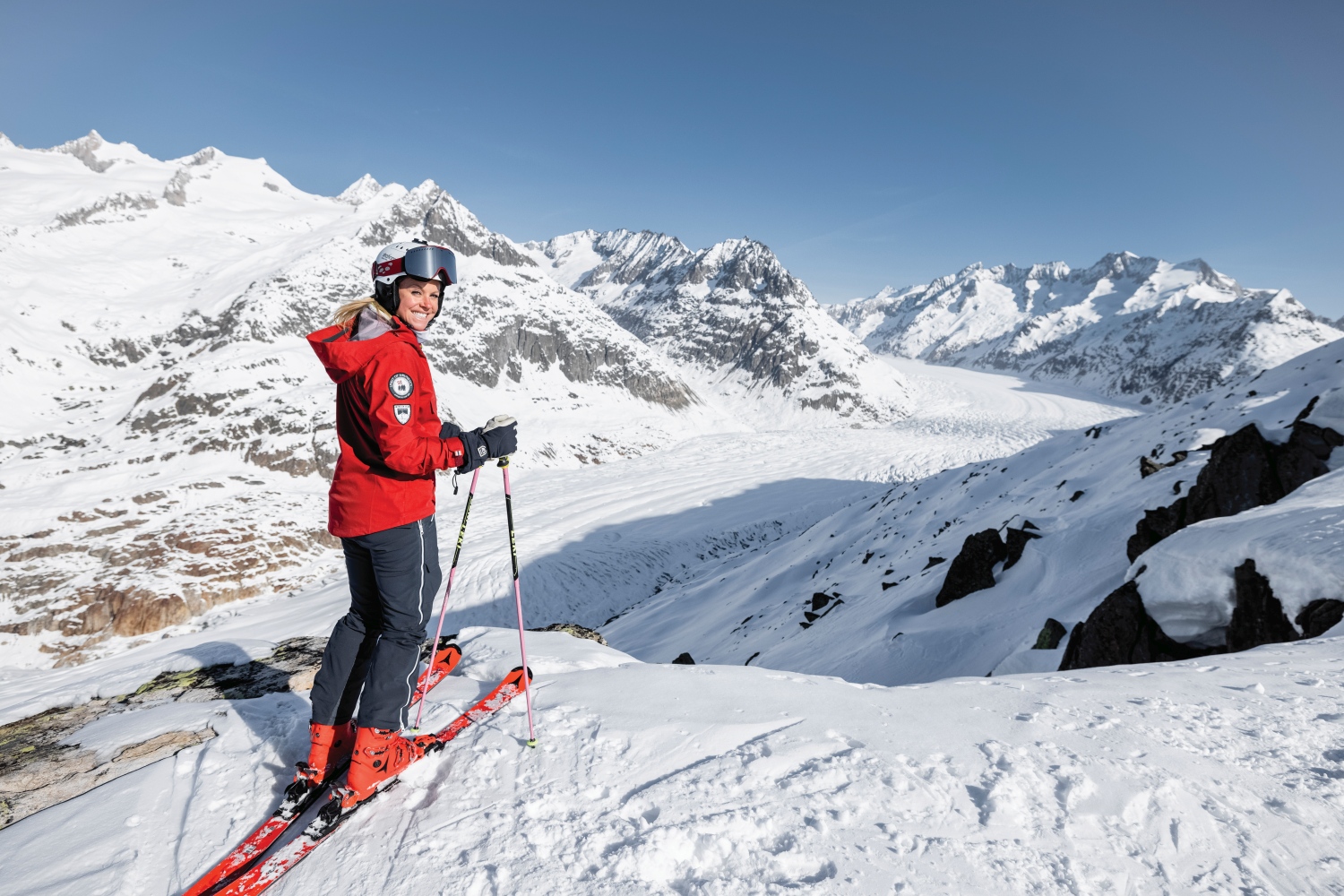 Chilling by the glacier
It is not often I travel on my own these days. I have two kids, a husband, and a race team, and normally we live a crazy semi-nomadic life as a family. But this time, I'd be heading off with just a photographer, Martin Bissig, in tow, for five days of pure escapism – spectacular views, some of the loveliest, most passionate guides I've ever had the pleasure of skiing with, and exquisite food. Having just come off the back of a gruelling ski touring trip (three 4,000m peaks in as many days, requiring 28 hours of touring in total) it was a great way to chill out.
I've been lucky enough and spoiled enough over my years racing and working in the ski industry that I don't often visit new mountains. So this felt like an adventure right from the get go, as I put my overnight essentials into my little rucksack, decided which skis to bring up (it was springtime and overnight temperatures were looking cold, so it would be a piste and alpine racing kind of day) and headed up the gondola to a place I had never been before – the Aletsch Arena.
Exiting the gondola onto the snow of the car-free plateau feels like you are stepping 50 years back in time – think postcard pretty wooden chalets tight-packed around a picturesque church – although this whimsical image is somewhat shattered to the super-modern quad bikes and ski-doo taxis which take you to your hotel.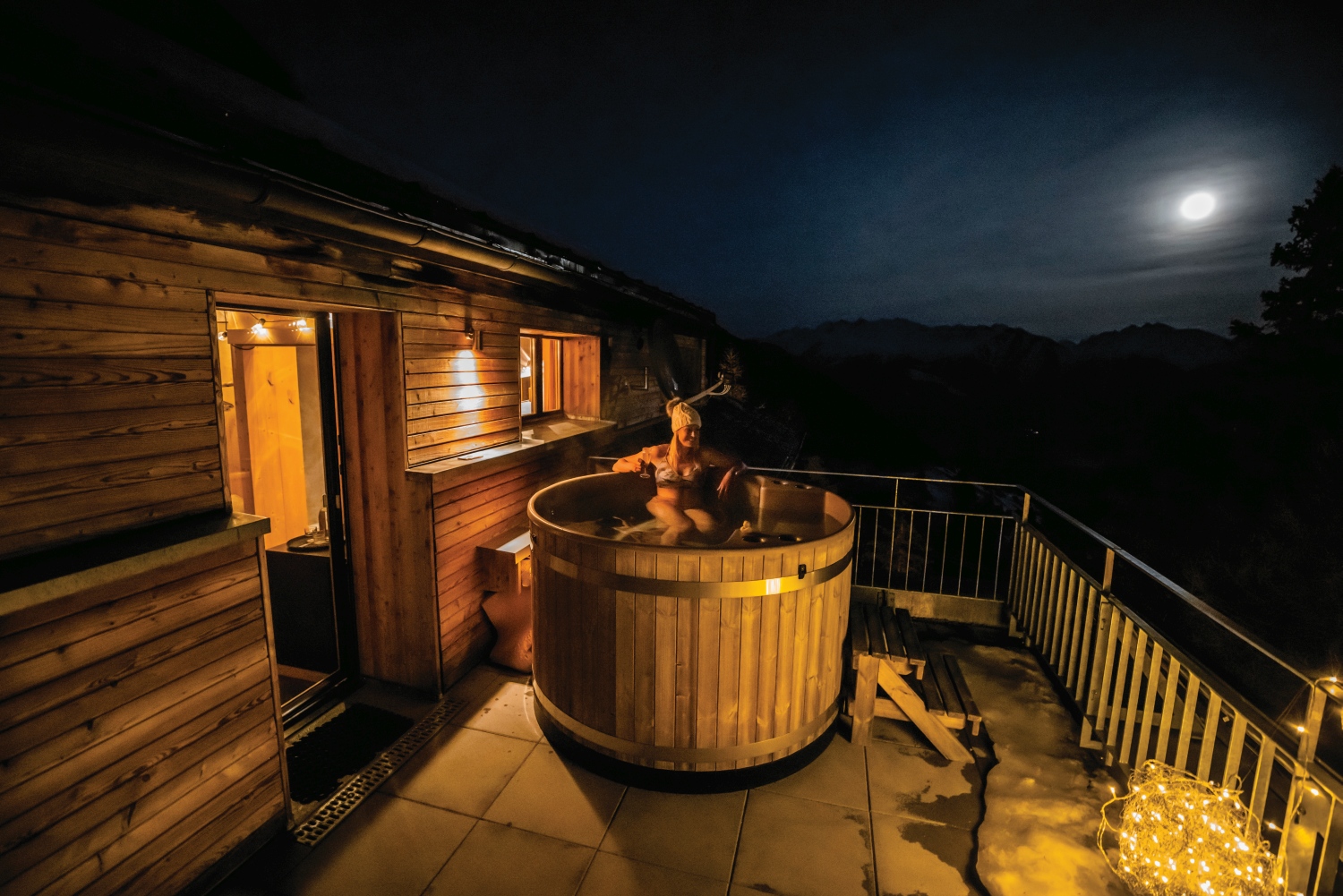 I stayed in Bettmeralp, apparently the most happening of the three resorts which make up the Arena, but I guess that is relative. It seemed incredibly serene and peaceful to me, but then again, last season was pretty much party-free everywhere. Even though Switzerland's resorts stayed open the whole season, its après ski bars didn't – for obvious reasons.
I did manage to sneak into the rooftop hot tub under a full moon with a glass of bubbles though (someone had to!). Being so high up – Bettmeralp sits at 1,950m, and the hotel hot tub is probably 20m above that – you feel like you're among the view. You can look out at the towering peaks at eye level.
"I managed to sneak into the rooftop hot tub under a full moon with a glass of bubbles – someone had to!"
This region is famous for the 23km-long Aletsch Glacier, the largest in the Alps, which forms the centrepiece of the area's UNESCO World Heritage Site. I am used to seeing Swiss glaciers, having spent many a day training in the summer on the glaciers of Saas Fee and Zermatt, but this is a different proposition altogether – a vast river of ice that you look down onto, with all the crevasses and cracks clearly visible from the snaking corduroy path above it.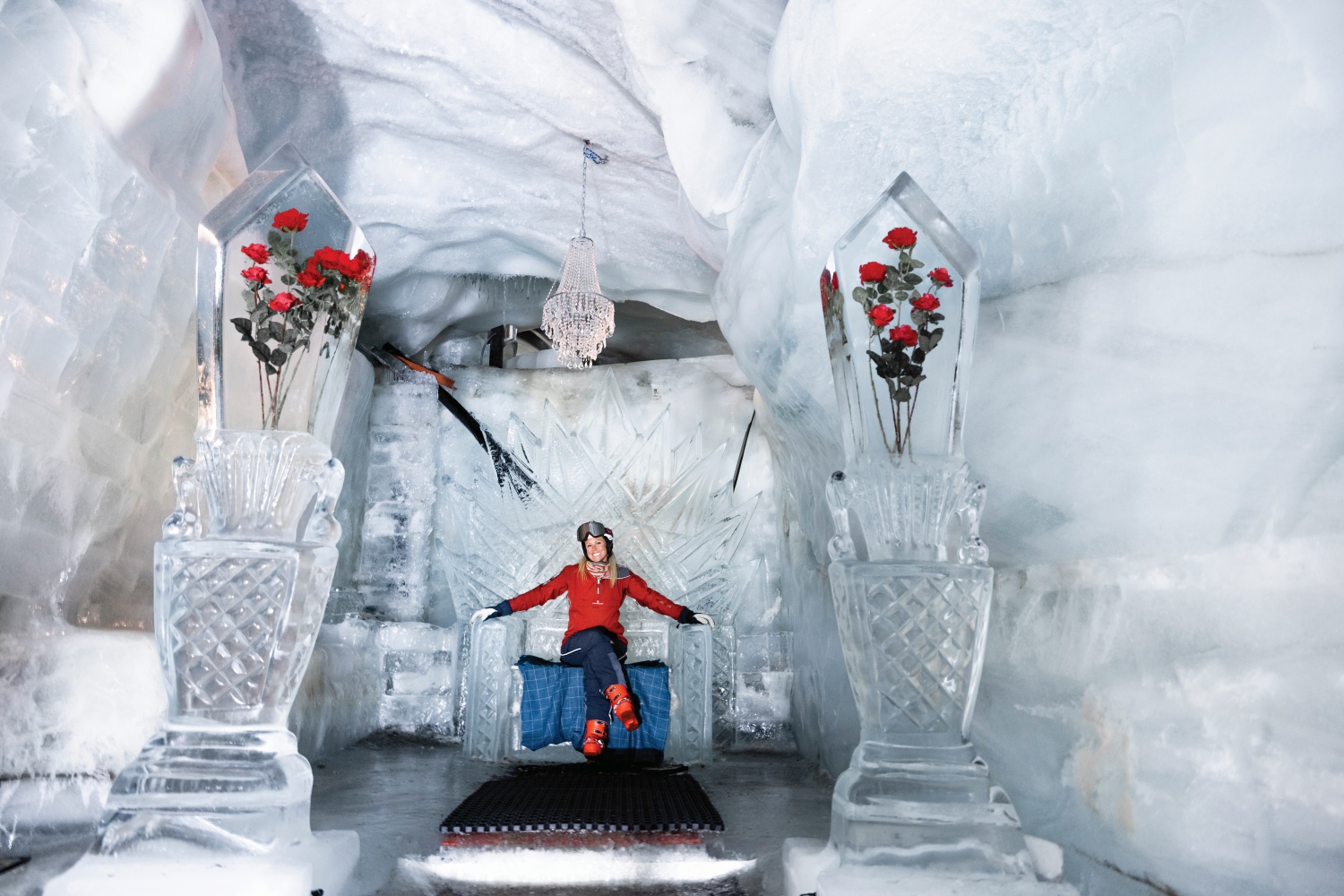 Straight lines in Saas-Fee
From somewhere I had never been, I moved on to a place that has been a regular feature of my summer schedule throughout my career. I have always loved Saas-Fee. There's a particular silence here, because, once again, there are no cars, and because the resort is nestled in a deep bowl, surrounded by towering mountains. (It's not called the pearl of the Alps for nothing.) The town is really pretty too. The old architecture has been maintained throughout the resort and, in spring, the blooming flowers create explosions of bright, popping colour between the rustic wooden walls.
Where previously I've spent a lot of time working hard on my turns and technique here, this time I cruised – making the most of being able to ski the huge, 1600m vertical drop right from the top of the glacier - stopping off at the spectacular Ice Pavilion - down to the village. After a stop for coffee, I then tried to ski hard to burn some calories, knowing I was going to over indulge in multiple raclette portions later that evening in a beautiful stadel, one of the traditional, stilted wooden buildings.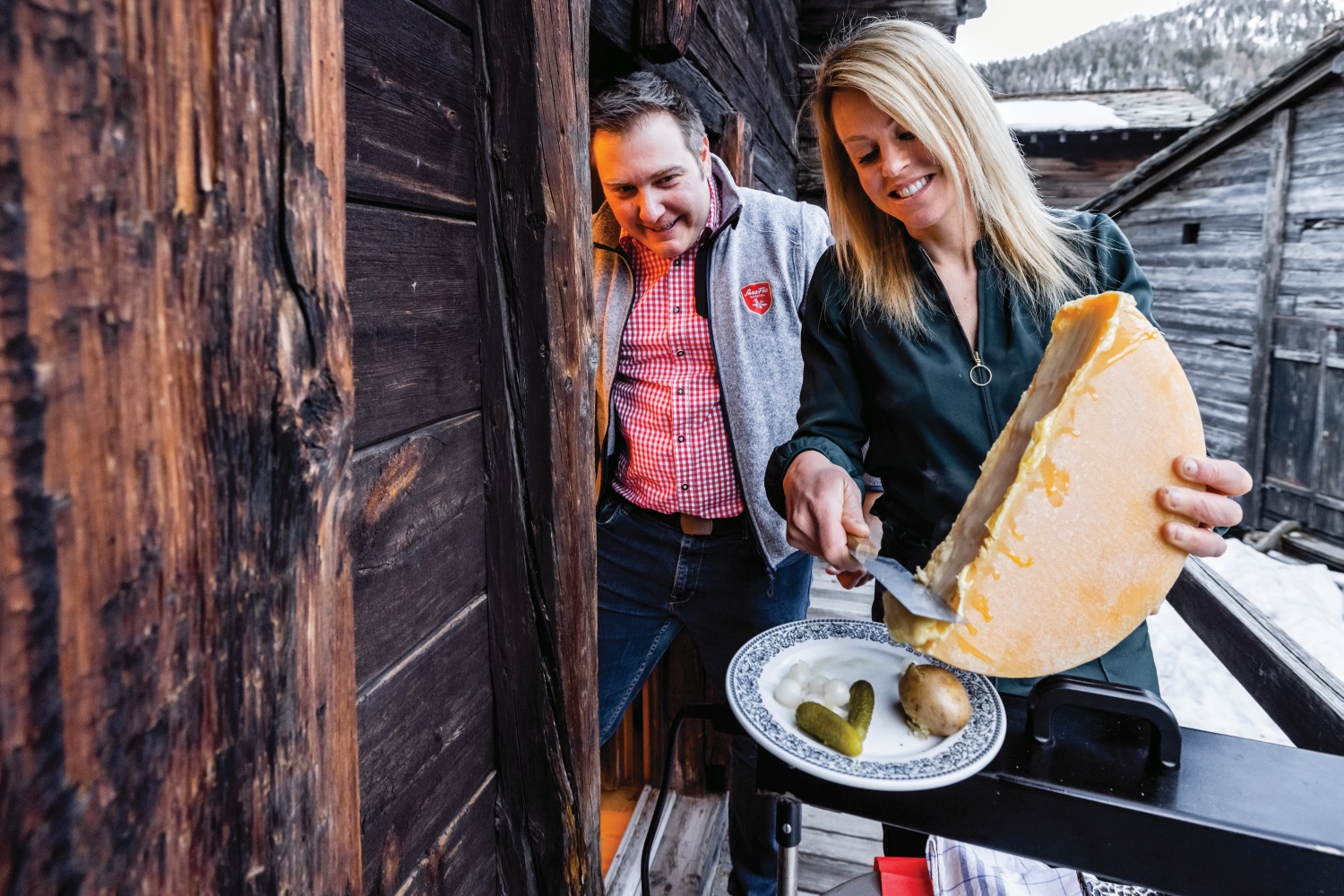 Eating raclette is in fact, one of my secret strengths – I once returned my plate 14 times for more! While I didn't quite top that total this time, I still waddled rather than walked back to the hotel, before collapsing into my incredibly-comfortable bed, ready for more adventures the next day.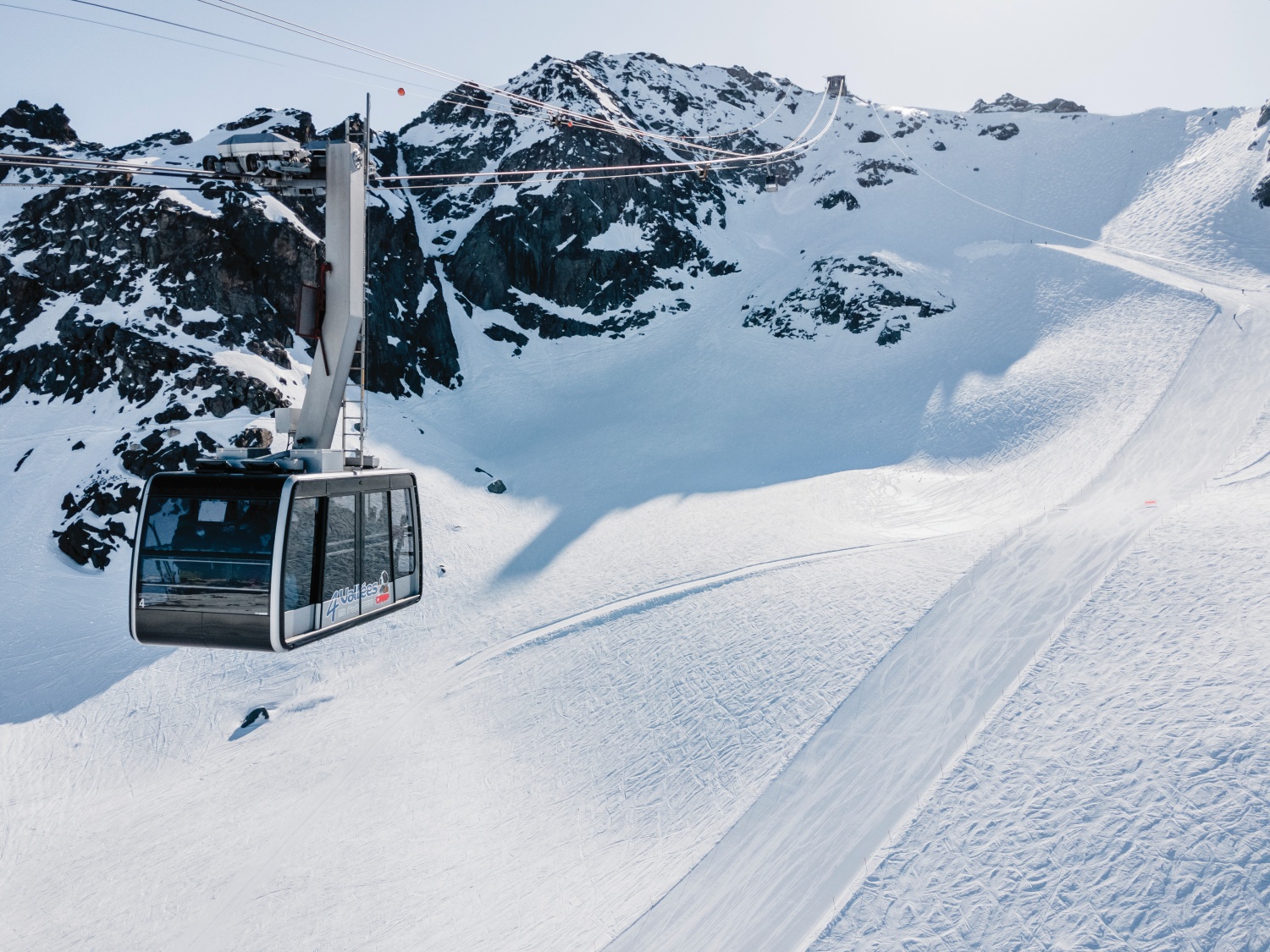 Snow shoes & a need for speed
After finishing up in Saas-Fee with a hair-raising via ferrata, it was time to head on – we were on a mission to explore as much of Valais as possible in the five days I had sans kids. Having previously spent a New Year's Eve in the Nendaz-Veysonnaz area, I knew it a bit, but not in the way we were about to experience it. On my coaching days, we tend to train up and down on one slope, but this time I would be exploring more of the resort. Starting with a snowshoe safari up through the forest in the milky, near-setting sunlight was lovely.  
If I am honest, I am not normally a snow shoe-er. It always looks a little slow and too tame for me, but this time I really enjoyed the tranquility, and even though dinner would be my second raclette in as many days, I also loved the ritual of building a fire and cooking our own cheese.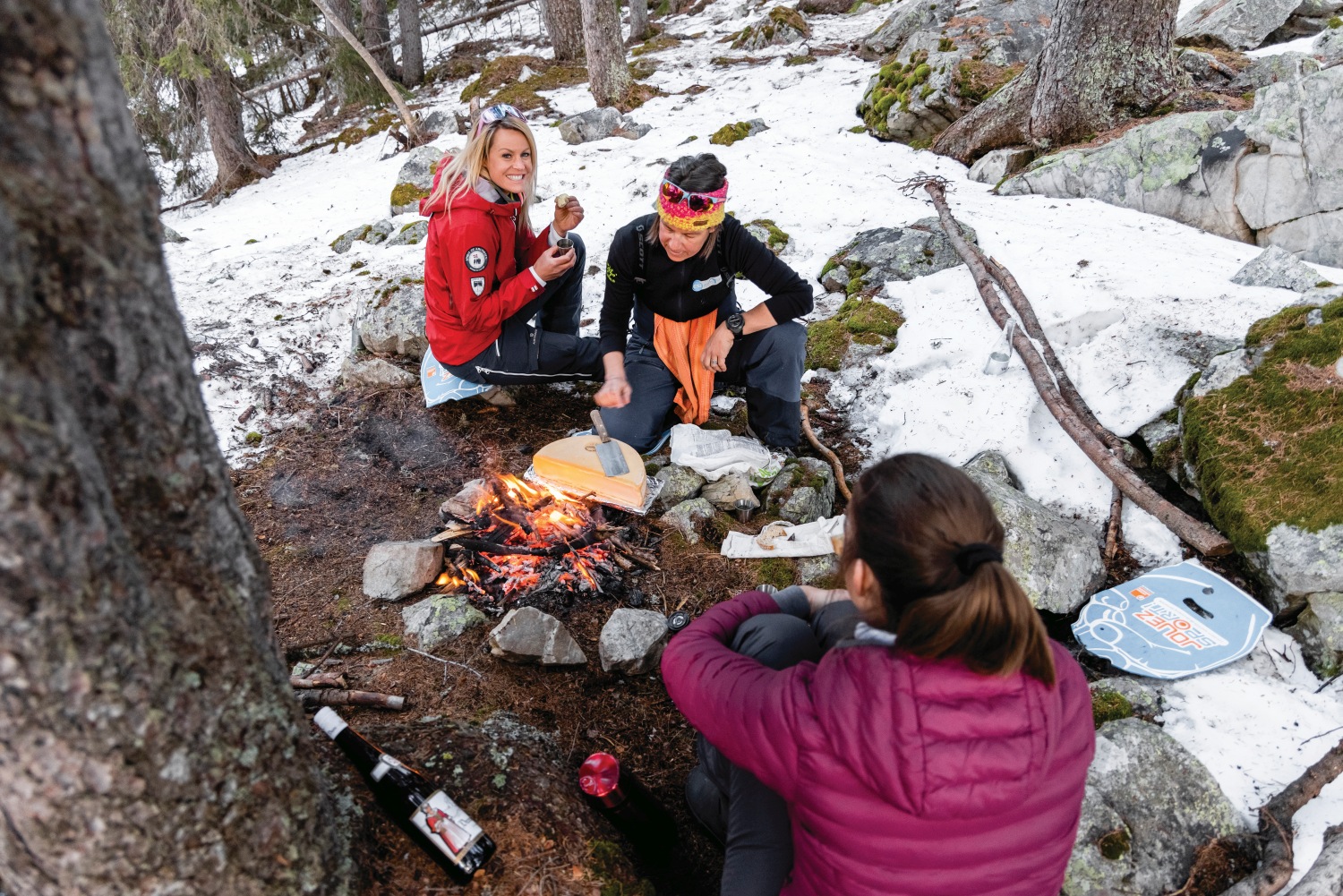 The following morning I'd experience Nendaz-Veysonnaz from the polar opposite end of the speed and adrenaline scale – with a ride down the brand new Mont4Zipline. I have done a bunch of zip lines over the years so didn't really think twice about it, until I was getting clipped in, and staring down the 1.4km metal cable from the towering height of the start, at 3,300m.
I was told this is Europe's highest zipline, and it felt like it. Suddenly my heart dropped and my mouth got dry, but I was grinning all the way down – oh my god, was it fun!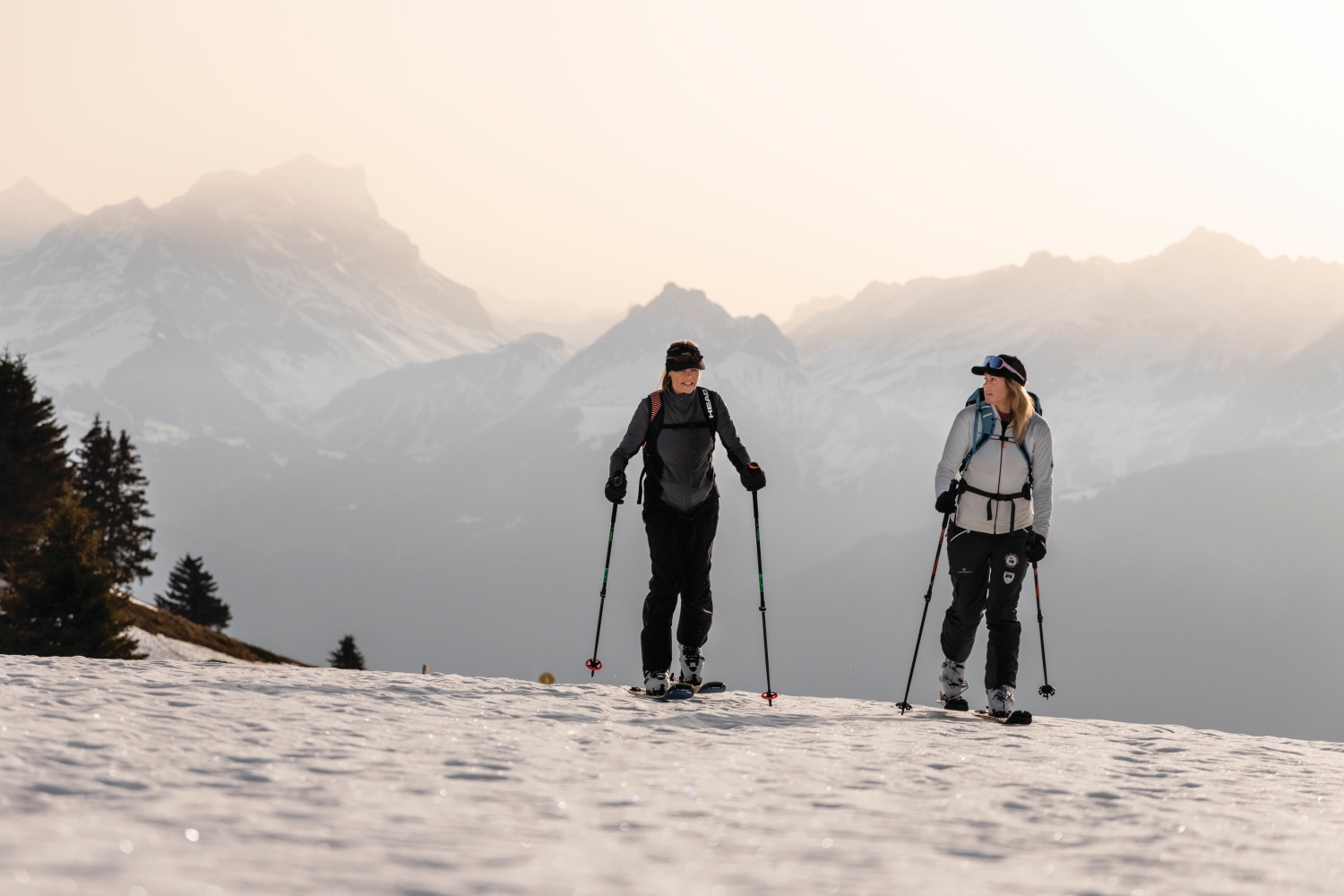 Mornings in Morgins
Our final destination was Morgins, in the rather formidable Région Dents du Midi – the world's largest international ski area. Both the memories of my ski touring expedition and the bruises on my feet were still very fresh, so I was wary about putting on touring boots and skinning up. But the guide dangled the ultimate carrot for me: I will do anything for a sunrise, and my favourite meal of the day is breakfast.
"I will do anything for a sunrise, and my favourite meal of the day is breakfast"
So a sunrise tour – starting off with headlamps as the mountains come alive with that stunning pink light, and returning in time to have an incredible home-cooked breakfast in an old farm – was about the best thing I could have asked for. There is something top trumpingly satisfying and smug about getting exercise in first thing.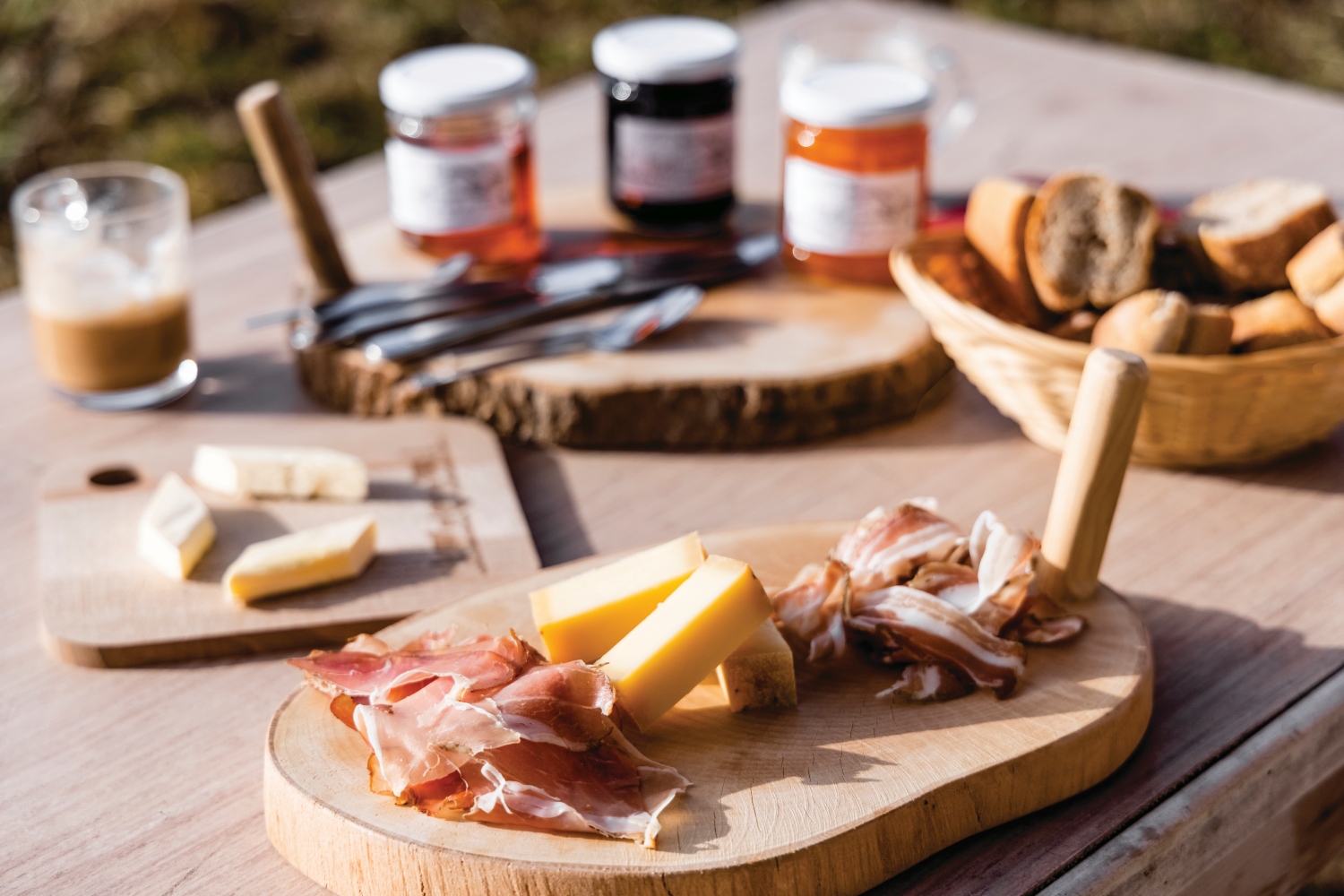 The ski touring in Morgins is excellent, not least because of the veritable forest touring-only routes they have marked on their maps. After an amazing run down, and stuffing myself with all the things I normally try to cut out – strong local cheese, fresh bread and an abundance of salted butter – we made a quick equipment change. (My ego is still too great to ruin a spring piste day on my skinny Atomic Backlands) and spent the rest of the day tearing up the immaculately groomed slopes.
By the end of the day, we had covered just a fraction of what this massive area has to offer. But that, in many ways, felt like the story of our time in Valais. There simply weren't enough hours in the day to delve really deeply into this wild and varied region. But what I saw, what I skied, and what I tasted, I really enjoyed – and as always, I'd be game for more of it.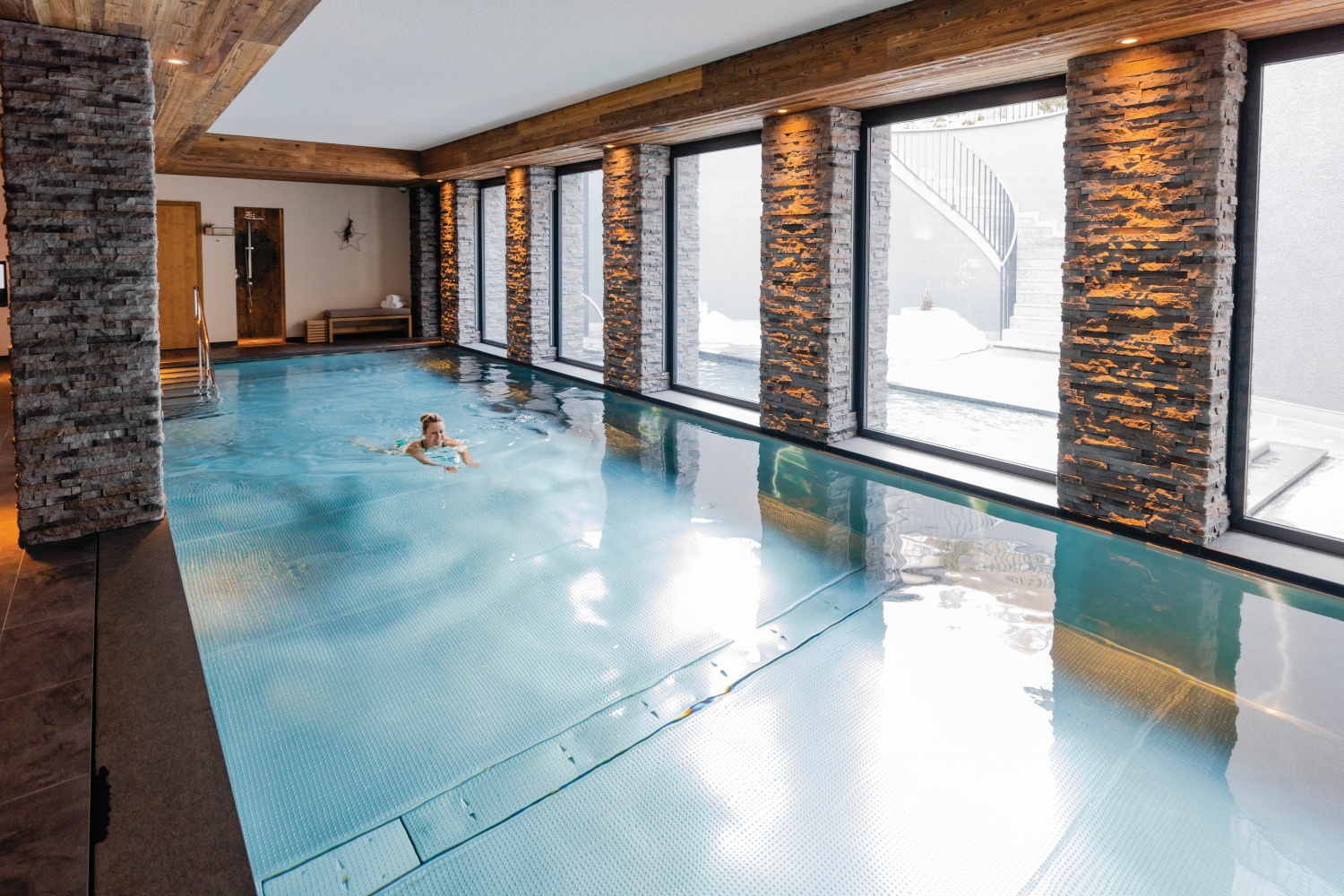 Snowhow
Our trip
Chemmy and Martin's trip was supported by Valais-Matterhorn Region and Switzerland Tourism. For more info about the area, check their websites.
Getting there
SWISS fly London to Geneva from £100 return with free ski carriage. Hop on the excellent Swiss train network, the Schweizerische Bundesbahnen or SBB, straight from the airport.
Where to stay
In the Aletsch Arena, Chemmy and Martin stayed at the Hotel Waldhaus Bettmeralp a small, charming hotel with an idyllic sun terrace
In Saas-Fee, they stayed at the Capra Hotel, a 5-star alpine lodge in a spectacular setting
In the 4 Vallées they stayed at the Hotel Nendaz, a 4-star lodge with an exceptional spa
In Dents du Midi they stayed at the contemporary Helvetia Hotel in Morgins
Take the trip
Want to follow Chemmy's tracks and ski this fantastic area? Head to Valais' shop for everything you need to know and to find some great holiday deals.