Within this relatively tiny area there are packed 362 mountain peaks above 3,000m and 45 ski resorts.
Sharing borders with Italy, Austria and Liechtenstein, its citizens are mainly trilingual, speaking Italian, German and their own ancient language, called Romansch – a minestrone of Latin, Italian, German, and regional dialects.
At its highest point of 4,049m, Piz Bernina towers in a world of permafrost, whereas at its lowest point of 260m on the border with the neighbouring canton of Ticino, palm trees flourish. As summer gives way to winter, a thick blanket of snow covers the mountains, and Graubünden plays host to skiers from many countries, drawn by top-class facilities in world-class resorts. A big question is how to get there; with the growth in independent travel, often the problem for ski tourists is the price and ease of transfers between airport and resort. Not in Switzerland. The Swiss transport system is fully integrated under the name of 'Switzerland Mobility', meaning that planes connect to trains which connect to buses, and perhaps not surprisingly, everything works like clockwork, ensuring a hassle-free trip from the airport to your chosen resort. The closest Swiss airport for international travellers is Zurich, and if you fly with the national carrier (also called Swiss), you can check your bags right through to your destination resort. The following are a selection of the region's top resorts, all different in character and atmosphere, but all retaining the inimitable stamp of Graubünden hospitality where everyone is 'Allegra' (Welcome).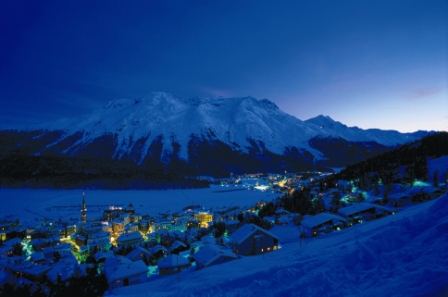 St Moritz/Engadin Valley
Perhaps the most famous of all ski resorts is St Moritz, a name familiar to skiers and non-skiers alike. In the Sixties and Seventies it was seen as a winter home to the jet set who would come to cut a dash in the most glitzy of ski resorts, and guests at the famous Badrutt's Palace Hotel would read like a Who's Who of celebrities and international royalty. That being said, St Moritz has always had a reputation as a superb ski resort, with numerous runs opening up from the top of the town's Piz Nair cable car. With its location in the heart of the Engadin Valley, efficient trains and buses enable easy access from St Moritz to even more skiing at the nearby areas of Corvatsch and Diavolezza, giving a total of 350km in the region, all covered on one lift pass. On the subject of trains, one of the most spectacular train journeys in the world is the Bernina Express which climbs from St Moritz via the Morteratsch Glacier to the high-mountain Bernina Pass before it drops down through the Val Poschiavo to Tirano, just across the Swiss border in Italy. Don't miss it!
Downhill pleasures aside, the Engadin Valley is home to some of the best cross-country skiing in the Alps (1,800 km of trails) and is host each spring to the Engadin Ski Marathon, attracting an entry list in excess of 20,000 people. And for a truly rare and unforgettable experience, you can kick off your skis and have a go at the adrenaline-stoking Cortina Run bobsled, from St Moritz to Celerina – men only, sadly. Amid a nightlife as ritzy as befits the resort, a simple après ski treat for everyone to enjoy is hot chocolate and cake at Hanselmann's, in the heart of St Moritz.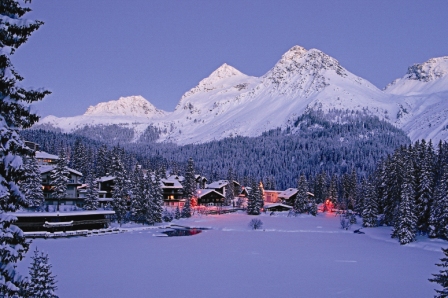 Arosa
LOCATED AT THE BOTTOM OF the wide Schanfigg Valley, Arosa reclines in a sunny and sheltered position at 1,800 metres. and is one of the highest ski villages in Europe. Virtually traffic-free, the air is exceptionally pure, and this reputation has been attracting guests since 1877. Arosa is a chic, very family-friendly resort, and has been awarded the official 'Families Welcome' accolade. There is 70km of skiing for all abilities and a further 30km in a freeride area with half pipe, all served by a variety of cable cars, chairlifts and some surface lifts. Away from the slopes there are plenty of winter activities including 60km of winter walking trails, and some lead into the ski area, enabling on-mountain lunchtime rendezvous for skiers and non-skiers. Nightlife tends to be quiet, revolving around the excellent hotels, although the Casino with its bar, restaurant and dancing will lift the tempo. The resort is home to one of Switzerland's best known hotels – the five-star Tschüggen Grand – a byword for understated class and luxury, words which indeed could be applied to the resort as a whole.
Continued...
---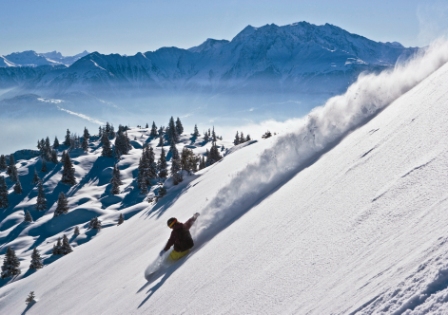 Flims/Laax/Falera
As Arosa is quieter and traditional, so the Flims/Laax/Falera 'Alpenarena' has gone about building itself a reputation for a younger crowd with an emphasis on snowboarding and freeriding. The connected areas offer more than 200km of pistes (the largest in Graubünden) covering an extensive area of more than 100 square kilometres, around the 'Crap Sogn Gion' mountain (no tittering!), with a notably long run of 14km from the Vorab glacier back to Flims. Snowboarders adore the area, and why wouldn't they, with 40km of marked but not groomed trails, two freestyle parks and three half pipes. The importance as a snowboarding centre is underlined by the choice of Laax for the Burton European Open – Europe's largest and most important snowboarding contest, held each January. However, it must be emphasized that the welcome mat is put out for everyone and the area has facilities to match every expectation, whatever your sliding preference, and for guests seeking a quieter, more traditional experience, the nearby resort of Falera is perfect.
Off the mountain, there are choices galore for dining and nightlife, and Laax has gained itself a big reputation with parties, events and concerts during the season. Après-ski hotspots include the Wawa Bar or the Crap Bar in Laax or the Legna Bar in Flims.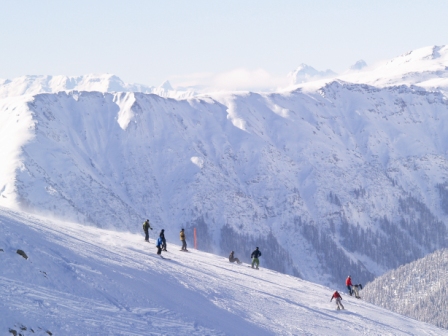 Davos/Klosters
If it's good enough for Prince William (and his dad), then Davos/Klosters is probably good enough for us too. Klosters, where the Prince stays, remains a quiet, traditional Swiss resort with a touch of chi-chi, while Davos, 9km away and linked to Klosters on the lift system by the Parsenn cable car, is, by contrast, the biggest resort in the country, and includes famous ski areas such as the Parsenn and Jakobshorn. The combined lift pass covers 300km of top-quality piste. Davos consists of two parts – Platz and Dorf – now merged into one on either side of the River Landwasser, and is one of the highest towns in Europe, at 1,560m. Previous visitors to the area will be pleased to learn that the Schatzalp/Strela ski area at Davos will reopen for 09/10 after being closed for nine years, putting the wonderful art deco Hotel Schatzalp back under the spotlight. The contrast between the two resorts couldn't be greater, and yet they share a matchless ski area, and an equally world-class après ski. When the skis come off at the end of the day, try the Umbrella Bar at the base of the Parsenn Run in Klosters – and make sure you have a Schümli Pflümi (strong plum schnapps coffee with cream on top) or in Davos, try the Chamis Bar on the high street, and get to know the locals.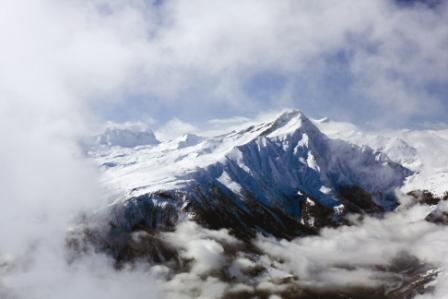 Lenzerheide
ON THE MOUNTAIN ROAD between Chur, the capital of Graubünden, and Tiefencastel, lies Lenzerheide, located at an altitude of 1,500 metres in a high valley. It has been a popular winter resort for a long time, though was probably better known to British skiers a generation ago, and it's definitely time for today's sliders to take a fresh look. The resort is located on both sides of the wide, sunny valley, with skiing on both sides, making it easy to follow the sun as the day progresses. With 155km of piste, and a top altitude of 2,865m, any skier or boarder will be kept busy, and the runs are extremely well accessed with 40 modern ski lifts. It is worth noting that Lenzerheide has also been awarded the coveted 'Families Welcome' mark of quality. Close to Lenzerheide is Lake Heid, popular for water sports in the summer but completely frozen in the winter when it becomes a focal point for cross-country skiing and snowshoe trails, as well as winter walking on cleared and marked paths. The resort doesn't have a raucous night life like some others, and the après ski tends to revolve around its many hotels, but The Cinema Club located in the hotel Kurhaus Alpina is one of the popular meeting places after the lifts have stopped.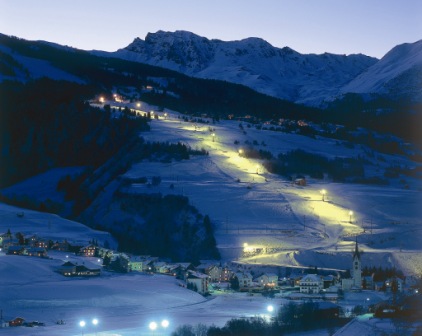 Savognin
The charming village of Savognin, with its medieval bridge and three steeples, located between the pretty, steep-sided village of Tiefencastel and the permanently open Julierpass, is one of those little gems that doesn't hog the limelight like some better-known destinations. The 80km of piste is a joy for intermediate and learner skiers, as the runs are exceptionally wide, in places up to 200m, with plenty of room for even the most cautious learner to complete their turns! The ski lift system is excellent, and includes Switzerland'slongest six-passenger chairlift – queues are rare. Given this information, it will come as no surprise to learn that Savognin is also very popular with families, and it is also accredited with the 'Families Welcome' mark. Typical of this status is the 'Pinocchio Club', with its learner slopes right in the middle of the resort. Away from the mountain, anyone, irrespective of age, will enjoy the utter joy of whizzing down one of the many toboggan runs, which can be up to 9km long. There are also 45km of signposted walking trails, even in winter, plus several snowshoe itineraries. And after all that activity, the sulphur thermal baths in nearby
Alvaneu is the perfect way to relax.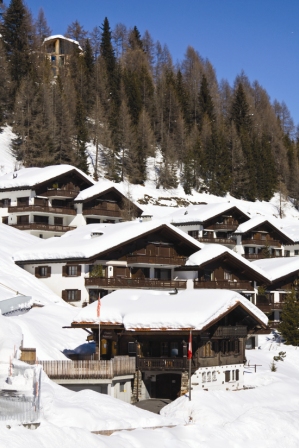 Where to stay
Graubünden is famous for its dazzling array of world-class hotels, such as Badrutt's Palace in St Moritz. But there is another side to the story for people on a budget, or for people who don't want, or need, every bell and whistle in the book. The canton is dotted with family-run bed and breakast establishment in those chocolate-box houses so typical of Switzerland. They can be surprisingly inexpensive, from about 50 Swiss Francs (about £30) per room per night – and remember because of 'Switzerland Mobility' you can be sure that a bus or train will be close by to get you to the slopes
Food glorious food
Minestrone is a good word both to describe the language and the influences in Graubünden cuisine. A great starter for meat eaters is Bündnerfleisch, a painstakingly dried meat, usually beef or game, sliced wafer-thin and eaten by itself with bread or dressed with olive oil, pepper and lemon. Follow that with Pizzocheri di Poschiavo, a hearty peasant dish if ever there was one. Buckwheat pasta is cooked with the addition of garlic, butter, local cheese, potatoes and chard or cabbage – and is heaven on a plate. Follow that with Graubünden nut pie, made with a rich filling of walnuts, cream and sugar. Wash it all down with a crisp white wine from Ticino, or your choice of an excellent red or white wine from the Valais, and there you have it – Graubünden (with a little help from its neighbours) on a plate and in a glass.