Ah, the skiing memories. The time there wasn't a single hook or hanger in our apartment to hang wet ski gear on (we had to drape it all on the floor). Or the afternoon when we asked to warm up the baby's bottle, only to be told the kettle was needed for staff hot drinks. The stuffy, cramped living quarters where the only relief from the wood décor was the woven hessian of the curtains. No reading lamps; hard beds, lumpy pillows. And the food – variable, depending on the culinary prowess of the early-twenty-something I'm-doing-it-for-the-skiing chalet host.
And it doesn't come cheap. No frills is fine when the bill fits, but not when you're expecting and paying for a good deal more. Yes, over the years our skiing holidays have left much to be desired in terms of where we've stayed – and with some of the biggest middle-market names. The best solution we've come to find is renting an apartment owned by English friends in a tiny, traditional French village high in the Alps. And while the home comforts and mod cons there are aplenty, it's still a chore to labour over meals midday and evening, or even to schlep out to the couple of local bars or restaurants. Other downsides are that while the skiing's fine, you're restricted to one relatively small snow-zone. Après-ski retail therapy isn't that exciting either, unless you like odd bits of ethnic pottery, furry animals or tea towels..
One family of Londoners finally had enough. Serious skiers, Lynne Doughty, her husband Martin and sons Josh, 21 and Angus, 14, now have the perfect regular base, which is probably an understatement in describing their beautiful three-storey wooden boutique chalet in the centre of a tiny traditional French Alpine village. The décor is elegant, stylish and modern yet supremely comfortable, there's a glorious spa, stunning bar, and the chef creates gourmet meals throughout the day. It's modern, simple luxury, without the blandness of a top hotel or the gold-plated taps version of excess. And the icing on the cake is that we – I'm lucky enough to be visiting – are a 10-minute whiz on the village's high-speed télécabine to the heart of the world-class ski paradise of Espace Killy – shared by the top resorts of Val d'Isère and Tignes – with its 300-plus kilometres of pistes, limitless off-piste, and highest concentration of high-speed lifts anywhere in the world (nearing 100 of them). Not to mention reliable snow.
The six-person La Sache bubble ski lift quickly transports you from the centre of the postcard-pretty 13th-century Savoyard village, at 1,550m, up to 2,100m and then on to the links with Tignes and Val d'Isère (whose shopping and nightclubs are just a 10-minute drive away from Les Brév). Lynne, who is responsible for the chalet's décor and pays huge attention to detail in the running of the place – though a manager is among the four full-time and one part-time staff – says they looked long and hard before finding somewhere suitable to buy in the village. The expertise in turning a derelict farmhouse next door to the striking pastel-painted village bell tower (hence the name), into a luxury holiday chalet sleeping 16, came through the well-established property development and refurbishment company run by her husband Martin and his business partner Giles. They, and Giles' wife, Jo, now run a separate company, ski-base, and are already looking for their second luxury chalet conversion.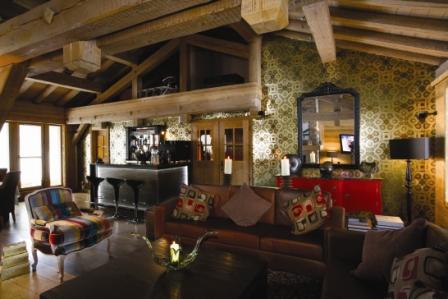 The idea behind it, says Lynne, 'is really quite simple – we have skied in Espace Killy for 20 years and we have skied all over the area. We got fed up with staying in bad accommodation and [yet] spending serious money.' It makes perfect sense to put all your energies into skiing such a fantastic location, and let someone else attend to your every need.
One season they stayed in the old Club Med apartments in Tignes Les Brévières and liked that people in the village were friendly, as well as the fast lift service into Espace Killy – 'and you don't get great long queues – everyone is heading over from Val d'Isère and we're going in the opposite direction!' If you're not used to Espace Killy – and for me it was a first – it's a blur of people and lifts and queues and restaurants, and all highly efficient and functioning. Pretty impressive. The restaurant scene is an eyeopener after the après of the village – like moving from a pretty little place in the sticks with perfectly adequate amenities, to the choice and excess of London! Often expensive, but boy, there's some choice, just like the skiing and boarding on offer.
Highly recommended are L'Atelier d'Edmond at Le Fornet, La Fruitière mountain restaurant at the top of the La Daille gondola, with its shabby-chic cream décor in the style of an Alpine milking parlour, and for après, the bizarre but cosy Le Grizzly's Bar, with its central roaring fire and abundance of animal skins, in the village of Tignes Val Claret.Chalet de la Cloche opened for business in December2007, sleeps 12 guests, and there's an apartment for another four at an extra cost. You can hire the whole chalet for a minimum of a week, or it's also possible to book rooms individually. You start the day – woken by the adjacent bells, perhaps – in a comfortably opulent bedroom with balcony and views (goose-down pillows and duvets or hypo-allergenic if you prefer, and 1,000- thread count Egyptian cotton bedlinen). Lynne's particularly proud of the beds, each of which has a specially made memory-foam mattress. The en-suite bathrooms are equally stunning and restful. What makes everything so stylish and upscale homely is the use of wonderfully rich colours and textures in the furnishings, and the funky mix of trad and ultra-modern – Lynne is helped in sourcing by her friend David Collis, a theatrical designer. Next, the gourmet version of breakfast arrives, beautifully presented.
There are three minibuses, one for the staff for buying provisions and the other two for customers. Tell them where you'd like to go, and they'll take you. After skiing – or you can choose from a vast list ofother activities, including cross-country skiing, husky rides, paragliding, ice climbing, ice diving and much more – it's back to the chalet for some of the best cakes I've ever tasted, and a magic box containing every type of tea you might possibly want, while you flop out on the large sofas to watch films or the latest news on the large HD plasma screen. The spa is small but serene and beautifully formed, with a swim pool steam room, and candle-lit if you wish. There's also an outdoors Jacuzzi on the top floor. Guests can discreetly beam themselves in bathrobes up and down between the bedrooms and the spa using the lift. Everywhere are stylish old prints and photographs from an earlier ski era. After some R and R, every evening guests meet up in the huge top-floor salon, with its large windows and roaring fire. There's also the jazzy bar – always open, free, and with a member of staff on hand to mix whatever's your fancy, and then Champagne and canapés before dinner. The chalet sources its own regional wines, with Lynne a keen taster.
Dinner is an absolute highlight – it's like going out to a Michelin-starred restaurant in London, Paris or wherever every night. You know they take it seriously when the chef appears, to solemnly announce the name of each dish and accompanying wine at the start of the meal. We enjoyed fantastic regional wines, and cheeses – Epoisses Berthaut and Gaperon which you can buy from the Produits du Terroir shop opposite the station in Bourg St Maurice. Oeufs en meurette, poached eggs in a red wine sauce with bacon, a beautifully done French classic. Everyone praised the roasted lamb with caramelised red cabbage, and creamed, piped potato made with truffle and rosemary, and a purée of carrot and ginger. For pudding, two little round bowls appeared side by side on a dainty white rectangle of china. Possibly the most perfect puds I've ever enjoyed: a rich one- chocolate fondant adorned with vanilla-pod flavoured plain yoghurt. And in the green corner, an avocado risotto with crème d'Isigny, the rice cooked first in milk with vanilla pods. Blame, sorry that should be praise, Heston Blumenthal's undoubted influence – the talented Tadek Zwan, the chef, came from Poland via the renowned and ground-breaking Fat Duck in Berkshire.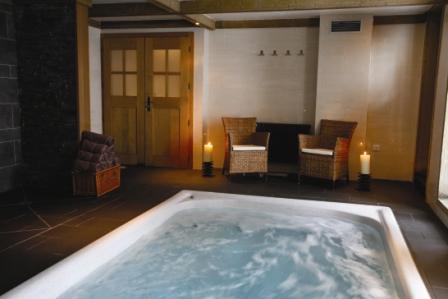 Tad, his wife Theresa and the rest of the staff are well chosen and strike a great balance between professionalism and friendliness. Nothing is too much trouble. The lovely Aussie, Ryan, 22, takes me to the clinic as my arm has swelled up from an earlier gardening injury. He gives the impression that it's an outing for him, rather than a chore. He's never skied before – this is the first time he's seen snow – but as a seasoned skateboarder he reasons that it can't be that different on the white stuff and seriously goes for it. (As he looks out of the clinic's window at the tallest, scariest most jagged mountain around, I ask what he's doing: 'I'm thinking of doing that one tomorrow.') If I wanted to do the same, they'd organise it. If I didn't want gourmet food, they'd sort it.
The whole idea is that you, the client, get what you want. So, the Chalet staff can organise a helicopter ride, or high tea for the kids, or a facial. They aim to pretty much sort anything you want, including finding flights. They can find you a ski instructor to suit you. Nervous, especially female skiers like me (with my painful, swollen arm) are presented into the more-than-capable hands of chic and cheerful Brit Sara Bonnevie, who some years ago fell in love with France and more especially Champion French skier Gérard. Today they run the popular Stade race stadium at 2,380m. On the plane home I realised it wasn't the luxury that had won me over, it was the excellence of the sevice. For far too long us oh-so polite Brits have been putting up with second-rate service to enjoy first-class skiing. No more! I now want the service the skiing deserves! That's the thing about luxury, it helps you set standards.
Accomodation:
Chalet de la Cloche, Allée du Géant, Tignes les Brévieres 73320 (France).
The whole chalet sleeps 12 people. In low season the cheapest week (very last week in April) is £9,000. January cheapest is £10,500 (for whole chalet for a week) and for New Year and half term the price goes up to £26,040. Per head from £750, rooms vary throughout the season depending on dates. Included in the price are: transfer from the airport of your choice, full breakfast, afternoon tea, full bar and wine (very good wines!!) with dinner, Champagne and canapés, 'sumptuous' 4- course dinner plus cheese on 6 nights (7th is staff night off), use of spa and transport within locality. Not included: lift passes, ski lessons, flights.
Email: This email address is being protected from spambots. You need JavaScript enabled to view it. LES BRÉVIÈRES, FRANCE www.tignesnet.com
Getting there:
Flights: EasyJet (www.easyjet.com) and British Airways (www.ba.com) to Geneva. Transfer from Geneva in chalet minibus is now 2 hrs since new section of motorway opened recently, joining Chambéry (used to be 3.5 hrs)
Season dates: 13 Dec 09 – 3 May 2010 (Chalet de la Cloche last week is 29 April. Vertical drop: 1,900m of skiable vertical drop. Pistes from 1,550 (Les Brev) to 3,550m (top of the Grande Motte cable car) Terrain: Espace Killy 300km, lifts 89 and a total of 154 different pistes
TIGNES
Lift passes: Family lift pass offerfor Espace Killy – adult price from £195, child from £156. Pre-book 2 adult and 1 child pass at full price and get 50% discount on fourth and fifth child pass. Min 4 people, need familyproof.
Mountain munchies: La Sachette restaurant at the bottom of the Sache lift. Has just been taken over by the man who runs the small supermarket in T les Brévières, who is a pastry chef
and supplies the whole of Val d'Isère. 'It's going to be fantastic', says Lynne. Also L'Armailly, right at the bottom of the nursery slopes, who do fantastic pizzas.
Snowparks: 3
Facilities: Small supermarket for basics, tabac, ski-hire shops etc. Nearest big supermarket is in Bourg St Maurice.
Eating/drinking: La Fruitière, expensive, very pretty style of old dairy/shabby chic, cream with big square windows and mountain views.
'OW YOU SAY…? A little more Champagne, please: (you only need English)
Highlight: the food, the skiing, being waited on, the chalet environment
Bummer: Having to pay for it?
New this season: Hoping to offer discounts on the lift pass; all beds to get 2in goose-down mattress toppers
Images: Quintessentially Estates, Jo O'Brien, shutterstock.com