Jon Williams is an outdoor and adventure sports photographer and filmmaker based in the Bavarian mountains who regularly shoots skiing and snowboarding for the BBC, Red Bull, Discovery Channel, Sky Sports and more.
Jon has shared his top five tips with Snow Magazine to help you improve your ski photography skills.
1. Plan it out
I plan exactly what shots I want to come home with from a ski trip, even if I'm not on an official assignment, and I have a shot wish list before I get to the snow. There are awesome online platforms you can use for inspiration – my favourites are Instagram and 500px.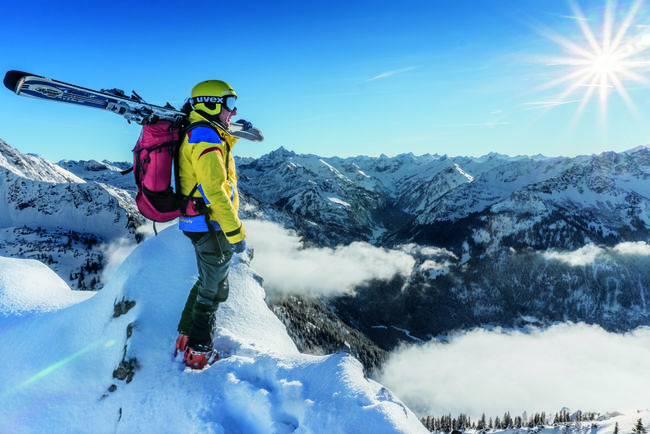 I also research the location thoroughly, check the weather forecast and work out when the sun will be out, as bright light is a big help for getting sharp shots, especially if you're using your phone. If I'm going off-piste, I check the local avalanche warnings (and ideally take a qualified guide). I recommend loading up your phone with apps like Weather Forecaster, Yr, Photographer's Ephemeris and FatMap.
2. Get kitted up
Dress for the occasion. Layers are key, as you need to be cool on the go but warm when you're standing around waiting for a shot. A good, spacious camera-compatible rucksack is an essential - you're looking for a backpack with weather-proofing and both waist and chest straps for maximum support. I've personally used the Thule Aspect DSLR backpack (thule.com, £120) for years and it's great. Pack plenty of spare batteries and memory cards and a basic camera cleaning kit. I always bring hand warmers - a couple for my hands and a couple thrown in my bag to keep my batteries from freezing.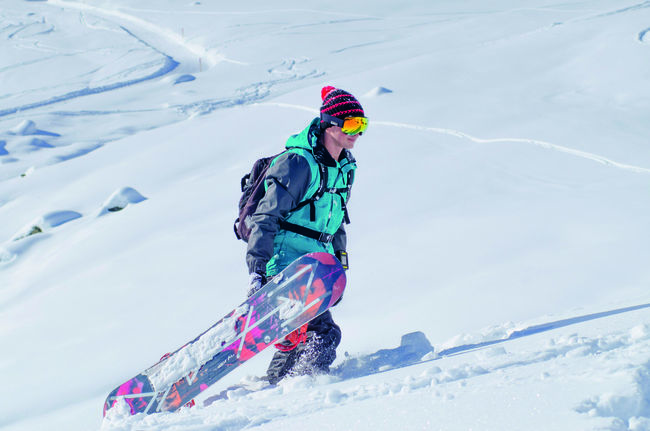 3. Communication is key
In action sports photography, discussing exactly the shot you're after with your mate is essential, and will save you having to shout everything back up to them when you've skied down to your shooting position. I use a code – crossed poles means 'wait', one pole raised means I'm ready to shoot. Walkie talkies help if you're venturing far.
4. Hit the backcountry
If you're a confident skier or boarder then heading even a little off piste is a big help for getting really epic ski and snowboarding shots, with no distracting lifts, piste markers or other skiers in the background. It goes without saying that if you're going off-piste you should take at least the minimum avalanche gear (shovel, probe, receiver) and know how to use it.
5. Get into position
When you've found a great location to shoot from, take some test shots first and set your focus point (you can do this on both D-SLRs – cameras with interchangeable lenses - and smartphones). You'll be surprised by how different the shot can look when you've skied down into your shooting position, so move around to find the best angle. Experiment with close-up and wide-angle shots before you get your mate to ski into the shot. For action shots, I never use a tripod because it's just too cumbersome for fast-paced movement – instead I pick a fast shutter speed.
6. Nail the shot
If you're using a D-SLR, switch to a fast shutter speed to freeze (excuse the pun) the rider. Select burst mode and keep your finger on the shutter button to shoot multiple photos in succession. Many cameras have sports mode to freeze the action, and smartphones often have a burst mode.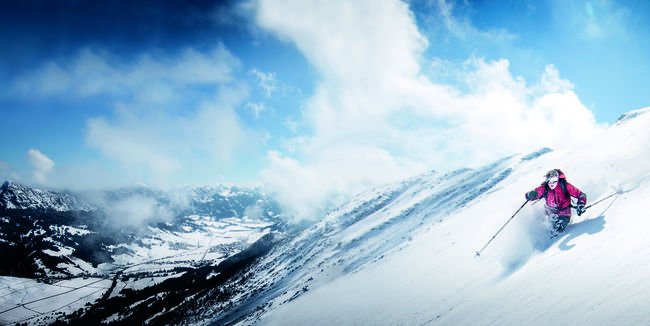 I ask my models to over-exaggerate their movements. The more on the edge they are, the better the photo. An effective way to frame the image is to have them off to one side travelling 'into' the rest of the photo, and I fill the rest of the shot with a mountain range. Shooting into the sun gives dramatic silhouettes and illuminates any powder spray.