Let's face it rental boots aren't the most glamorous item in the world and it's not worth thinking about how many other pairs of feet have sweated in the same shell with only a whiff of antibacterial spray between you and them. But where do you even begin when it comes to choosing the right pair for you? Here are some pearls of wisdom from the team at Snow.

Learn the lingo
Mondo, last and flex, nope it isn't yoga moves but three words that will make you an expert in understanding boots.
Mondo (Mondopoint)
This is the ski term for the length of your foot in cm. Some people convert their shoe size with the help of a chart, but the best and most reliable way is to get measured in a shop. Or a quick way to give you an idea of your size is to trace round your foot, measure the length of the heel to the top of your toe in cm and there you have your Mondo.
Last
You have the length of your foot so the next practical step (excuse the pun) would be to work out the width of your foot as this can be the difference between a comfortable ski boot and a blister burning painful boot. Wearing a sock, measure the width of the outline of your foot at its widest point in millimetres. This will tell you whether you need a narrow boot or a wide one. Generally, anything below 100 mm is considered narrow while anything above 104 mm is considered wide. Ski boot brands tend to veer towards one or the other, so it is vital you go for a boot that encapsulates your foot comfortably.
Flex
Quite simply this means how flexible you would like your boot. Most ski boots are given a flex number between 60 and 130 and this indicates how much give the boot has. The lower the flex number the softer the boot and the suppler it is. Think about it in this way the more a boot bends forwards the easier it is to control your skis and maintain a slow and steady speed. The harder and stiffer the boot the harder you need to work and the more your energy gets pushed into skis and bindings to give you more efficiency and the ability to be fast and aggressive.
Your body weight is an additional factor when it comes to flex, so women tend to have a lower flex rating as they're pushing less weight against the boot then men.
By now hopefully you have narrowed down your ski boot choices based on your size, width and flex you need. This is where fun bit comes in and you start to try different ones on.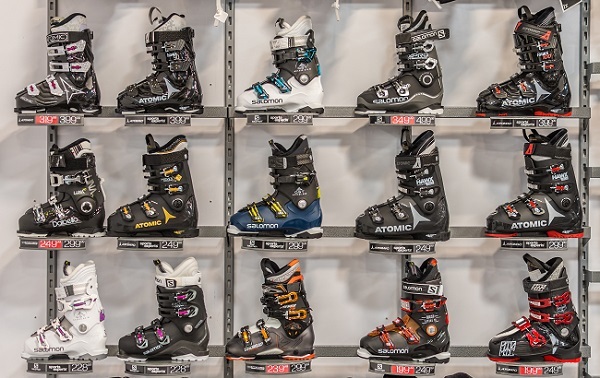 Come Prepared
The best bit of advice I have ever been given is wear THIN socks, not 2 pairs to keep your feet warm or thick ones to stop any rubbing but a thin technical sock to allow for a comfortable skiing experience. In addition to this the only thing that should ever go into your boot is your foot in a thin sock. Thermals, gaiters and any other item of clothing should sit on top of the boot and not interrupt the relationship of the boot with the foot and the skis. Contrary to popular belief thick socks don't keep the feet warmer, instead they make the boot tighter restricting blood flow which turns your toes cold. I will say it once again for dramatic effect WEAR THIN SOCKS!
Try Before You Buy
You are probably now standing in a shop with a pair of boots on wondering what to do. Buckle up and start moving, don't be afraid to walk up and down, lunge it out and pretend to ski as that is what the boots are for. Guaranteed when you first put your foot in the boot you could feel the top of the boot with your toe and thought 'these are too small and tight' but go into a skiing position (bend the knees and keep weight over the ball of your foot) and you will feel your heel slide into position in the back of the boot and there should be enough room to wriggle your toes comfortably.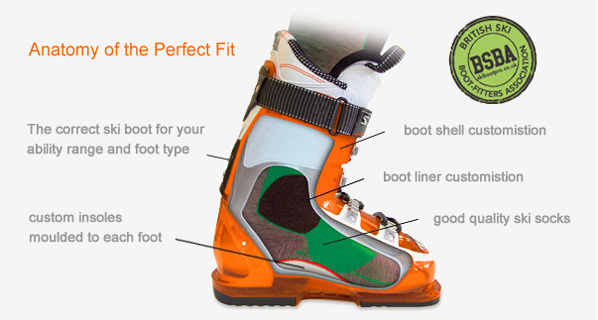 Make Them Your Own
Your boot fitter will become your best friend at this point as this is your chance to share your feelings (about the boots) and be honest about any little niggly pains or rubbing. Once the problem areas have been identified then there is the option of trying on some more boots or if you particularly like the ones you have then let the fitter work their magic with some of the below options to make the boot work for you.
Footbeds
Much like an insole for your shoe, footbeds can come pre-moulded or custom made to help support the areas that are causing pain. They can sort out issues such as low or high arches and flat feet to align your feet for a more comfortable fit.
Custom Fitting
There are two options available with certain boots and this is heating the liner and / or shell to match your foot shape. Liners are normally made from foam and with a bit of heat either in store or from walking around they will start to shape around your foot and hug the areas that need more protection. If you have pressure coming from the plastic shell, then this can also be heated and moulded out to lift away pressure points and give you relief while snuggly encasing your feet.
Choosing the right pair of ski boots isn't as easy as picking a new pair of trainers but by now you should have a good level of understanding what to look out for. Above all be honest about the level of your ability and put time into talking to a qualified boot fitter (I promise you they aren't scary, they love the mountains as much as you do) and enjoy trying lots on to get the feel of what works for you.