There are undoubtedly arguments for the compulsory use of helmets. The simple fact is that we take part in a sport that involves hurtling down a steep hill at speeds of upwards of 30mph with next to no protection. There are people who can race down a red run and not think twice about the problem that on the same piste are as those who haven't yet learned to turn or stop. And remember, nobody can say they are always in complete control and believe it! If you throw into the mix the huge increase in the popularity of going off-piste and the development of skis allowing almost anyone to venture into the untracked and un-known, the case for making helmet wearing compulsory is a strong one.

A recent study in Norway revealed that you are 60 per cent less likely to sustain a head injury while wearing a helmet, although in the past medical opinion has been divided. The collective research generally states that wearing a lid will help avoid minor injuries, but if you crash into a tree or a fellow skier at speed, then it's unlikely to save your life.

There is a school of thought that wearing a helmet makes people feel invincible and therefore will do more harm than good. It's important that people understand they do offer protection, but it is still as important to be careful and know your own limits. As always - ski and board responsibly!

The use of helmets has seen a dramatic rise in recent years and that trend looks set to continue with some retailers quoting an increase in sales of up to 65 per cent over two seasons. The message seems to be getting across without it being forced on people.

The helmets themselves have developed with the demand, are now very lightweight and there is a size and style to suit any taste. They range from basic lids at around £40 to advanced versions with headphone sockets, speakers inside and even head cams.

If you are buying a helmet, make sure you try on a few until you find one that fits well. If it moves around too much or stops the blood flowing to your head you won't wear it for long!

Our readers think...
In a poll of 200 of our online readers more than 50 per cent were in favour of introducing a law across the board. Only 17 per cent thought things should remain as they are.

Putting a lid on it...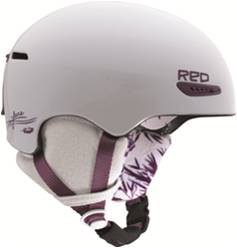 WOMEN'S SPECIFIC HELMET RED PURE - £69.99
- New air pad fit system
- In Mould polycarbonate shell
- Meets ASTM 2040 / CE 1077B/ CPSC standards
- Rider controlled venting
- Gloves-on buckles - can be adjusted while wearing gloves
- Removable ear pads
- Air band fit system - adjust size/fit with air pump button









VALUE HELMET - QUIKSILVER PULSE - £49.99


- Lightweight - 480g
- ABS shell
- Removable ear pads
- Adjustable air vents
- Meets CEN 1077 European Standards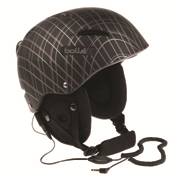 BOLLÉ B-STYLE HELMET (ADJUSTABLE), BLACK PLAID, £65
- ASTM/CE approved
- Inmold shell to reduce weight
- Air flow vents
- Goggle retainer clips
- Ergonomic, hypoallergenic & removable padded liner
- Removable ear pads
- Adjustable, padded chin strap with quick release buckle
- Comes with storage/travel bag
- Optional audio kit available (£29)