Check out any ski mag (including Snow) and there's a good chance that the most radical imagery will feature someone doing something involving gravity and skis at Whitewater.

Yet few people outside North America have ever visited Whitewater, and at first glance that seems understandable enough – after all, who would travel all that way to ski a resort with only three chair lifts and a very modest vertical of just 1,300-ft?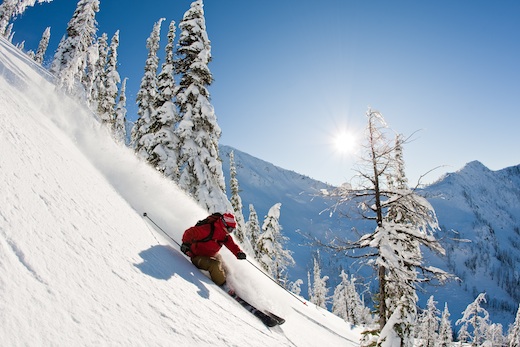 Well, quite a few people actually, especially those who like deep, soft, grade A British Columbian powder - as I discovered after clambering from my bed one February morning whilst staying in Whitewater's über-cool satellite town of Nelson.

Outside thick heavy flakes of snow were piling up. This was serious snowfall, and the 20-minute drive to Whitewater saw me arriving five minutes before the lifts opened, where I stood in a queue five yards long, spent about five minutes riding the lift to the summit and then less than two minutes floating back down through British Columbian smoke.

Hard to believe, but here I was on one of Whitewater's main runs in knee-deep untracked powder and only a handful of other skiers to be seen. The numbers picked up rapidly, of course, but as they did so I simply traversed off the lifts and into the resort's infamous trees to find my own lines.

Whitewater sits in a bowl between two dramatic ridges that come together to form the craggy apex of 8,000-foot Ymir Peak, which rises spectacularly above the resort. This bowl catches the vast quantities of snow deposited by storms crossing the Selkirk Mountains, and if you're prepared to bootpack away from the marked trails you can find tremendous skiing pretty much anywhere you care to go.

Trees and steeps, usually together, are the Whitewater trademark, and on my second day here, with the sun shining on two-feet of fresh powder I got to ski fresh lines within view of Whitewater's base lodge all morning and then, in the afternoon, headed further afield with a traverse to skier's left from the top of the Summit Chair.

Everywhere you go you see tracks heading down through the trees, although the further you traverse the fewer the tracks. I eventually dropped down through nicely spaced firs, a few glades opening up here and there, snow cascading over my knees until eventually I emerged at the road up to the resort, where I stuck out my thumb, hopped into the back of a passing pick-up, and went back to do it all again.

And that, I guess, is why you travel all the way to Whitewater…

About an hour west of Whitewater is Red Mountain.  Red shares with Whitewater a reputation for challenging skiing involving steeps, trees and cliff drops – it's the kind of place you go to 'man up' on your skis.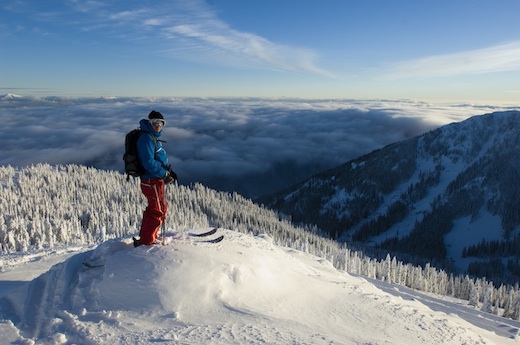 You may not want to man up, of course, in which case there's thankfully plenty of groomed terrain that ordinary mortals can enjoy on the lower slopes of Granite Mountain (the resort's main mountain, despite the name).

Here a selection of greens and blues offer gentle slopes snaking between glades of tall, aromatic pines, including a five kilometre green run which loops gently around the mountain and back to the base lodge, providing fantastic views of Rossland a couple of miles below and the Columbia River Valley in the far distance.

Red has expanded considerably in recent years and continues to do so, with more new runs on neighbouring Grey Mountain - indeed the resort has the potential to be bigger than Aspen, which would be quite mind blowing in terms of square acres per skier given that even now, at a fraction of that size, it rarely gets too crowded.

But you might have to get past the media hype before you visit – North American ski mags regularly give it the accolades of 'Best Steeps', 'Best Powder' and 'Best Trees' and Canada's most famous female skier, 1968 Olympic gold medallist Nancy Greene, grew up here and reckons that after having learned to ski at Red "everything else seemed easy and not very steep".

But underneath the apparently savage exterior Red is one of the most welcoming resorts you'll ever visit. I first went there in 2000 and made such good friends amongst the locals that I've returned almost every year since.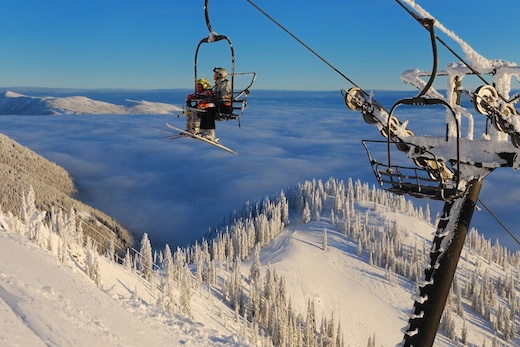 During that time I've seen plenty of changes including the development of some fine luxury ski in-ski out condos beside the slopes and the opening of my favourite sushi restaurant 'Drift' in the funky satellite town of Rossland, five kilometres downhill from the resort.

But the oldest ski town in western Canada still retains its downhome atmosphere and character and despite the fact that the whole set up is small by European standards it's worth the long journey west to experience it.

Make it a two centre ski holiday with a visit to Whitewater too – you'll probably scare yourself silly at some point but I'm willing to bet you'll come back a better skier…
SNOW HOW
Getting There:
Frontier Ski (frontier-ski.co.uk) offer one week Red Mountain packages staying at Slalom Creek Condos, one bed deluxe room, room only basis, 6 of 7 days lift pass, return flights from London Heathrow to Castlegar plus one-night stay at Accent Inn, Vancouver Airport (on outbound journey) and return Castlegar taxi fare from £1722.

They also offer Whitewater packages which include a week's stay at Hume Hotel, Nelson in deluxe room, six-days lift pass, return flights from London Heathrow to Cranbrook and car hire from £1637.
              
Whitewater – skiwhitewater.com

Red Mountain – redresort.com