"That chalet over there is made of paper."

"What?"

"It's made of paper and there is a big gun inside."

I'm sure the look on my face was enough for Jacques, our guide, to continue, "It's in Switzerland and they have lots of border defences, like that pretend chalet with a gun inside."

I'm not too sure but I don't think the French have invaded anyone since the wee man with the secret pocket, but I kept that thought to myself and let Jacques continue with his tale of the paranoid Swiss.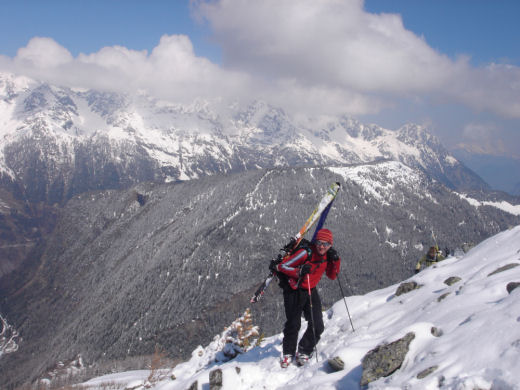 It was April and the snow in Chamonix wasn't too good, and where it was, it had been tracked out. We'd followed Jacques in our hire car (at unnerving speed) through Argentiere and across the Swiss border, trying to keep pace as he threw his battered Peugeot 205 round the mountain bends like a rally driver. Finally he'd stopped in a car park near a closed tourist shop, whose windows were full of little wooden goblins and fondue sets. He's started to tell us of the Swiss guns while he put the skins on his skis. I was the only snowboarder in a small group of British ski tourers, and as I started to take my splitboard apart, turning it into a pair of skis, and sticking my skins on, Jacques joked that it sounded like I was cooking. I had to admit that the sound of my aluminium ski crampon, which doubles as a tool, against the bindings did sound little like a few pots and pans banging together. Taking much longer than the skiers to get ready, I set off to follow everyone a little flustered, while still getting the length of my ski poles right and trying to pull on my gloves. I was new to this split boarding game, and while experienced in snowboarding off piste and hiking up mountains, my technique of skinning (skiing up hill) was awful.

We were making our way up a switch back summer hiking trail, which was just perfect for me in pitch as it meant my skis sat flat on the snow, rather than being on an edge constantly. After ten minutes, while wiping the sweat out of my eye, I realised that I had far too many layers on and stopped to take a few off. The skiers where moving much faster than me, and with Jacques guiding similar to his driving, 'I'm off, follow me and keep up', the group was soon out of sight. I didn't mind as I was enjoying the solitude of the skin through the forest, and it was easy enough to follow their tracks.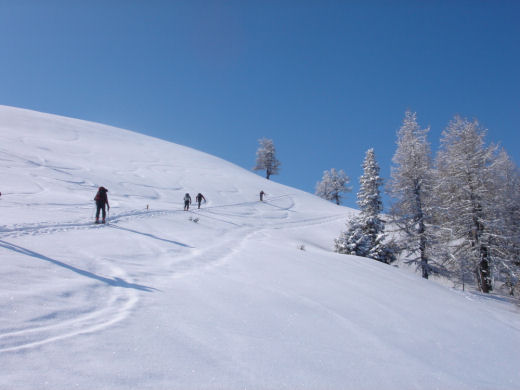 Eventually catching up with the group, Jacques sprang, chamois-like, to his feet and set off again. Steve, one of our group, hung back with me for a while and gave me a few tips, like the blatantly obvious 'Slide the skis along the snow, don't lift them up'. I'd been sort of walking/ sliding, and using far more energy than I'd needed to.

A few hours later, leaving the treeline well behind and having mastered, of a sort, kick turns, we took off our skis and got out our crampons and ice axes. Thankfully, and with great joy, I turned my skis back into a snowboard. We scrambled up a steep ridge line for 30 minutes before sitting beneath a large wooden cross and ate our lunch. The hike/skin had been well worth it as we sat in sunshine alone on top of Pointe Ronde.

Our descent was fantastic through the untracked light powder snow, and to be fair to Jacques, his group management of our ski/snowboarding was fantastic with plenty of regrouping in safe spots - and for once, I was out front leaving the skiers to their turns as I ripped up the pow.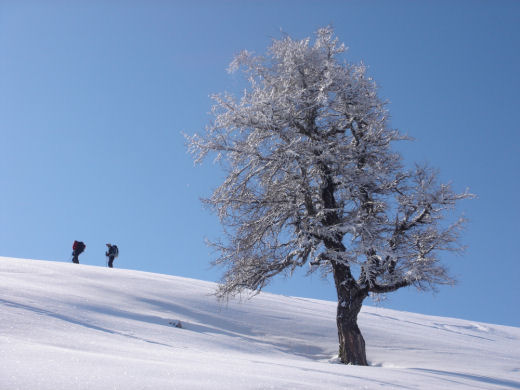 All said and done, I was hooked on touring with my splitboard and was left looking forward to my next tour, but I would advise that if you want to take it up, try to find another snowboarder to go with and have a lesson first. Rude Chalets (www.rudechalets.com) in Morzine are running a new week long splitboard intro week as do www.mcnabsnowboarding.com .