It was mid-January, and it had been snowing for three days solid onto an already good base. I woke to a blue sky day without a breath of wind. As I looked out across the slopes from my balcony window at the just-started lifts, there was hardly anyone on the pristine slopes. Admittedly I was there mid-week, but as I was to discover over the next few days, La Clusaz is not a place to get tracked out quickly. I stuffed down a croissant and strapped into my boots, heading for a day of powder.

It turned out that I needn't have rushed, as although people were getting fresh tracks beneath me as I rode the chairlift, Mark - a local friend of mine - assured me there was still plenty left for us. First stop was the top of the L'Aiguille chair, from where a short walk led us to a wide open valley of fresh powder. It's an off-piste area, and to get there we had walked past a sign which displayed an avalanche warning of 3, so after testing our transceivers, agreeing a safe spot down the slope to regroup, and allowing a suitable gap between each of us, we dropped in. The temperature hadn't broken into the positive for many days and as such the snow was very light and the ride down was fantastic. Yes there were tracks, as I'd not made the first lift, but it was easy to find virgin snow to burn through.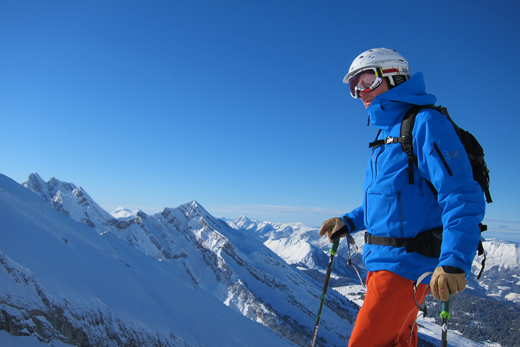 We then made our way back up the mountain, and after a steep ride through the trees under the Fernuy gondola, we went straight to the top of the Col De Balme. A sharp right traverse and a 20 minute hike led us to a cornice below a large rock spire, with a cross on the top. I was relieved to see that although the valley below us, the Combe de Bellachat, is far away from any piste, two of the resort's pisteurs had already dropped over the cornice. I could be totally wrong and they may have been enjoying the powder on their lunch hour, but they did appear to be monitoring the area and looking at the snow pack, which made me feel much more comfortable about the snow conditions. There's a host of ski touring options in this valley, and as I clipped into my board I noticed many small groups skinning up various peaks.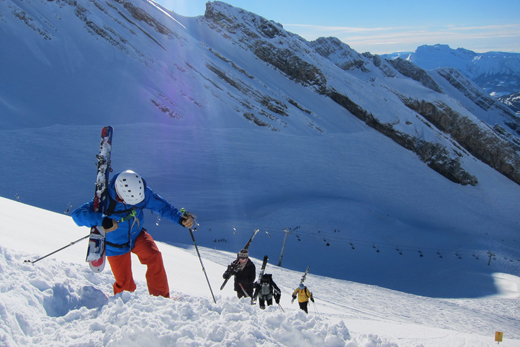 Leaping off the cornice onto a steep slope below was the hardest part of the decent, which was mostly north facing and very open, with any large drops very apparent. It's mostly of a gradient of around 45/50 degrees - prime avalanche terrain, so great care must be taken particularly in late season (always take a guide). It was a fantastic descent as we stayed left, under a huge rock band. After a bit of wrestling with a few trees at the bottom, we found ourselves back at the La Balme Gondola.

We spent the rest of the day playing on the almost limitless lines of the Combe de Balme, shredding trees and taking small rock drops, finding fresh snow for all of the day.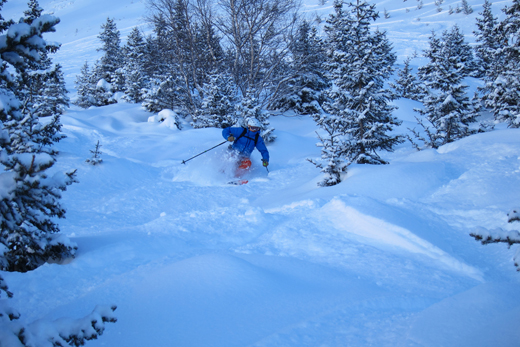 Only an hour or so direct drive from Geneva airport, La Clusaz is a traditional village resort that has no concrete hotels spoiling its alpine ambiance. Being only 30km from the wealthy and beautiful town of Annecy, La Clusaz attracts a chic French crowd who won't accept mediocre service, nor overpriced and badly prepared food. A lunchtime meal in one of the many mountain cafes is always a treat, and for the French Alps, is very reasonably priced. The Telemark Café was particularly good (www.telemarkcafe.com).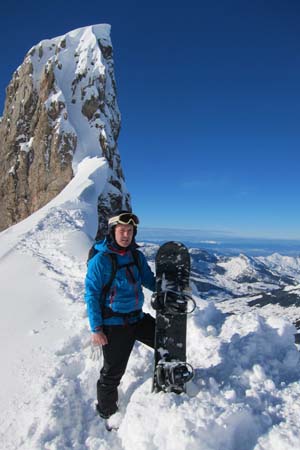 All great in you live in Annecy, but not so good if you want to get to or leave the resort without hiring a car. There is a bus service direct to Geneva airport on Friday, Saturday and Sunday, but other than that you need to take a bus to Annecy and change for an onward bus to Geneva. The problem is that the buses don't link up, and you often have to wait at Annecy or arrive at the airport many hours before your flight. I had the choice of either leaving at lunchtime and arriving four hours too early at the airport, or taking a risk and getting the 5pm direct bus that would get in 20 minutes before my flight closed. Since the sun was out and the snow was good, I opted for the latter, which led to me jumping off the bus while it was stuck in traffic on the airport sliproad, and sprinting the final 500m to the terminal, dragging my snowboard bag, and getting there with moments to spare. So it's definitely worth checking out your options before booking your flight!

Transport information www.laclusaz.com/by-bus.html