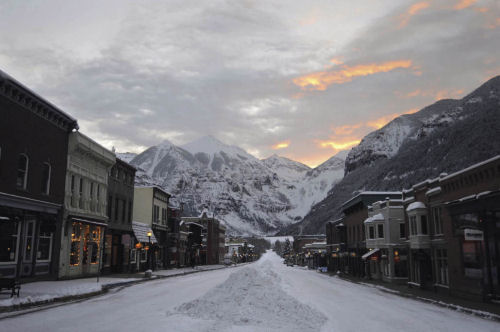 I was way out west and driving through a desert, tumbleweed and truckers my only friends. I'd been driving for many hours, having left Denver early in the morning, and had passed the exit ramps off Interstate 70 for many well known resorts such as Aspen, Copper Mountain and Breckenridge, to name only a few. I'd driven right through the heart of Vail and found it strange that whilst being well over a mile above sea level, I'd still not really seen a mountain.
Finally leaving the cross-country traffic behind, I'd turned south at Grand Junction and found myself passing through many rundown farming communities bedecked with 'For Sale' signs, when I finally saw them: the jagged shark's teeth peaks of the San Juan mountains. I felt a warm glow inside as I realised that the long drive was going to be well and truly worth it.
The peaks of the San Juan range are amongst the youngest mountains in North America, and many are more than 14,000 feet (4,250m). Because they rise straight out of the desert they are blessed with some of the driest powder snow on the planet, and plenty of it. My first stop was the wild-west resort of Telluride, a high-altitude gold-mining town that apparently used to overflow with wild living and corruption. As I drove under a huge banner that read 'Welcome to Telluride Gay Ski Week' I wondered if it was maybe just the corruption that was in the past. The town's 'San Miguel Valley Bank', now a clothing shop, boastfully claims to be the site of Butch Cassidy's first bank job and as you walk down the main street past the many cool shops and cafes – no McDonalds or KFCs here – you feel like you're in a spaghetti western film set. If only the locals would lose the ski jackets, and dress as cowboys to complete the picture for me.
I was staying away from the old town at the Hotel Madeline, up in the Mountain Village area, a purpose-built, slope-side complex that sits around 300 metres higher up the mountain and is connected to the town by a free gondola. While sympathetically designed, the Mountain Village lacks the old town's charm, but does benefit from ski-in, ski-out accommodation and great restaurants. The resort's owners have been pushing really hard (and with great success) their on-mountain eateries, claiming unofficially, but possibly truthfully, to be the best place in the US to combine skiing and eating. In the words of one local, commenting on the imported floorboards from an old Pennsylvanian Amish barn that now cover the Tomboy Tavern's floor and ceiling, 'Yeah, they've been spending loads of money making everything look old.'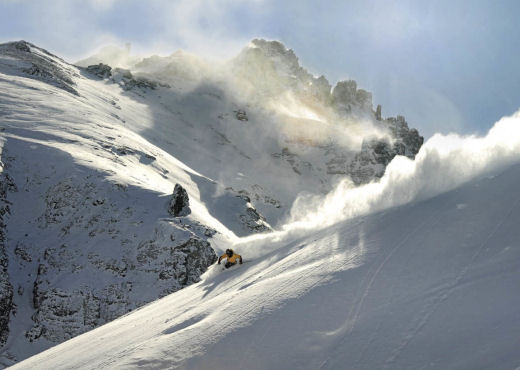 Food aside, the terrain and snow quality of Telluride are excellent. There are more than 2,000 acres of skiable terrain with a vertical drop of almost a mile, with some very exciting lift-accessed 'hike to' terrain. Basically, at the top of the resort is a huge area called Prospect Bowl, which tops out at Palmyra Peak at 4,060 metres. You can walk along a ridge on either side of the bowl, from five minutes up to an hour and a half, and drop in where you like. It's advanced terrain and the warning signs at the top of the lifts certainly let you know that fact. I walked from the Prospect Express chair, very slowly and breathing deep, for about 25 minutes to the Mountain Quail couloir, as steep as any couloir off the Saulire in Courchevel. It had been worth the walk as I found an untouched line close to the rocks and the snow was desert dry.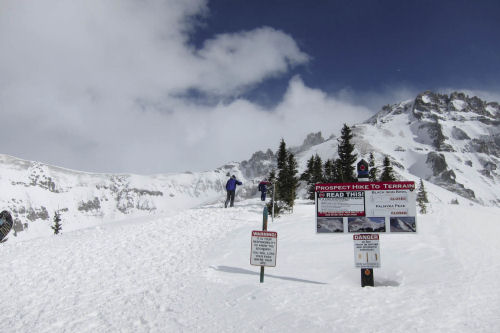 For those who like to stick to the piste there are miles of perfectly groomed slopes to take at speed. The black diamond of the Log Pile area will be a challenge to even the best of tree skiers and is a great place to head for some untracked lines.
On the drive to my next stop I was filled with both trepidation and almost uncontainable excitement. Silverton Mountain has been long on my hit list and when I talked to the skiers on the lifts of Telluride I realised I wasn't alone in my desire to ride its slopes.
'You're going to Silverton? Man! I'd love to go there!' was the normal response I received, that and, 'Watch out over Red Mountain Pass!'
I've spent a lot of time in the mountains and driven over numerous mountain passes, so dismissed these warnings without so much as a thought, but as I drove up the incredibly narrow twisting pass, with its seemingly bottomless drops, I did start wondering why there were no barriers at the road's edge. The trepidation around my ability to ride Silverton Mountain soon turned to total fear as I had to drive far closer to the road's edge than I wished to, to let a stupidly big pick-up truck pass in the other direction.
Safely arriving in Silverton, which is really only two short parallel streets,
I checked into the Grand Imperial Hotel, which is a wonderful time capsule of a place – it was easy to imagine bearded men playing cards in the bar, with aces up their sleeves and guns pointing at each other's privates under the table.
'That's quite a pass,' I ventured to the receptionist.
'You came over Red?'
'Yes. Why aren't there any barriers?'
'Oh, they just got plum tired of rebuilding every time an avalanche ripped them out. Happened four, five times a winter.'
Silverton would be in mothballs all winter if it wasn't for the ski resort (I say 'resort' in the loosest possible terms). It's the creation of Jen and Aaron Brill: their dream was to build the perfect advanced/extreme ski resort and after a long search they chose Silverton as the location, and what a good choice it was too. After buying the mountain from a mining company, and a second-hand
two-seater chairlift from Mammoth Mountain, Silverton Mountain opened for business in January 2002.
I had to report to the base tent – yes, tent – at 8.15am. So after an early breakfast I followed the town's only traffic up the mainly unsealed, snow-covered road for 15 minutes to a car park, where I was guided to a stop and told to take all my gear with me to register. After dumping my board against a half snow-buried caravan, along with everyone else's skis and boards, I made my way past two staff dragging a barrel of beer towards the base tent. I signed a disclaimer and handed it to Jen Brill, who sat behind a knackered old table with a pile of lift passes on one side of her and a beer pump on the other. Next, everyone made their way outside, where we were split into groups depending on how fast you wanted to hike. I played it safe and chose an intermediate group, and after a short avalanche brief, we made our way to the lift.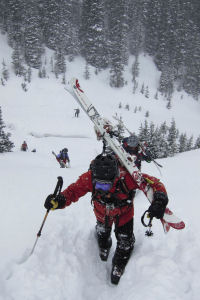 Silverton only takes 80 clients a day for guided skiing, mid-January through to early April, with group sizes of 8 or less, and is only open Thursday to Sunday. The snow gods were with me that day as I'd arrived on a Thursday, after four days of heavy snowfall, and the mountain was totally untracked. Our guide, Mike, explained that as it was a bit of a white-out day and it was still snowing, we'd probably spend most of the day in the trees. As we hiked uphill away from the top of the lift, all groups heading off in different directions, I was glad I'd acclimatised a little in Telluride, as we were over 3,700m.
I soon found myself, along with my new friends – a group of snowboarders from New Mexico and a fire chief and his wife from Santa Cruz – above a steep open pitch that continued into the trees. Mike set off and we followed him through the driest powder I've ever been in, all whooping with joy. Eventually we hit a road where an old school bus, with four feet of snow on its roof and 'Silverton Mountain Correctional Facility' written down its side, waited to drive us back to the chair to do it all over again. We managed six descents, only stopping once for a 10-minute lunch, over the course of the day and as Mike had suggested, we did spend most of it in the trees. We never hiked for more than 15 minutes and never touched the same piece of mountain twice, always getting fresh tracks. The scariest point of the day came when Mike informed us we were entering a 'no fall zone'. I didn't ask him exactly what he meant, but after, as I looked back up at the mountain we'd been expertly guided down, I saw cliffs, a huge frozen waterfall and avalanche debris, so I sort of got the idea of what he meant.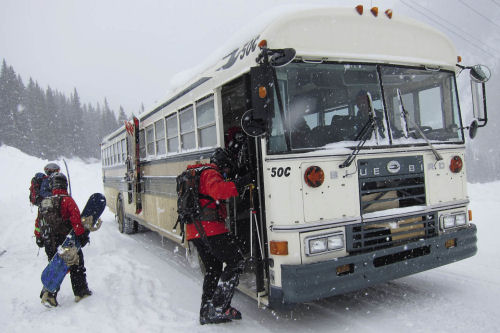 Anyone who is happy in steep powder, can pick a line through trees and doesn't mind a tent full of half broken furniture will love Silverton – in fact, the only bit I didn't love was having to leave.
Leaving the San Juan Mountains behind, I had time for one more stop en route to Denver. I had chosen Crested Butte, and was glad I did as the town, while similar in its wild-west appearance to Telluride, had a laid back, lived-in kind of vibe, as if it was a traditional village rather than a place for tourists. They have a strange tradition of covering the old wooden houses here in old car number plates, to protect them from the elements. I wondered what they did with all the old cars.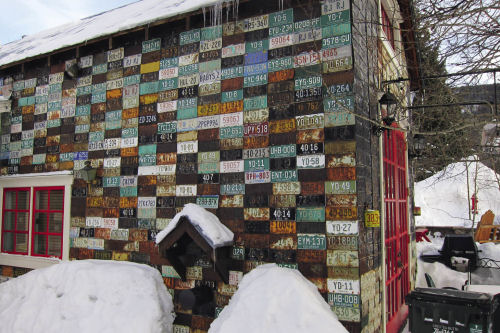 The mountain, a five-minute drive from the town, has ski-in, ski-out hotels and some lively bars, while the slopes offer a really good range of terrain. It would make a great place for a family trip, with long, empty green and blues for beginners and some very steep double blacks for the experts. There are two 'hike to' areas – one of which, Teocalli Bowl, is really a 'hike from' as it's a ten-minute walk out – both of which offer some very challenging lines.
I spent my last day of riding on the powder in Teocalli Bowl before finishing it off in 'The Dog Wood Cocktail Cabin', drinking spicy cocktails made from the locally distilled Montanya rum. The only thing missing from my perfect Wild West snowboard fantasy was a massive bar-room brawl, with people flying through the windows and out through a set of swing doors, as the pianist just keeps on playing. Sometimes though, you can expect a little too much from a place.
Snow How
GETTING THERE
Denver International Airport serviced by BA and United Airlines from London. 7hr transfer to Telluride and Silverton, 5 hrs to Crested Butte.
Hertz Car Rental
www.hertz.com
WHERE TO STAY
Denver Hotel
www.thecurtis.com
doubles from $161.
Telluride Hotel Hotel Madeline
www.hotelmadelinetelluride.com
Doubles from $265.
Silverton Hotel
www.grandimperialhotel.com
doubles from $79 a night
Crested Butte Elevation Hotel and Spa www.skicb.com
IN RESORT
Telluride: Skiable terrain 2,000+ acres inbound, Number of lifts 18, Percentage of runs 125 pistes 23% beginner 36% intermediate 41% advanced/expert, Highest point 3,831m from lift; 4,008m with hike, Vertical drop 1,349m, Snowpark 4.
Silverton: Skiable terrain 1,819 acres, plus 22,000 acres heli, Number of lifts 1, Percentage of runs No pistes. Beginner & intermediate 0% advanced & expert 100%, Highest point 4,110m; highest point of chair 3,749m, Vertical drop 580m/heli 940m, Snowpark no park
Crested Butte: Skiable terrain 1,167 acres inbound, Number of lifts 16, Percentage of runs 21 pistes, 23% beginner 57% intermediate 20% advanced, Highest point 3,707m, Vertical drop 846m from lift; 933m with hike, Snowpark 2 and a super pipe. Cost of adult lift pass $95, 6 days $513.
MUST DO'S
Telluride: must-ski run, Log pile. $3 beer with truffle fries at the Tomboy Tavern.
Silverton: just get there – it's a must do for anyone's skiing CV.
Crested Butte: Hike into Teocalli Bowl
TOP TIPS Don't try to drive over Red Mountain Pass (between Telluride and Silverton) in the dark.
BEST FOR Experts happy to hike.
USEFUL CONTACTS
www.coloradoski.com
;
www.tellurideskiresort.com
;
www.silvertonmountain.com
;
www.skicb.com