There are two guys dragging a barrel of beer, through the very deep snow, towards a tent.

"That's a worthwhile job you're doing there boys," comes a John Wayne-esqe voice from behind me.

The two guys stand aside, thankful for the rest, and let myself and a small group of skiers and snowboarders pass. Outside the tent is a large sign, on which is written a lengthy disclaimer about how dangerous skiing is. I pass through a wooden door into the tent, which is buzzing with activity. "Your first time?" I'm asked.

"Yes," l reply. Like a virgin, in a house of ill repute.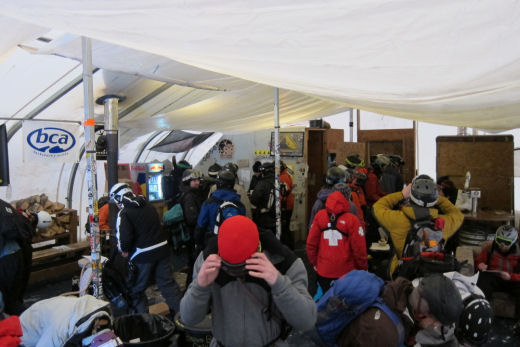 "Ok, grab a form and fill it in, then hand it in over at the bar there." I do as I'm told, and sit on a broken armchair that's spewing out foam from every seam. The lockers I'm sat next to are covered in yellow triangular stickers which feature a pin man on skis falling off a cliff, and the words 'Silverton Mountain'. After filling in my disclaimer, I make my way over to a small table next to a beer pump and hand it in to Jen Brill, who with husband Aaron, dreamed up the idea that is Silverton Mountain.

I'd been fortunate to have dinner with Jill the night before, and she'd told me the story of how, over the kitchen table, she and Aaron had decided to create their perfect ski resort. "We just wanted an off-piste resort for advanced and expert skiers. No fuss, just a great mountain for people to ride. We found it here in Silverton, opened in 2002, and the rest is history."

"Once you've handed in your forms, head out to the car park and we'll split you into groups," came a shout from one of the guides while he stood on a rickety wooden chair.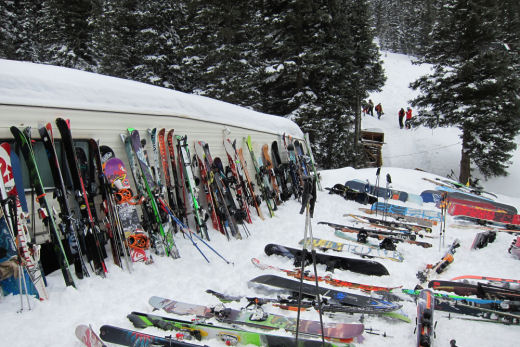 I made my way outside, and, after locating my snowboard amongst a mass of skis and boards lent against a snow buried caravan, I made my way to the middle of the car park. Silverton offers small group guided off piste skiing, and if you're on your own, as I was, you simply join up with others who want to hike at your speed. I opted for intermediate and was soon placed in a group with a fire chief and his wife from Santa Cruz, and a group of young boarders from New Mexico. After a safety brief and a checking of our avalanche transceivers we climbed onto the only lift in resort, a slow two man chair which was brought second hand from Monmouth Mountain.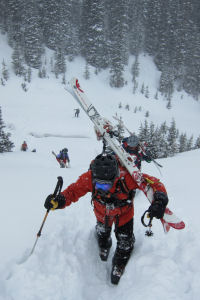 Once at the top we hiked slowly, as we were at 4,100 metres, for around five minutes before dropping into the trees through the lightest powder I've ever had the pleasure to ride. Once at the bottom we hit a track which led us to a waiting bus that drove us back to the chair lift. Over the day we had six very different descents, including tight chutes, tree lines and powder faces, never having hiked for more than ten minutes, and each was truly fantastic.

Silverton Mountain, Colorado takes guided groups from mid-Jan to the end of March for $139/day pp, including guide and lift ticket. It's open Thursday through to Sunday and only takes 80 people a day, often less. It averages over ten metres of snow a season and offers up excellent terrain, with big open powder faces and an almost endless amount of tree lines. There is also heli-skiing at $159 a drop or $999 all day/6 drops.

Resort www.silvertonmountain.com

Hotel www.grandimperialhotel.com

Nearby Cat skiing www.silvertoncatskiing.com