It was only a handful of years ago that Iceland didn't even merit a 'Here Be Monsters' mention on the snowsports' map. The first I heard of it as a viable destination was in a Snowboarder magazine article at the end of the '90s, and the trip described was strictly an exploratory procedure. But things began to change a couple of years later when native Bjarni Valtimarsson, and Glaswegians Rob Wyke and Graham MacVoy turned many hours of daydreaming as they shaped a snow park in Austria into a plan to start a summer camp in Iceland where the vibe would be chilled out and the rewards open only to the intrepid.
In 2002, they made their vision a reality just outside the small fishing village of Arnarstapi on the Snaefell Peninsula, three hours from Reykjavik. They christened it the Icelandic Park Project. Snowboarding adventurers stayed in the tiny Arnarstapi community centre and rode a hand-shaped park high on the Snaefell volcano. There were no lifts, but 24-hour daylight meant sessions could go on at any time. Things were different In other ways too, and the other local attractions (landscape, surfing, drinking, whale watching, exploring, socialising in the old-fashioned, Blitz-spirit sense) made the off-snow downtime unique. Riders I spoke to came back charged, as if they'd rediscovered something fundamentally fun about snowboarding. I had to go myself.
On the journey to Arnarstapi, I stared at the scenery and realised why Iceland is the kind of place that leaves you groping for superlatives and esoteric adjectives. It came back to me that I'd noticed this about all the articles I'd read about the first camp here in 2002 – that and the spectacular shots. All the writers struggled to convey their feelings about this landscape. Banging down convincing words about a battered and torn lump of primordial rock straddling the crossroads of the Arctic and Atlantic Oceans and the North Sea is a tricky one, and the results were often varied and always purple. Some opted for fantastical dream-like accounts, borrowing heavily from Hunter S. Thompson and the like, while others chose a pared down approach that seemed to mirror the scenery and evoke the elemental feelings visitors to the island all seem to experience.
The snowboarding at IPP is done on the Snaefells volcano and staying there was characterised by a weird and enjoyable routine. With the sun always out, there were no set times to do anything – sleep, drink, eat, snowboard, walk, talk. It engendered a real community feel, the kind that comes through the mutuality of a rare shared experience. On my first night I went for a walk with some friends and came across a pod of killer whales slapping their tales and blowing air about half a mile off-shore. You don't get that in Les 2 Alpes. Quite simply, I've known no snowboarding experience quite like the Icelandic Park Project. It is an expression of snowboarding at its purest.
Continued...
---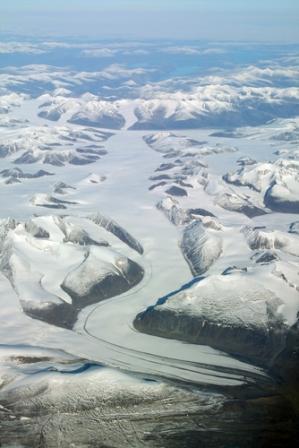 With pretty much the whole interior of Iceland a vast glacier, there are other options to indulge your snow-based passions – which is fortunate as the future of IPP is far from assured. More foreign visitors are wising up to the possibilities of stirring a few days' downhilling into a visit to this uniquely atmospheric corner of the world.
There are also a couple of straightforward ski resorts, the oldest of which, Bláfjöll, is located only an hour outside of Reykjavik, and while the terrain can't compare to the big central European resorts in size, the stunning scenery and lack of crowds make for a special experience. Besides the Alps don't have Rekyavik's cute clapboard looks, buck-wild nightlife that just don't quit and its fascinating, thriving outdoor bathing scene (all hellishly expensive, of course).
Another popular ski resort, Hidarfjall, is further north, near the second biggest city Akureyri. The resort has 12km of groomed runs, while the forested area Kjarnaskögur offers a number of walking and cross-country skiing trails. And for those with a little more exertion in mind, Vatnajökul, the largest glacier in Europe, provides great glacier trekking opportunities in awesome surroundings, a little further along the coast from Reykjavik.
Skaftafellsjökull, which is one of the scores of 'tongues' or ice fingers that come off the main glacier, is within a mile of the Skaftafell National Park campground, and you can get information at the ranger's hut on the campsite about organised treks. Alternatively, if walking on frozen water isn't your thing, hop on a organized skidoo trip (pretty much the national sport for the Icelandics) and zoom out on the tundra at bone-shaking speed.
Iceland is an eye-opening destination for a wintersports trip, and it is the lack of the kind of infrastructure you usually find in mainstream resorts that gives the place its ramshackle charm, and still allows a frisson of the frontiersman thrill the IPP boys came here to seek. And with no real scope for commercial resort development, and an enduringly tourist-unfriendly exchange rate, my guess is that for those looking to steer their boards or skis somewhere really different for a change, it'll be a while before Iceland's rugged novelty melts away.
Snotes
You can fly to Reykjavik from Glasgow, Manchester and Heathrow with British Airways (www.ba.com) and Iceland Express (www.icelandexpress.com) from Stansted return. The best time of year to go for snow is March to April.
Tour ops
High-end: With Exodus (www.exodus.co.uk) you can go on various trips including ice-climbing, skidoo and hiking on the Snaefell volcano. Mid-range: Discover The World (www.discover-the-world.co.uk) offers a three-day Reykjavik stay with the option of a day's snowmobiling on the Vatnajokull
The Reykjavik Tourist Information Center: www.visitreykjavik.is
Bláfjöll: www.skidasvaedi.is
Akureyri: www.eyjafjordur.is
Vatnajökul glacier treks: http://english.ust.is/Skaftafellnationalpark