When you're going to take your first run on a mountain in 20 months there are surely easier places to get to for a weekend than Crans-Montana. A plane, two trains and a funicular after leaving Heathrow, our small group found ourselves arriving in the Swiss resort in the middle of a snowstorm, with a growing sense of anticipation, tinged with exhaustion. This was a far cry from Mt Hemel.
And Crans-Montana was happy to have us. The Swiss had dropped their quarantine rule, and all we needed to be here was a negative PCR, a filled-in and uploaded locator form, print-outs of our NHS Covid pass plus everything else – and they were checked - and a readiness to mask up in a crowd. Skiing was back.
There are worst places to be. Sitting at 1,500m on south-facing slopes, in the Valais canton, overlooking the Rhone Valley, Crans-Montana has views stretching from Mont Blanc to the Matterhorn – a skyline of 18 of the most beautiful 4,000m peaks in the Alps. It's the kind of scenery that makes you rummage in the snow for the jaw you just dropped.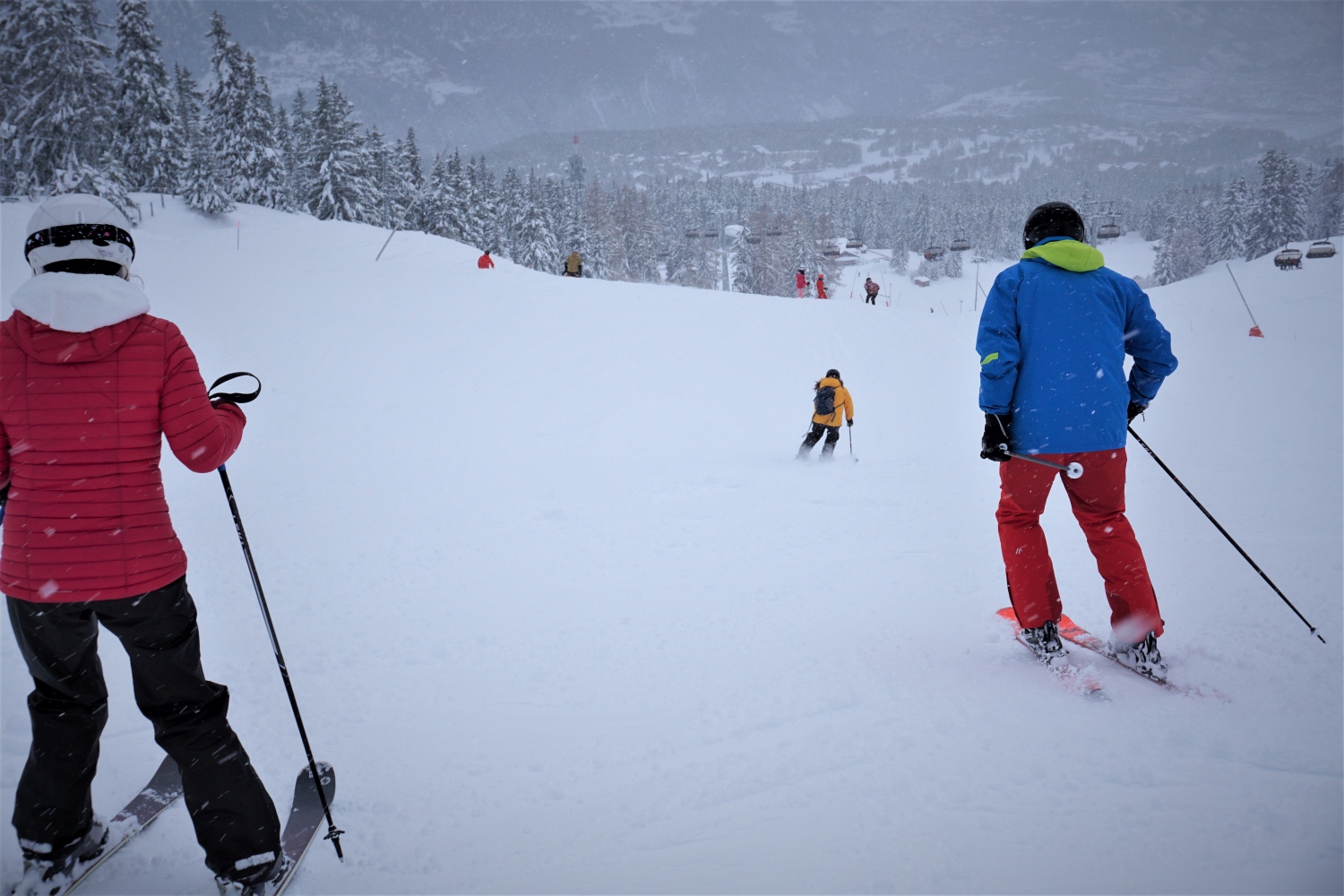 Except, for my first day back on a mountain, I couldn't see Mont Blanc or the Matterhorn, or basically anywhere. Visibility was very limited, especially above the treeline. But there was snow, lots of it, in the air and on the ground. This early in the season – 'twas a week or two before Christmas – the Alps had been blessed with overflowing snowfalls. So it was, that my first turns on a real mountain in 20 months were in proper powder.
I spent the first day, skiing and tumbling, reminding my ageing legs what they were supposed to do, but grateful for the chance to be here at all. The forecast for day two was sunshine, so I kept my fingers crossed…
What a difference. When the sun is out, Crans-Montana delivers on the visuals. From pretty much everywhere you can see across, down, along and up the Rhone Valley. It's a stunning reminder of the sheer joy of being in the mountains. And, it has to be said, that also includes simply sitting on the terrace of the Cry D'Er mountain restaurant, sipping coffee and drinking it all in. 
But back to business. Crans-Montana is, as its double-barrelled name suggests, made up of two Swiss mountain villages, Crans-sur-Sierre and Montana, that have expanded to form a larger community. The ski area is divided into four main sectors, from west to east: Crans, Montana, Barzettes-Violettes, and Aminona; each sector is accessed from its respective base area by gondola lift, and a free ski-bus service runs between the base terminals of these four lifts.
The piste breakdown is 40% blue, 51% red and 9% black, plus 40km of marked ski-touring routes, and the Alaïa snowpark, below Cry d'Er.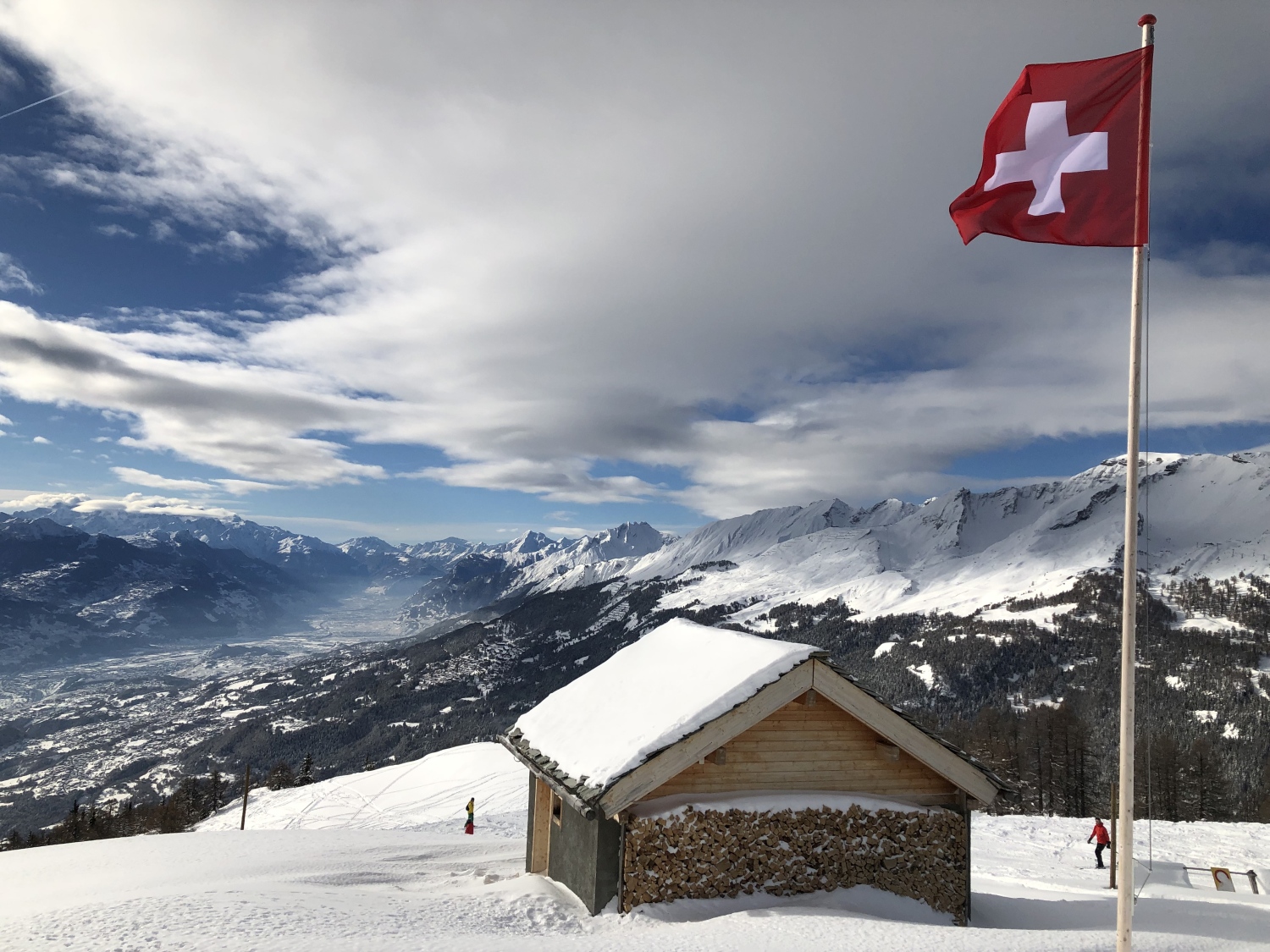 Right now, most of the sectors, including the Plaine Morte glacier at 3,000m, were not avalanche-safe, so we were only skiing the Crans and Montana sectors – a mix of intermediate reds and blues.
My more advanced comrades went off with a guide to explore deep powder stashes and we agreed to meet up for lunch at Chetzeron, a stunning new hotel and restaurant in what was once a cable car station, on the western edge of the ski area. 
I decided to check it out early and cruised down from Cry d'Er, past several groups doing avalanche drills. Curiosity was satisfied, but I couldn't hang around here for another two hours… So, onwards and, er, upwards? Maybe not. 
There are normally three ways back from Chetzeron. The first is a drag lift back up to Cry d'Er. That was still closed. The second is a path – part of CM's network of ski touring trails – that links to a red back towards the Arnouva chair. I didn't know about this yet. Which left the third way, an unpisted black itinerary, linking into the home run back to Crans. That was challenging, if a bit mogully, but at least this time I could see where I was skiing!
Chetzeron is an amazing restaurant. It's probably an amazing hotel too - the epitome of ski-in, ski-out seclusion. But that would be for another day, if I'm lucky. On this day we ate a late lunch of lamb stew and tarragon chicken, and sipped a remarkably delicious local white wine. Who knew Swiss wines were such a wonderful thing!?
All too soon the light went and the day ended. With Omicron just starting to surge, and Christmas coming, it was, for me, not a time for après in a crowded bar, though I noted the Zerodix venue, at the foot of the Crans home run, was looking lively. A quieter drink in the bar of our hotel, the centrally-located Hotel Olympic in Montana was my preferred reward.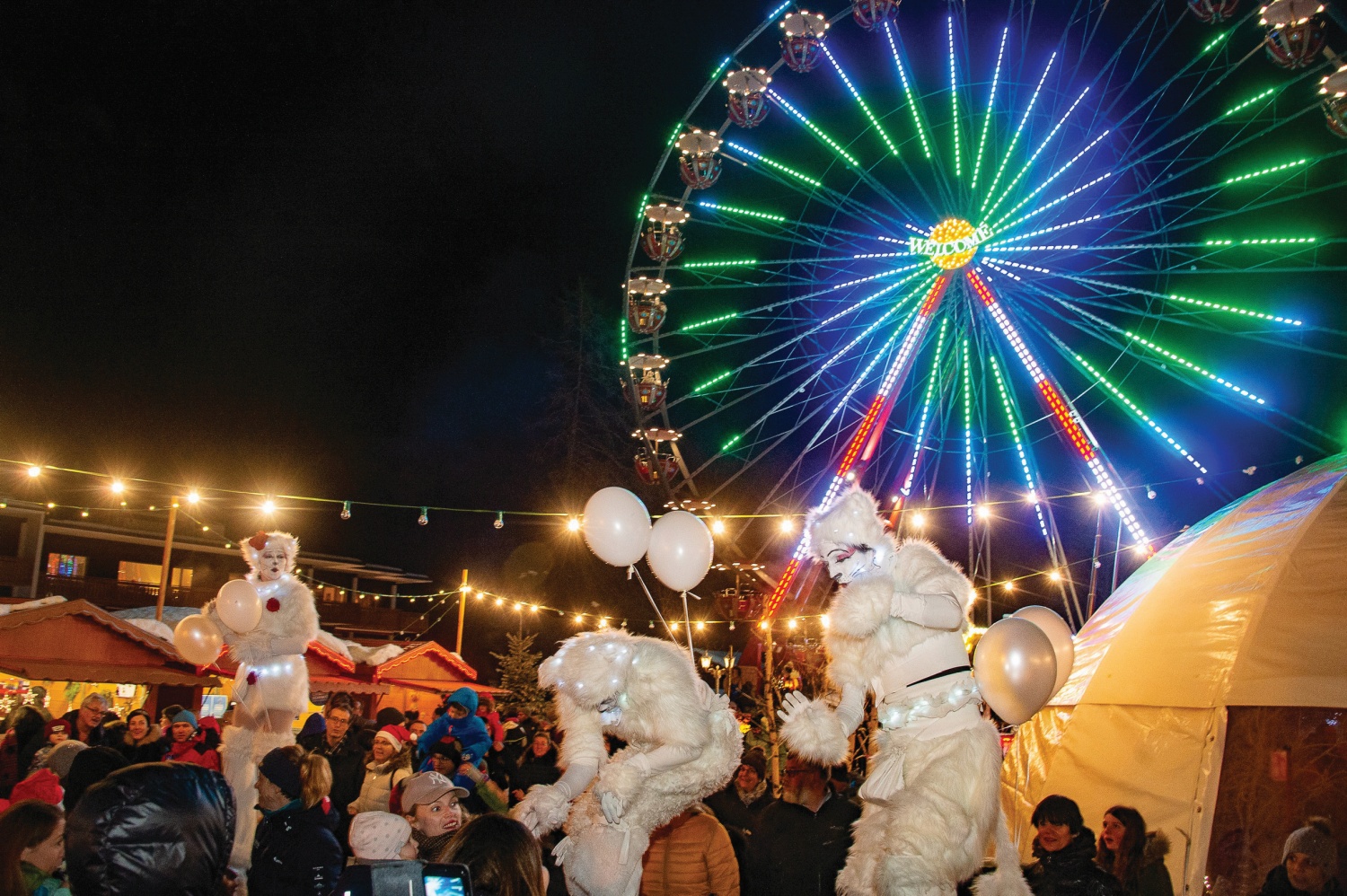 Our visit to Crans-Montana also coincided with the start of the resort's Bella Lui Festival, celebrating the magic of winter lights in the mountains, which is how in the evening we came to follow a snowy 5k lantern path skirting the main Crans golf course, before gathering at a Chef's market to taste different dishes prepared by the town's restaurants, each accompanied by a glass of a local wine. 
Gotta love those Swiss wines again, and who could resist a ride on the illuminated Ferris wheel – even if it was well below freezing by now?
If you're here for a week or more with a family and you get one of those days where the cloud descends and the mountain no longer beckons, one place that the kids will love is the Alaïa Chalet, a superb indoor and outdoor action-sports centre, where you can try skateboarding, BMX, parkour, trampoline, and other freestyle sports. 
Opened in 2019, it's a genuinely world-class facility, with a comfortable bar where parents can watch the kids do their thing, and a well-stocked shop.
Our last night's meal in the steak restaurant Mosaic was punctuated by the oddest aspect of this new normal of tests and certificates: the only time we could get our pre-flight antigen test was while we were in the restaurant, so the local medic came to us. Luckily, we were tucked around a corner out of sight of the other diners, because seeing a bunch of customers being lateral flow tested at the table would've definitely raised a few eyebrows. 
Monday morning gave us time for a quick hour's ski, before we had to reverse the funicular, train, plane journey, away from this rather unassuming but suave resort that had raised more eyebrows than its most famous resident, the late, unassuming but suave Bond star Roger Moore. Live and let ski… Would I go back, though? Well, as that other Bond fella said…never say never.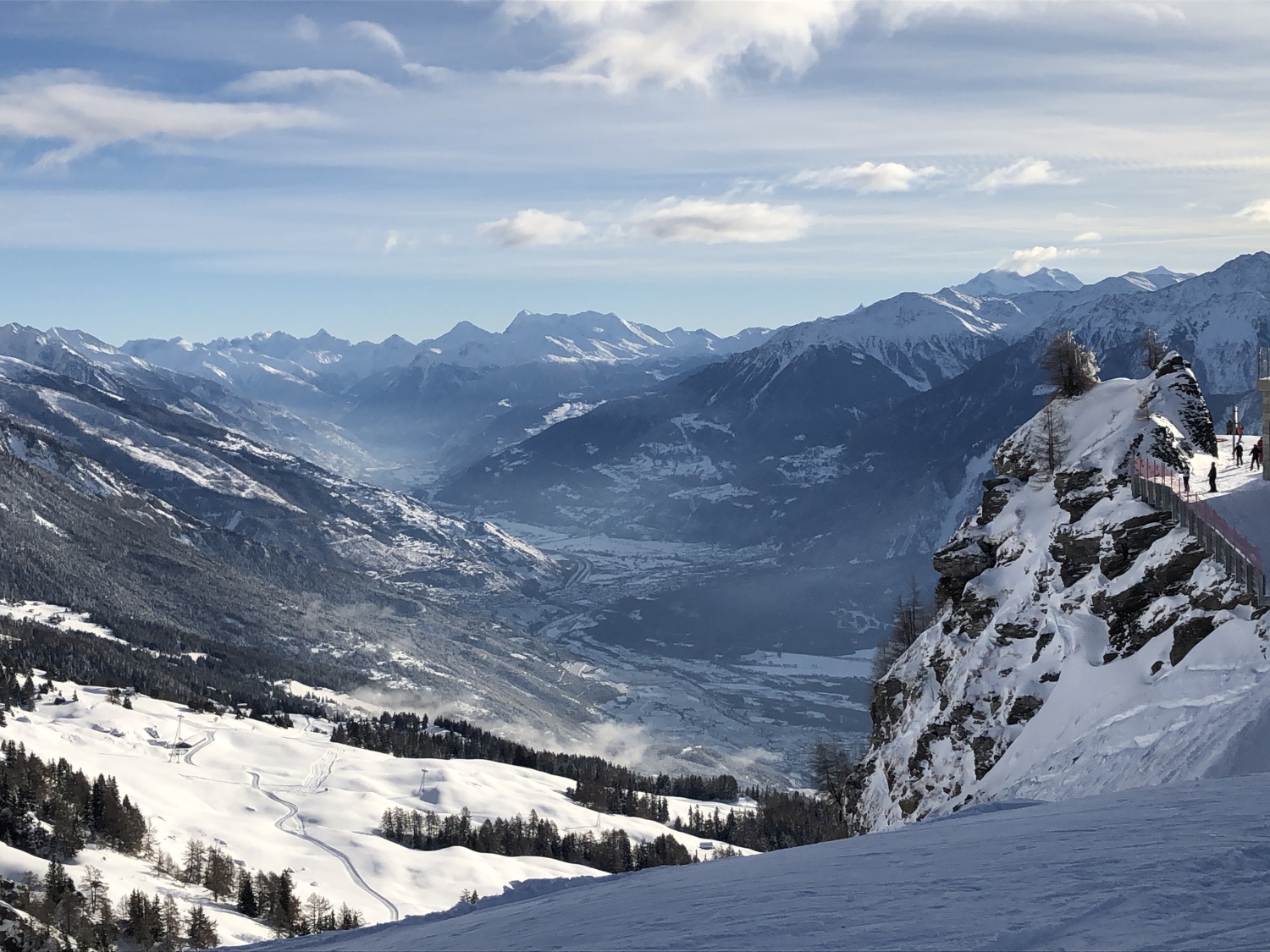 Crans-Montana by numbers
140km ski area
1,500m vertical drop
36 hotels
190 shops and boutiques
150 restaurants, bars and clubs
7 spas
1 casino
Snowhow
Roger flew with Swiss International Airlines Heathrow to Zurich (return via Geneva), including automatic check-in and free ski carriage.
Onward rail travel via the Swiss Travel System, Zurich to Visp, Visp to Sierre, Sierre to Crans-Montana #swisstravelsystem
The group stayed at the Hotel Olympic*** in Crans-Montana, within walking distance of the Anouva lift, courtesy Crans-Montana Tourism.