Our traditional early December Snow Magazine Christmas gathering has history. After the magazine has gone to press and the ski show and launch events are done and dusted, we head out the snow ourselves, for some much needed shred time, and a chance to hook up with our team of roving reporters and gear testers in the Alps. It's obviously a risk going so early in the season but it creates a buzz in the office as we relentlessly check the snow forecast in the run up to the trip.
We've had our disasters, once even having to drive two hours to find an open glacier for any sort of skiing, but the last three have been blessed with ridiculous amounts of powder. Last year's trip to Tignes saw so much snow that the resort closed entirely for two the four days we were there. All roads in and out were shut, but that meant when we got our bluebird opening, there was hardly anyone there to compete with for fresh tracks.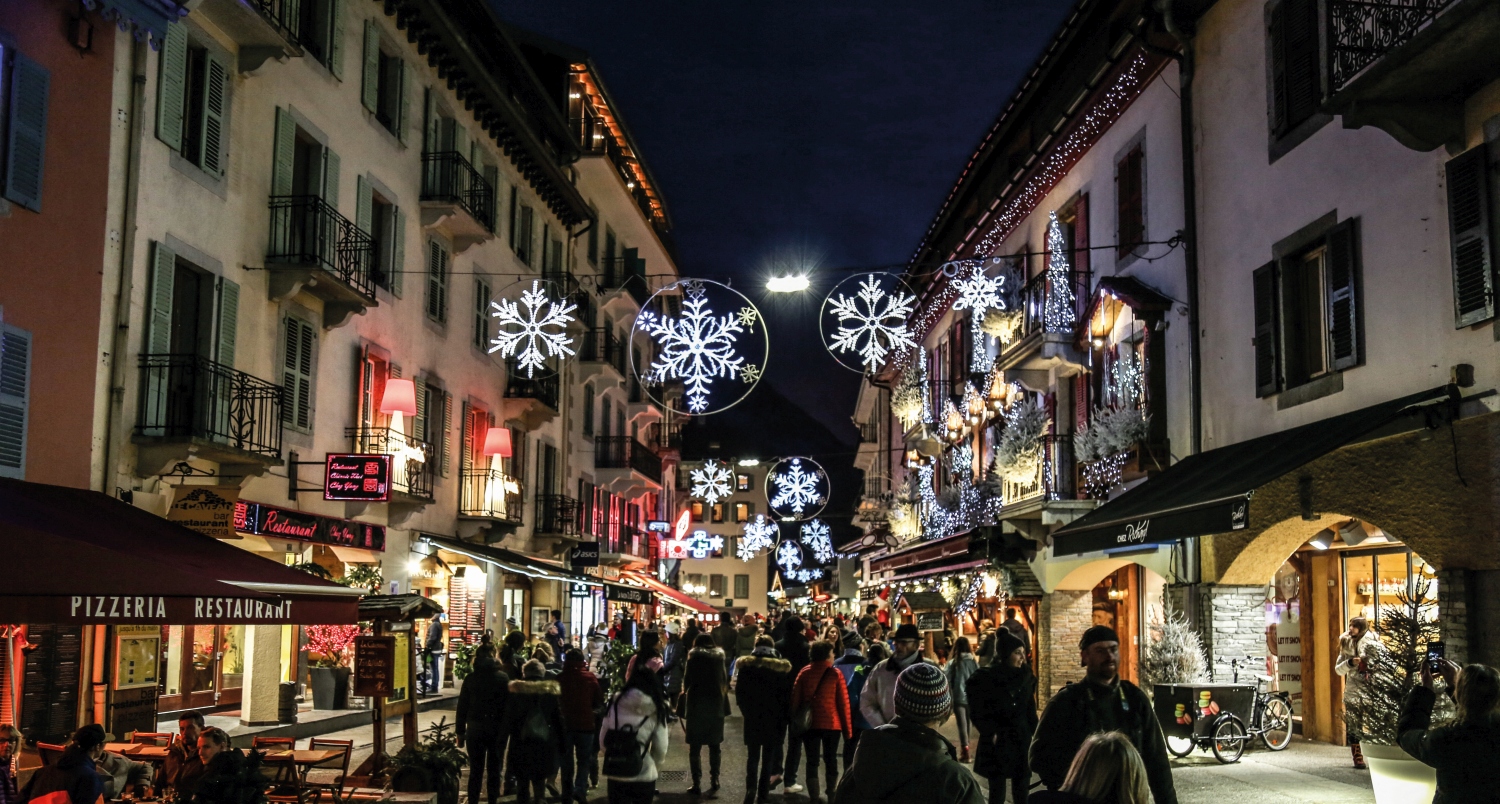 It's Chamonix's turn this time and things have been building nicely, with a good base already in place and heaps of snow forecast. The 90mph winds, on the other hand, coupled with the volume of snowfall, mean that we are greeted in resort with a grand total of zero lifts open on day one. The couloirs and extreme, exposed off-piste in this valley are rightly world-renowned. But the same epic terrain that attracts the masses can be its downfall, making it susceptible to closure when the weather closes in.
Thankfully, as resorts go, you could not be in a better one when skiing is off the menu. Chamonix is a true mountain town with a huge amount going on off-the-slopes, and we happily spend the day enjoying a lazy lunch and browsing the incredible array of gear shops, before heading to experience a wonderful three hours in the spectacular QC Terme Spa. With its 14 different sauna and steam rooms, ice baths, treatment rooms, outdoor heated pools with loungers under the water's surface and chill out zones, it's pure pampering, and well worth the £45 entrance fee.
Early birds and tequila worms
As pleasant as it is, however, it's not what we're here for. So we're all up first thing the following morning, eagerly tapping our apps at breakfast to see what the day's skiing might hold. Although nothing is opening on time, David Masino - our guide for the day - calls to say he knows the brand new Flégère lift will open later this morning, and we should be there to catch first tracks. Local knowledge is one of the many reasons to ski with a guide.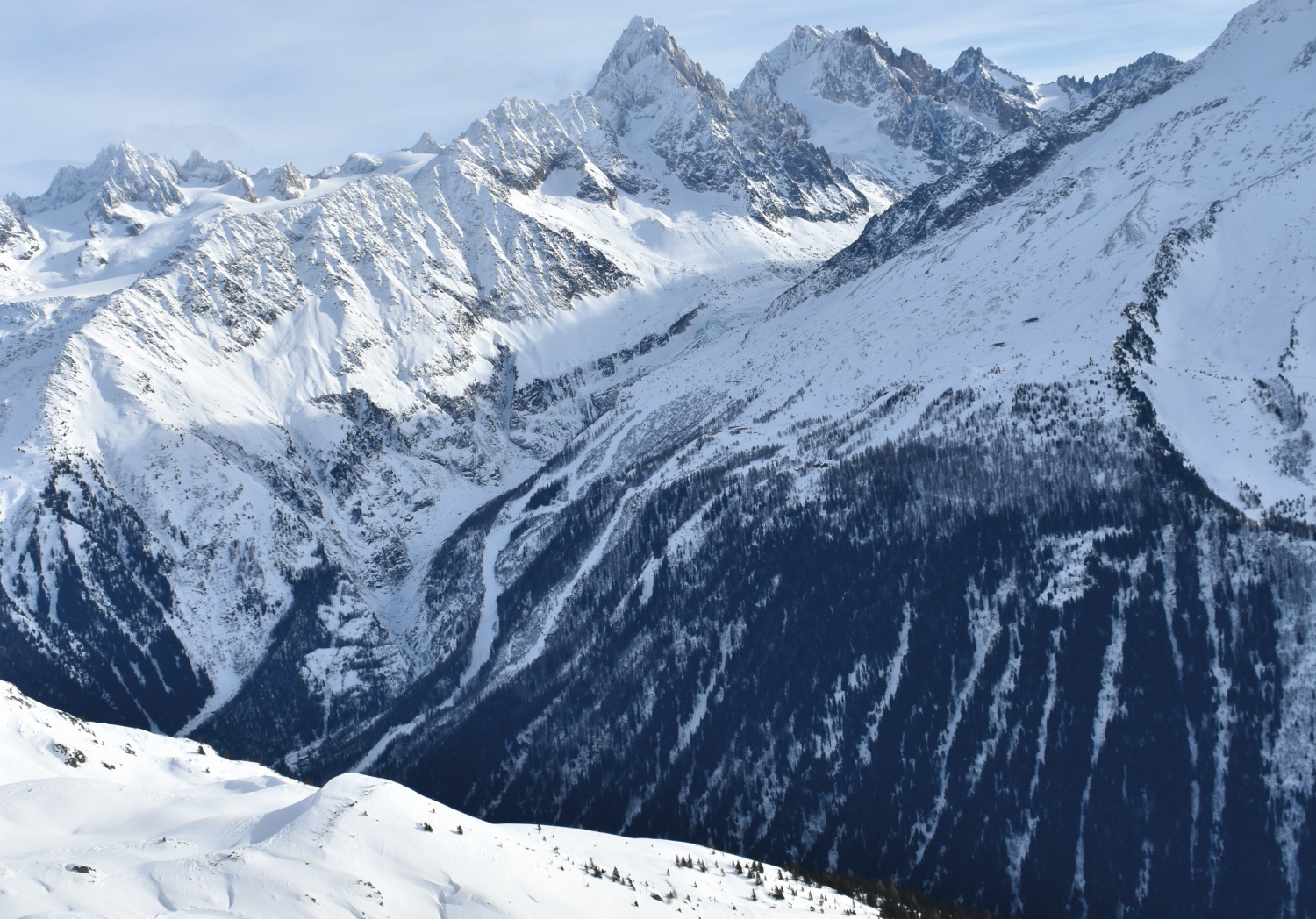 As we slowly rise up the mountain and through the clouds, we realise just how lucky we've been. It's dumped buckets, and we're in one of the best places in the world for a powder day. David, who is as excited as us, clearly has a plan and speeds towards a closed chair with a queue building up. We're probably 15 chairs back from the first, but each is crammed full of eager powder hunters. As we ascend, we watch helplessly as what looks like a snarling pack of wild dogs churn up the pristine open fields. "Don't worry", says David smiling, "they all go left, we go right".
"It's dumped buckets, and we're in one of the best places in the world for a powder day."
Following him off the lift, we are almost instantly alone. A short run through soft, fluffy powder whets the appetite further and we take our boards off to bootpack across a short traverse, at the top of which lies a stunning untouched playground of natural hits and wind lips as far as the eye can see. We each drop off into our own lines to the sound of whoops and cheers filling the air.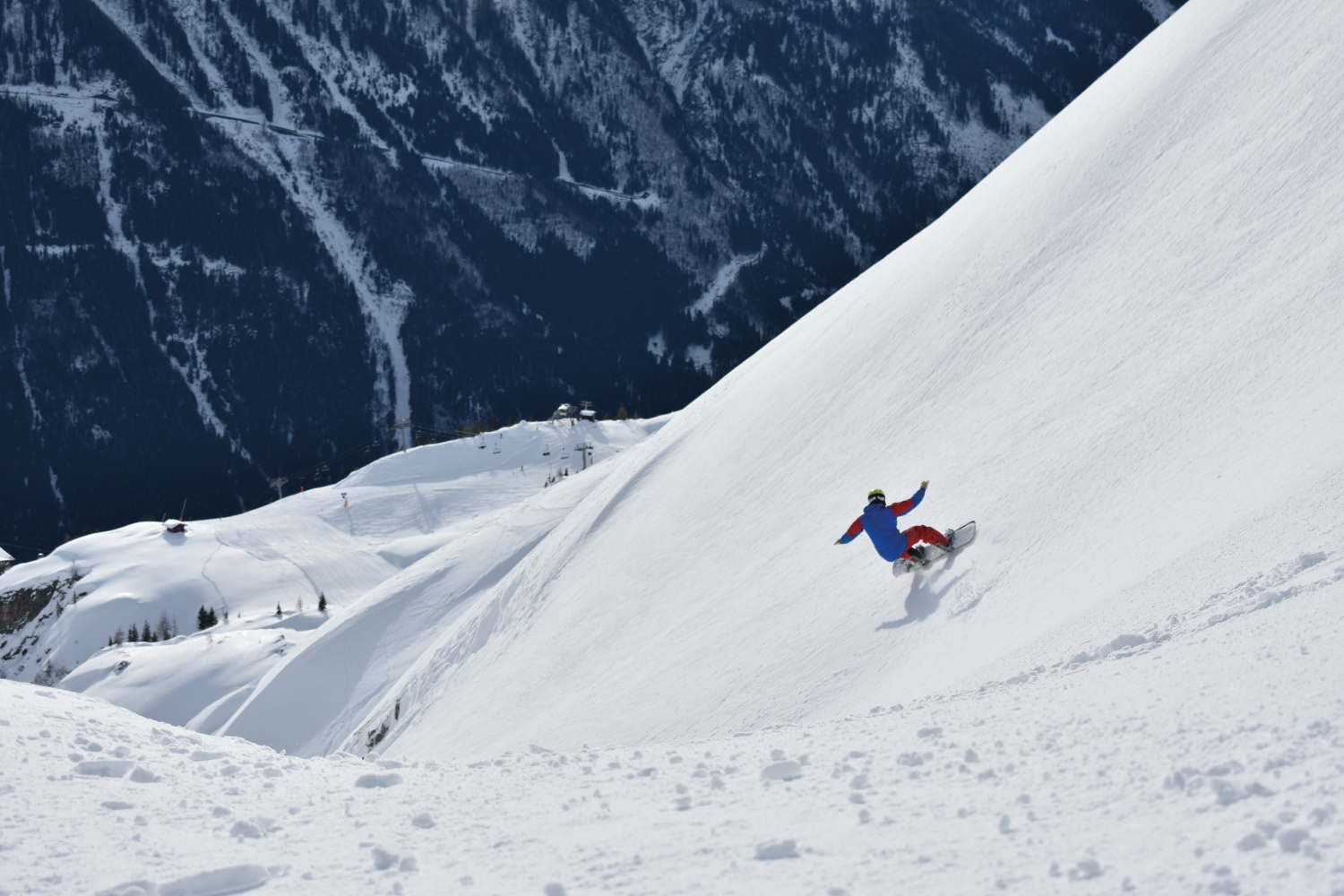 David continues to wind his way across the mountain finding pockets of fresh for us to play in, all the while keeping it safe in what are dangerous avalanche conditions. Did I mention the benefits of skiing with a guide?
The day leaves us all shattered, but we rouse ourselves for some celebratory apres ski at the recently-opened Folie Douce. Chamonix's version of the famous Val d'Isere venue is a slightly incongruous combination of family hotel and nightclub, but somehow it works. Wandering through the cool-looking bar areas with their grungy decor, we find ourselves downstairs, where we're treated to an incredibly high energy performance from a full band playing rock and dance tunes, accompanied by acrobats – obviously. By the time we leave at 8pm with ringing ears and a belly full of beer and shots, we feel like we've had a full night out.
Once again, our team trip has come up with the goods. Chamonix has only set the bar higher for the next one.
Local heroes:
Three must-dos in Chamonix, from skiing the local slopes to sampling the local food.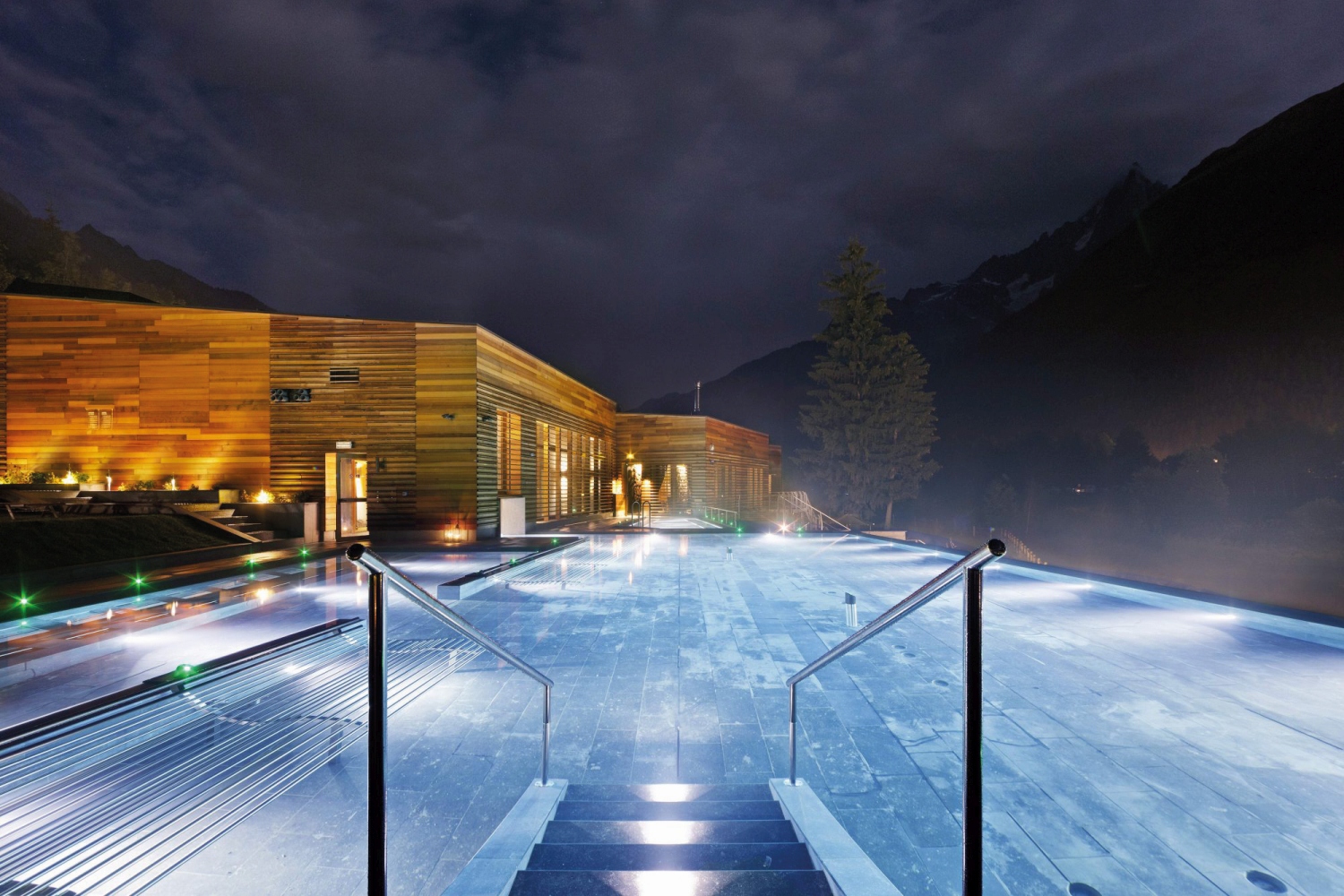 QC Terme Spa
If you fancy a day of pure pampering, you won't find anywhere better than QC Terme. With a full complement of steam rooms, saunas, hot and cold pools, and jacuzzis you can relax and soak up the views of Mont Blanc.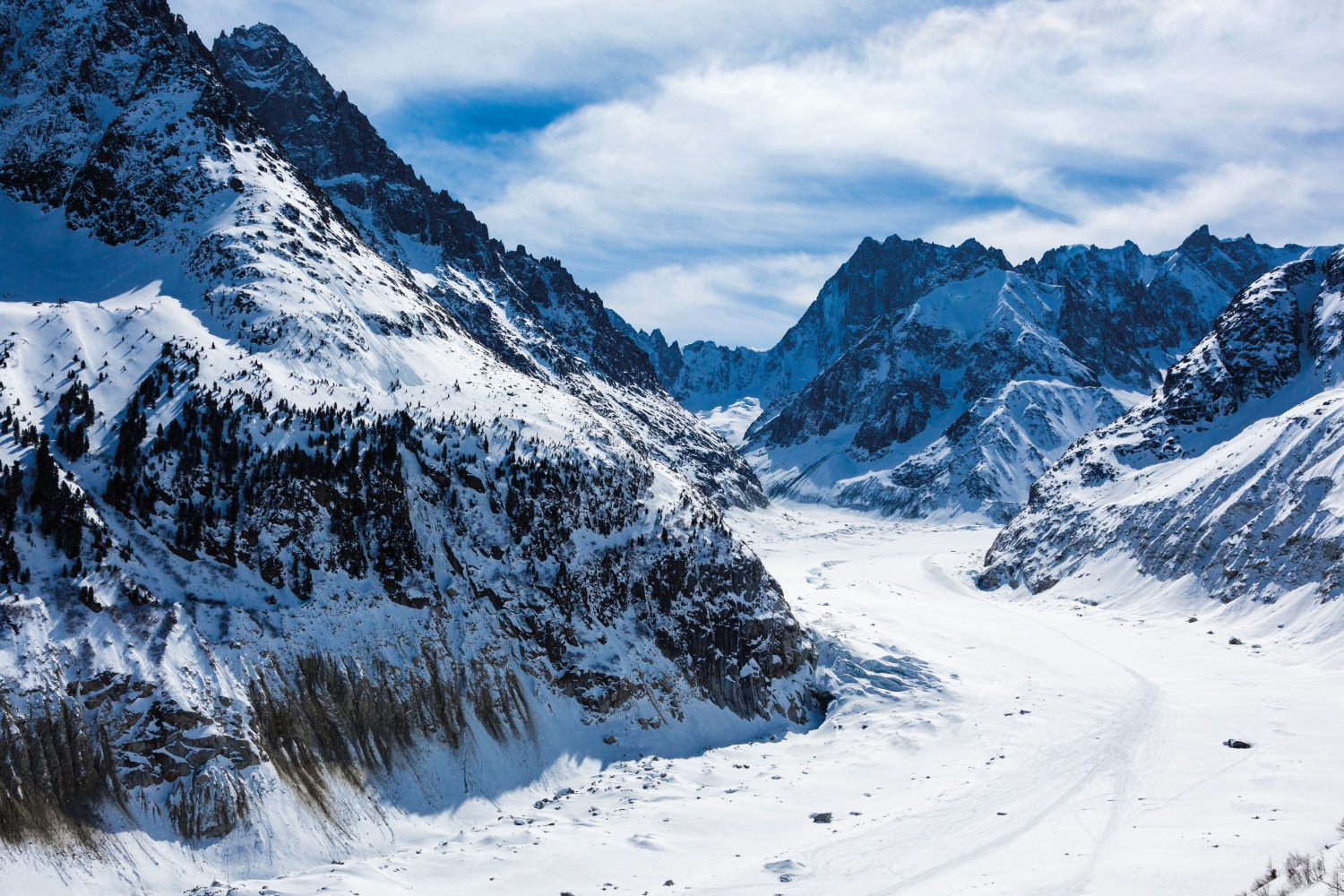 Mer de Glace
At 7km long and 200m deep, the Mer de Glace is France's biggest glacier and an amazing sight. You can spend the night at the Refuge du Montenvers and enjoy the spectacular night skies.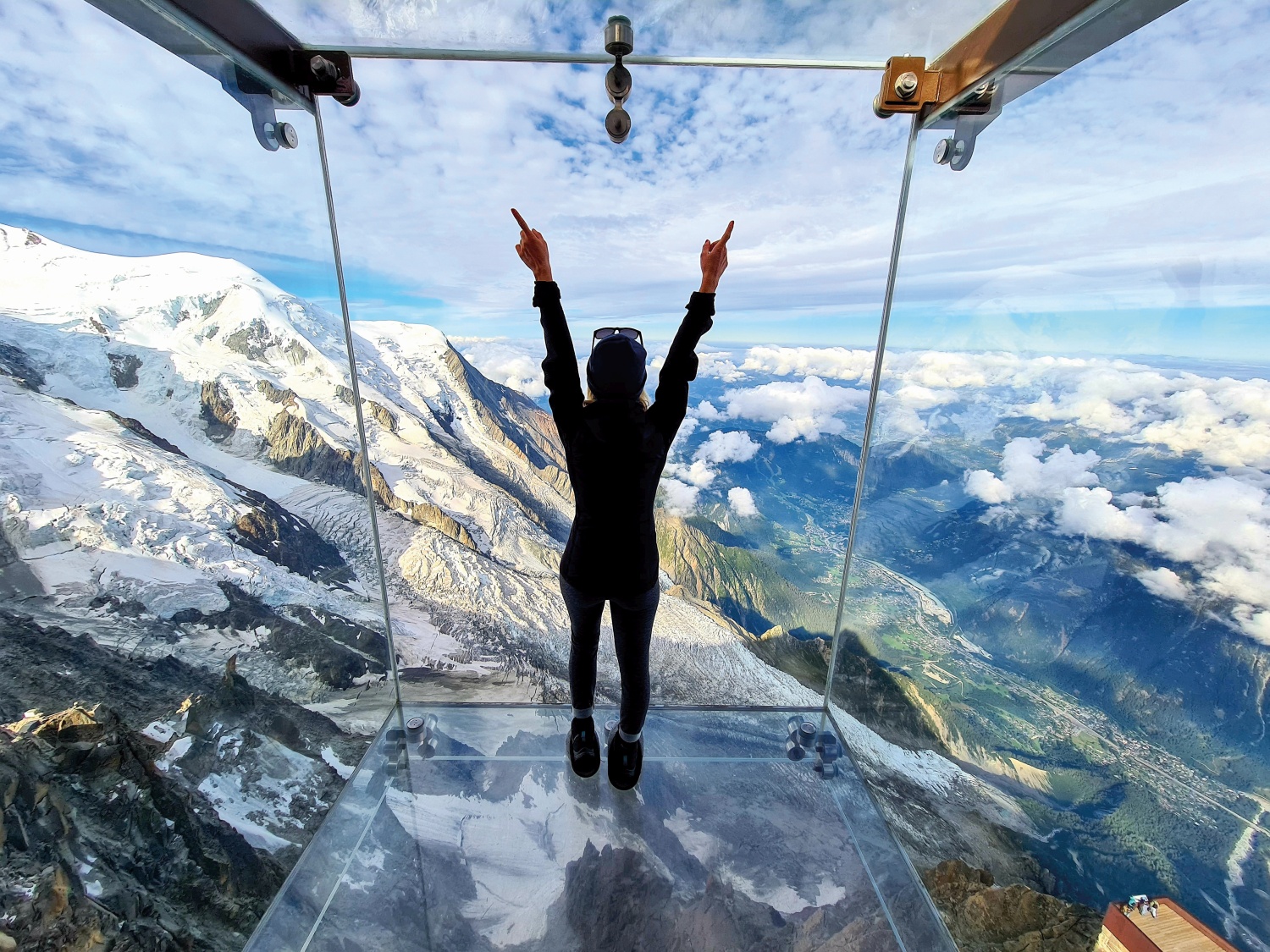 Aiguille du Midi & Valle Blanche
At an altitude of 3,842m, the Aiguille du Midi is a must for any visitor to Chamonix. The panoramic views are jaw-dropping and it offers access to one of the most famous off-piste routes in the world, the Vallée Blanche.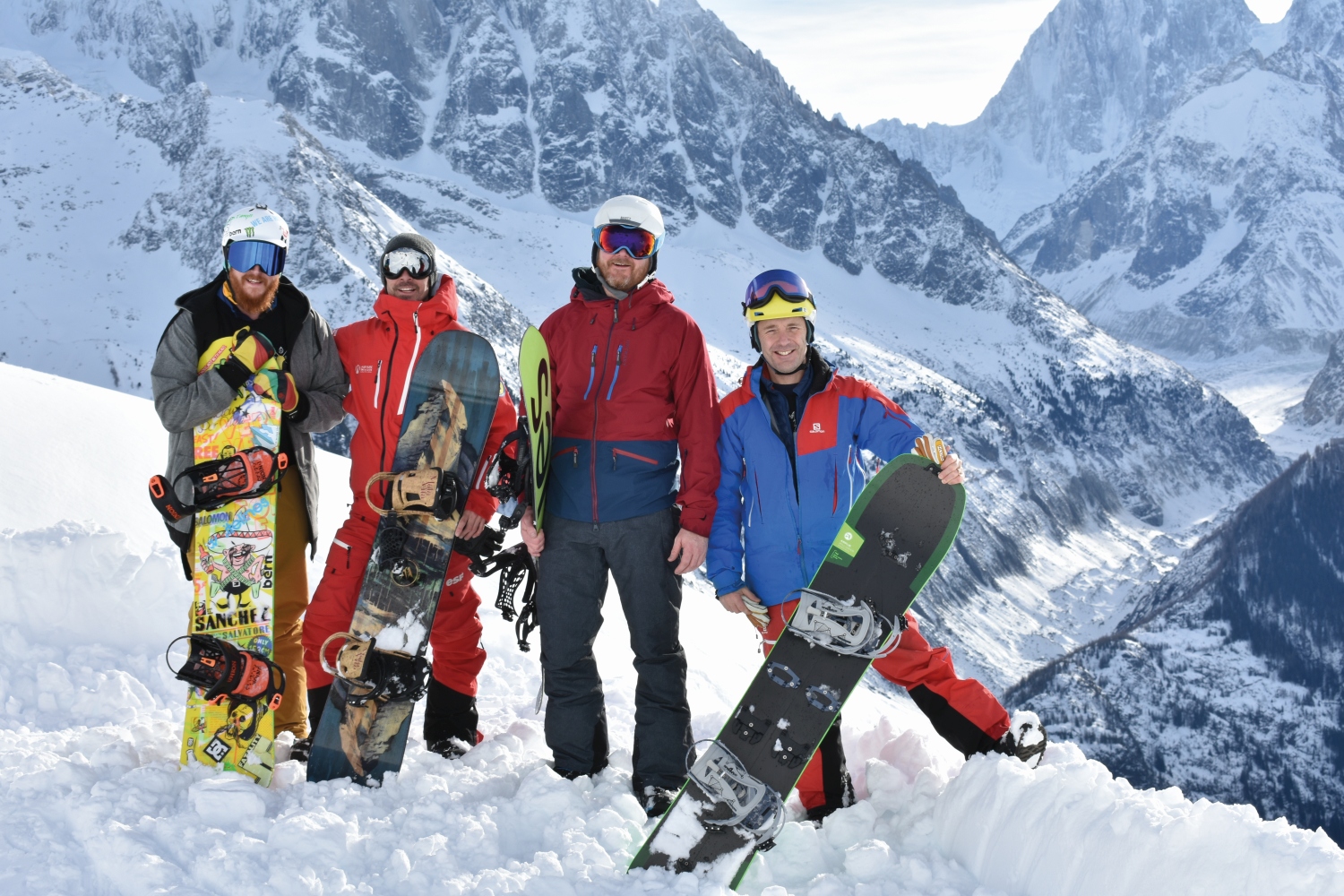 Travel tips:
Getting there
Chamonix is a super easy 1hr 20m transfer from Geneva.
Where to stay
We stayed in two hotels with bestmontblanc.com
Alpina Eclectic: The Alpina is ultra modern with cool decor throughout. It is right near the centre of town and has its own on-site ski shop. Rooms are a good standard and breakfast was epic.
Le Prieuré: A little further from the centre but easily walking distance, Le Prieuré has a more traditional chalet style to it. There is a cosy bar/restaurant area and some rooms have lovely balcony views of Mont Blanc.