There's always something slightly unnerving about clumping around a ski resort in early or late season when there's not a flake on the tarmac, the sun is irresistibly warm and you're in full ski gear.
Passers-by savouring the early spring sunshine smile indulgently as I head for the bus stop. But I can afford to smile back, because I know that 'up there' the snow is squeaky and pretty soon I'll be skiing in perfect conditions.
I'm in La Clusaz, France, in late March, and 'up there' is La Balme, where the slopes are uncrowded, the snow still feels like January and the views are wonderful. It's where you find much of the best skiing with some gorgeous reds and a testy black run, Vraille. The area is also a magnet for boarders and free-riders, with some good off-piste.
This attractive and still unspoilt resort lies in an open sunny valley, beneath the row of jagged but striking peaks of the Aravis mountain range. Few French villages are more picturesque than La Clusaz, with its traditional village square and Savoyard church. Bustling streets fan out, each with a collection of excellent shops, bars and hotels - and all with a very French feel. Despite only being one hour from Geneva, La Clusaz - and its neighbouring ski area Le Grand Bornand, with its own 88km of runs on the same Aravis lift pass, remains relatively undiscovered, particularly midweek, making it the ideal getaway for a short ski break.
The slopes are uncrowded, the snow still feels like January and the views are wonderful.
I'm here with my partner, doing exactly that - enjoying a midweek break with Ski Weekender, and staying at their friendly Aravis Lodge in the village of St Jean de Sixt, midway between the two ski bases. We flew out on a Monday afternoon, and we get two, nearly three, full days on the slopes before flying back Thursday night. You can, of course, do a more conventional weekend break, but we're enjoying some of those uncrowded midweek slopes.
And the most uncrowded of all are at La Balme. At 2,600m it's the highest of the resort's five peaks, but is however the furthest from the village and getting there from the main intermediates area of L'Aiguille entails skiing the long Fernuy blue/red run (a bit icy in parts on the two days we skied it) to the bottom of the gondola that climbs up to the Balme mid-station from where a couple of chairlifts and a drag lift do the rest.
Where to ski in La Clusaz
The skiing at La Clusaz is spread across 5 peaks - Beauregard, La Croix Fry-Manigod-Merdassier, L'Etale, L'Aiguille and La Balme - with 132km of groomed runs. Between them, these five sectors offer a wide variety of slopes - from sheltered tree-lined pistes to steeper runs both above and below the treeline. The unrocky nature of much of the terrain means that La Clusaz doesn't need a huge depth of snow for good skiing to be possible, but here, in March, the lower slopes are a bit claggy - spring skiing at its most typical.
You'll work hard to complete the Clusaz tour - starting off at the nearest area, Beauregard, which has some good cruising as well as decent tree skiing. Over the brow, behind Beauregard, are the Croix-Fry Manigod slopes - mostly gentle blue runs with a couple of quite exposed reds and a black on the opposite face, served by more drag lifts. A long cruisey green run links to the l'Etale area with its reds and black, and a short cable ride across the valley brings you into the L'Aiguille sector which is intermediate bliss, before the trek to reach the slopes of La Balme. It makes for a full and satisfying day, with many runs ticked off as worth a repeat visit. The mountain restaurants we stopped at were quiet and we basked in the sun on the terraces.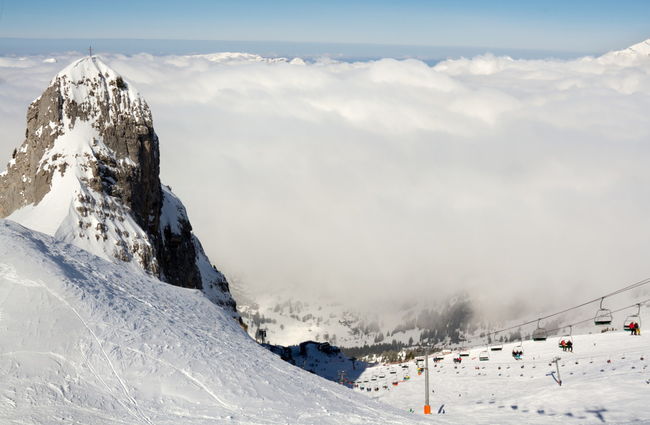 The previous day our hosts at the Aravis Lodge had brought us first to Le Grand Bornand. This smaller and more compact ski area of 88km is perfect for beginners and early intermediates. Late March may be a bit late to enjoy its lower slopes at their best, but at its high point, atop Lachat at 2,100m, there is still some beautiful snow to be found. And the run way beyond there, up a long, remote chair that comes up to just below the Tete des Annes, is a quiet, empty, open and languid piste that passes a tiny chapel in the middle of nowhere and gives you a wonderful feeling of tranquillity and solitude.
Ski Weekender - which is still an owner-run business - run a fleet of mini-buses to take you to and from the two ski bases, usually visiting each once and offering a choice for your last day or half-day, depending on your chosen flight time back to the UK.
Ski Weekender's short breaks include airport transfers and a full Aravis lift pass and transport to and from the pistes, ensuring maximum slope time. They also do on-site ski hire - perfect when you're arriving after the rental shops have shut! Their ski teas are generous, the evening meals, complete with wine, are delicious and the bar is just where you want it for a pre-dinner drink - a couple of strides from the dining room, where you eat in the most sociable way possible, sharing long communal tables and lively chat with your fellow guests. For the usual 'staff night off' there's a smart restaurant, Lucia, over the road and a great pizza place just next door. You can keep your room until 4pm on departure day, meaning you can shower and change after a last half-day or so on the slopes.
I'd stayed there about 12 years before - they even looked me up in their records! Coming back, I found the décor had changed but the friendly welcome was the same. It's a simple formula, but it works.
Midweek Breaks available from just £349 per person from skiweekender.com