While completing the challenge, the 28-year-old also set a new world record for the fastest 100km by kite ski, in seven hours 28 minutes.
Becoming the first person to use a bike as part of an expedition to the Pole, with specially adapted wide tyres, Skelton covered 103 miles on it, 329 miles by kite ski and 68 by cross-country ski.
Skelton said, "The environment is so harsh and on a day when you can get sunburn, you can also get frostbite.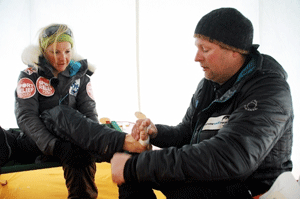 "My body hurts in so many different places, mentally I'm exhausted and I've only washed once in the last 30 days, so to be finally standing at the Pole feels incredible."

The intrepid adventurer pulled her supplies in a sledge weighing 82kg, and suffered numerous blisters, dehydration and ongoing stomach troubles. She was accompanied by Norweigan explorer Niklas Norman plus a small BBC team and logistics crew.
This is Skleton's third adventure for Sport Relief, following her high-wire walk between Battersea Power Station's towers, and a solo kayak journey down the length of the Amazon.