Opening in time for the 2016/17 ski season, the Flexenbahn cableway will complete the loop with a new link between Zürs and Stuben/Rauz, allowing skiers to reach all resorts in the Arlberg – St. Anton and St. Christoph, Stuben, Zürs, Lech, Oberlech as well as Schröcken and Warth – on skis or snowboard.
The link and its associated works, which amount to a total investment of €45 million, will make the Arlberg skiing area the largest contiguous skiing area in Austria.
The new cableway link will be built on the Vorarlberg side of the Arlberg, between Zürs and Stuben/Rauz and will be joined by the new Trittkopfbahn I and II and Albonabahn II cableways, which will also be completed in 2016.
From Zürs, Trittkopfbahn I will lead to the new intermediate station, from where skiers can either continue to the new top station of Trittkopfbahn II or use the new Flexenbahn to carry on to Alpe Rauz in Stuben.
From here, the other new cableway, Albonabahn II, will allow skiers to continue to Stuben. In addition, skiers starting out from Alpe Rauz can easily explore the St. Christoph and St. Anton skiing areas.
With 47 cabins, each carrying 10 people, the new Flexenbahn will take about 6 minutes, over a distance of almost 1.8 kilometres and an altitude difference of over 562 metres. That means a potential 2,400 people per hour. Each of the cabins has large panorama windows, offering an unobstructed view into the Klostertal valley and towards the Arlberg pass.
New epic ski circuit to follow
The new cableway will see the opening of a spectacular new skiing run – the 'Run of Fame' – to join the already popular and legendary skiing runs in the Arlberg skiing area, such as 'The White Ring' in Lech Zürs, the 'Tannberg Ring' in Warth-Schröcken and the longest downhill piste in the Arlberg, in St. Anton, named 'The White Flush'!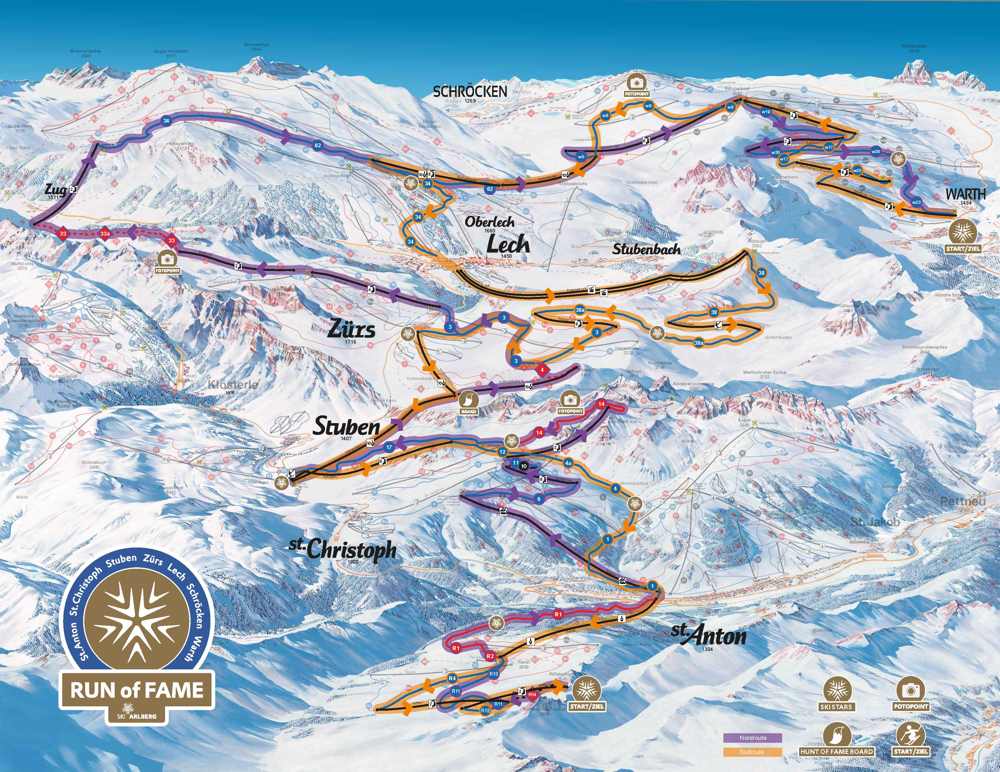 The 'Run of Fame' will offer at total of 65 downhill skiing kilometres and an incredible altitude difference of 18,000 metres. The skiing run covers the entire Arlberg skiing area, from Warth in the north to St. Anton/Rendl in the south, with an average skier needing almost a full day to cover the entire run – there and back. 
Cableway facts
Flexenbahn
Start of construction: spring 2016
Planned opening: winter 2016/17
Length: 1.8 kilometres
Height above sea level, lower station: 1,665 metres
Height above sea level, upper station: 2,227 metres
Altitude difference: 562 metres
Type of cable-car: single continuously circulating cable with 10 cars
Capacity: 2,400 persons/hour
Trittkopfbahn I
Start of construction: spring 2016
Planned opening: winter 2016/17
Length: 1.9 kilometres
Height above sea level, lower station: 1,724 metres
Height above sea level, upper station: 2,227 metres
Altitude difference: 503 metres
Type of cable car: single continuously circulating cable with 10 cars
Capacity: 2,400 persons/hour
Trittkopfbahn II
Start of construction: spring 2016
Planned opening: winter 2016/17
Length: 0.9 kilometres
Height above sea level, lower station: 2,227 metres
Height above sea level, upper station: 2,420 metres
Altitude difference: 193 metres
Type of cable car: single continuously circulating cable with 10 cars
Capacity: 1,200 persons/hour
Albonabahn II
Start of construction: spring 2016
Planned opening: winter 2016/17
Length: 2 kilometres
Height above sea level, lower station: 1,642 metres
Height above sea level, upper station: 2,320 metres
Altitude difference: 678 metres
Type of cable car: single continuously circulating cable with 10 cars
Capacity: 2,000 persons/hour