Several high-altitude areas and mountain passes in the USA and Canada have been getting a healthy dose of powder over the last couple of weeks. Kicking Horse, BC, tweeted that they got 'A little taste of Winter', and Sunshine Village in Banff national park, AB, is sporting a white blanket right now – they teased us on Tuesday with this video.
The USA got in on the action too with news of snowfall from all over the North-West states. Yellowstone national park, WY, commented online about their 'winter-like' conditions, and nearby resort, Jackson Hole, was getting excited about the Grand Tetons turning white again. They posted on Saturday that their last day of Summer was a white one! Time to book the plane tickets?
Washington and Oregon are also being treated to the white stuff. Mt Hood, OR, had snow all over the webcams, and Crystal Mountain, WA, posted a photo of their 'White Wednesday', giving followers in the not-so-lucky areas some serious snow envy.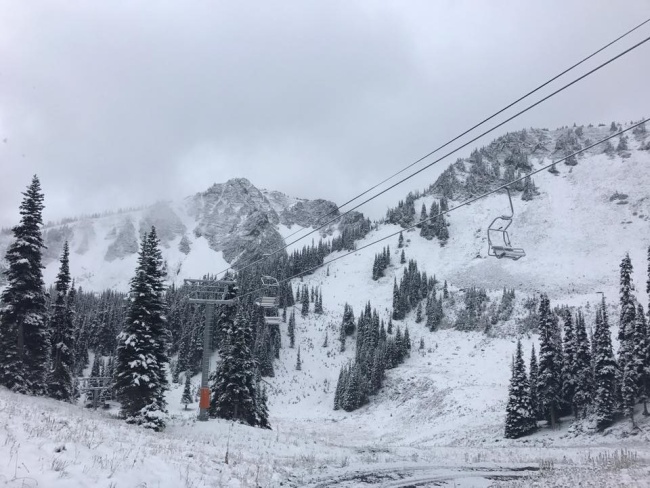 The cold snap is a welcome relief for many places as, in Montana particularly, they are experiencing an unusually fierce fire season. It is hoped that the snowfall and cooler temperatures will help to slow the wildfires. Glacier national park, MT, has been heavily affected by wildfires over the summer. The Sprague fire in West Glacier, which has been alight for almost 7 weeks, has burned over 16,000 acres already.
Unexpectedly though, Glacier tweeted last Thursday that there was 'white stuff falling from the sky' at the top of Logan Pass, and the snow and ice has stubbornly stuck around. The double threat of both snow and fire has resulted in some crazy conditions up the mountain. One of the most impressive showings was Big Sky resort, MT, who shared the news of 12 inches of new snow in the middle of last week and had another fresh dump of powder in time for the weekend!
12" of new #snow in The Bowl & snow is in the forecast for the rest of the week! #BigSkyResort ❄️❄️❄️ pic.twitter.com/SJULckWy2b

— Big Sky Resort (@bigskyresort) September 19, 2017
Colorado and Idaho were not to be left out of the fun either. Silver Mountain, ID, was also experiencing a white Wednesday, and Telluride, CO, tweeted this snippet to get you in the winter mood early last week.
The snow has begun! #DiscoverTelluride pic.twitter.com/T0T7RQAhIQ

— Telluride Ski Resort (@Telluride) September 18, 2017
Not to be left out, California also got some new snowfall on the Sierra Nevada mountains last week and this weekend! Heavenly, CA, shared news of their first snow of the season and Mammoth Mountain, CA, posted this photo of the resort looking ready for skiers.
The emerging snowy scenes are causing a buzz and fuelling anticipation for the start of the season. Not long to go!