Serre Chevalier is unusual in that it is not centred on a single resort base. But the ski area it gives its name to is extensive, and great for keen intermediates who love to feel that sense of exploration. It works well for all abilities - the backcountry riding here is often excellent - as well as non-skiers too.
Serre Chevalier's main resort villages are [from east to west and lowest to highest altitude]: Briançon, Chantemerle, Villeneuve and Le Monêtier les Bains. Briançon is a beautiful 17th Century fortified town (and a UNESCO World Heritage Site) and a buzzing commercial hub. It's the highest town in France in fact, guarding the southern end of the Col de Montgenevre, a minor pass between France and Italy.
The town's military history intersects with the history of skiing, since the soldiers stationed here at the end of the 19th Century were some of the first French troops to be trained as ski patrollers. The rudimentary stopping technique in those early days was simply to fall to the ground, a 'manoeuvre' still referred to as "l'arret Briançon" or the "Briançon Stop".
The Serre Chevalier ski area extends west from Briançon and stretches across six peaks to Monêtier-les-Bains. The middle twin villages of Chantemerle and Villeneuve are the principal resort bases and share the bulk of the core ski area. The whole domain has a great range of pistes for all abilities, with many tree-sheltered slopes, and the linear layout invites touring from one end to the other, giving a satisfying feeling of big-mileage travel.
Serre Chevalier - Ski Map & Pistes:

A two-stage gondola provides the sole uplift from Briançon, giving access to a little beginners' zone at mid-altitude and onward links via the summit of Prorel into the core Grand Serre ski area. The Briançon sector is lightly wooded and contains a handful of decent reds, the best of which runs all the way down to the edge of the town (snow conditions permitting).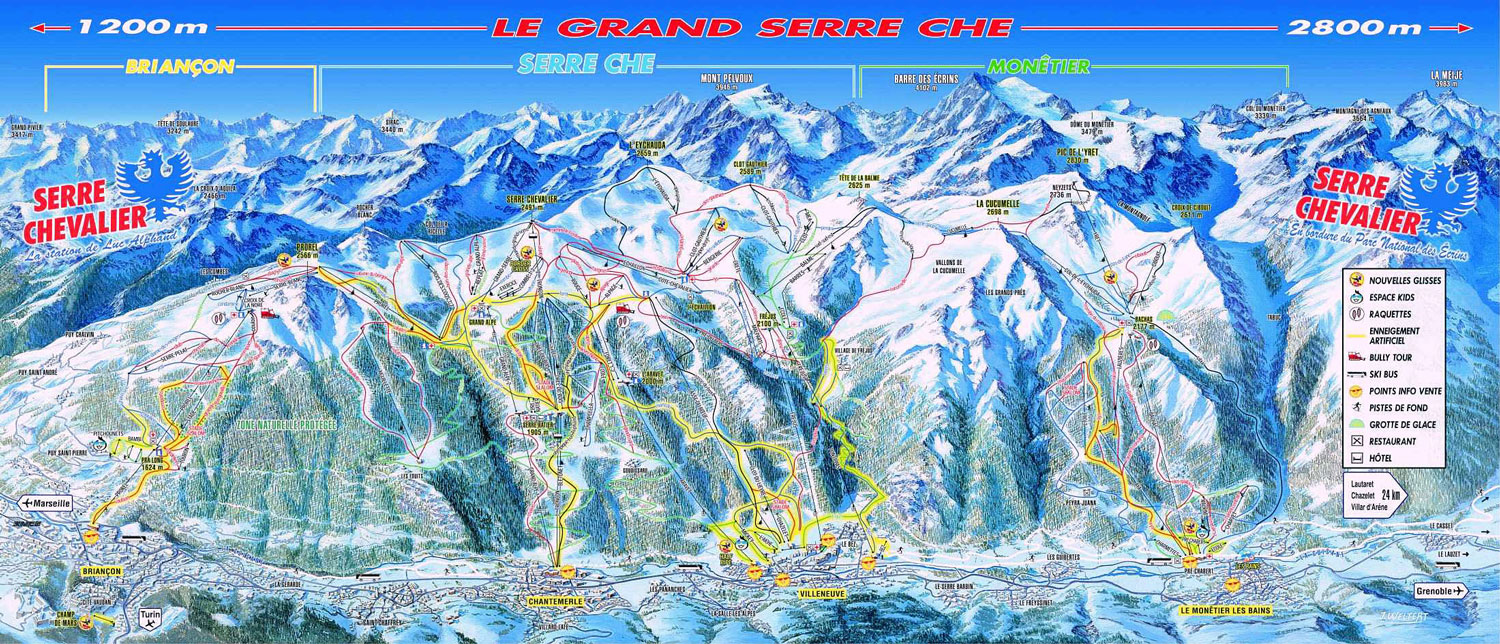 At the opposite end of the domain, the slopes above Monêtier-les-Bains include a nice selection of tree-lined reds and a nice black, plus a couple of short but testing runs off the highest point in the entire Serre Chevalier domain. The link from this sector eastwards into the core domain is a narrow route via the Col de la Cucumelle at 2,500m, with a lovely long red run down into the Frejus sector above Villeneuve.
The core Grand Serre area above Villeneuve and Chantemerle is served by a number of gondola lifts from various points in those two villages plus a cable car from Chantemerle. Again the lower slopes are forested, traversed by a few gentle yet narrow trails, and sliced through by a couple of epic long black runs.
The uppermost slopes are within open bowls, crisscrossed with a good network of nice intermediate runs, although most of the highest peaks are served only by tedious drag lifts. The best beginners' zones are on the base-area slopes at Villeneuve and Monêtier-les-Bains.
Serre Chevalier - Off-Piste, Backcountry & Ski Touring:
In its unfussy way, Serre Chevalier has a lot to offer the off-piste skier. There is a good selection of terrain which either feeds back into the lift system, or goes to another area included in the lift pass. Moreover, Serre's snow condition is exceptionally good - due to its primarily north-facing slopes, high altitude bowls and lower slopes protected by trees.
Several of the black runs in the ski area are left ungroomed and marked as 'Brut de Neige'. Experts can also enjoy excellent off-piste terrain, both in the top powder bowls and lower down in the trees. At Snow, we've often asked ourselves why Serre Chevalier isn't better known as a backcountry destination - not that we're complaining, of course, because it simply means there are all the more lines for us.
If you're keen to sample the best of what's on offer, book a guide from the Bureau des Guides, via the SkiBro app, or from New Generation (https://www.skinewgen.com/serre-chevalier/) - a ski school which offers off-piste instruction, and ski-touring excursions around the Col du Lauteret. They also take groups on adventure days out in the nearby off-piste paradise of La Grave, which if you're visiting Serre Che as a serious skier, is a must.
Serre Chevalier - Restaurants, Bars & The Town:
Or in this case, towns. The historic and atmospheric citadel of Briançon is well worth a visit to view the impressive ramparts and the warren of quaint cobbled streets within, filled with lots of little shops, café-bars, and restaurants.
The modern lower part of Briançon also has plenty of restaurants, bars, and shops, including a couple of big supermarkets, for all your self-catering needs. There's also a cinema, a casino, an ice rink, a tenpin bowling and games arcade, and an aqua-leisure centre with a swimming pool and fun pools.
Monêtier-les-Bains is sited by natural hot springs and has a fabulous thermal spa complex - 'Les Grands Bains' - with indoor and outdoor pools, aqua-massage features, steam rooms, saunas, and Roman baths.
Après ski in the villages is laid-back and friendly, focused mainly on the handful of bars nearest the base-area slopes and lift terminals. Later on in the evenings, occasional live music and/or karaoke is usually the best that can be expected of any of the bars dotted along the valley villages. There is a tiny nightclub in Villeneuve, plus a couple of bigger ones in Briançon, but nightlife in Serre Chevalier is generally quite low-key.
All of the villages are connected by free ski buses during the day and local bus service in the evenings. Late-night returns from one village to another require a taxi.
Serre Chevalier - Ski Hire:
Ski hire in Serre Chevalier is spread between the four towns/villages, with the main concentration in Villeneuve. Rental shops include Sport 2000, Sport Rent, Intersport and Sport Republic.
Serre Chevalier - Ski School:
Learning to ski in Serre Chevalier is based on each of the four centres, and the main player is, as ever, the ESF. You can also go with the ESI, New Generation and Ski Connections.
// HIGHLIGHTS //
Airport
Turin (1hr 35 to Briançon)
Train station
Briançon (20 mins to Monetier les Bains)
beginner
intermediate
expert
// USEFUL LINKS //
Tourism and Ski Area