Telluride is an old gold- and silver-mining town, filled with history and with many attractive Victorian-era buildings. It's relatively upmarket, yet unpretentious. As well as the wealthy skiing set, the place has been a hangover for hippy-ish, alternative types since the 70s. It's a lovely place to stroll around, with enough shops, cafés, bars and restaurants to offer variety, without ever feeling too sprawling, or lacking in soul.
The town is nestled in a box canyon, deep in the San Juan Range of the Rocky Mountains, quite a way from any other major towns or cities. This means that it's truly a destination resort rather than one for weekend warriors. This has the positive effect of keeping guest numbers at more manageable levels, resulting in uncrowded ski slopes and negligible queues for lifts.
There are two centres to the resort, both of which offer straightforward access to the ski area: Telluride town itself is a charming and convenient place to stay, and the best choice for anyone who wishes to be close to the widest selection of places to socialise.
For those who prefer to remain slope-side up on the mountain, Telluride's Mountain Village resort is the place to choose. The two centres are connected by a free gondola, accessible by pedestrians as well as slope users.
The only downside is that getting here is a trek. The nearest international airport is 7hrs away at Denver, but there are internal flights from all over the US to Montrose which is around 75mins from 'downtown' Telluride.
Telluride - Ski Map & Pistes:
Something for everyone. The ski area at Telluride is relatively small but perfectly formed, with a good all-round variety of terrain. The layout is ideal with novice, intermediate and advanced sectors safely segregated, yet all within easy reach of one another - perfect for lunchtime meet-ups for families and mixed-ability groups wanting to do their own thing on the mountain.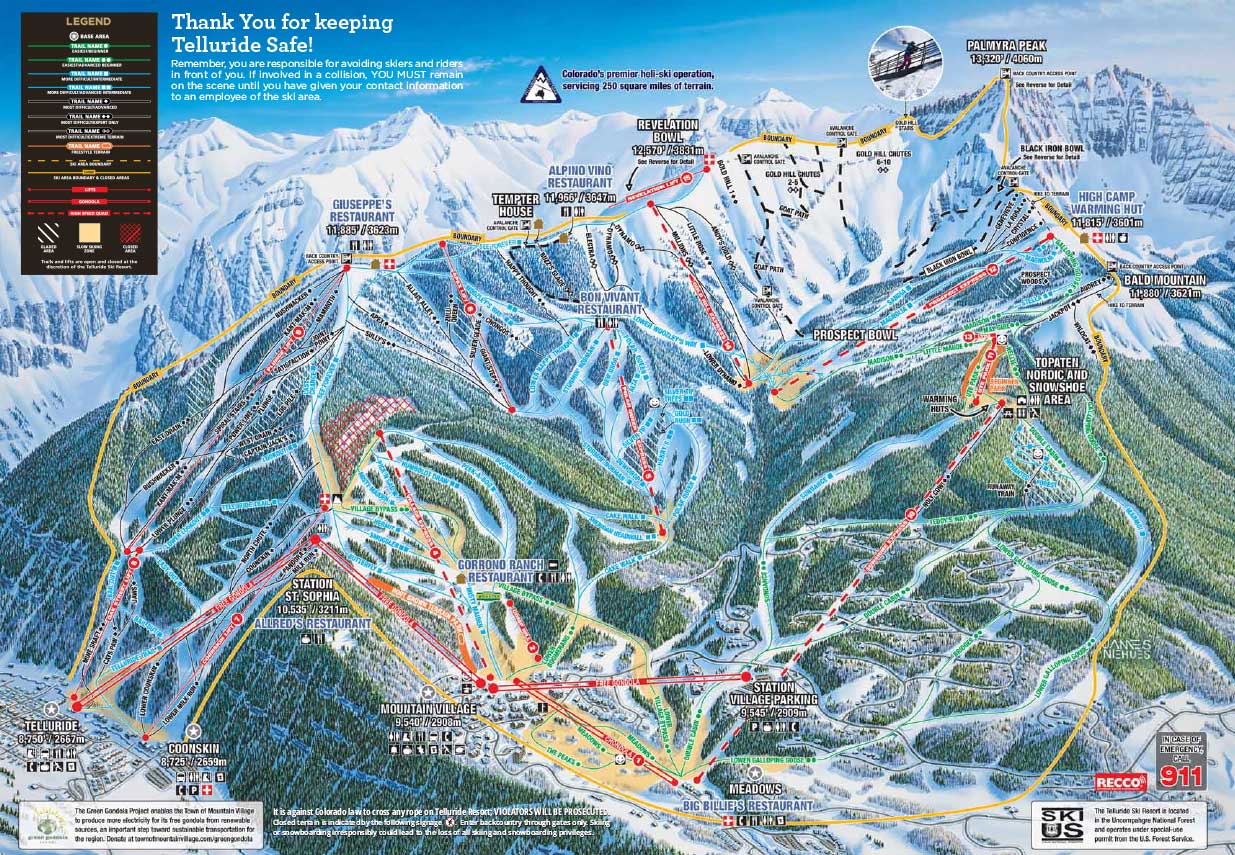 Beginners start out on the Meadows nursery area closest to Mountain Village, but can safely access many of the higher slopes out on the mountains too, particularly on novice-friendly Bald Mountain, where a number of green-graded top-to-bottom trails cut through the forest. This sector also houses the resort's much-lauded Ute Park, where youngsters and budding freestyle enthusiasts can make their first attempts at riding easy terrain-park modules.
Intermediates have all but the toughest terrain to choose from. One of the most noteworthy blue runs is called See Forever, which intermediates can join from the top of the Gold Hill Express (chairlift 14). Starting off as a rolling ridge-run, with awesome views that truly earn it its name, See Forever joins onto the Telluride Trail route down to the town's lowest base area. Its an almost complete peak-to-creek descent.
Advanced skiers can also get the thrill of home-run blasts from the top of the Plunge chairlift (lift 9), on steep moguled pitches all the way down to the base area.
Telluride - Off-Piste, Backcountry & Ski Touring:
You've gotta walk, but it's worth the effort! The choicest slopes for the most experienced skiers and riders at Telluride are the Gold Hill Chutes, and the couloirs off the ridge up to Palmyra Peak. All of these are hike-to zones beyond the uppermost lift terminals, and they're best tackled in the company of a suitably-qualified local guide. Your reward if you make it up here is more than 200 acres and nearly 2,000 vertical feet of powdery descents on the north face of Palmyra Peak.
A shorter hike of around 20 minutes on Bald Mountain will access some the best quality and longest lasting powder snow on the mountain. And don't miss Black Iron Bowl. Another great area for powder skiing, this upper-mountain terrain is reached via the Prospect Lift with a short hike out along Prospect Ridge.
The remote location of Telluride ski resort, and the fact that the terrain in the San Juans is steeper than in most of the Colorado Rockies, means this also a great place to base yourself if you want to try snowmobile, sled -access (as the locals call it) skiing. The heli-skiing is decent too, and if you're making a trek all the way out here, it's well, well worth taking a day to visit Silverton, the nearby freeride-only resort based in another ex-mining town.
Telluride - Restaurants, Bars & The Town:
Telluride town and its Mountain Village resort are linked by a free gondola that runs from 7am until midnight, seven days a week, so slope users and non-skiers alike can easily shuttle between the two bases to explore all of the off-slope amenities and attractions.
Between them, the on-mountain village and the town have a fair number of shops, cafés, bars and restaurants, plus three excellent spas. There are swimming pools, hot tubs and well-equipped fitness suites at the Hotel Madeline and The Peaks Resort. The latter also has an indoor climbing wall.
Alternative activities out in the mountains include snowshoeing trails, dog-sledding tours, snowmobiling, horseback riding, horse-drawn sleigh rides and ice climbing. Ice skating is another popular local activity, with ice rinks in both Mountain Village and Telluride town.
Après ski and nightlife are casual and relaxed, with some end-of-day jolliness at base-area bars. But it's generally more refined and family-friendly than is the case in most other mainstream ski resorts which lie closer to big metropolitan areas. In Mountain Village, the Tomboy Tavern with its Hop Garden umbrella bar is the prime afternoon après ski spot, whilst down in Telluride town the Oak Bar, near to the base terminals of chairlift 8 and the gondola, is usually the liveliest hangout.
Allred's at Station St. Sophia (the mid-station on the gondola connecting Mountain Village and Telluride town) is a great spot directly above the town. With its sophisticated wine-bar ambiance and fabulous panoramic views over the canyon, it's a must-visit.
For a special dining experience, there's also The Tunnel, at a secret location you have to be given a password for!
Telluride - Ski Hire:
There's plenty of choice for ski hire in Telluride. The official resort partners, Telluride Sports have seven outlets in town. Also worth checking out are Christy Sports, who also work through Bootdoctors. And there's also the ski delivery firms Black Tie Skis and Ski Butlers.
Telluride - Ski School:
The Telluride Ski and Snowboard School offers group and private ski lessons in Telluride, including bootcamps and guiding for all ages.
// HIGHLIGHTS //
Train station
Grand Junction (2hrs 30)
beginner
intermediate
expert
// USEFUL LINKS //
Tourism and Ski Area